RED HEAD is an extraordinary boat with a fantastic story behind her. Previously owned by recording artist Billy Joel and restored to excellent condition by her current owners, RED HEAD is on the market and ready to continue cruising. Learn about her travels over the past 19 years with her current owners, Jeff and Karen Siegel.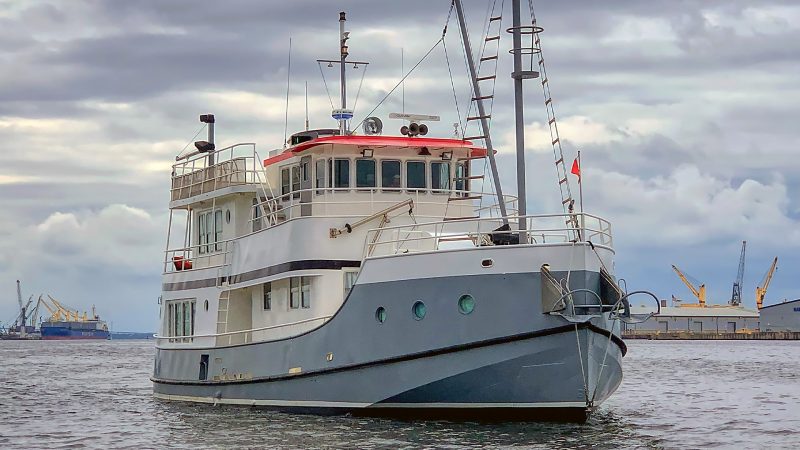 Why are you selling RED HEAD?
Jeff: We made a 10 year plan to go cruising in 2002. It has now been 19 years of living aboard. We've done everything we've wanted to do, and more. I wouldn't have traded those 19 years for anything and I'd definitely do it all over if it were 2002 again.
Karen: We have always done things a little different from the norm whether it was starting several businesses, moving to a small town on the coast of Maine or living on a boat. We crave new experiences and like to challenge ourselves. Our adventure into long range cruising was meant to last 10 years, it's been 19. It has been a wonderful part of our lives. The people, the places, how lucky we have been. Now it is time to start on our next adventure.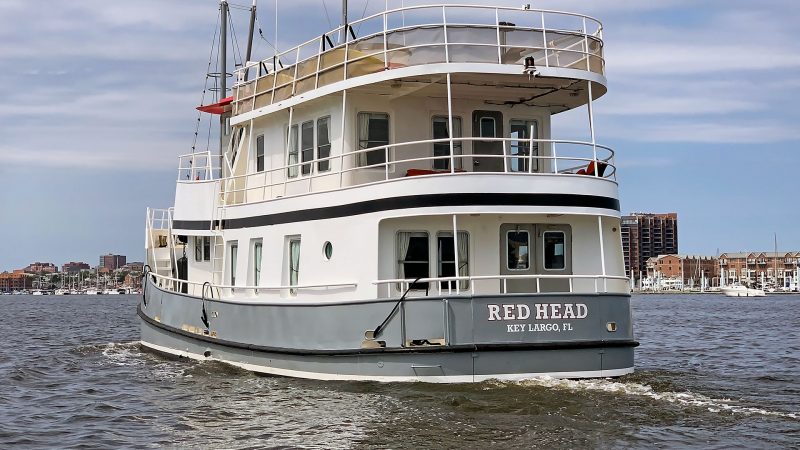 Steel trawlers are not as common as fiberglass. What advice would you give a buyer looking at steel vs plastic?
Jeff: First, working on a steel boat is easier than maintaining a fiberglass boat. There is no waxing or polishing. The boat is cleaned with a hose and a broom. Keeping the boat perfect means staying on top of rust. That requires walking around everywhere at least every few months and touching up any issues that might be starting. My advice is to learn about steel prep and painting from one of the expert yard managers who knows how to do it. You cannot learn it on the Internet – the information is wild, all over the place, and mostly wrong. Or better yet, bring RED HEAD to Key West and I'll teach anyone how to properly treat and paint any steel issue. It's very easy once you have the proper materials.
Karen: We have often been asked by wannabe cruisers, what is the best boat? We may have even asked others that question when we were first looking. It's a question without an answer. Choosing a boat is a lesson in trade offs. What was important to me in moving from a fiberglass to a steel trawler was the sense of safety and the increased comfort. Sitting at anchor, or even tied to a dock, during a blow finds RED HEAD gently rocking while boats around us pitch about. While we always remain vigilant, I never worry about an unseen hazard breaching the hull.
What has been the best part of owning RED HEAD?
Jeff: Traveling with incredible safety to many different places from Maine to Key West and onto the Bahamas to explore and get together with others in the cruising community.
Karen: I love so many things about RED HEAD. Obviously her roominess, her many house-like amenities, the level of comfort we have as liveaboards. It may sound silly but I love "going upstairs" to our stateroom, rather than down into the stateroom cave below, common on most other boats. But what stands out most is how unique she is, definitely not a "me too" boat. She always stands out and brings other boaters around. I guess I'm a proud owner.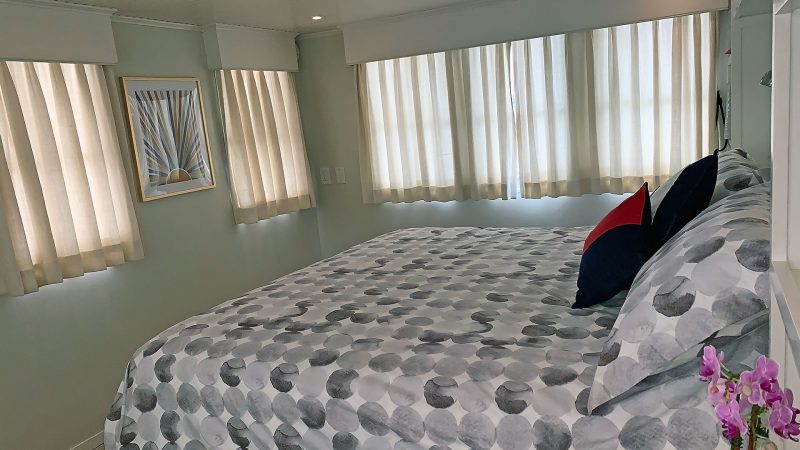 How is it cruising with a dog? 
Jeff: Cruising with a dog makes your boat feel more like a home. Dogs only want to be with you and by your side. Living and traveling on a boat keeps them in that happy place all the time and they love it.
Karen: We have always had at least one dog onboard and have welcomed 5 canine crew members over our 19 years onboard. RED HEAD is a great boat for dogs. There are wide, safe stairs leading to all levels making it easy for them to get around. The high gunnels and tall rails keep everyone safe onboard. (A problem on our last boat but that's another story.) The wrap around side on the upper and lower decks give them lots of places to run and roam when we can't get to shore. It's a dog's paradise.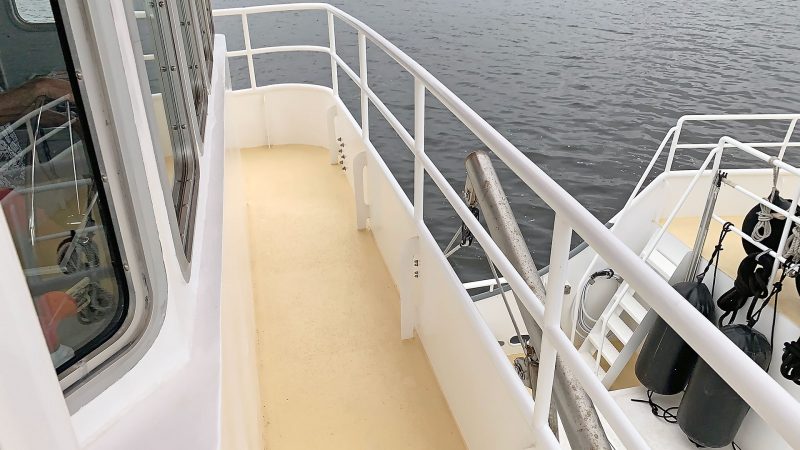 How does RED HEAD perform offshore?
Jeff: This is a common question. RED HEAD's hull is very much like a sea-going tug. All her weight is below the waterline making her incredibly stable. I was originally concerned about rolling since our last boat (DeFever 53) had Naiad stabilizers and we took her offshore often. Each test that we did offshore on RED HEAD made me realize that she is more stable than our old DeFever. She never rolls and is very stable in all conditions. We never did a triple-overnight until we had RED HEAD (3 nights/4 days offshore going from the Berry Islands, Bahamas to Oriental, NC). We were able to do that and a variety of double-overnights because she is so comfortable offshore.
Karen: RED HEAD is extremely comfortable offshore. Her beamy, tug-like bottom keeps her stable when the seas become choppy. With so much weight placed in the bottom she handles even beam-to seas very well. That is much appreciated by someone who has been known to get seasick (me). I think she really shines when we do overnight passages. The large comfortable pilothouse makes passages enjoyable whether you're on watch or relaxing. Having the owner's stateroom directly behind the pilothouse makes our overnights safer and easier. We have spent many hours offshore and find them to be our favorite time underway.
What is RED HEAD like at anchor?
Jeff: RED HEAD starts at anchor with 2 huge Mantus anchors (we only deploy one at anchor – the other is a backup). With the Mantus, she has never moved. She's solid. Then while anchoring, RED HEAD's weight keeps her very comfortable while other boats around us might be rocking and rolling. She has wonderful systems for power, water making, and huge water tanks (1,400 gallons) and holding tanks (550 gallons) allowing us to stay at anchor for longer periods of time. We've been at anchor for more than a month at a single spot.
The other thing that has to be mentioned is that there is nothing like waking up at anchor in a stateroom that is well above the waterline. Surrounded by windows, all you see is water all around. It is magical.
Karen: RED HEAD is made for anchoring. Huge water and holding tanks, a water maker, and tons of provisioning storage means we can go for weeks without visiting a dock. As I mentioned above, her size and weight distribution makes her very stable even if the winds kick up. We did a complete rework of the electrical system and batteries so we can have access to all the amenities we want by running a generator just a few hours a day. Anchoring out on RED HEAD is a pleasure.
How have you maintained RED HEAD?
Jeff: We've always felt that we were just custodians for this wonderful vessel. RED HEAD lived before us and she'll continue living on for many future years. My goal was to leave her in a better condition than we received her. I've corrected any problems we encountered and generally do most maintenance myself. For more complex things like CAT 2 and 4 year servicing, I hired local CAT mechanics to do the work. For very complex or large projects (sand blasting the entire outside, re-configuring the electrical system, replacing the fuel system, replacing the hydraulic system and bow thruster, and more), I'd hire the best yards to do the work and always monitored their progress.
Karen: Jeff is head of maintenance with help from the crew. He's a fanatic about keeping everything in top running shape. For us, it's all about safety. Keeping all systems well cared for means no surprises in the middle of an overnight passage or when pulling up to a dock. Frankly, I wouldn't leave the dock if I wasn't confident that everything was in great order. One only needs to look at the mass of spares and maintenance items in the cargo hold to know RED HEAD is well cared for.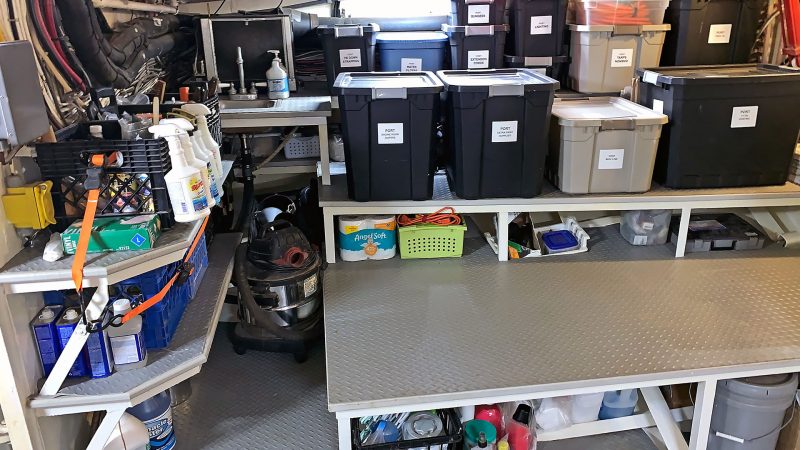 Spares and maintenance supplies
Why did you replace all the electronic navigation systems?
Jeff: I wanted the latest navigation products and higher end equipment. I also wanted all of the systems to integrate with iPads and other general electronics – I think the future of marine navigation is with iPads and tablets. I test a lot of other developer's apps and wanted an environment that could easily connect to some of these new, exciting apps that are coming out.
Karen: Our last boat had all Garmin electronics and I loved them. In my opinion, there is no easier to use setup. After a few months of frustration with the old system, I was done with fumbling around trying to find what I needed. I started lobbying for Garmin. Again, it's all about safety. I needed to easily access all features when it was my turn on overnight watch. From tuning the radar to having full route-following autopilot control, Garmin's ease of use allows me to make full access to the systems without ever touching a manual.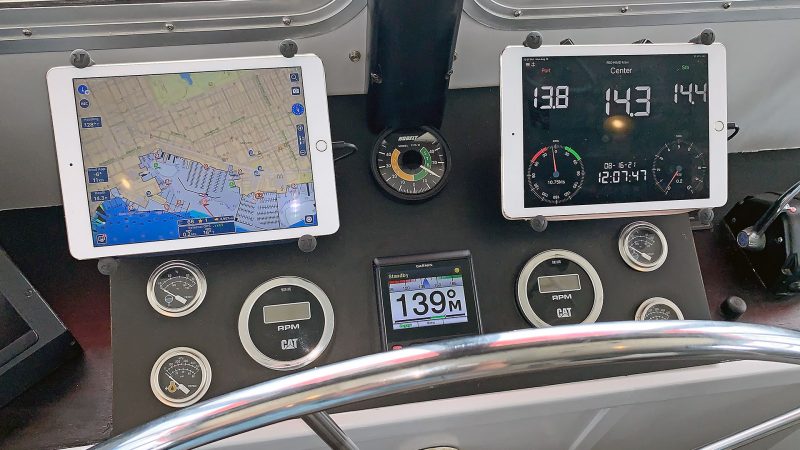 What is your favorite electronics change?
Jeff: My favorite change was adding 2 additional depth transducers to the far edges of the hull in line with the existing depth transducer. Although chart plotters cannot display 3 depth values, iPad apps like Wilhelm SK allow all three numbers viewed at the same time. This is very valuable when moving along a channel like the Intracoastal Waterway because you get to see which side of the boat has more water if shoaling starts to develop. Although RED HEAD draws only 5' with full fuel and water, using that depth display always made ICW travel safer.
Karen: The rear video cameras, the second radar (I use one for near and one for a wider view), and the iPads for easy access to depths, wind, and other data items.
What is it like to dock and undock RED HEAD at a marina?
Jeff: RED HEAD has a fully remote control for the transmissions, throttles, and bow thruster. I always dock and undock the boat by standing outside on the Portuguese bridge, looking over the edge. With twin props and a 60 hp bow thruster, RED HEAD is very responsive to whatever I want her to do in those close situations. Connecting the extension allows the remote to be used on the bow for locking/unlocking and even single-handed anchoring.
Karen: It's easy for me to say docking is a breeze, that's also Jeff's job. He always makes it look easy to me. Fender and line handling are my job and at first I worried about handling a bigger boat on my own. But RED HEAD's wide walk around area and high rails make it safe and easy. There are massive bits right where I need them with easy-to-use hawseholes. I have all my lines and fenders conveniently hanging from the forecastle where I can quickly grab what I need. I have my routine worked out so that I prefer doing it alone.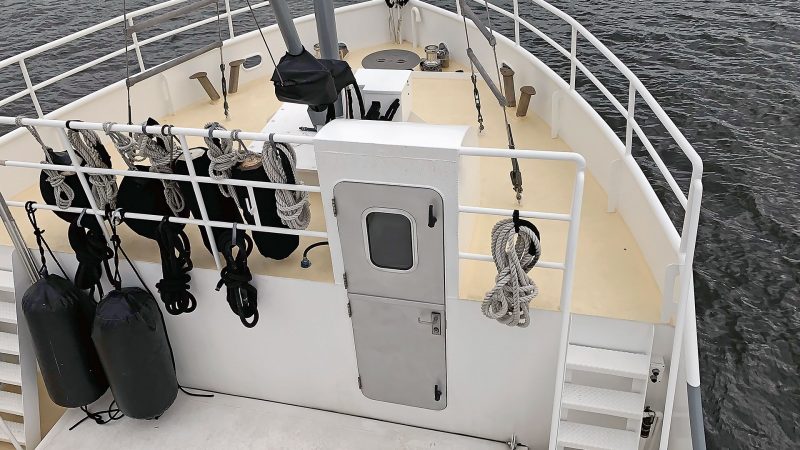 What has been the biggest surprise going from a house to full time cruising onboard?
Jeff: The biggest surprise was the incredible friendliness, helpfulness, and openness of the community of boaters. While our boat kept us safe through those 19 years, it was the community that kept us in the lifestyle past our 10 year plan.
Karen: The wonderful community of boaters. I knew there would be sights to see and adventures to have but worried friends and a social life would be hard with a vagabond lifestyle. Nothing could be further from the truth. We have friends everywhere, some we've known for years and some we've just met. My other worry was giving up the amenities of land-based life. On our last boat the few things I missed, a dishwasher and a king-size bed, were offset by the wonderful life we gained. On RED HEAD I don't feel like I give up anything.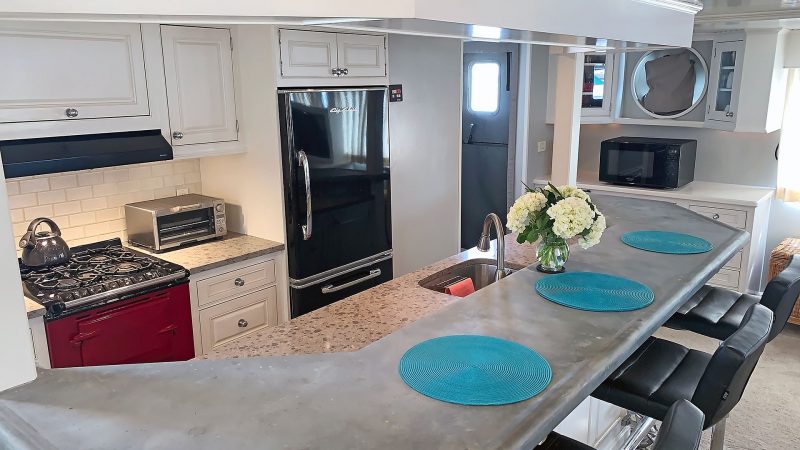 What other changes did you make to the boat?
Jeff:
A once-every-30-year sandblasting, repair, and repainting of the entire outside steel.
Rebuilding of the electrical system to allow "normal" anchoring without continuous generator use.
Replacement of the fuel system with normal source and returns from any tank along with a new manifold, polishing system, and outside-the-engine-room dual Racors.
Replacement of the hydraulic system to allow hydraulic usage with either/both engines or the generator if an engine was out of service; we also replaced the 16" channel 25 hp bow thruster with a 19" channel 60 hp bow thruster for better docking control.
AquaDrive installations on each engine. They remove thrust against the engine to pushing against a major welded steel brace to reduce engine wear, noise, and vibration.
Purchased a new AB ALX tender with 4 stroke engine and full built-in Garmin electronics.
Installed a whole-boat Mesh WiFi system allowing full WiFi access in every room and throughout the machinery deck.
Replaced all navigation electronics with the latest/greatest equipment (12K radar, backup Furuno radar, Garmin's best autopilot, and much more).
Replaced all outside deck angle bracing with straight bar bracing (engineering done by Jay Benford) to make outside maintenance much easier.
Replaced watermaker with 75 gallon-per-hour model which is perfect for anchoring over many days in the Bahamas.
There are many other additions and changes – the list is very large.
Karen: There were many things. Our main focus was increasing safety, e.g., improved electrical system, bigger bow thruster, a new dinghy. Secondary were changes to improve our comfort on the boat, e.g., new refrigerator, new chairs and storage items, updating the back deck furniture.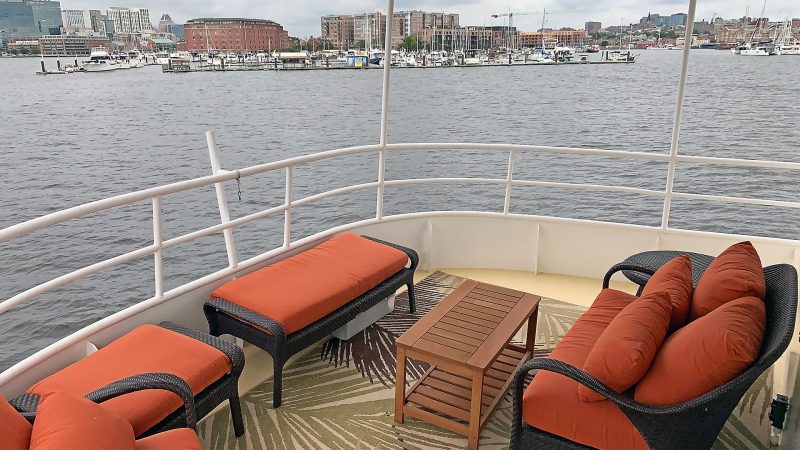 What advice do you have for the next owners of RED HEAD?
Jeff: Text or call me whenever you have a question! I am eager to help. RED HEAD came to us with no "owner's manual." Over the last 5 years, I wrote one with checklists for every task. Keep that manual up-to-date and get me involved when you have questions.
Karen: Throw off the lines and go exploring. It doesn't matter where you choose, a remote anchorage in the Bahamas, a small town in Maine, or docking in a big city, you will be comfortable and safe. She will quickly become your home. She can offer you everything you need or want while allowing you to explore so many wonderful places and to meet great people.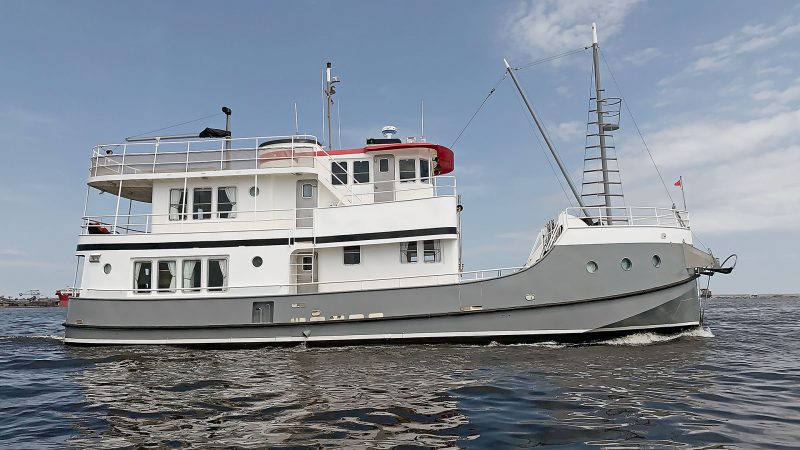 What are you going to miss?
Jeff: Traveling to different places all the time. Meeting lots of locals. And spending time with the cruising community – they are the best people in the world. You can bet that we'll be crashing many docktails at the marinas in Key West!
Karen: First, the people. Boaters are a great and rare breed. Second, the anchorages and remote islands. There are so many amazing places you can only see on a boat. I will definitely miss falling asleep while gently rocking at anchor and running with the dogs on a remote and deserted island.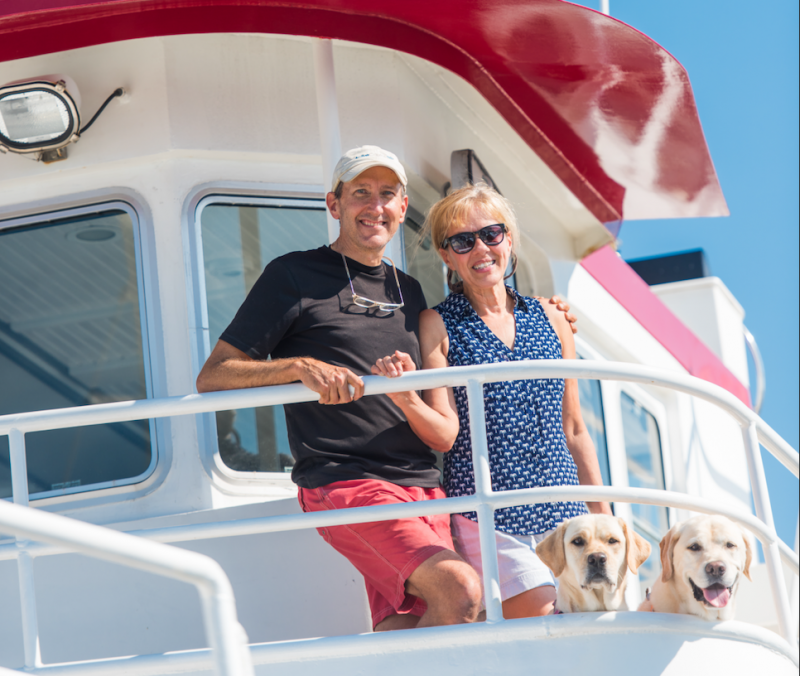 Thank you, Jeff and Karen!
RED HEAD is located in Baltimore, MD and is available for viewing by appointment only. Please visit her dedicated website and contact listing broker Jeff Merrill with any questions!
Interested in learning more? Check out her Talk Through Tour on YouTube!