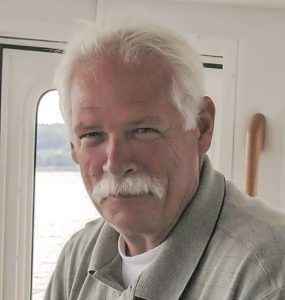 Greg Mustari grew up in Chicago, spending the majority of his time on Lake Michigan where he was drawn to the water at an early age. He loves all water sports from boating, water skiing, and competed with a water polo and swim team. As a teenager he worked for several years as a lifeguard on the beaches and pools in Chicago. Greg is most proud to have served in the United States Air Force followed by a 20+ year career in law enforcement. He held many positions with the Chicago Police Department and ended his career as an investigator for the District Attorney's Office in Colorado.
The waters of the Pacific Northwest are considered one of the world's best places to go cruising and so a move to the state of Washington in 2000, to start a new career seemed logical. Greg met a Nordic Tug owner who proudly gave him a detailed walk through of his Tug. Greg gained a great amount of knowledge from this chance meeting and his enthusiasm to be more involved with the brand led to eventually being hired by the Nordic Tugs dealership in Anacortes – Skipper Cress. Jim Cress, the dealership owner, was the CEO of Nordic Tugs and helped Greg get started selling boats.
Greg spent several years selling trawlers at Skipper Cress, specializing in new and used Nordic Tugs. He knows how they are built and many of the craftsmen are still at the factory and considered friends. He also developed many cherished friendships over the years with Nordic Tug customers due to the fact that once they own their boat, he's always a phone call away and available to help.
His easy approach and deep understanding of the Nordic Tugs brand has enabled Greg to help many people buy and sell tugs over the past twenty years. His years in the marine industry and product knowledge of Nordic Tugs continue to be a huge resource for his clients. Greg believes in the Nordic Tugs brand so much that he has owned two 32' Nordic Tugs in the past and he now owns a 37' Nordic Tug.
Greg has been a CPYB (Certified Professional Yacht Broker) for several years and he is very involved with the marine industry. He currently sits on the board of directors for the NYBA (Northwest Yacht Brokers Association). Greg has a very likable personality and is dedicated to looking after others. He attributes that to having the greatest Mom! One accolade, among many, he was awarded the Port of Anacortes's Outstanding Customer Service Award in 2013.
Greg and Kelly Libby, own Tuggabella, a Nordic Tug 37, they enjoy cruising on. Their hope is to see their customers enjoy the water as much as they do. The two of them love volunteering and participating in activities at the Port of Anacortes; Opening Day Boat Parade, Christmas on the Docks, Waterfront Festival and serving as a rescue boat in the annual Quick and Dirty Boat Race.
With a love of boating and expansive knowledge of tugs, trawlers and the brokerage industry, Greg is eager to share his love of boating and expertise with JMYS.
Greg's cell phone is +1 360.507.9999 (call or text) and his email is: Greg@JMYS.com.