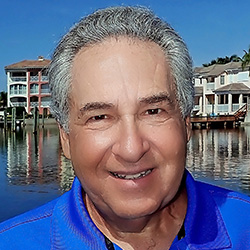 Lawrence Friedman is licensed and bonded in Florida and is a sales consultant with JMYS.  A recovering attorney, Larry spent 12 years as a Bankruptcy Trustee culminating in his service to the Bush 43 administration as the chief regulator of the US Bankruptcy System.  In 2013 with his wife Debra and Montie their bearded collie, Larry fulfilled a longtime goal and purchased a Krogen 39 to travel the eastern US and beyond.
For the next 5 years aboard Debadoo the crew completed the Great Loop as well as journeying to Maine and the Bahamas from their base in Stuart, Florida. At the same time Larry became very active in the cruising community serving as Vice President and board member of Krogen Cruisers.  After cruising nearly 15,000 miles Larry hired JMYS to sell Debadoo.  Within 30 days Debadoo sold and Larry was so impressed with the service of Christopher Bruce and the process Jeff Merrill had designed to market and sell trawlers that he sought to join the JMYS team and spread the word that not all yacht brokers are alike.
An experienced owner, client of JMYS and business professional, Larry is uniquely qualified to assist you with all of your acquisition, ownership and sale questions. Larry resides in Stuart, Florida and serves clients throughout the eastern seaboard.
To contact Larry:
Mobile – +1 317.501.4671
Email – Larry@JMYS.com