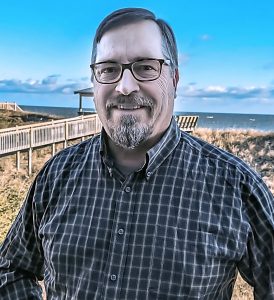 Tim True has lived in Virginia near the East Coast for most of his life and has had a successful career in government, law enforcement, security, and even started and ran a physical security manufacturing company with his father for many years.
He was drawn to the water at a very early age which was bolstered by summers at the neighborhood pool where he spent long hours almost every day during the warm season. Additionally, his family vacations seemed to always involve destinations near the water from visiting grandparents along Lake Michigan, camping by the ocean near Rehoboth Beach, and lots of vacations along the Outer Banks of North Carolina – All of which involved water related activities from swimming, snorkeling, fishing, crabbing and yes – boating.
Actually, his first introduction to boating and cruising, even before learning to swim, was a big one which involved two ocean crossings between California and Okinawa and back aboard the SS Lurline when he was very young and his father worked for the federal government. That experience of being aboard on the open ocean really made a big impact and has oriented Tim back towards the water his entire life.
So, naturally he was anxious to own his own boat in which he partnered with his father at age 16. It was a Renken 17-foot runabout with a MerCruiser 4-cylinder inboard/outboard which he used to learn boating and waterskiing. Time defines the rest of the story wherein he has owned many boats continuously throughout his life and continues to be an active owner.
In addition to his general boating experience, and normal boating activities, he's constantly interested in learning about boats and prefers to do most of his own maintenance aboard.
He has boated in Lake Michigan, the Chesapeake Bay, the Potomac River, and points off and around the East Coast from Delaware down to South Carolina. Additionally, he has deep sea charter fished out of Oregon Inlet and even snorkeled from a charter boat off the East Coast of Florida.
Tim joining JMYS Trawler Specialists is a natural progression in his boating journey as his interests have turned towards trawlers and the easy cruising lifestyle that they offer. In doing his trawler research, attending the TrawlerFest events, reading boating magazine articles, and even watching the many YouTube videos on the subject, Jeff Merrill was clearly one of the trawler industry experts. So, when an opportunity presented itself, Tim was more than pleased to be able to join the team!
Tim enjoys everything trawlers and boating plus all of the comradery that goes with it so, please give him a call if he can assist you in either buying or selling a trawler.
To contact Tim:
Email: Tim@JMYS.com