Many of our clients ask us what they can do to prepare for ownership. Planning for the future begins well in advance. Our website is filled with detailed information and many recommendations. You can do a lot of web surfing to learn all about cruising on a trawler, but the best way to get ready is to team up with a broker you trust and then get aboard and learn firsthand.
We regularly meet with clients and arrange showings so that they can walk through and "try it on for size". It is much more productive to talk about equipment and point out the features in person. Is there a boat you would like to see?
JMYS continues to represent the Bering Yachts brand of steel expedition trawlers in the U.S. For over a year we have been collaborating on sales and marketing projects.  Jeff has visited both Bering ship yards, in China and Turkey, and JMYS has just listed the gorgeous Bering 65, Serge see the link below.

Jeff Merrill
Trawler Specialist
Worldwide professional representation for buyers and sellers of new and used premium brand ocean going trawlers. Providing the experience and personal attention you deserve!
Phone: +1 949.355.4950
Email: Jeff.Merrill@JMYS.com
Website: www.JMYS.com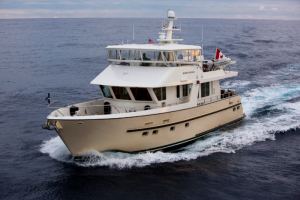 During the Yachts Miami Beach boat show in February JMYS had the incredible aluminum trawler, Retired Sailor III on display. Jeff and Ray Danet worked the show together and met some wonderful people who were thrilled with what they saw.  Retired Sailor III is back in Deltaville, VA and has had a major price reduction. There is now an alternative arrangement that moves the master aft, please request a copy of this layout if you are interested. See the link for Retired Sailor III below.
JMYS has also expanded our sales team. Joining Jeff, in addition to Ray Danet who is based in Florida, is Andy Nemier who is living aboard his Nordhavn 62 and is getting ready to cruise between Hawaii and Tahiti. Ray is licensed in Florida; Andy is licensed in California. Both Ray and Andy are expert yachtsmen, personable and fun to be with.  They each have decades of cruising experience and are eager to help our clients pursue their own adventures.
Ray Danet – mobile 772.215.9616   email: raydanet@gmail.com
Andy Nemier – mobile 778.388.3483   email: nemier@fastmail.fm
Our brokerage listings include a diverse variety of cruising sailboats and trawlers. This is the season when serious shoppers more eagerly pursue boat purchasing and JMYS has already helped several buyers secure their yacht in time to cruise this spring and summer…it's not too late, give us a call and let's talk about your desires and timing.  If you are in the market and ready to buy please get in touch with us so we can discuss your choices and help you find the best fit. Our brokerage inventory is truly worldwide and we travel all over the globe to represent our sellers and to work with our buyers. Please click on any of the links below for detailed information including photos, specifications and pricing.
Nordhavn-35-Sanctuary-California
Tartan-37-Ka-Ata-Killa-California
Offshore-40-Defiant-New-Zealand
Nordhavn-46-Storm-Haven-Mexico
Tollycraft-48-Transition-California
Defever-53-Great-Northern-Oregon
Nordhavn-55-South-By-West-Florida
Snowbird-73-Retired-Sailor-III-Virginia
Holland-90-Lauren-L-South-Carolina
JMYS is a relationship based, consulting yacht sales firm and our objective is to educate our buyers, inform our sellers, and help everyone enjoy the trawler lifestyle.  We don't have any conflicting business interests that involve service or repairs.  We give our sellers regular market updates and feedback from showings and inquiries.  Our favorite time with buyers – after finding the best boat to fulfill their objectives – is the hands on training we provide after the purchase. You can read more about how we work with our clients in our Testimonials section.
Cruising blogs are an excellent way to get ready for your own travels and the Trawler-Blogs listed on our site is one of our most popular web features. Reading about people who are out cruising and learning from them; what to expect and how they approach things, is an incredible educational opportunity everyone can benefit from.
One of our favorite blogs is written by James and Jennifer Hamilton who are seeing the world aboard their Nordhavn 52 Dirona. Earlier this year (February) they completed a 3,689-mile nonstop trip from St. Helena to Barbados, then a couple of weeks later ran 1,424 miles from St. Lucia to Palm Beach – finally back in US waters. Jeff was the salesperson they worked with to build Dirona   Ordering-a-new-Nordhavn-52-Dirona and also consulted with the Hamilton's to prepare his recent Ocean Navigator article, Fuel-to-burn . By arriving in Florida, Dirona has technically completing a US west coast to US east coast circumnavigation, but they have no plans to stop and intend to visit the eastern seaboard in the coming months. There is always something new and interesting on their blog: Dirona-Blog
In addition to offering a customer first new and used yacht brokerage for buyers and sellers, JMYS is unique in our inclusion of training for all of our buyers. Most brokers don't have the background or skills to assist their clients after the sale and can't show them the ropes or get them comfortable with systems and operation. This is the part of our client relationship that we look forward to the most and we have recently completed training on a 60′ trawler in Florida and as we press send on this email we will be conducting training lessons aboard a 40′ trawler in California. JMYS can also meet with you on your boat for training if you already own a boat and want some hands on explanations. This past fall Jeff was hired by the owners of a 64′ trawler (they bought the boat through another broker who did not offer training) spending several days together including an overnight run and a trip from California to Mexico and back. JMYS training includes proprietary boat specific check lists and personalized orientation that ensures our clients have the confidence to enjoy cruising as owner operators.
We develop friendships with our clients and we often hear about a boat that will be coming on the market before it is announced publicly. This "inside information" has helped us negotiate several successful private sales. If you are looking for a trawler or interested in selling your trawler, please take a minute to send us an email or give us a call so we can discuss how best we can work together.
Here's to more time on the water!
Cheers,
Jeff
949.355.4950
Jeff.Merrill@JMYS.com
www.JMYS.com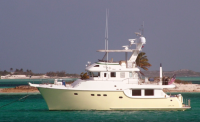 Spectacular Nordhavn 55 
South By West is an exceptional Nordhavn 55. She has a distinctive yellow  hull and the interior is beautifully finished with cherry wood. The main engine is a Lugger 1276A and she also has a Lugger L984D wing engine and 20kW Northern Lights generator. One of the best features of South By West is her hydraulics package – windlass, bow thruster, stern thruster, emergency bilge pump and anchor wash.  She is available for inspection in Stuart, FL and ready to take off for the Bahamas and beyond. Please contact us today to make an appointment to view her.
| | |
| --- | --- |
| | $1,195,000 |
| MODEL: | Nordhavn 55 |
| LOCATION: | Stuart, FL |
April 16 – 17, 2016
Trawler Workshop – Deltaville, VA
The next Steve D'Antonio Trawler Workshop is April 16th – 17th in Deltaville, VA. Steve is our go-to man on systems, installations and inspections. We have worked closely for several years on both used boat and new build projects, literally flying all over the world to be with clients together. Steve is a very popular speaker and author; he has a well-earned reputation as THE authority on boat systems. This Trawler Workshop will be the third in the series and is my second participating as a presenter. Keith Ruse and Ralph Naranjo round out the team. This event is sold out, but there will be future workshops. Please click the link below for information on topics, pricing, dates, etc.
May 19 – 21, 2016
Trawler Fest – Anacortes, WA
The Anacortes, WA Trawler Fest is back again running from May 19th to 21st. Jeff will be presenting two courses, "Dialing in Your Trawler" and "Open Water, Offshore Cruising". The Open Water talk was premiered earlier this year at the Riviera Beach, FL Trawler Fest to a capacity crowd and was very well received. It is not too late to sign up for the Anacortes seminars and Jeff will be attending the entire event and available to meet with clients. The Trawler Fest series is sponsored by PassageMaker magazine. Please call or email if you would like to schedule some time together with Jeff. Here is the link with registration details and other information:
Jeff Merrill Yacht Sales, Inc.
3010 Old Ranch Pkwy | Suite 440 | Seal Beach, CA 90740