For the last twenty years, yacht sales specialist Jeff Merrill has created his own brand of personalized service while making his living helping clients buy and sell cruising sailboats and trawlers. Jeff's direct one-on-one approach and hands-on involvement not only helps his clients become more comfortable with the purchasing process, but has enabled Jeff to amass an incredible amount of time at sea, cruising underway and gaining in depth knowledge of systems and operations of equipment. This is a broad base of knowledge and real world experience that Jeff enjoys sharing with his clients.
Jeff's yacht sales career continues to evolve and has a foundation of over 100 successful transactions. Jeff has spent countless hours with buyers helping them figure out how they plan to use their trawler, determining where they want to cruise, what they can afford, then finding the right boat, making offers, completing their due diligence to close and then assisting with training as they take the helm. A chronic note maker and serial photo taker, Jeff documents the process time and again and has developed systems, routines and check lists to help prevent anything from "slipping through the cracks".
For the past ten years Jeff has taken this wealth of information and condensed it into a 90 minute seminar called, "Purchasing a Trawler" for PassageMaker magazine's TrawlerFests. It is one thing to be a broker who knows how to fill out the forms and deposit the money, it is quite something else to outline the purchase process and explain it to a large crowd of sophisticated buyers.
Jeff has lived on the front lines…from the design table to ship yard construction, through outfitting and shakedowns on to the boat show displays and running at sea – always with his clients as his top priority and looking out for their best interests. His commitment to his clients has solidified his identity in the market place as an individually recognized contributor to the explosive growth of yacht sales and the trawler market.
When it comes to yacht sales, Jeff takes his time with clients (pacing along at the "trawler speeds" he is used to) and prides himself in forging partnership relations while working with buyers – whether the buyers have owned boats before or are new to the trawler lifestyle.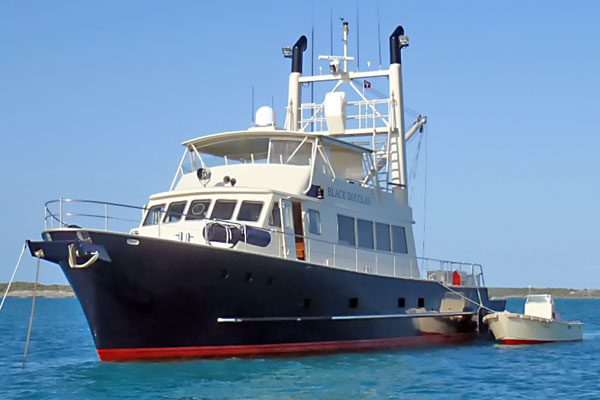 The purchase of a trawler is an expensive proposition and the process can be a bit overwhelming. There are a lot of questions you need to answer and Jeff will walk you through them. For example, two of the first things you need to do is determine how many people will be on board (typically a husband and wife) and where you want to cruise (are you going to stay close to home or cruise the world?).
Most trawler buyers begin their search being by reading magazines and talking to their boating friends. The internet is a great place to shop for trawlers and learn about your choices. Ultimately you need to get on board, either with the guidance of a trusted broker who can arrange showings or by attending a boat show or TrawlerFest to physically inspect a large number of trawlers. It's hard not to have favorite brands and preconceived notions of what you want, but try to resist the temptation to know-it-all and open your mind to the wide variety available – fast trawlers, slow trawlers, multi-hulls, fiberglass production hulls and one-off custom steel trawlers all offer unique advantages. Get on as many trawlers as you can and "try them on for size" and while doing so, ask yourself some questions: Can you move around in the engine room? Can you see out the pilothouse windows? How well do you fit in the showers? Are you comfortable sitting on the settees? Will you be able to sleep on the beds? Does the galley have all of the cooking essentials you require?
As you begin to narrow your preferences you also need to be realistic about your budget. The budget to purchase a trawler is only the starting point as you will also need to set aside a reserve for upgrades and improvements and you will face annual costs like slip rent and insurance.
Jeff often works with his clients by collaborating to develop a spread sheets of "must have" (like a flybridge), and "would be nice" (like a watermaker) features and equipment and then uses this document to establish a comprehensive comparison chart to methodically evaluate your choices. He approaches this process as if he is a silent partner and freely gives suggestions and opinions as if it was his money being used to buy a particular trawler for himself.
The "hunt" is very gratifying and the more informed you are about your choices the easier it will be to make a final decision. Trawlers are easy to operate and maintain, but you need to consider if the trawler you are interested in is "turnkey" or a "turkey" (a project) and figure the overall time and expense costs into your list of determining factors.
There are a lot of different trawler brands and models to study. One piece of advice from Jeff, don't fall in love until you own your trawler, but when you finally find the right boat at the right price, make a bold effort to acquire it and then go out exploring!
Keep in mind that some day you will probably need to sell the trawler you purchase so think about all of the costs involved and try to avoid getting upside down financially. Jeff is dedicated to helping you navigate this process using his professional and thoughtful approach and the end result is that you will enjoy the purchasing experience as much as your time spent cruising.