The Trawler community really came together with the publication of PassageMaker magazine in 1996. The premier issue cover heralded "The Trawler Phenomenon – Its Time Has Come" – a bit prophetic in hindsight! I can remember reading the first few issues and starting to understand the widespread appeal of trawlers to boaters worldwide. I've been a long time subscriber and look forward to devouring each new issue.
I met the magazines founders, Bill and Laurene Parlatore, in the early days and have enjoyed a nice friendship with them for many years and continue to stay in touch. Bill and I gathered in Galveston Bay, Texas to spend a few days together aboard a new Nordhavn 35 which turned in to the cover story –"Hospitality in Comfort – Texas ICW on a Nordhavn 35" – for the August, 2002 issue of PassageMaker.
Each issue brings a fresh perspective of what is happening on the waterfront and includes reviews of new designs, stories of cruisers and technical features.

My connection with PassageMaker magazine has always been close and I appreciate being a part of the trawler lifestyle that the magazine and the events they promote celebrate. For over a decade I have been invited back to be a presenter at the Trawler Fests across the country in seaport cities like Naples, FL, Manitowoc, WI, Poulsbo, WA, Solomons, MD and Mystic, CT. One of my highlights was giving a presentation in Annapolis, MD about the Nordhavn 40 Around the World expedition to an audience of several hundred trawler enthusiasts. Seminar topics that I have presented include, "Purchasing a trawler", "Enjoying your trawler", "Dialing in your trawler" and "Preparing for Offshore Passagemaking". Each one of these classes has been a great opportunity for me to share experiences, ideas and photos with fellow boaters. The question and answer sessions at the end of these talks allow for some great exchanges. I'm on the slate for more speaking engagements at upcoming TrawlerFests and will be presenting "Running at Night – Don't be afraid of the dark" and "Pride of ownership" I hope you will be able to sit in on one of these sessions.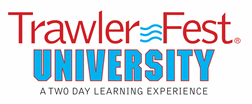 In 2012 I presented a new class, "Cruising from point A to point B" at the Baltimore, MD TrawlerFest. The response and feedback from attendees was fantastic and I was very fortunate to have long time friend and power circumnavigator legend, Bruce Kessler sitting in the audience. Bruce pulled me aside after the class and suggested this subject matter could be expanded into more detailed topics that would take much longer than a 90 minute session. The folks at PassageMaker were equally supportive and encouraged me to turn "A to B" into a two day class for Trawler Fest University. PassageMaker excels in providing informative, new content to keep their events fresh and engaging to trawler owners. There are a lot of trawler owners who want to learn what it is really like getting out of the sight of land and cruise nonstop for days at a time. Using photos taken and lessons learned from my experiences cruising over 14,000 miles on trawlers allowed me to prepare a curriculum that provided my students a simulated multiday passage. I explained how to prepare for a long trip and what to expect offshore. We split classroom time with time on board different trawlers at each venue. The informal interactive environment opened up the class to share their own boating experiences and we went in to detail on the essentials of safe cruising. I've had the pleasure to present "Cruising from Point A to Point B" in Anacortes, WA twice, Fort Lauderdale, FL, Lake Park, FL and Baltimore, MD.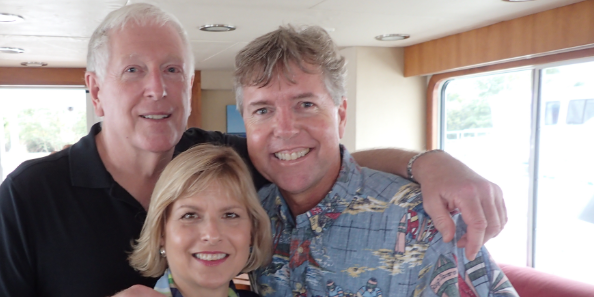 I've known Bill and Laurene Parlatore since my sailboat building dayswe met shortly after PassageMaker magazine was first published. At …