This past week we participated in the TrawlerFest on Hutchinson Island in Stuart, FL. Stuart was the first event of the 2020 TrawlerFest series, and we enjoyed starting the year in pleasant weather with a large group of trawler enthusiasts.
Spyhop II & Klassy Kady docked at TrawlerFest.
We had two of our local trawler listings on display for the show: our Selene 56, Spyhop II and our Kadey-Krogen 48 North Sea, Klassy Kady. In addition to our listings, there was a wide variety of "trawlers" present ranging from Ranger Tugs and Cutwaters through a large Hatteras. We have compiled a list of the boats at the show below.
American Tug- 42', 50'
Axopar- 28', 38'
Beneteau Swift- 23',30', 35', 40', 44'
Cutwater- 28'
De Antonio- 34'
Endeavor Catamaran- 45'
Fleming- 55'
Fountaine Pajot- 44'
Grand Banks- 36'
Great Harbour- 35'
Greenline- 28', 40'
Hatteras- 65'
Jeanneau- 29', 33'
Kadey-Krogen- 42', 44', 48', 48'
Krogen Express- 52', 52'
Nimbus- 44'
Nordhavn- 40', 57', 59'
Ranger Tug- 23', 25', 27', 29'
Selene- 56'
While move in was commencing, Jeff got things started with his "Offshore Essentials" course Wednesday afternoon. The classroom was full and had great participation. Jeff discussed information and tips for cruising offshore while class attendees chimed in with questions and some of their own insights. We staged a raffle for a first edition copy of the classic trawler book, Voyaging Under Power (and then gave away the JMYS bag the numbers were pulled from). It's always a pleasure meeting many class participants during the show when they were walking on the docks.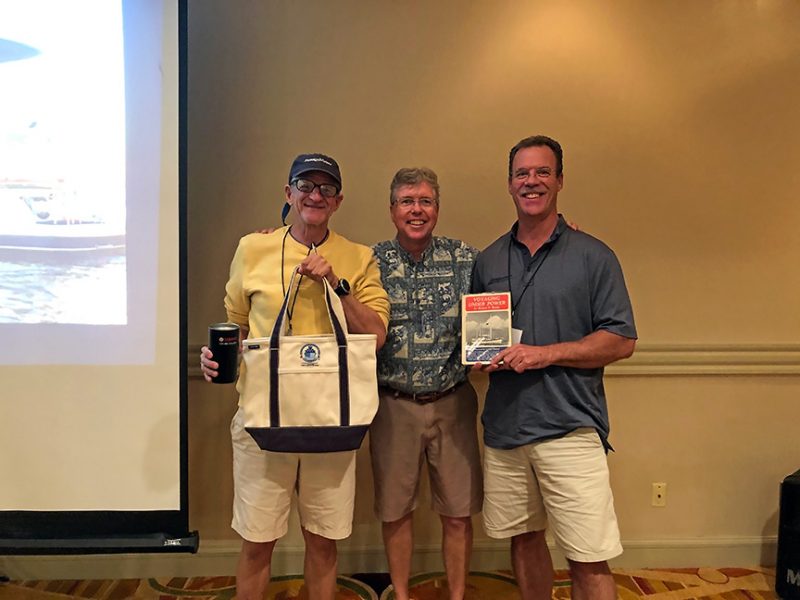 Douglas Livermore won a JMYS bag and Doug Rowe won Voyaging Under Power in a class raffle.
We celebrated the start of the show with a team dinner by the hotel pool. Bruce and Joan Kessler joined the JMYS team and we had fun talking about our upcoming events for the week.
Thursday began the start of TrawlerFests' in the water boat show. It was a record high temperature of 91 degrees that day, but hot weather did not deter participants from stepping aboard our listings. In fact, our trawlers may have been more enticing with the air conditioning running. We had a great time giving tours of our boats and meeting the people who stepped aboard.
TrawlerFest really provides a valuable event for prospective boaters and buyers. With such a diverse collection of power boats to see, people are capable of learning about their likes and dislikes of so many different boats, all in one location. Towards the end of Thursday, Jeff walked the docks of the show and filmed a video recap of which trawlers were in attendance. We will notify you when our video is live. Thursday was a steady day without too much traffic – never overwhelming, so we were able to spend time talking with attendees. We ended the evening with dinner with some of our clients visiting from Alaska who purchased a DeFever 49 through JMYS in 2018. It was fun catching up with them and hearing about their travels and future plans this season to cruise south along the west coast of Canada to Seattle, WA.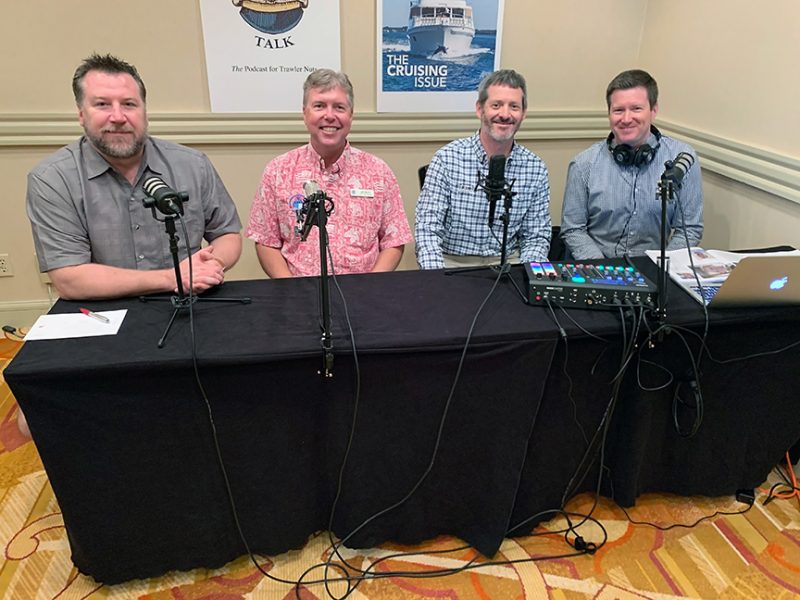 Eric, Jeff, Kevin, and Andrew recording Trawler Talk Friday Morning.
Jeff began Friday sitting in as a panelist doing a recorded interview for PassageMaker's new podcast series: Trawler Talk. It was a fun start to the day for Jeff as they discussed the current brokerage market for trawlers. AIM Media/PassageMaker's Eric Dallin and Andrew Parkinson (PMM editor in chief) were the organizers and Jeff shared current market condition insights with his friend and fellow trawler broker, Kevin Althoff from Burr Yacht Sales, the US East coast Fleming dealers.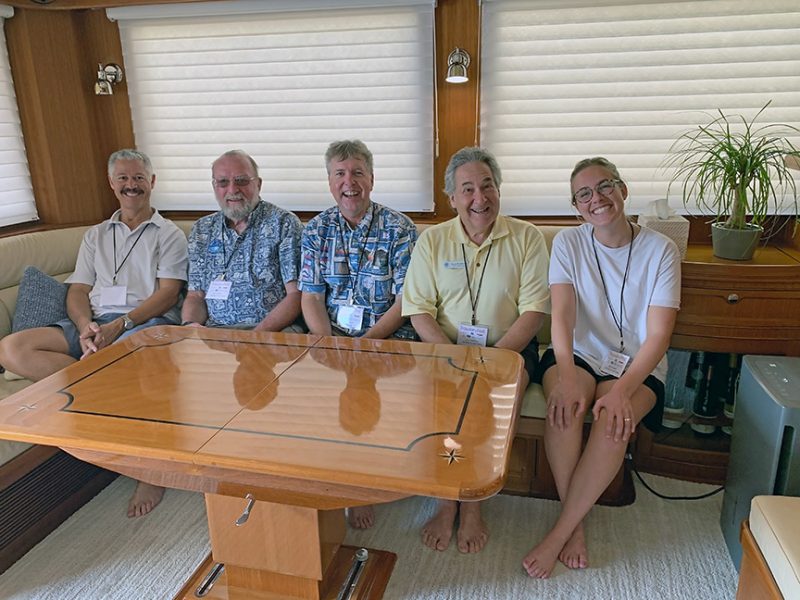 Christopher Bruce, John Hoffman, Jeff Merrill, Larry Friedman, and Elle Conwell aboard Spyhop II.
As the boat show began, Elle Conwell, John Hoffman, Christopher Bruce, Larry Friedman, and Alexandra Bruce gave tours of Spyhop II and Klassy Kady. Friday was a more active day on the boats, and we had the pleasure of meeting and talking with several participants. Friday afternoon Jeff moderated the "Cruiser's Round Table". This is a town hall meeting format with a group of experts on the panel fielding questions from the audience. This has become a very popular Friday event at TrawlerFest. The concept started with circumnavigator Bruce Kessler, who is always more than generous with his time and eager to share what he has learned.  The panel included 100's of years of experience featuring: John Clayman a yacht broker with Seaton Yachts, Chris Parker our weather guru from Marine Weather Center, Rudy Sechez an anchoring specialist who has written a book on the subject and who has built his own boats, Eric Kunz a nav/com senior product manager for Furuno, Steve Zimmerman a writer for PassageMaker and boat yard owner, Ken Fickett a boat builder who owns Mirage Manufacturing, and this time we had two new guests: Braden and Brooke Palmer (along with their children, Rooney and Penn) from the Nordhavn 55, Mermaid Monster. Some topics discussed included: what to do offshore when you are on a long passage, anchoring tips, repairs at sea, what is new in navigation, etc.  We are working on a video summary of this lively, informative interchange and discussion.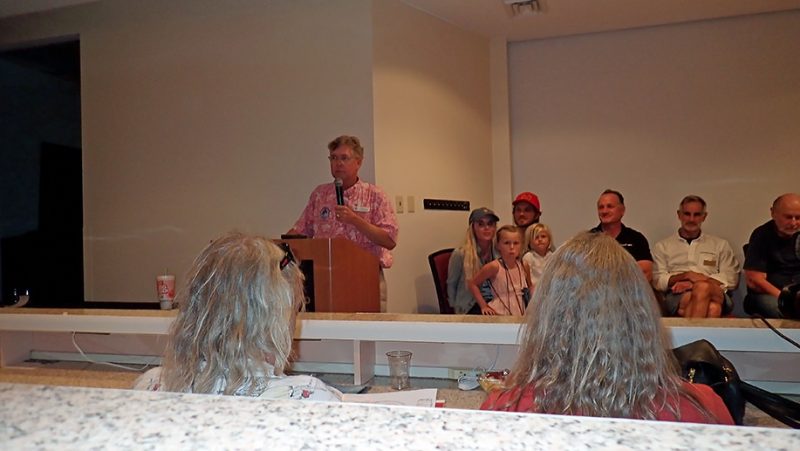 Jeff moderating Cruiser's Round Table.
Saturday, the last day of the show, came around quickly. Jeff began the day with his last seminar for the week: "Dialing-In Your Trawler". After giving insight on how to helpfully tune in to your trawler, Jeff joined the team on the docks. Saturday was the busiest day of the show and the day flew by as people wrapped up their trip. We all felt positive about the attendance and the interest in our listings.  Both Klassy Kady and Spyhop II were very well received (and in gorgeous condition) and it won't surprise any of us if the eventual buyers for each boat were at this event.
The feeling on the docks (despite real world distractions including the Coronavirus, presidential election and stock market gyrations) is that more and more people are coveting trawlers as a great way to escape the day-to-day rat race and want to escape civilization to enjoy water adventures with family and friends.
If you have not done a TrawlerFest before you are missing out. Each one is unique, and everyone has a great time. It is so much more than a boat show with the seminars and meeting fellow cruisers an important part of the experience.
A warm "Well Done and Thank you!" to the PassageMaker magazine team, this was another wonderful event!  To all of our visitors the JMYS sends a special thank you to all of you. And, while we are thanking people a HUGE Thank You to two very dedicated and hard-working wives, Alexandra Bruce and Pam Merrill!
ALERT:  As we go to press, we have just learned that the next TrawlerFest, scheduled for April 14th-18th in Seattle, WA has been postponed until November of 2020.  We will keep you informed as this event gets repositioned in time. Palm Beach International Boat Show, scheduled for March 26th-29th) has also been postponed until further notice.
If you attended one of our classes, we have a list of handouts and copies of the PowerPoints available. If you would like to see the handouts please email Jeff Merrill at Jeff@JMYS.com.