WEB EXCLUSIVE: A 20% DISCOUNT to www.JMYS.com VIEWERS.
Please sign up and enter the Code "JEFFSAVES" For 20% off, thank you!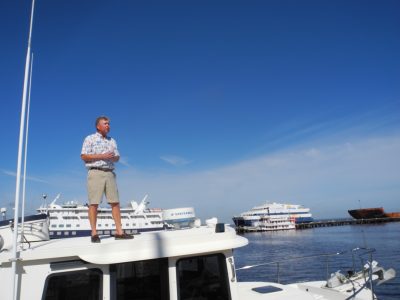 Boaters University: Offshore Cruising. Preparing Craft and Crew
As a boater, you know you have to process a lot of input in any given moment (wind, waves, current, other boats, speed, heading, sea life, sun and rain).  Every day on board is an opportunity to experience something new.  An unexpected event can occur magically and remain with you as a memory.  There is so much to learn and the more you discover, the more you realize that you could not possibly ever know it all. This quest to learn more, to gain knowledge and experience is incredibly stimulating and the gratification it provides is a deeply rooted motivation for many boaters.  Lessons learned in minutes can leave a lasting impression on us for the rest of our days. The simple satisfaction of mastering a bowline knot as a youth – and relying on it for decades comes to mind. For all of us at JMYS, one of the pure joys of boating is the constant new. There is often something exciting that happens on board; whether afloat, anchored or underway – boating to us is always interesting and enjoyable.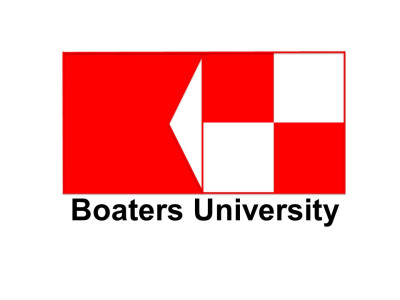 November 2019 from Captain Paul V.
"Hi Jeff,  I wanted to congratulate you on the wonderful job that you did on your Boater's University Course, "Offshore Cruising: Preparing Craft & Crew. I have taken seven of the Boater's University Courses so far and yours is one of my favorites. It is great for someone like myself just starting out and a good review for seasoned boaters who want a quick refresher to make sure that they cover all the bases for safe cruising. You have a great way of presenting the information that makes it not only informative, but also entertaining. I appreciate you sharing your many years of experience. Looking forward to seeing you out on the water.  Thanks, Paul"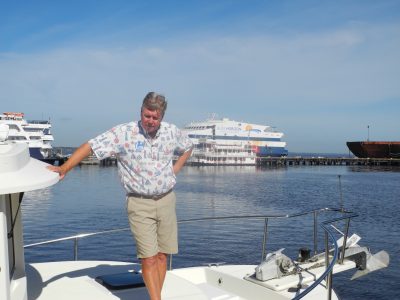 Jeff grew up racing sailboats and spent his high school and summer vacations as a sailing instructor; working with younger kids to coach them in the intricacies of sail trim, tactical situations, sportsmanship and making quick decisions that have lasting consequences.  Looking up the course, paying attention to your boat and at the same time processing all of your surroundings – other boats, wind on the water, etc.  – creates an analytical approach that translates over to other aspects of boating, business and life in general. Jeff enjoys sharing his knowledge and as a yacht broker working with clients, he has found a natural outlet as an instructor.  His teaching techniques have also thrust him on stage for nearly two decades at the PassageMaker magazine TrawlerFests around the country.
Boaters University is a college of boating knowledge that offers a series of online courses taught by seasoned instructors to help educate the boating public on many different boating aspects through the convenience of video lessons. Once you sign up for a course, you can log in online from your computer, tablet or smart phone to watch each video lesson at your convenience, in any order you wish and as often as you like.
The overall goal of Boaters University is to allow you to select an area of boating skills where you want to become more proficient and learn from an experienced and knowledgeable instructor who teaches and shares their content via video "lessons".
The original offering was Marine Diesel Maintenance and Troubleshooting taught by Steve Zimmerman, first launched in 2017. This course has been a runaway success, just about everyone who cruises (sail or power) has a diesel engine and there are a lot of common features you need to understand.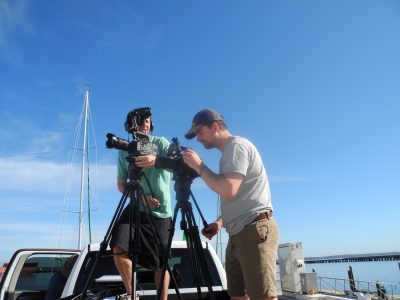 Building on the popularity of the Marine Diesel Course, Boaters University has broadened their curriculum to include the following courses (with more in development).
Anchors and Anchoring with Chuck Hawley
Boat Handling with Bob Sweet
Fundamentals of Seamanship: Navigation Rules with Robert Reeder
Safety and Rescue at Sea with Mario Vittone
Weather 101 Basics with Chris Parker
There is even a Boaters University All-Inclusive Pass that you can purchase as an annual subscription to access all of the courses.
Sandwiched between the Miami Boat show, client coaching aboard a Nordhavn 40 and the Stuart, FL TrawlerFest, in February of 2019, Jeff was invited to join the Boaters University film crew in Jacksonville, FL where, Penelope, a Nordic Tug 37 trawler and Rio, a Morgan Out Island 41 offshore sailboat were moored and available for shooting.
The film crew team consisted of Clif Briley, Producer along with Peter Swanson managing Editorial content and two expert camera men; Zach Baker and Bailey Laroue. We all got to know each other very well working together 8am to 8pm three days in a row.  There were a lot of great suggestions for improvements as everyone was keen to make this a great course. By having two cameras rolling at all times it makes for a better final cut.  Peter and Jeff had the nautical know how and the AIM film team of Clif, Bailey and Zach made sure the lighting and sound was spot on.   This was an incredibly professional production and Jeff learned a few tips that should help with his future YouTube videos. Several photos from the filming sessions are included here.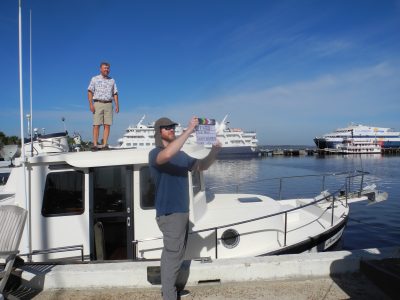 Jeff has developed most of his Offshore Cruising course material through countless cruising trips with his brokerage clients after they have used JMYS to buy their boat. Jeff enjoys coaching his clients on their own boats to demonstrate all of the dozens of learning lessons they need to master.  Coaching after the purchase is complete is a great way for buyers to improve their knowledge. The JMYS team blocks off some time and actually moves aboard to spend a couple of days together with our clients.  This uninterrupted focus on anything that they want to learn or practice helps our clients gain confidence in their skills and truly helps them learn their boats well enough to be able to take off to explore on their own.  The purchase process can be a bit or a blur and Jeff has found that it is more productive for all parties to do the hands on review a few weeks or a couple of months after closing.
For several years, Jeff has given two very popular courses at TrawlerFest events across the country, "Dialing In Your Trawler" and "Offshore Essentials".  His Boaters University course, Offshore Cruising. Preparing Craft and Crew, draws from these TrawlerFest classes and Jeff's firsthand offshore experience coaching with his clients. The Boaters University format of short video lessons enabled Jeff to break down many of the elements into detailed sections.  As someone taking the course, these short clips are  much more effective than a classroom since you are able to virtually get onboard with Jeff and actually watch him show you techniques while he explains what is going on.
Preparation is key to successful cruising. Regardless of the size, make or model of your boat, understanding its critical systems and having a plan is crucial to keep your craft performing efficiently and safely.  These classes are designed to provide general overviews as well as detailed pointers on the specific subject matter. Whether you sign up as a newbie with eyes wide open, or are a long time boater who wants to take a specific course as a refresher, there is something here for everyone.  Part of the Offshore Cruising package includes quizzes and interactive content designed for a proven learning experience.
Join yacht broker, boatbuilder and TrawlerFest instructor Jeff Merrill in this exclusive online course designed to help you prepare yourself, your boat and your crew to get the most out of your offshore boating adventures. As a student, you can also connect with Jeff directly if you would like a more detailed explanation or have questions about the content.
To learn more about the course and to sign up, please click here:
Enter the Code "JEFFSAVES" to save 20% when you sign up online.
About Jeff Merrill: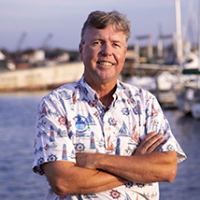 Jeff grew up racing small dinghy sailboats and has spent thousands of days on the water.  He enjoys all water activities including wind surfing, kayaking, water skiing and SCUBA diving.  His sailboat racing days peaked as a crew member for two America's Cup teams and he was onboard as Navigator for the 12-meter Heart of America for some of the America's Cup Trials races conducted in 1987 in the waters off of Perth, Australia.  His entire working career has been in the marine industry; from selling mast and booms for LeFiell, to selling dinghies and keel boats for W.D. Shock.  After working for the stainless-steel boat barbeque company, Magma Products, Jeff changed his path to become involved in boat building.  This led to a seven-year stint at cruising sailboat leader Pacific Seacraft (as vice president of sales and marketing) followed by a fourteen-year run working for PAE/Nordhavn, first as a project manager for the Nordhavn 35, then as a sales broker for all sizes of new and used Nordhavn trawlers.   In January of 2014, Jeff founded Jeff Merrill Yacht Sales, Inc. (JMYS) as an international brokerage specializing in trawlers.
An early adapter of contributing to the internet, Jeff posted regularly to the Nordhavn website. Restless and unable to sit at his desk, Jeff travels all over the U.S. and internationally attending boat shows, walking the docks and traveling offshore with his clients.  Always inquisitive, Jeff has been aboard hundreds of trawlers and taken thousands of photos.   After over 25 years of working with cruising clients, Jeff continues to be a student of cruising and this has inspired him to write over two dozen articles for Ocean Navigator magazine (Dialing-In-Your-Trawler) and filmed dozens of videos published on his JMYS YouTube channel.  Jeff created the JMYS.com website was to share his passion for the trawler lifestyle.
Here are some of the reasons why your fellow boaters have signed up: