The notices to "read the factory manual" are ubiquitous.  Actually, they are so common that we often look right past them and attempt to resolve a problem without addressing the all-knowing manual first.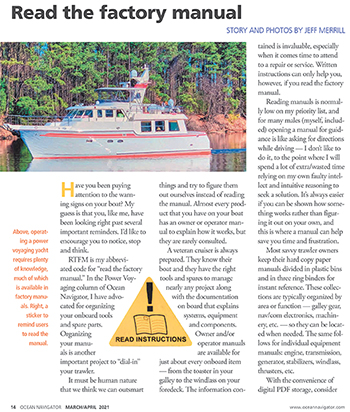 These manuals are included with your equipment to guide you, and they are meant to be referred to regularly.
When you need to do some maintenance or service work, you may see one of these friendly reminders.
It's a universal message that is telling you that before attempting the project, you should STOP and open the manual to read up on what you are going to do.
We have been collecting variations of these stickers for several years and Jeff wrote about this common phenomenon for Ocean Navigator magazine in 2021.
This page on our site has been created to share some of what we have found, so that you might be more keen to notice a factory manual sign when you see one. Be on the lookout.
The lesson to take to heart is that you can't read the manual if you don't have a copy, so make sure you have the manuals, and if in doubt, RTFM.
Here is the Ocean Navigator article titled Read the Factory Manual.
If you have an RTFM image you would like to see posted, please send the image (horizontal and 1MB) with your permission to publish on JMYS.com to: Jeff@JMYS.com. Please put "RTFM" in the subject line of your email.