Trawler aficionados have discovered a variety of popular books, movies and music selections that seem to make their way aboard just about every boat out cruising. Not counting charts and guide books (which are essential reading, but typically don't qualify as "entertainment") this is a collection of some of my favorite "leisure resources" – picked up through time aboard with fellow cruisers – that should provide you some good entertainment and education while afloat. Whether you have hard copies or keep your library on an iPad, iPod, Kindle, PDF's or another device, it is nice to be able to find some time to kick back and enjoy arm chair boating…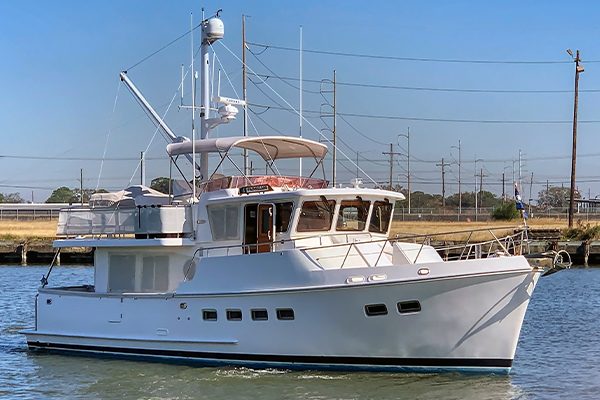 Back in 2002 I was a crew member aboard the Nordhavn 40 ATW (Around the World) adventure from Barbados through the Panama Canal I used part of my daily reports to tell the world what music we were playing on board. It is amazing to think that now you can be out cruising, and when within range pick up Sirius satellite radio to listen to your favorite music or catch a sporting or news event. If you have the internet you can listen to Pandora. Some people pass time at watch listening to books on tape (as long as they don't get distracted from their primary duty of running the ship).
From time to time I like to write up a review of a good read and you will find some of those recommendations to download in this section of the JMYS.com website.
Here I present few of my favorite boating books, movies and music to enjoy when away from land. It's hard to know what others will like and a list like this can never be complete, but I hope it will be a good place for you to start assembling your own Ship's library of favorite entertainment. Naturally I'm always interested in what others enjoy (and am sorry if you don't like some of my selections, but that is what makes these summaries interesting) so please email me with your media recommendations. I'm sure there are many great books, movies and music that I have overlooked or may not been aware of. Hopefully I'll be able to add your favorites as this list grows!
Enjoy!
Nautical and Boating Books
Preparation for Cruising
Voyaging Under Power – (editions 1 – 4) – by Robert Beebe and Denis Umstot 4th edition
Advanced First Aid Afloat – by Peter Eastman
The Voyagers Handbook – by Beth A. Leonard
Cruising Routes of the World – by Rod Heikel and Andy O'Grady
Ocean Passages and Landfalls – by Rod Heikel and Andy O'Grady
The book of Navigation – by Tim Bartlett
Celestial Navigation Made Easy – by Francois Meyrier
Changing Course –by Debra Cantrell
Stapleton's Powerboat Bible – by Sid Stapleton
Boat Owner's Mechanical and Electrical Manual – by Nigel Calder
Nigel Calder's Cruising Handbook – by Nigel Calder
Seaworthiness – by C. A. Marchaj
Life is a Journey, Why not Live it Aboard a Trawler? John and Maria Torelli – *Click to download review
World Cruising Handbook – Jimmy Cornell
World Cruising Routes – Jimmy Cornell
Offshore Cruising Encyclopedia – Steve and Linda Dashew
The American Practical Navigator – Nathaniel Bowditch
Chapman's Piloting and Seamanship – by Charles B. Husick
The Annapolis book of Seamanship – by John Rousmaniere
The Complete book of anchoring and Mooring – by Earl R. Hinz
Powerboat Handling Illustrated – by Robert Sweet
The Troller Yacht Book – by George Buehler
The Radar Book – by Kevin Monaghan
Weather: A Visual Guide – by Bruce Buckley and Richard Whitaker
The Book of Navigation – by Tim Bartlett
The Essential Knot Book for Boats – by Colin Jarman
Extended Power Cruising – by Marlin and Joan Schuetz
Celestial Navigation in a Nutshell – by Hewitt Schlereth
Tropical Cruising Handbook – by Mark Smaalders and Kim des Rochers
The Gentleman's Guide to Passages South – by Bruce Van Sant
Coastal Cruising Under Power – by Gene Hamilton
USCG rules of the road book – by Dept of Homeland Security – downloadable as a PDF
Your Boat's Systems Inside and Out – Available fall 2015 – by Steve D'Antonio
Boating Catalogs
Defender Marine Catalog
Landfall Navigation Catalog
West Marine Catalog
Boating Adventure Books
Alaska on our Minds – by Dr. William "Buddy" Bethea
The Unexpected Circumnavigation Part 1 – by Christi Grab – *Click to download review
The Unexpected Circumnavigation Part 2 – by Christi Grab – *Click to download review
A Prairie Chicken Goes to Sea – by Margo Wood
The Other Side of the Ice – by Sprague Theobald
Passage to Juneau – Jonathan Raban
An Embarrassment of Mangoes – by Ann Vanderhoof
From Family to Crew – by James Ellingford
Honey, Let's Get a Boat – by Ron and Eva Stob
Cruising the Big U. – by Ade and Jo Salzer
Kon Tiki – by Thor Heyerdahl
Voyaging to the Mediterranean under power – by Mary Umstot – *Click to download review
Jenny's Journey – by David A. Schramm – *Click to download review
Life is a Cruise – by Lawrence Rick – *Click to download review
Longitude – by Dava Sobel
The Riddle of the Compass – by Amir D. Aczel
Adrift – by Stephen Callahan
The Perfect Storm – by Sebastian Junger
The Path between the Seas – by David McCullough
The Aubrey–Maturin series of novels – by Patrick O'Brian\
Crossing an Ocean under Power – by Ken Williams – *Click to download review
The Great Siberian Sushi Run – by Ken Williams
Cruising under power – Pacific coasts of Mexico and Central America – by Ken Williams
Boating Fiction
Clive Cussler – Dirk Pitt series
Tortuga Gold – by Wes DeMott – *Click to download review
*click to download review
Red Herring – by Clyde Ford – *Click to download review
John D. MacDonald – Travis McGee series
Ted Bell – Alexander Hawke series
Voyage – by Sterling Hayden
Boating Classics
Captains Courageous – by Rudyard Kipling
Treasure Island – by Robert Louis Stevenson
Swiss Family Robinson – by Johann David Wyss
Moby Dick – by Herman Melville
The Old Man and the Sea – by Ernest Hemingway
The Sea Wolf – by Jack London
20,000 Leagues under the Sea – by Jules Verne
Robinson Crusoe – by Daniel Defoe
Two Years before the Mast – Richard Henry Dana
The Riddle of the Sands – by Erskine Childers
Boating magazines
Ocean Navigator
PassageMaker
Power and Motor Yacht
Sea
Pacific Yachting
Cruising Outpost
Yachting
Chesapeake Bay Magazine
Latitude 38
Movies / Videos that focus on or touch on boating
Captain Ron
Endless Summer (surfing)
Five Summer Stories (surfing)
Master and Commander
The Perfect Storm
Caddy Shack (small boating parts that are classic!)
Das Boot
The African Queen
The Hunt for Red October
Mutiny on the Bounty
Pirates of the Caribbean (all of them)
White Squall
Dead Calm
Waterworld
Cape Fear
Romancing the Stone
The Mosquito Coast
The Caine Mutiny
Titanic
Boating Themed Music (Artists and Albums – too many one – off songs)
Crosby Stills and Nash – CSN
Loggins and Messina – Full Sail
Roxy Music – Avalon
Little Feat – Sailing Shoes
Jimmy Buffet – full catalog
Beach Boys
Eric Stone
Jim Morris
Eileen Quinn
Kenny Chesney
Games and Puzzles (no nautical theme, just compact and easy to stow)
Boggle
Wii
Chess and Checkers
Backgammon
Yahtzee
Sudoku
Crosswords
Battleship
Jigsaw puzzles
Rubik's Cube
Windshifts
Mindblocks (I know the inventor!)