Trawler Videos Become Yacht Brokers' Go-To Promotion Method
Subscribe to the JMYS YouTube Channel
Let's face it, most of us would probably rather see the movie than read the book.  The proliferation of videos on the internet, kicked off with the wild popularity of You Tube, but also gaining traction on Vimeo and other portals has made it easy for anyone with a palm sized camera to shoot some footage and post it for the world to see.   We are entranced by screens and they are inescapable – small screens on our smart phones, computers, in our cars and on our boats, larger viewing screens on our home televisions and the delight of enjoying the latest Hollywood release on the big screen in the theatre.  In the trawler world we are starting to see more and more brokers use this form of promotion (trawler videos) to attract attention to their listings. Jeff learned about the powerful reach of YouTube through four videos which Jeff did while with Nordhavn.  In the first three years after release, these three videos had a combined total of 160,000+ views and more people continue to discover and enjoy them every day!
Please click on the YouTube logo to access our entire library of videos.
You can watch our boats for sale presentations featuring narrated walk throughs of boats JMYS is marketing, as well as an archive of boats we have sold!
You may also enjoy our series of informational short subject "Trawler Skills" videos. They are designed to explain and illustrate many of the need-to-know aspects of boat handling (check out Physics of Docking) as well as providing how-to guidance for operating common trawler equipment and systems.
We will continue to expand our video collection as we develop more content that we know our viewers will find interesting. Your direct email feedback is welcomed and appreciated.
Thanks for watching and please check back often or subscribe to get notices when new features are posted.
Viewer Comments:
We have the comments feature open for you to participate on our #TrawlerSkills and #CruisingConversations videos.  We have disabled comments on our listings, but you are welcome to share your thoughts by writing to us directly, send a note to Jeff@JMYS.com and we will publish you on this part of our website.
(Nordhavn 56 Motorsailer NordSail One – May, 2019)
"Jeff,
I haven't seen a better presentation of product anywhere, like the informative video's that you present. You missed your calling Jeff.
As an instructor you have the language, product know how, and ability to get the basics and then some, across with ease. Your presentation
of the 56MS has no equal. As I mentioned before ( I think) that video segment was more than just a look at the nice paint job and kick
the tires. It sold us completely. My wife and I will keep your suggestion in mind. Hope you and your family enjoy this summer. Here in Western Mass.,
we've been rained on for nearly a month straight.
John B"
(Cruising Conversations Episode 1 – April, 2019)
"Dear Jeff,
I am a regular follower of your publications.
Thanks a lot for your latest YouTube video with Mike Pizl.
I think videos where you introduce people with their boat would be very very popular.
Congratulations to Mike for fixing his boat on the open sea.
Nandor H."
(Nordhavn 56 Motorsailer NordSail One – March, 2019)
" – Great Nord One video
Always been a fan them. I feel like if PAE had marketed them originally as well as you just did, it may have been a bit more demand. The quiet underway, the aft cockpit safety for sailors and the forward cockpit for outside sailing …. great boat! Good work Jeff!
C.H."
(Nordhavn 46 Northern Ranger I – January, 2019)
"Jeff,
P.S. Your YouTube videos are excellent.
Phil L."
(Nordhavn 35 St. Helena – November, 2017)
"Jeff,
This may be your best video yet!  Very well done.  Especially the intro camera angles & the smooth camera work as it rises up!  Dig it!
Charlie H."
(Nordhavn 55 Terrapin – October, 2017)
"Hi Jeff,
Just wanted to reach out to say your Terrapin video is delightful, better than anything on the Nordhavn site.
Many thanks to you and your video team for a wonderful tour of Terrapin.
Frank T."
Cruising Conversations Episode 3 – Bill Kimley – Seahorse Marine
Nordic Tug 42 – Nordic Quest – [Talk Through Tour] – Trawler for Sale
Cruising Conversations Episode 2 – Gulliver's Travels – Nordhavn 68 Migration
Willard 40 Pilot House – ALOHA – [Talk Through Tour] – Trawler for Sale
Kadey-Krogen 48 North Sea – KLASSY KADY – [Talk Through Tour] – Trawler for Sale
Cruising Conversations Episode 1 – Mike Pizl – Diesel Duck 462 Lucky Duck
Dock, Walk and Talk – Stuart, Florida TrawlerFest 2019
Kadey-Krogen 55 – OLYMPIA – [Talk Through Tour] – Trawler for Sale
Nordhavn 68 – MIGRATION – [Talk Through Tour] – Trawler for Sale
JMYS Trawler Skills – Trawler Tools
DeFever 53 Great Northern
Nordhavn 46 Northern Ranger I
DeFever 52 Euro Dulce Vida
Nordhavn 55 South By West
Snowbird 73 Retired Sailor III
Here are links to Jeff's Nordhavn/PAE videos: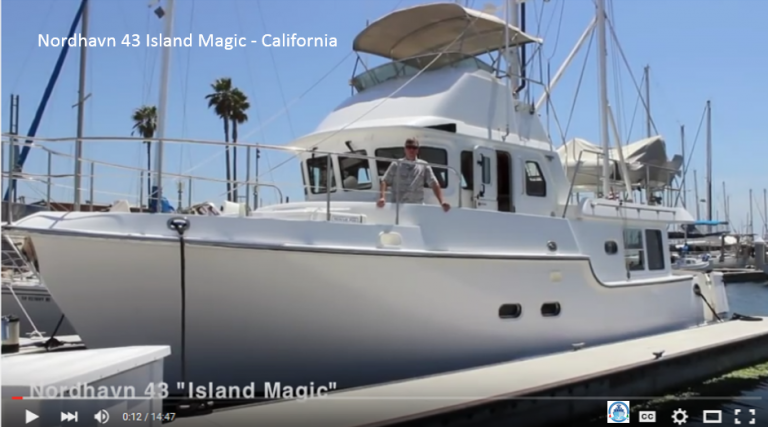 Nordhavn 56 Motorsailer sailing tour
Nordhavn 56 Motorsailer deck tour
Nordhavn 56 Motorsailer interior tour