Videos Become Yacht Brokers' Go-To Promotion Method
Please subscribe to the JMYS YouTube Channel
Let's face it, most of us would probably rather see the movie than read the book. The proliferation of videos on the internet, kicked off with the wild popularity of YouTube, but also from gaining traction on Vimeo and other portals has made it easy for anyone with a palm sized camera to shoot some footage and post it for the world to see.
We are entranced by screens and they are inescapable – small screens on our smart phones, tablets, computers, in our cars and on our boats, larger viewing screens on our home televisions and the delight of enjoying the latest Hollywood release on the big screen in the theatre.
In the trawler world we are starting to see more and more brokers use this form of promotion (trawler videos) to attract attention to their listings.
Jeff learned about the powerful reach of YouTube through four videos which he filmed while with Nordhavn. In the first three years after release, these three videos had a combined total of 160,000+ views and more people continue to discover and enjoy them every day.
That seemed like a big deal over six years ago. Now all three Motorsailer videos, dated as they are (and like anything filmed, stuck in time) showcase a product that is no longer built, yet they have continued to grow in views.
JMYS has been publishing our "Talk Through Tour" style of videos since May of 2014. Jeff is enthusiastic, knowledgeable about his business and a natural presenter. We are astonished at the amount of views and the huge number of thumbs up people leave, all very encouraging. What started out as a side, a fun "new" way to share information, has blossomed into a staple, often imitated now by others jumping on the bandwagon. Folks interested in trawlers regularly get in touch with our team and for many, seeing a JMYS video on YouTube was their introduction to our approach. Our team is eager to help, happy to share, ready to listen. Our business is connecting with people.
Please click on the YouTube logo to access our entire library of videos.
You can watch our boats for sale presentations featuring narrated "#TalkThroughTours" showcasing boats we have listed for sale, walk throughs of boats JMYS is marketing, as well as an archive of boats we have sold!
Your encouragement has inspired us to develop additional content filled with useful information to share and we have divided these into several playlists, one for each series.
#TrawlerVision – This is our name for our collection of Trawler, Tug and Motoryacht related videos.
#TalkThoughTours – These videos showcase our current listings of Trawlers, Tugs and Motoryachts for sale.
#TrawlerSold – A collection of the vessels we have sold which is a great reference for learning about various models.
#JMYSOffshore  – Underway adventures and coaching.
#PhysicsOfDocking – Helpful discussion of techniques for mastering docking.
#CruisingConversations – Interviews with friends, colleagues and associates in the Trawler World.
#TrawlerSkills – Explanations and how-to guidance for operating common trawler equipment and systems.
#DockWalkAndTalk – TrawlerFest event celebrations.
#BoatersUniversity – Short "trailers" to let you know what you can learn if you sign up for Jeff's online course, "Offshore Cruising – Preparing Craft and Crew".
Thanks for watching and please check back often or subscribe to get notices when new features are posted.
We will continue to expand our video collection as we develop more content that we know our viewers will find interesting. Your direct email feedback is welcomed and appreciated.
"Best Nordhavn video ever".  Steve H.
We love reading and responding to your comments, thank you!  Look below for what others have had to say and thanks for watching!
We have the comments feature open for you to participate on our #TrawlerSkills and #CruisingConversations videos.  We have disabled comments on our other video series, but you are welcome to share your thoughts by writing to us directly, please send a note to Jeff@JMYS.com and we will publish you on this page.
Here are links to Jeff's Nordhavn/PAE videos: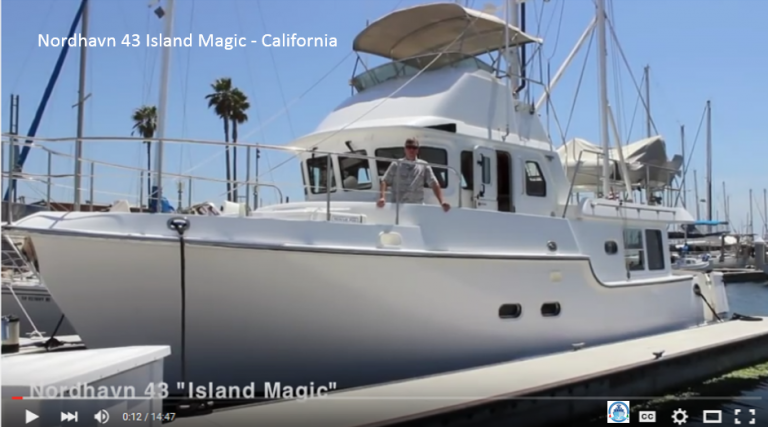 Nordhavn 56 Motorsailer Sailing Tour
Nordhavn 56 Motorsailer Interior Tour
Nordhavn 56 Motorsailer Deck Tour