It is an accepted fact amongst most trawler owners that docking is the hardest thing to master.  Seems funny that arriving in a slip after a day at sea or a long passage is a difficult exercise (and it doesn't have to be) but slow, close quarter maneuvering requires patience and finesse – and many of us just want to glide in, tie up, attach the shore power cord and walk up the dock.
Anything you can do to improve your docking skills is a worthy pursuit.   Just like they say most car accidents happen closest to home, the same is true with your trawler and home slip – you spend more time nearby and the odds are greater that you may meet a "target" (stationary or moving).
The best way to get better at docking and to build you confidence is to practice.  Experienced skippers plan their approach, discuss in advance what they intend to do and what they want their crew to do, anticipate what positioning steps to employ and recognize the subtle shifts that will increase their success in making a safe landing.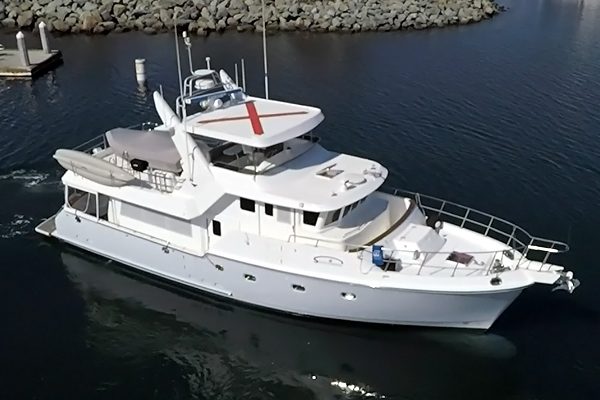 Each trawler has its own arrangement of controls and handling attributes.   Every time you arrive in a new location you may need to draw upon lessons learned from a previous experience or practice session.   Before you just boldly pull into a slip, spend some time away from the confines of a tight marina to understand the various ways you can control your trawler by experimenting with how to get your trawler to circle in both directions, back in a straight line, etc. Pilots practice landings using touch and go's, you should consider doing the same in an open area that doesn't have obstructions.
Docking maneuvers comes down to an orchestra of playing with propellers, rudders and thrusters;
How much rudder angle do you need to rotate?
How much RPM to press propeller wash against your rudder?
How do you control your positioning in relation to the dock and your surroundings?
When do you bail out if things aren't lining up like you hoped?
All of this will become second nature (like learning how to ride a bicycle), and like two wheeling, you may first have to learn a bit through trial and error.
Thrusters have made docking much easier (and safer), but you really should know how to control your trawler without relying on thrusters, use them for the finishing touch, or in an extreme situation where they might be an essential tool.
Jeff Merrill and Douglas Cochrane (career owner of multiple trawlers) have collaborated to create a series of videos to illustrate techniques and help you become more proficient at docking.
We hope you will enjoy each episode of "The Physics of Docking".
Physics of Docking – Bow In
Physics of Docking – Side Ties
Physics of Docking – Preparation for Docking
Physics of Docking – Center of Balance
Physics of Docking – The Prop
Physics of Docking – Pivoting