PassageMaker magazine is the leading publication covering the recreational trawler market worldwide. In addition to boat and product reviews there are articles on destinations, maintenance, and the trawler lifestyle in general. In early 2015, PassageMaker published an article about FSBO (For Sale by Owner) filled with inaccuracies, which created an uproar amongst boat builder advertisers, regional yacht broker associations, and professional yacht salespersons worldwide. The author went so far as to recommend plagiarizing copyrighted forms.
Realizing they had made a terrible mistake that had offended nearly everyone in the industry, PassageMaker magazine underwent damage control and published a rebuttal article to explain the advantages of using a professional yacht broker for both Buyers and Sellers. One of the industry leaders contacted for comment on this subject was Jeff Merrill. The entire article is reprinted here (with the permission of PassageMaker magazine) and includes some insightful observations from Jeff. There is no substitute for using a dedicated, full time, and experienced yacht broker with multiple transactions under his or her belt. There are many things that can go sideways in a deal, and you certainly don't want to lose your deposit or buy a boat with hidden flaws. Commission is a small price to pay for the counsel of a certified, professional yacht broker and the peace of mind they provide.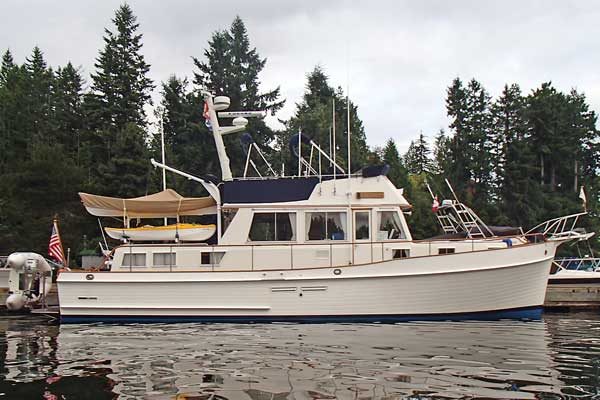 The purchase of a trawler is a fairly expensive proposition and, unless you have a lot of experience in negotiating deals, you will be better served to work with a Certified Professional Yacht Broker. Knowing that your trawler is going to suit your desires and that your deposit is secure in a trust account are two strong reasons to seek the assistance of a yacht broker. This could be one of the most influential decisions of your life, avoid going into the unknown alone.
One universal qualification that boat buyers can look for is the CPYB designation. A Certified Professional Yacht Broker is bound by a code of ethics and not only must first take and pass a rigorous test but also complete continuing education requirements to keep their knowledge current in the swiftly moving yacht sales business.
All brokers who join their regional yacht broker associations (there are seven in North America) are dedicated to their profession and offer a higher level of service than yacht salespersons who are not members.
Certified Professional Yacht Broker association members have access to legally vetted forms that are based on years of experience, thousands of transactions, and designed to protect all parties – buyers, sellers, and brokers.
There are plenty of good, certified professional yacht brokers out there who will take care of you. It is a huge RISK to enter into a deal without a broker to mediate and protect you. Yes, brokers require a commission, but this modest concession in the overall price is well worth it to ensure that you stay in smooth waters and avoid making costly mistakes or encounter legal consequences.