The decision to build a new trawler, to include your own input on details and features, to modify an existing model or build an entirely new design is incredibly rewarding.  Ordering a  new trawler costs more and takes longer, but allows you as the buyer to get the latest thinking and to build the trawler to better suit your personal needs.  Each trawler manufacturer is primarily in the business of marketing, selling and building new boats.  The used trawler / brokerage aspect of reselling their boats is regarded by most builders as "icing on the cake".
It all starts with a fresh design and a yard to create new tooling and complete the construction.   There are several ways that new trawler designs come to market. Typically they are a collaborative partnership between two firms, one a design engineering /sales marketing company that owns the brand and the other firm the physical construction facility – this is, for example, how Nordhavn and Kadey-Krogen do business.  It is rarer these days to have the boat building company also do the sales and marketing and many builders have a dealer network or company stores to solicit orders.  The larger the overall size of the trawler the less likely a new hull will be built on spec.  There are too many choices and it creates very expensive inventory situation that can be difficult to turn over.
To develop a new trawler model, the naval architect conceives a new design to meet a particular consumer profile demand with specific priorities and dimensions. The NA develops the hull form, deck plan and interior layout as well as determining the equipment to be included.  A set of standard specifications is developed so that the building yard knows how to quote the design/marketing company a "wholesale price" for a trawler completed to an agreed selection of "standard" specifications. Options are also discussed (Will a flybridge be included? Single or twin engine?,  etc.) and a set of factory options is created to supplement the standard specs.  With drawings, specifications and pricing prepared, the new trawler model is ready to be introduced to the boating public.
Most trawler brands realize that a buyer will not likely walk into the sales office with a checkbook and leave later that day having signed up to order a new trawler.  Many trawler companies work from a production schedule that shows how many of each model are under construction with start dates and yard completion dates to track progress.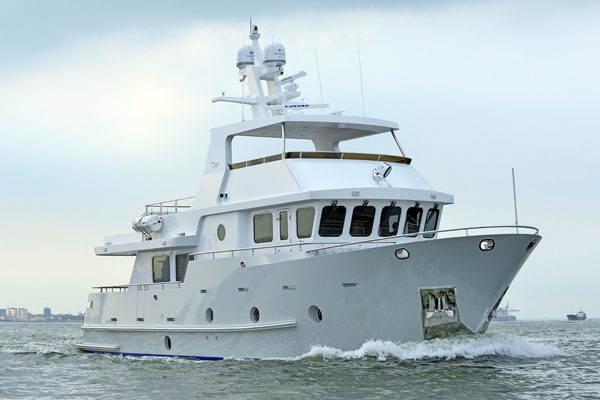 The sales side will sit down with you to determine which hull slot would be best for your timing  (normally it is the next available hull!).  A "Letter of Intent" (LOI) with a deposit (usually refundable) is put in place to reserve a hull number/production slot.  This LOI provides a reasonable amount of time to work through the details of the order and allow for pricing quotations to be completed. The goal is to develop a purchase agreement that you are comfortable signing as the buyer, so all parties know what is included and then you wait for your turn in the production schedule for the construction phase of your trawler to begin.
Upon signing a purchase agreement, a series of payments commences.  Each builder does it differently, some ask for as little as 20% up front with the balance due upon completion.  Others spread out 5 -10% payments during the build payable as progress milestones are achieved (hull completed, machinery installed, deck joined to hull, etc.).
When done at the yard, shipping to the delivery location is scheduled and after arrival the commissioning process begins. Commissioning is the process of verifying that all selections are installed and properly working and every piece of equipment is inspected, tested and operated.
Once the trawler has been commissioned you close by signing the final paperwork, submitting your final payment and a hand over occurs where you take delivery of your trawler as the new owner.  The warranty clock begins when you take possession and a good warranty backed by a strong company is one of the biggest advantages of building a new trawler.
Good builders are always improving, they don't rest on their laurels.  If you study a brand and thoroughly investigate your desired model, you should see an evolution of thinking and subtle improvements based on boat use out on the water and the incorporation of good ideas from clients and employees.  Regular price increases for the base boat and options help you hold your value.
The business of building new trawlers in today's market can get pretty top heavy in overhead: management, design, engineering, project management, accounting, administration, IT, commissioning, sales, etc.   The top trawler companies have dozens of employees on the sales/marketing/administrative side and hundreds of workers at the yard to fulfill the construction side.  This is a big business that depends on new orders to keep the pipeline rolling.
For two decades Jeff was involved in the construction of new cruising sailboats and trawlers.  It is incredibly gratifying to work through the details with a client to make sure everything they want is priced and included in the contract.  Once the buyer signs on the dotted line, the emphasis shifts to communication during construction and Jeff spent a lot of time on planes visiting the ship yards to check progress.  It is very satisfying to see the completed boat march through commissioning and ultimately take off to chase sunrises and sunsets.  Jeff's favorite moments are those shared when the new owners are finally underway for the first few hours, with the excitement of finally enjoying the finished boat balanced by the anticipation of what might happen…
After two decades and dozens of new builds Jeff has learned how to work with his customers, management and the production yards.  The experience and understanding of the new build process has become one of Jeff's specialties.  As an independent yacht broker, not aligned with any particular builder, Jeff's unbiased services are in demand.  Jeff is available to work with clients interested in any new trawler build project.  If you are going to build a new trawler there are definitely some key things you need to be aware of hiring Jeff for his expertise and involvement with your build will help save you a lot of heart ache, headaches and money. Please get in touch with Jeff to discuss how you can benefit by hiring him to assist you if your plans are to order a new trawler.