Your best purchase value is almost always finding a used trawler. Much like buying a car, the original owner takes the biggest hit on depreciation. There are many variables to consider, the most important of which is price. Price of a trawler is determined by age, condition, location, features, and equipment. Ultimately, it doesn't matter what a trawler seller thinks their boat is worth, it is only worth what a buyer is prepared to pay.
Most trawler owners have purchased cars and homes, the purchase of a used trawler is similar, but there are some differences you should be aware of.
Here is a simple summary to outline how a brokerage (used trawler) sale works.
The process begins with a seller who is ready to market their trawler for sale. Sellers will typically return to the broker they purchased the boat through (provided that the relationship continued in a positive way after the closing). A nomadic used trawler generally ends up in a marina far away from the original sale location and the seller will ask a local broker to manage their sale.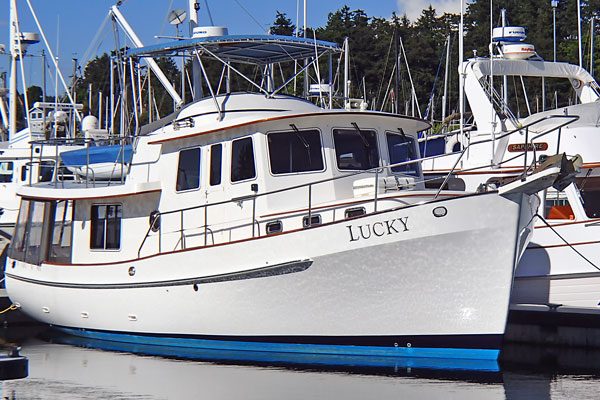 The rules for marketing a boat vary from state to state, in California, for example, a broker cannot advertise or promote a boat for sale without a signed listing agreement. In other states this "rule" does not apply, and you will see brokers "listing" trawlers for sale by "picking them up" from the MLS (multiple listing services) and soliciting inquiries. It is crucial for you as a buyer to identify who the broker or brokers are that have direct access to the seller in order to streamline the process and reduce the numbers of players (hands out) in the transaction.
The two most common forms of listings are Exclusive/Central and Open.
An Exclusive/Central listing gives one brokerage house the sole rights to market a trawler for sale. The listing agreement specifies the asking price, boarding procedures, and length of the listing contract. Some sellers will provide an upfront conditional list of "excluded" clients (potential buyers) whom they reserve the right to sell their boat to without paying a commission. Otherwise, the seller cannot sell their trawler directly without paying a commission. A broker with an Exclusive listing can enter into co-op arrangements with other brokers who may have an interested client. Following a listing agreement, the broker will promote the trawler through internet, magazine, and boat show marketing avenues.
An Open listing is similar to an Exclusive listing, except that the seller can select more than one broker to market their trawler. Although this seems like a better option for the seller, this can create confusion in the marketplace, especially if the same trawler is listed at different prices.
Pocket listings are "hidden" listings where a broker knows a trawler owner who would be willing to consider an offer. Some owners prefer to avoid a full on marketing approach and instead work behind the scenes with a trusted broker to find a buyer.
For sale by owner, or FSBO, is exactly as it sounds. Nobody knows their trawler better than the owner and so many owners try to sell on their own. The major drawback is getting the word out. Multiple listing websites like Yachtworld.com and Yatco.com do not permit FSBO listings, so private sellers have a tougher time getting broad exposure.
If you are working with a yacht broker and find a used trawler which you are interested in purchasing, you need to come up with an offer price and sign a written purchase agreement (no verbal agreement) accompanied by a 10% good faith deposit. Most brokerages have a trust account for the safe keeping of your deposit (in escrow).
Once the terms of the offer are accepted and signed by the seller, a 30 day window commences for you as the buyer to conduct and complete your due diligence so that you can accept or reject the boat. Due diligence often involves inspections and a sea trial.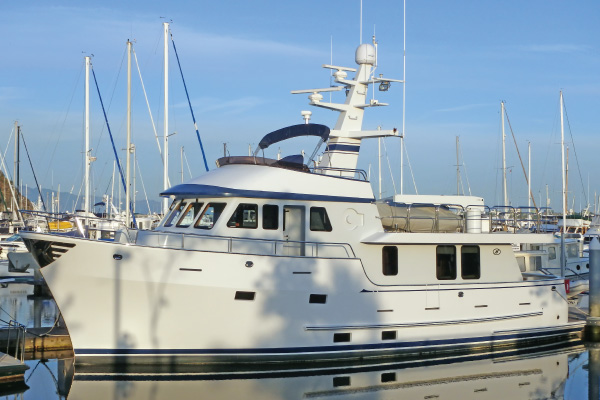 Most purchase agreements require you to sign off on three contingencies for acceptance: Financing, Trial Run, and Survey. As the buyer you pay all of the costs associated with your evaluation. Provided you have your banking arrangements in order, it is very important to hire an accredited marine surveyor (this will probably be your biggest expense) and find a haul out yard for them to conduct an out of the water inspection. Many buyers will also engage a qualified diesel mechanic to review the engine(s) and generator(s). Diesel mechanics will often draw oil samples and send them out for analysis.
The Trial Run is often a short trip from the marina to the shipyard and needs to be long enough for the marine
surveyor to test the steering and run the onboard equipment.
While you are doing your due diligence you also need to prepare for ownership. One of the first orders of business is to find an insurance company who will bind your coverage. Insurance providers and lenders usually require a copy of the hull survey so that they know the assessed value and are also aware of any safety deficiencies that need to be addressed. Purchase agreements do not include any type of warranty by the seller or brokers and used trawlers are sold "As-is, where is" – it's a take it or leave it arrangement, but some sellers will work with buyers to help with minor repairs if that's what it takes to get the deal done.
You should also work with a Documentation service to do an abstract of title (lien search) and to coordinate the hull and dinghy registration. The documentation company can also create a US Coast Guard bill of sale. It is always a good idea to retain a maritime attorney who can advise on titling issues and tax requirements.
With a favorable survey in hand and any final negotiations behind you, when the seller receives their final payment, you are on title as the new owner. Barring any necessary repair work to comply with your insurance requirements it is time to take your boat to her new home and begin cruising.