At JMYS we strive to enhance our reputation with everyone we do business with. Buyers have many choices and complex decisions to make. We focus on keeping the purchase process organized, friendly and fun. The strongest endorsement for our business is a happy customer and we work hard to exceed even the highest expectations.
Buying a boat can be a complicated blend of emotions and logic and it is vital to select a broker who will not only be your advocate, but serve as a reliable partner throughout the entire purchase process and well after the closing. Often times many years go by from initial introductions to closing the deal. We never push and try to always be available. Regular communications with timely follow up and even stronger follow through are some of the traits that set us apart.
We believe that trustworthy, ethical business practices along with solid product knowledge and on-the-water experience are essential characteristics of a professional yacht broker. The relationships we create with our customers most often evolve into lasting friendships. We educate and inform as we guide you along the way. Our favorite stage is the hands-on coaching with check lists and procedures that we provide to new owners in order to insure our clients are competent with systems operations and comfortable when they take off on their own.
"Jeff and team are the epitome of effective communicator and detail oriented, with the buyer's best interest as his priority." – Josh Johnson
A satisfied customer is our number one priority and we know our success is directly tied to our clients' happiness. Customer support and loyalty is our most valued asset. We are proud and privileged to have helped so many clients realize their cruising goals. Everyone has a story to tell and we think our clients say it best…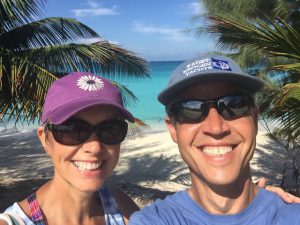 About five years ago Christopher was in LA for business and arranged to meet Jeff in Dana Point where they toured some Nordhavns together. We have been talking and planning ever since about the day we purchased our own Nordhavn and decided to attend the Baltimore Trawler Fest. In Baltimore we sought out Jeff, got reacquainted, and after hearing what he had to say asked him if he could find the right Nordhavn 47 for us. We looked at a few boats and whenever something came on to the market, Jeff was able to provide hundreds of pictures of every inch of the boat. It seems like he has been on just about every Nordhavn build either when it was commissioned or displayed at a boat show.
A few months later, after researching the available choices we made an offer on a Nordhavn 47 in Florida through Jeff and flew down to preview the boat before hiring the survey team. Unfortunately, when we arrived to take a look, the photos online did not live up to our expectations and we withdrew the offer. The Nordhavns we looked at were "fine", but none of them was "the boat" for us.
Jeff asked if we had considered the Kadey-Krogen brand. We had not seen their newer offerings, just some of the older models, so we were not even considering Krogen. Jeff encouraged us to have an open mind and gave us some great guidance; since there was a Krogen Open House in Stuart, Florida, why not make the trip down to see their line up in person? Worst case we could confirm Krogen was not for us, best case it would open us up to considering some an additional trawler option beyond Nordhavn. Good news, we loved the Krogens, especially their new line of AE (Advanced Ergodynamics) models, and one of the highlights of attending was we were invited to go for a ride and drive a new 52 to see how they travel through the water – we were impressed!
A week after the Open House a one-year-old Kadey-Krogen 44AE named Sweet Ride came on the market with less than 100 hours. Jeff sent us a couple hundred photos that he had taken of Sweet Ride when she was brand new and on display at a Florida boat show and we were thrilled with the potential. With Jeff's assistance we made an offer that was accepted. This is when all of the real work began and where Jeff really out shines the other brokers we have met.
We booked travel to sea trial her, have her hauled and surveyed. Jeff had provided us with list of items to consider and logistics that needed to be resolved in order to buy Sweet Ride and get her from Florida to our home in New Hampshire.
Once we got on Sweet Ride we were in love. This was the perfect boat for us! The sea trial was a breeze and we loved being at the helm. Work called and we could not stick around for the survey and haul out, but we felt very comfortable knowing Jeff would be there and would keep us informed of any issues. There were only a few minor issues (warrantee items) that needed to be addressed and Jeff provided us with photos from the haul out of the bottom, fins, rudder, prop etc. so that we could not see how she looked out of the water.
The deal closed very quickly and it was time to make the boat ours. We are new to boats of this size and complexity so Jeff walked us through the myriad processes to register her, get new MMSI numbers, equip the boat with safety equipment and make arrangements to have her delivered by a skipper he recommended.
Once Sweet Ride arrived home we puttered around on few short trips of less than 3 hours just to learn the systems and become familiar with her handling. A few weeks later, we wanted to move the boat down from New Hampshire to the Chesapeake Bay. Jeff and his wife Pam flew across country and met us at the Cape Cod Canal to begin the intensive training. Pam and Jeff are both world class sailors and yachtsmen. We could not have been in better hands. Jeff taught us engine room checks, built check lists for startup and shut down, labelled every component we should monitor and walked us through making a Red Binder with all the important info needed for the boat. He even included documents we would need if boarded by the US Coast Guard.
We had so much fun with Jeff and Pam and their relaxed approach that we didn't feel like we were being schooled all day. It felt like we were cruising with friends who are well seasoned. We learned so much on our trip from the Cape Cod Canal through Long Island Sound (including not to anchor at Plum Island). We learned how the importance of picking suitable anchorages, before we had just looked at the charts for proper depth and some shelter.
As the sun set on day two we cruised through downtown Manhattan heading south for our first night run. After going through the final bridge in New York harbor and heading into the Atlantic we found ourselves in seas that were building and the wind was piping up. There is no way we would have felt safe without Jeff and Pam who were very calm and commented that it was "kind of lumpy". Night running with a totally different beast that required us to rely on instruments so much more that visuals. Jeff helped us set up watches and tuned in our nav com and lighting for night running. A group of Kadey Krogens were about a half day ahead of us and they, like us, decided to pull in to safe harbor for a few days to wait for the seas to settle down. We ended up spending several days in Liberty Landing, NJ, with Jeff showing us more things about the boat and we even did some sightseeing in the city, all why staying at the dock waiting for a weather window. After several days of waiting, Jeff and Pam had to leave for another event and we were sorry to see them go, but much more confident that we could handle Sweet Ride ourselves.
After Jeff and Pam left we felt much more comfortable with the boat and did a 55 hour run non-stop to the Chesapeake, all alone and had a blast! We were exhausted because we didn't stick to the watch schedule, but we felt safe and very proud of our achievement. We continued our journey south making a few stops and eventually reached our final destination in Florida.
We could not have done the trip done to Florida without Jeff's guidance. Now we are headed back north after spending much of the winter in the Bahamas. Our plans are to cruise the Chesapeake until June then Maine for the summer.
We have spoken to many cruisers over this past year and when we tell them about our experience with Jeff, we have learned that this is not the norm. Jeff provides so much more guidance and training than anyone we have heard of.
If you are in the market to buy a trawler or cruising sailboat, we recommend you work with JMYS. Before you find yourself committed, interview the broker you plan to work with. You may be surprised how few have real cruising experience and even fewer stay involved with their customers after the sale is complete. We consider Jeff to be a friend of the family and he treats us the same. We keep in regular contact and he is always available to answer a question or provide a solution.
You will come to love Jeff and his Hawaiian shirts as much as we do if you select him to be your broker. We are looking forward to having Jeff and Pam back onboard Sweet Ride soon.
Christopher Bruce, Alexandra Boelte & Mr. Anderson (Ragdoll Cat) – Kadey-Krogen 44AE – Sweet Ride