At JMYS we strive to enhance our reputation with everyone we do business with. Buyers have many choices and complex decisions to make. We focus on keeping the purchase process organized, friendly and fun. The strongest endorsement for our business is a happy customer and we work hard to exceed even the highest expectations.
Buying a boat can be a complicated blend of emotions and logic and it is vital to select a broker who will not only be your advocate, but serve as a reliable partner throughout the entire purchase process and well after the closing. Often times many years go by from initial introductions to closing the deal. We never push and try to always be available. Regular communications with timely follow up and even stronger follow through are some of the traits that set us apart.
We believe that trustworthy, ethical business practices along with solid product knowledge and on-the-water experience are essential characteristics of a professional yacht broker. The relationships we create with our customers most often evolve into lasting friendships. We educate and inform as we guide you along the way. Our favorite stage is the hands-on coaching with check lists and procedures that we provide to new owners in order to insure our clients are competent with systems operations and comfortable when they take off on their own.
"Jeff and team are the epitome of effective communicator and detail oriented, with the buyer's best interest as his priority." – Josh Johnson
A satisfied customer is our number one priority and we know our success is directly tied to our clients' happiness. Customer support and loyalty is our most valued asset. We are proud and privileged to have helped so many clients realize their cruising goals. Everyone has a story to tell and we think our clients say it best…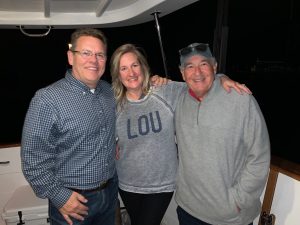 Well, I must admit, this testimonial is WAY overdue! My husband Boyd and I purchased "Four Roses", formerly "Waterford" in October of 2020. It is one year later, and we are thoroughly enjoying our Kadey-Krogen 39 Hull #44.
When Boyd first reached out to Jeff Merrill, he suggested right off the bat that both of us should be on the phone call with he and Larry Friedman to discuss our wishes for our boating plans. The largest boat we had owned previously was a 29' open bow Cobalt. Trawlers were new to us in size, speed and just about everything else! We were researching Nordhavns, Selenes, and Nordic Tugs.
We didn't think we would be purchasing so soon, but we took a trip out to Deltaville, VA to meet Larry there to check out a few vessels. He showed us a KK48, which was beautiful but a bit overwhelming for us as a first-time solo cruising trawler couple.
We also toured a Selene and then finally the KK39, which was an absolute fit for us.
Larry was totally amazing. He was with us for the showing, the haul out and survey, and the sea trial. He helped us navigate the contract and the delivery was very smooth.
The best part was the delivery trip to our final destination of Hilton Head SC. We started out in Deltaville VA, where we had a visit from Jeff Merrill the evening before our departure.
We went on a 5 day trip, starting each day at "zero dark thirty".  Larry took us to some amazing marinas along our route. He taught us absolutely everything. We learned about boat safety, plotting a course, "rules of the road", how to fuel up, pump out our holding tank, fill the water tank, tie dock lines, how to use the radio properly, how to call ahead to bridge operators, hailing other boats, how to navigate through fog, ditch bag essentials, effective communication, making marina reservations, etc. He even took us "outside" on the open ocean for an overnight trip, where the 3 of us rotated on 3-hour night shifts…33 miles offshore!
We started from the Chesapeake Bay, traveled through Norfolk and the AYB (Atlantic Yacht Basin), the Great Bridge, to Coinjock, NC (our absolute favorite stop). We got there early in the day, and enjoyed sitting outside at the marina, watching the caravan come in. We had some Bloody Marys and then went to dinner. You pre-order your prime rib dinner when you arrive in Coinjock. I indulged in some crab legs! From there we headed to Belhaven Marina, where we met the owner of Spoon River, a delightful restaurant with amazing food! On to the North Atlantic…We came back "inside" at Georgetown, NC, and then to Mclellanville, SC. From there we passed through Charleston, Datha Island (Dataw) to yet another amazing marina with a great restaurant, Morgan River Grill. Our final day took us to Beaufort SC and ultimately our final destination of Hilton Head; Windmill Harbour Marina in SC. We met many dolphin friends along the way too!
Larry was so kind to take his personal time to help us with this journey. We definitely couldn't have done it without his guidance. For the past year we have been exploring the SC area and its anchorages.
In 2022 we hope to take a trip to FL and jump off to the Bahamas from there.
If you are in the market for a Trawler, we definitely recommend Larry and Jeff at Jeff Merrill Yacht Sales. They made our boat buying experience flawless!
Boyd & Katie Bosse – Kadey-Krogen 39 – Four Roses