One of the most things you can do to improve your trawler boating experience is to find a trained professional yacht broker you are comfortable with and engage that broker as your primary resource. It is very easy to fall into a trap and commit to a yacht broker too early. Take time upfront and do research about reputations and work ethic, negotiation skills and post purchase follow up, and you will quickly learn that your fellow boaters have very strong opinions about yacht brokers. There are hundreds of excellent, certified professional yacht brokers who are hard working. Not every broker is a "broker" and not every career veteran is a "professional," so you need to do your homework and understand what your choices are. Remember, a certified professional yacht broker is a full time, commissioned salesperson who doesn't get paid until they close a deal. It's a very lucrative way to make a living, but there are definite cycles of activity.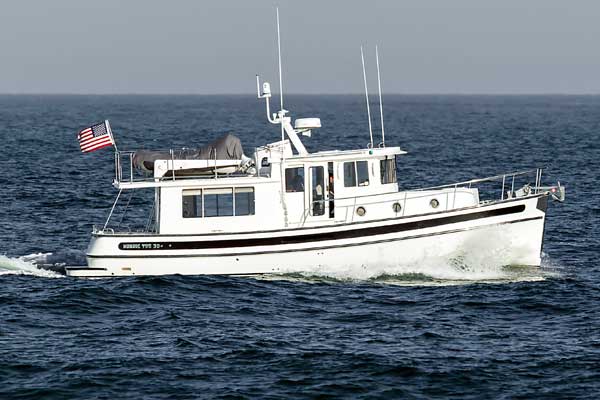 JMYS was created after Jeff realized that he was really already working independently and had outgrown his position as a sales representative. His personal pursuit for delivering customer satisfaction has provided the values JMYS upholds. JMYS believes that quality, customer service and satisfaction depends on gaining product knowledge at sea, building long term relationships, and sharing knowledge with clients.
At JMYS, you will discover a team that is dedicated, friendly, and committed to helping you. We take time to form detailed plans with deadlines to keep the deals on track. We take a lot of photos and have extensive archives of information about all types of trawlers. Jeff's experience writing articles for the Nordhavn website, for JMYS.com, and for magazines like Ocean Navigator have helped him express his passion for the trawler lifestyle and inspire the rest of the team. When you hire JMYS as your trawler advocate, you are drawing a lifetime of boating and decades of marine business knowledge to assist with purchasing or selling your trawler. Salespersons at JMYS love getting on trawlers and have travelled all over the world to preview, inspect, and evaluate trawlers for and with clients. Whether you are buying or selling, JMYS salespersons dedicate an enormous amount of time to insure all of the necessary details are completed.
The success of JMYS is in part due to Jeff's insatiable thirst for knowledge.  After he was recruited in 1999 by PAE to help introduce the Nordhavn 35, he had a lot to learn about how to build, outfit, and sell power boats. This provided a great opportunity for him to learn about diesel engines and embrace the trawler world. Boating is in his bones, and he begin sharing his boating knowledge as a sailing instructor and racing coach in high school. Teaching came naturally to him, which may be why his favorite part of a deal is giving clients hands on training.
Dedication, determination, and drive have always been essential ingredients in JMYS. Over the years, customers have been happily surprised with our honesty and integrity. We are committing to helping you buy or sell your trawler, and to helping you form realistic expectations. We enjoy seeing clients grow comfortable independently operating their trawler and embracing the trawler lifestyle.
At JMYS business is booming and each day is action packed. It is a pleasure to work with both long-term clients who are years out and short-term clients (most of whom have been working with JMYS for years) who are now on the home stretch of their hunt.
If you are looking for a reliable certified professional yacht  broker who will put your interests first, who understands how to evaluate and compare trawlers, who asks questions and listens to the answers, writes things down, has a critical eye, works long hours, enjoys coaching on systems and operations, is comfortable at sea, takes a lot of photographs and is a friendly, "people" person then please contact one of our salespersons. You can find all of our contact information and learn more about our team on our website, we are looking forward to working with you!