A Steel Nordhavn?  by Andy Nemier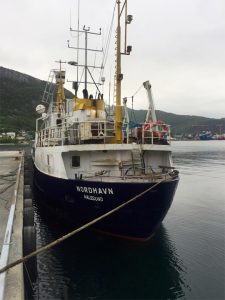 As a Nordhavn owner (N62  INFINITY) and a Yacht Sales professional, I am and always on the lookout for long range boats.
I'm currently engaged in a commercial ship delivery project in Norway.  My job is to ensure the safe and cost effective delivery of a diving support vessel from Norway to Singapore.  Often, it's a frantic time managing thousands of details in a short period of time.  To help me focus on the project at hand, I start my day with a 5K run, and I usually find myself jogging along the commercial (or yacht club docks), and 'tune-in' to the local watercraft.
Well, imagine my surprise when I found this "Nordhavn".  Pretty cool, she's 100' long, by 23' wide, and displaces 203 Tons.  I believe she runs as a General Cargo vessel now, but started life in 1965 as a Whaler, here in Norway.  She's still registered in Aalesund and runs between the Norwegian & North Seas.  This thing is built for Bluewater,,, and it's good to know our own Nordhavn's are just as capable.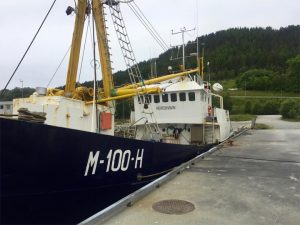 When PAE took their N40 on the around the world (ATW) circumnavigation that boat was named Nordhavn.  You just never know where a Nordhavn will show up next!.
If you want to talk about Nordhavns, or any other long range trawlers, please send me an email.  I would love to hear from you!