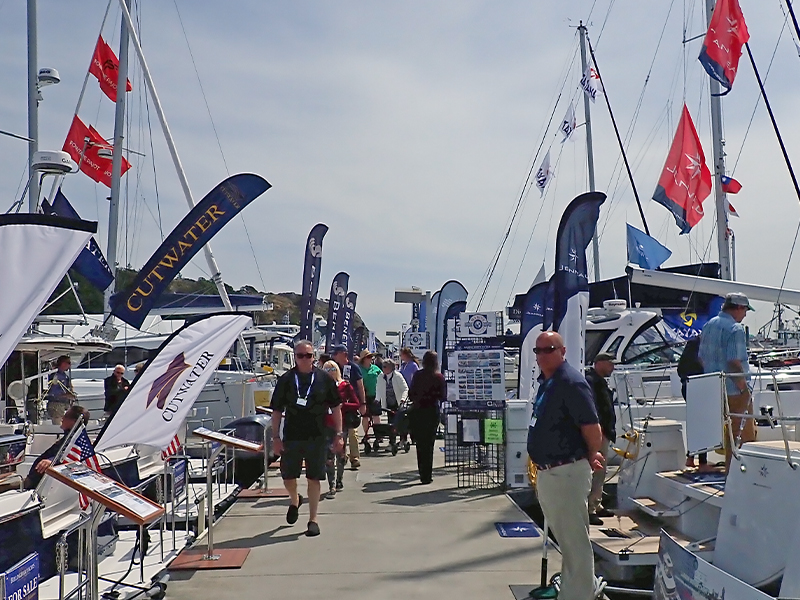 The Nordic Tug 42, Nordic Quest, was our entry in the June 2019 Anacortes Boat Show. This was the first event that the new JMYS team of Kelly Libby, Greg Mustari and Jeff Merrill worked together.
Greg and Kelly took care of moving us into the show and Jeff flew up to help finish set up.
The Anacortes Boat Show has been run for many years by local yacht brokers. The NMTA (Northwest Marine Trades Association) started managing the event last year and opened it up to members of their association which has greatly increased the number of boats on display and the number of people who attend.
Prior to the show opening, we shot a marketing video for Nordic Quest.  It was Jeff's first time seeing this gorgeous Nordic Tug and preparing for a video is a great way to learn about a listing.  Greg and Kelly had fun filming their segments and the video has been widely viewed. You can view our informative "Talk Through Tour" here:
Anacortes is a great location with many trawlers, all poised at the gateway to the San Juan Islands and the undercurrent vibe was anticipation for the summer cruising season in the PNW which was already rolling into full swing.
Working with two incredibly knowledgeable Nordic Tug specialists, Jeff was extremely pleased to see the team in action and was introduced to many of Greg and Kelly's clients.  It seems like just about everybody who came aboard was a longtime friend and a lot of fun conversation and laughter ensued.
We had a lot of good interest in Nordic Quest and the docks saw a steady flow of trawler enthusiasts.
Arriving early one morning Kelly stopped Nancy and Jerry Husted and invited them to come aboard for a fun visit. Jerry started Nordic Tugs back in the late 1970s and loves to keep in touch with his fleet of extremely capable tugs.
JMYS is very lucky to have such a strong presence in the PNW market. If the Anacortes show is an indicator of what to expect, we should be keeping very busy throughout the summer and into the coming years.