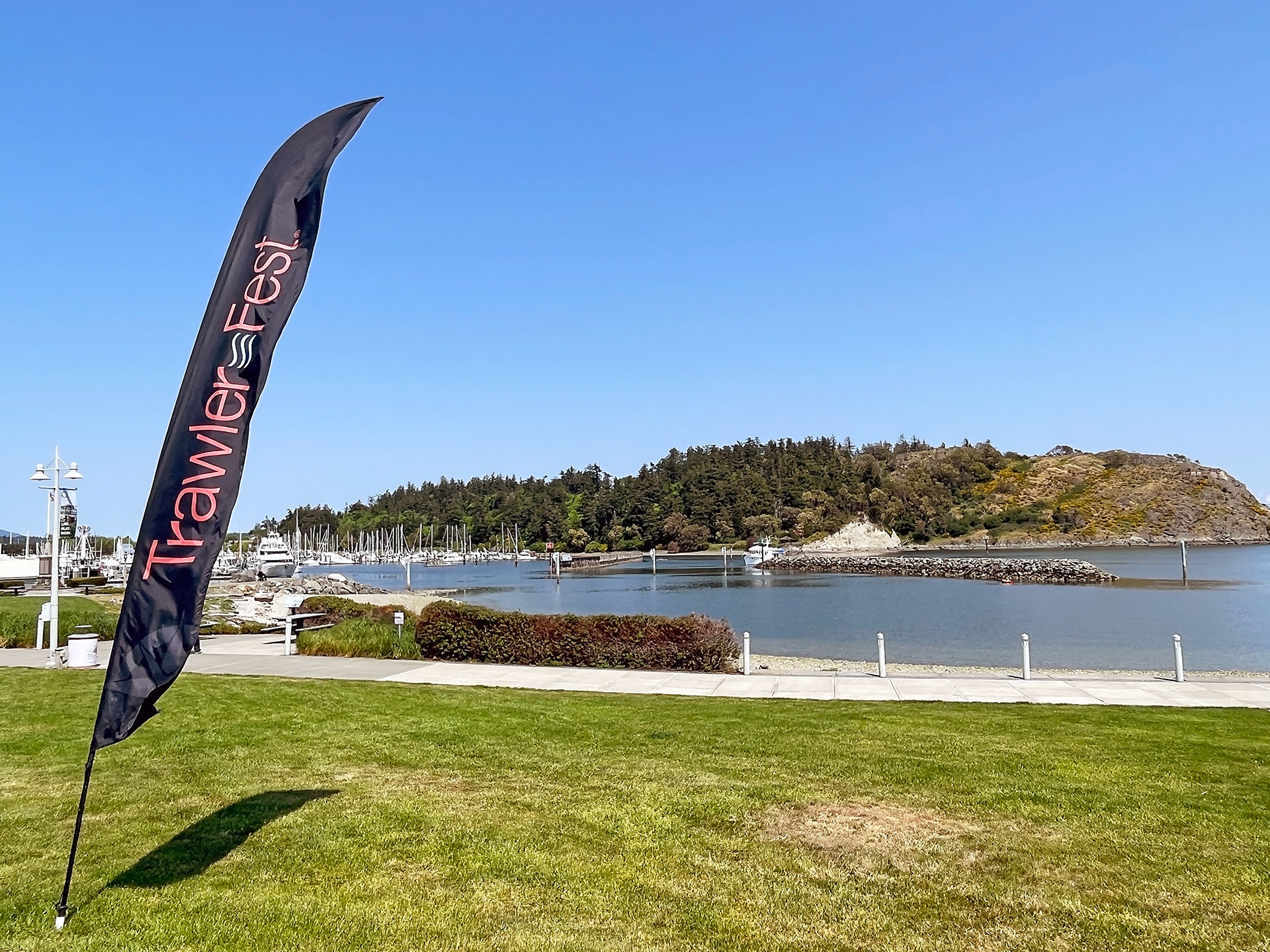 Situated near the gateway to Pacific Northwest cruising, Anacortes is a trawler heavy city with a picturesque backdrop – a great combination and exactly what visitors hope for! The weather held off and we were graced with several days of wonderful sunny skies – a cherished gift delivered as a teaser from the PNW!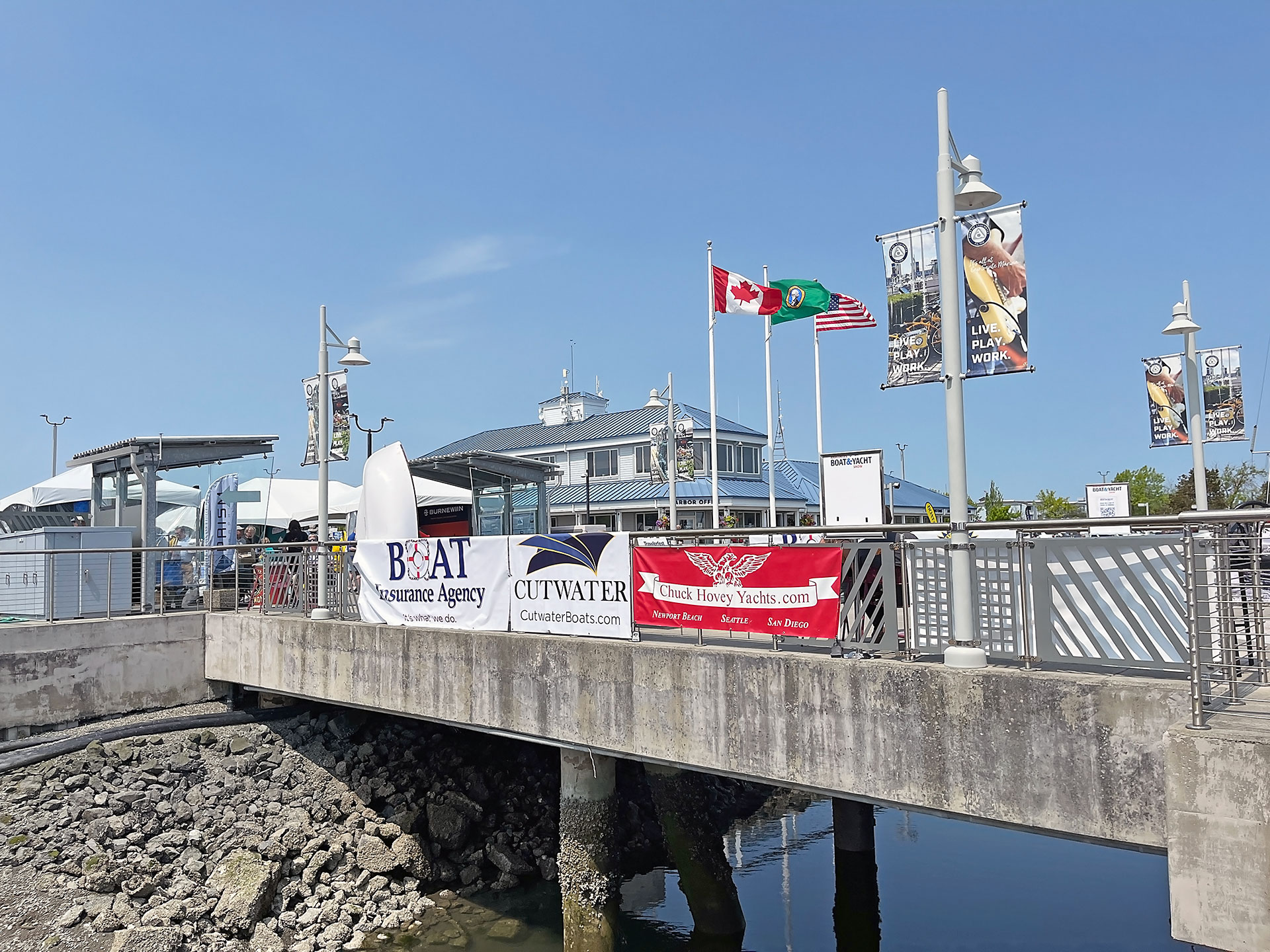 This year's event kicked off on May 16th at Cap Sante Marina with a variety of boats at the in-water boat show, informative seminars with seasoned professionals and hands-on demonstrations.
There are so many benefits to attending TrawlerFest, whether you are a soon to be, new or current owner. Part of the draw to the trawler lifestyle is the trawler community – a bond that can be felt throughout any TrawlerFest event. This is a comprehensive experience for those interested in trawlers to learn a thing or two, meet and mingle with fellow cruisers, and hop aboard different models.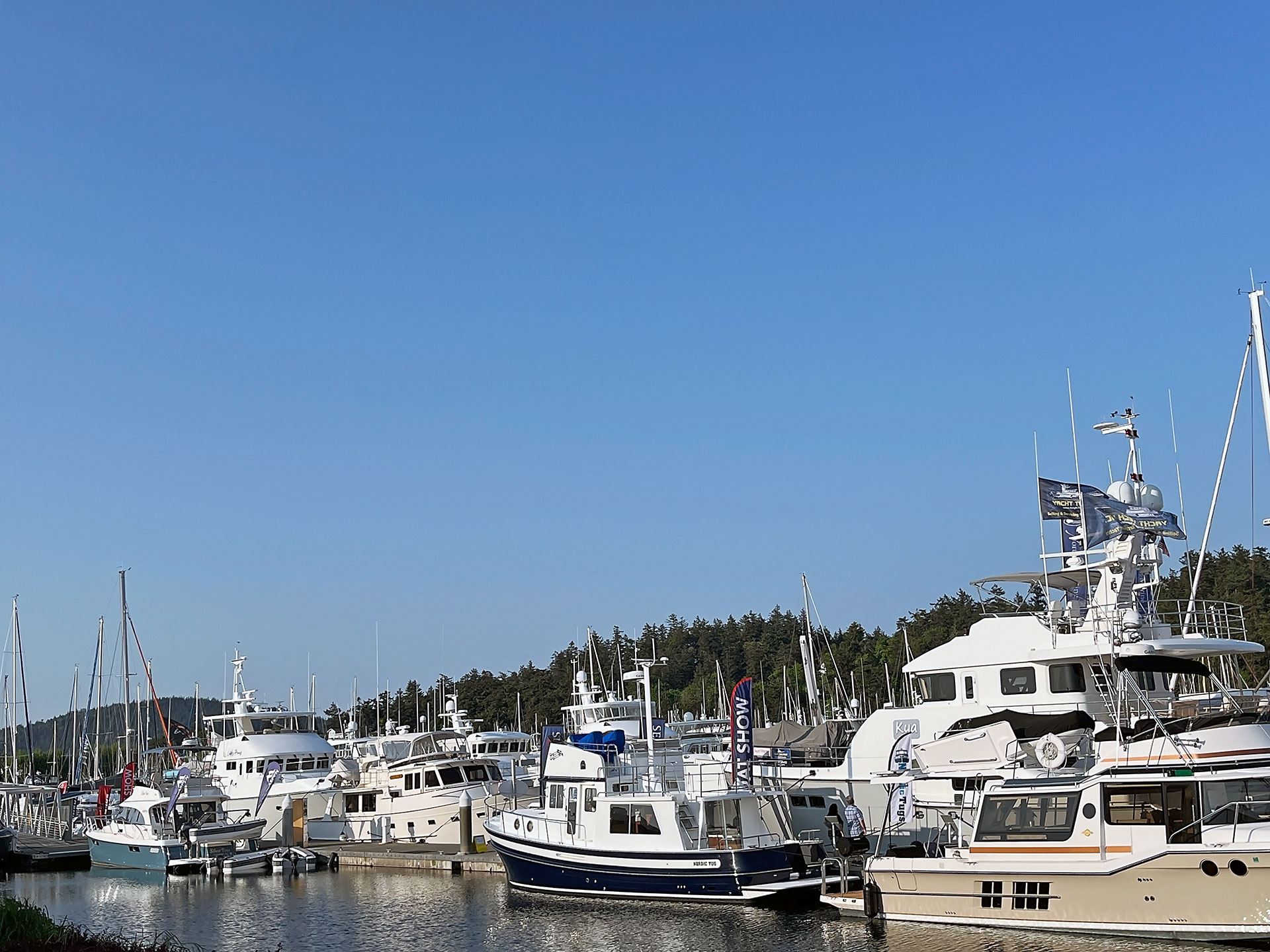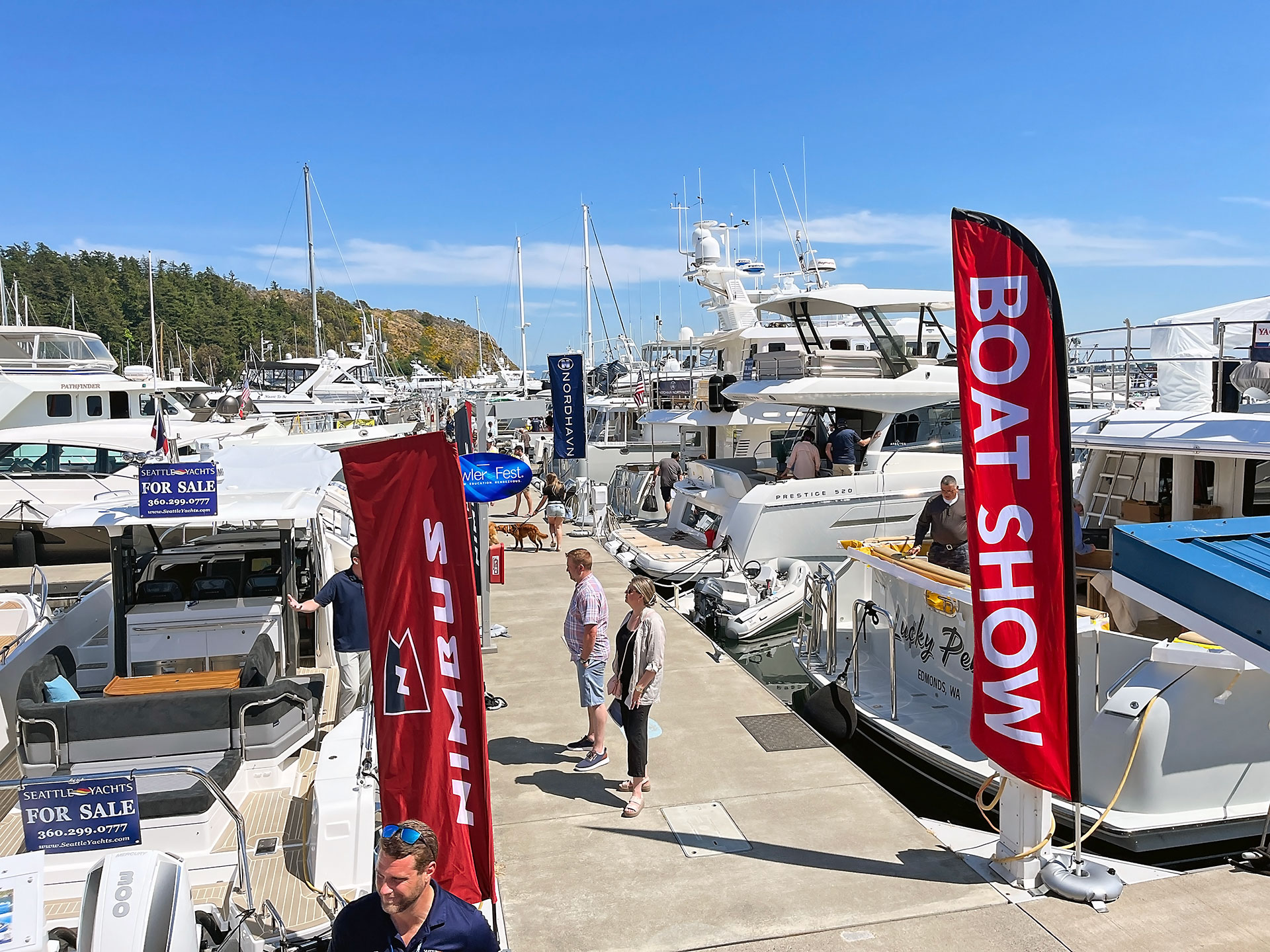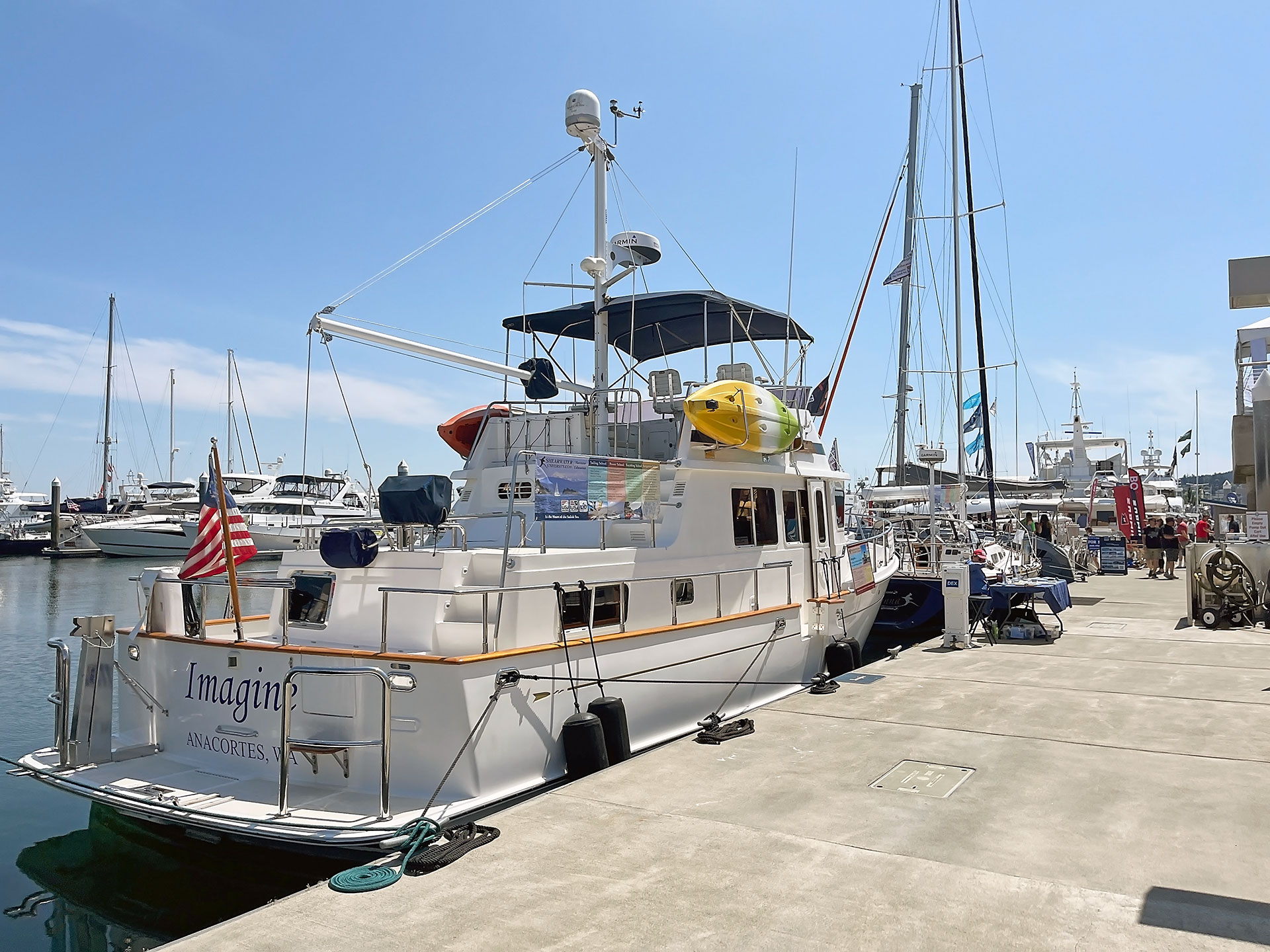 It was great attending a boat show with…boats!  That may sound wrong, but this is one of the first shows since the arrival of Covid that had a variety of selection, a strong group of buyers and sellers, and the atmosphere was charged with positive vibrations.
The docks at Cap Sante Marina are easy to walk around, solid, clean and for this show they were packed with boats – small to large, both sail and power. The combination of TrawlerFest with the Anacortes Boat and Yacht Show has proven to be a great way to attract the public.
Flags, banners and signs adorned the boats and docks creating the festive scenery that is so appealing.  The fact that the sun shined, and the breeze was soft also contributed to a great sense of well-being.  Since we are geared towards trawlers and motor yachts, we will not go into detail on the assortment of sailboats on display, but there was an impressive variety!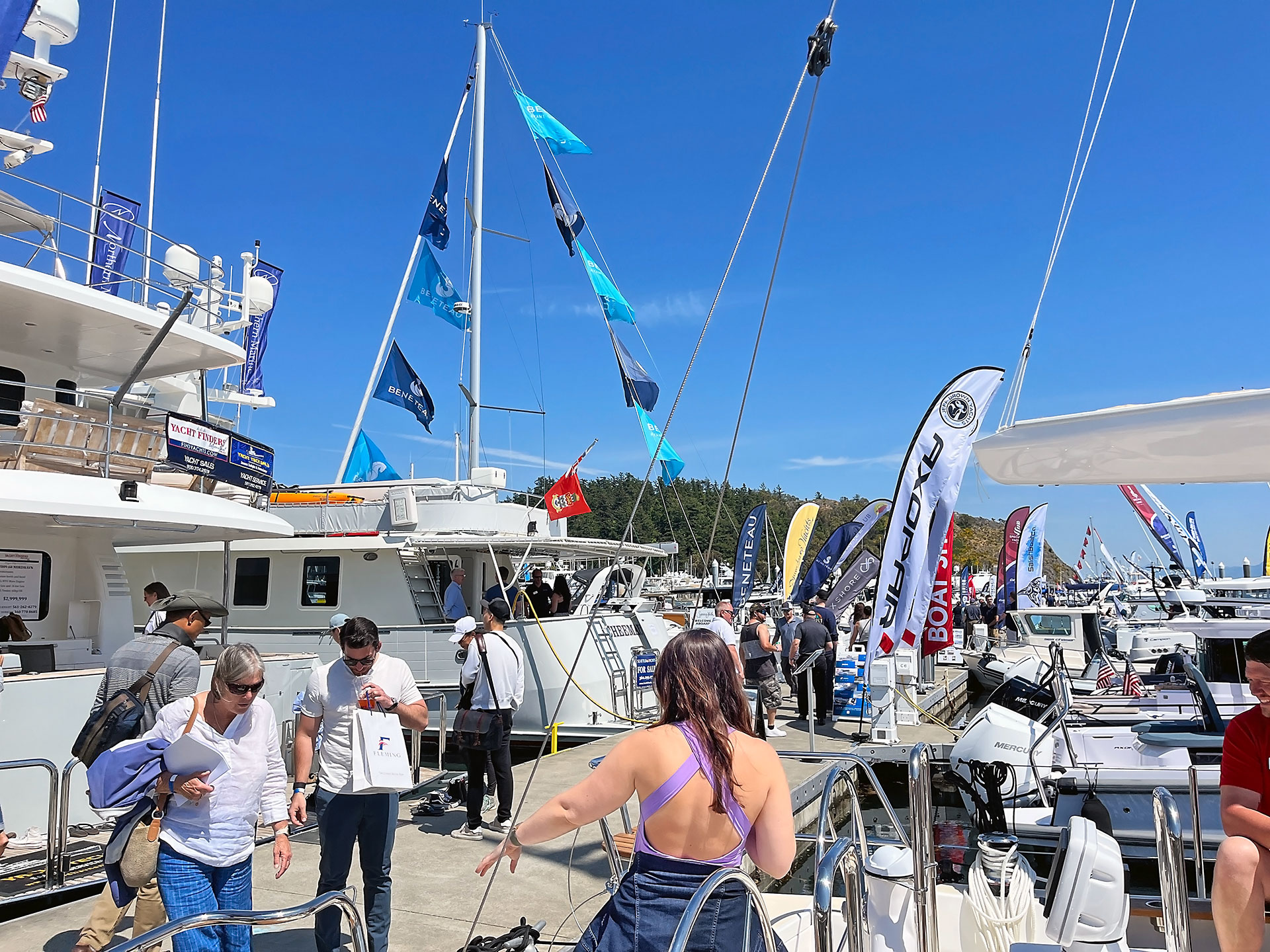 Large trawlers on display to board (not all for sale, but most were) included several Nordhavns – a 63, 64 and 68 (with a 72 down the docks), two Fleming 55's, and the following:
Pacific Mariner
Ocean Alexander
Nordic Tug 40
Linssen Grand Sturdy 40
Selene 40
Fathom 40
Kadey Krogen 44
Offshore 48
Greenline 48
North Pacific 49
Northern Marine 57
Sabre 58
Navigator 61
Out Islander 64
And that is not all, just a good chunk of the larger trawlers!
There was a varied assortment of smaller trawlers (under 40')  –
(3) Cutwaters
(11) Ranger Tugs!
Nimbus
Krogen 39
Greenline 39
And too many more to mention….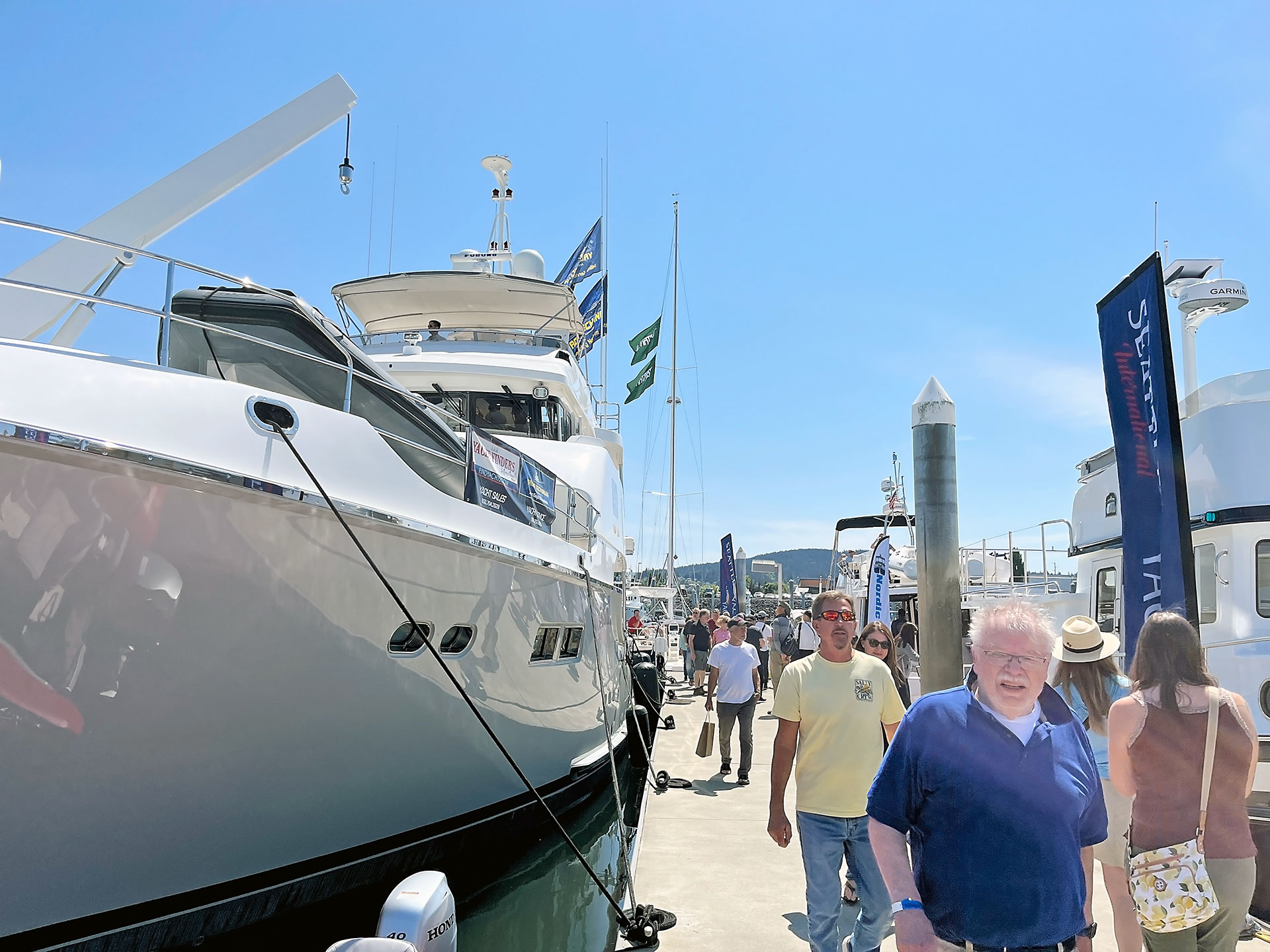 A lot of brands under ten years old are building momentum with a trend showing more outboards and more electric boats – our Dock Walk and Talk video (check YouTube June 10!) will at least walk you by the boats that were present, a wonderful problem, too many to name!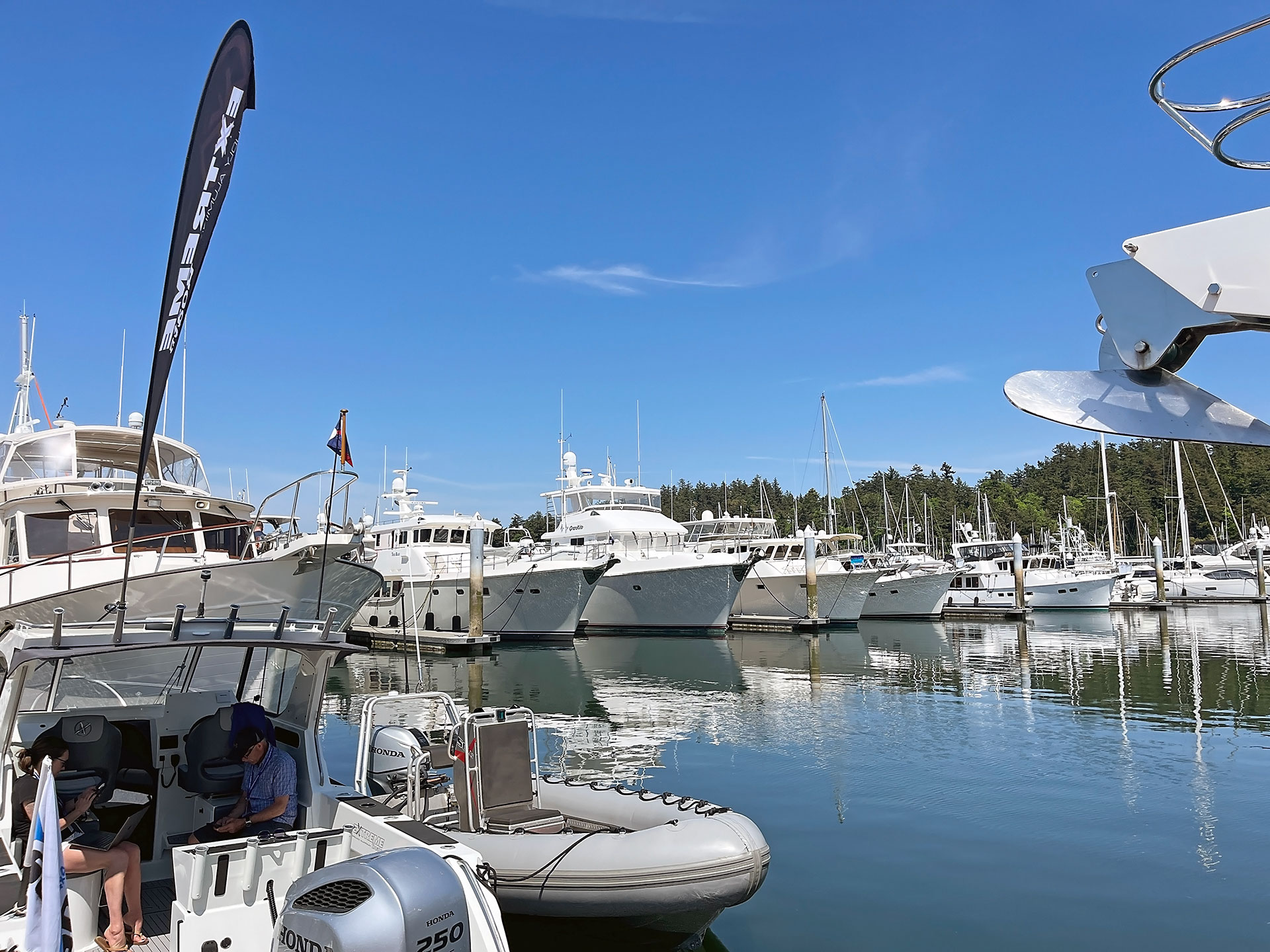 Walking "out of bounds" beyond the show docks you could identify another large range of trawlers (more Selene's, Krogen's and Nordhavn's) who call Cap Sante home.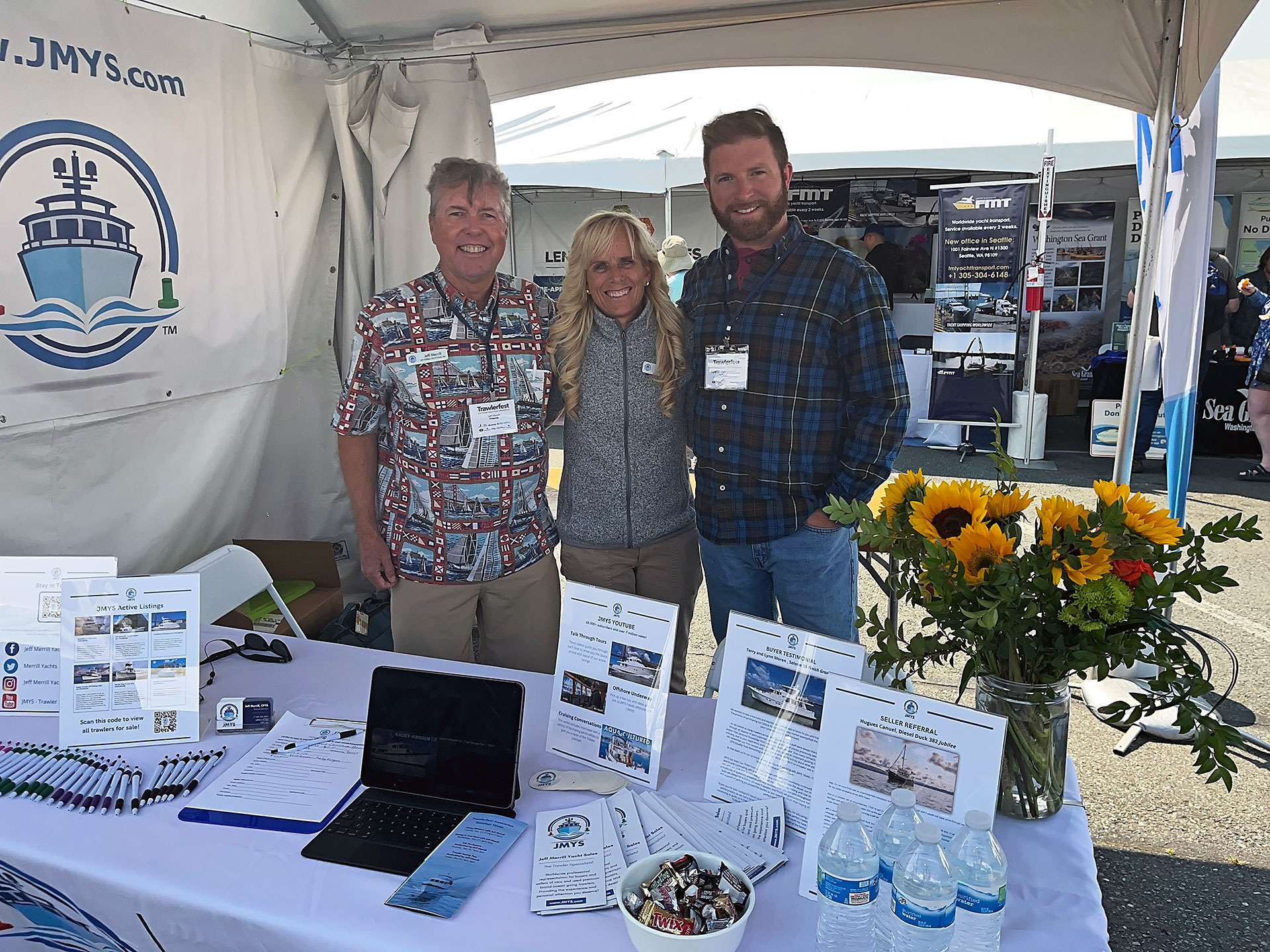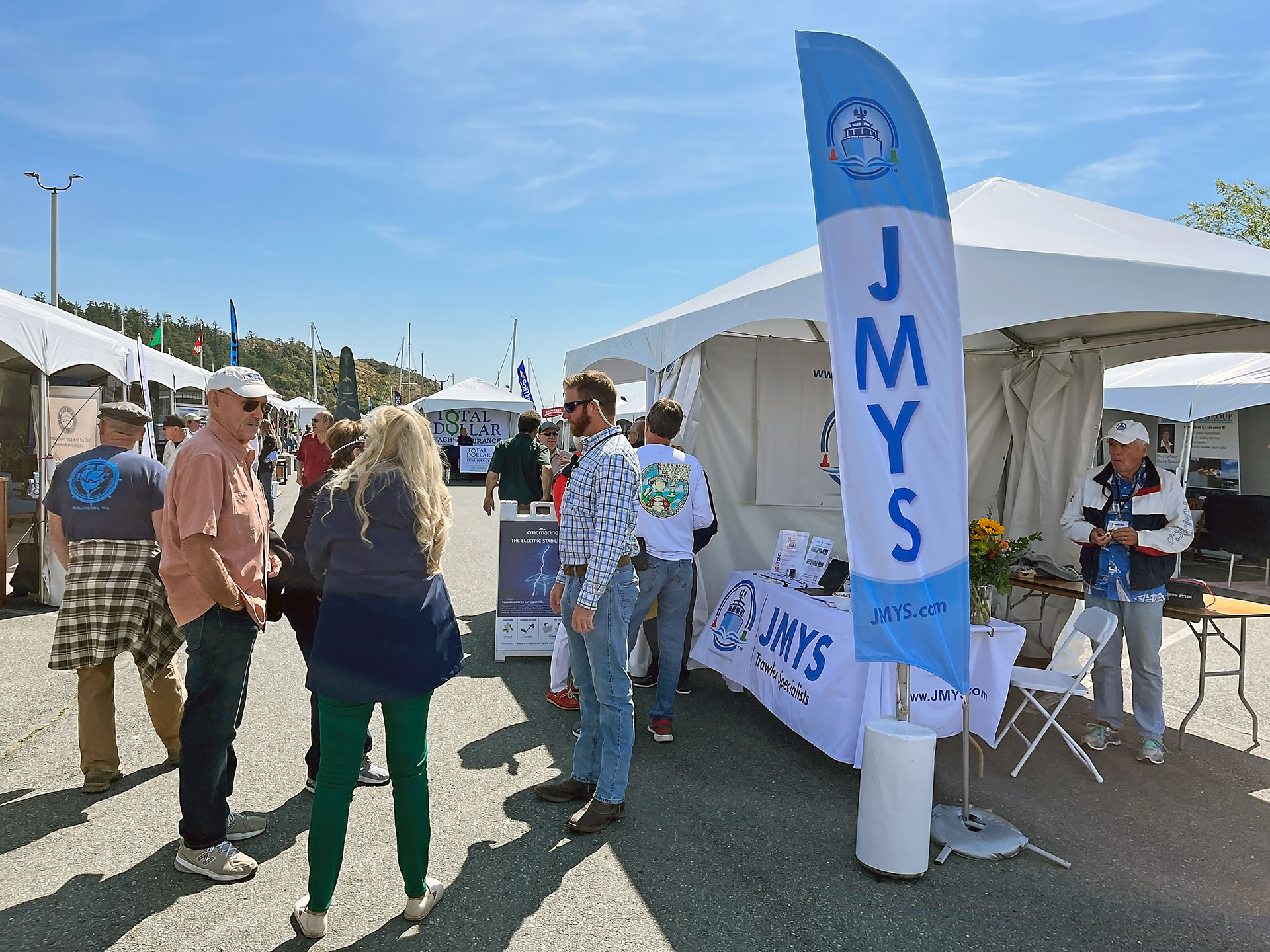 The JMYS team had an action-packed event with Pam Merrill and broker Mark Pittman manning the JMYS booth while Jeff was in and out of seminars. Pam's father, Jon Ingebrigtsen, chipped in for the duration and was a great contributor to our presence.  Having a booth in the tent-city is a fun place to camp out, as new and familiar faces are always passing through to say hi and learn about trawlers. The JMYS display was right by the entrance!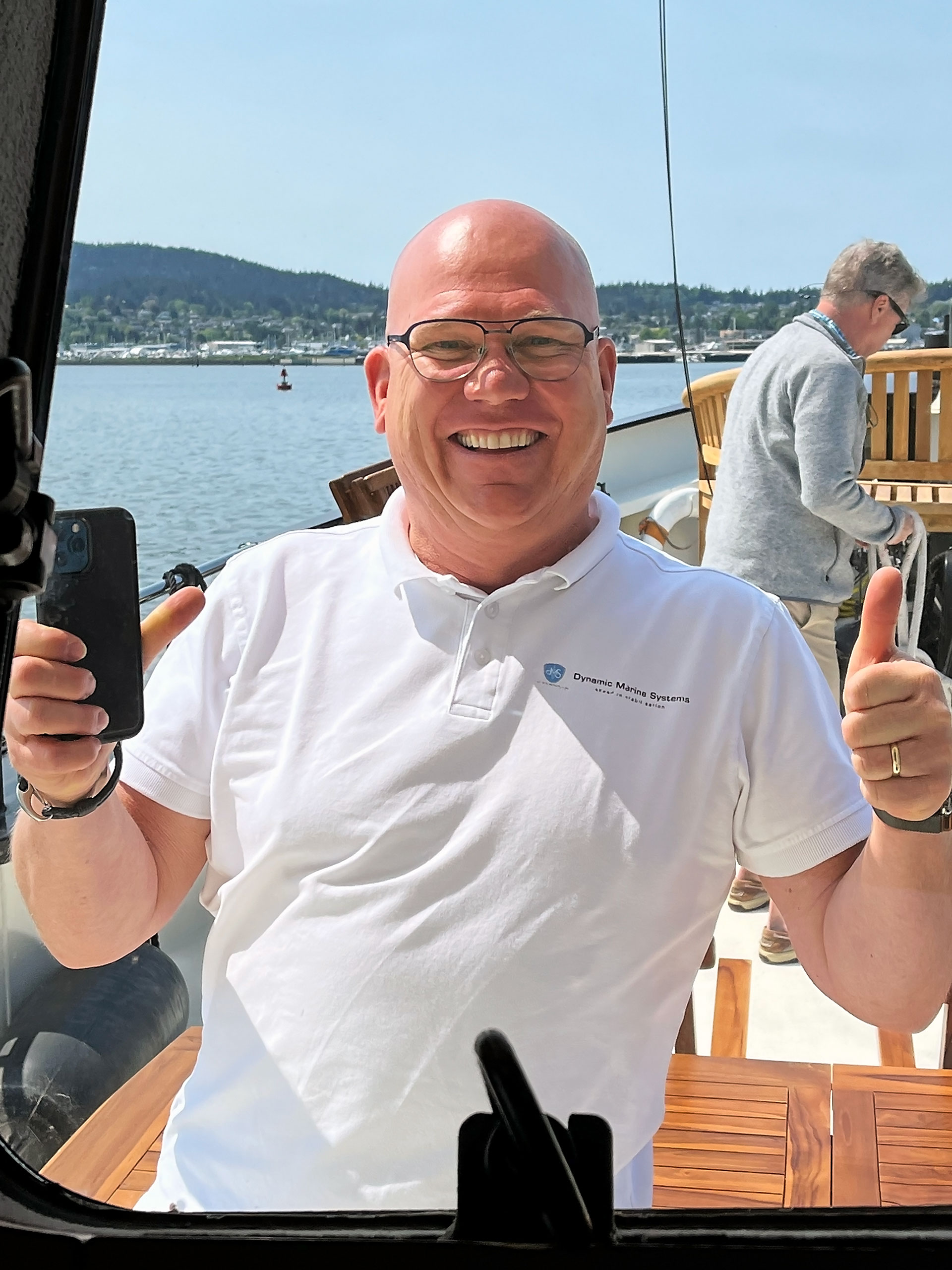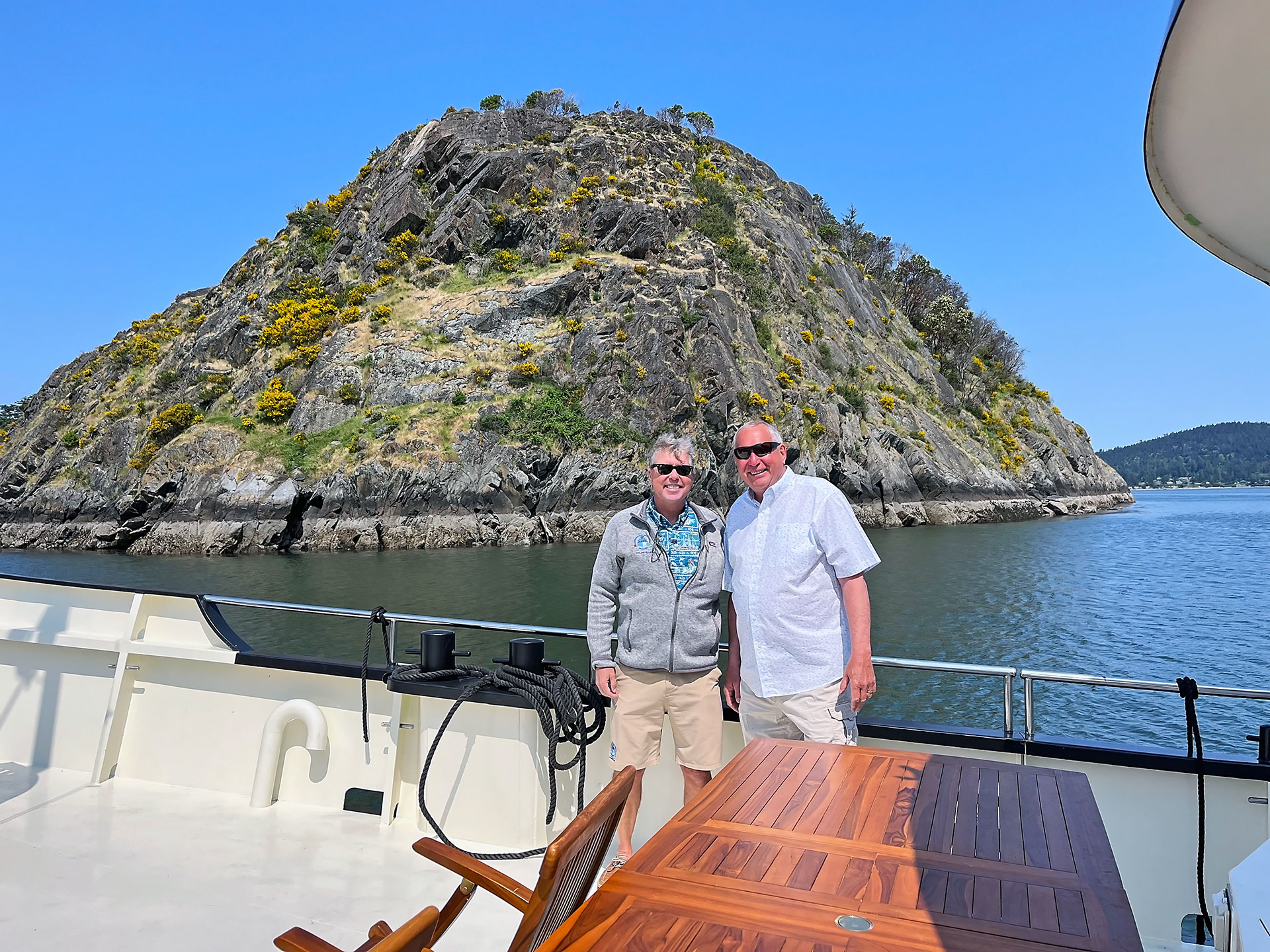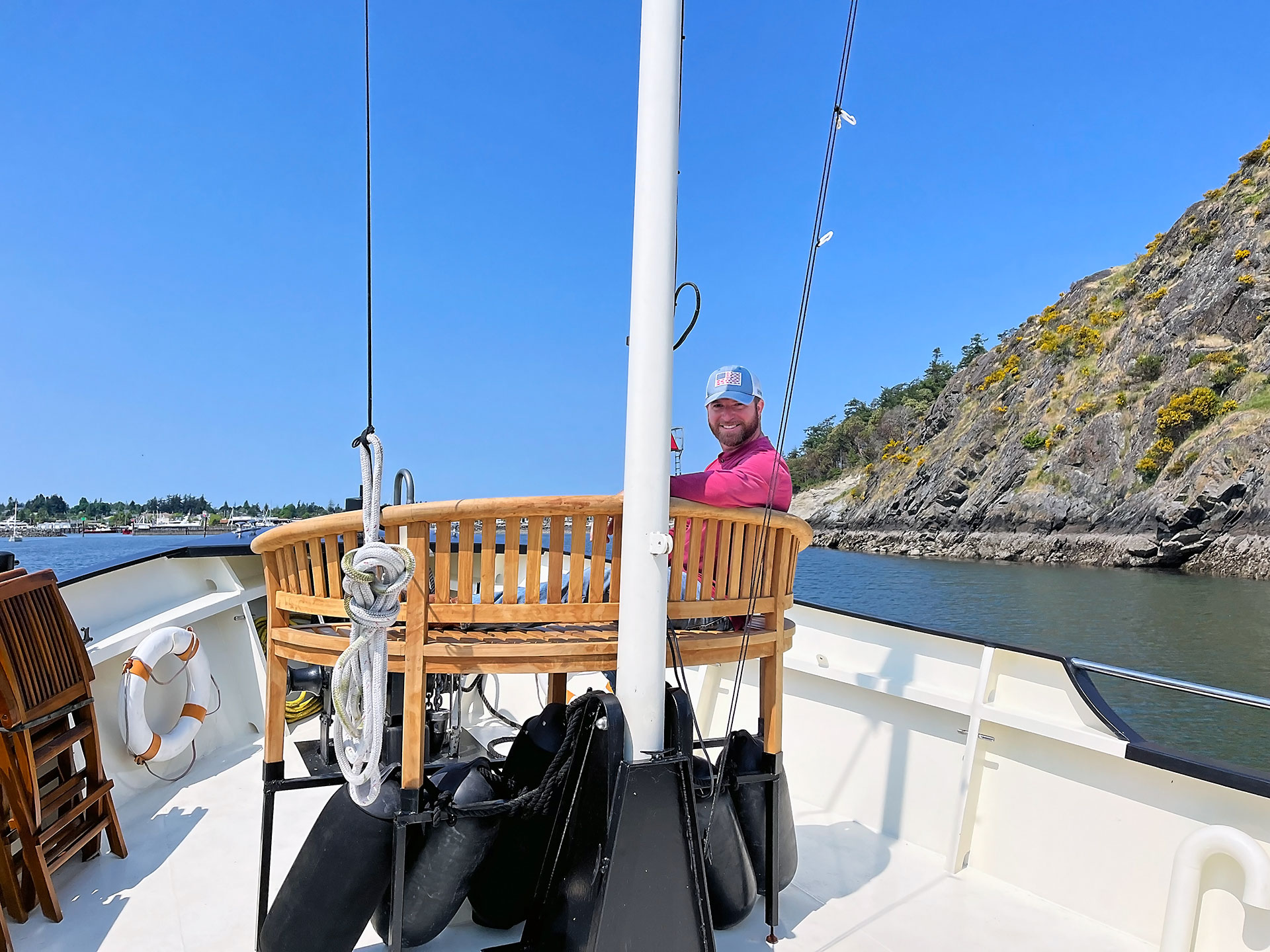 There was a great collection of exhibitor booths, and we enjoyed catching up with Patrick Noor from DMS Holland and even had the chance to check out the stabilizers he installed on a custom steel boat!
The first day of TrawlerFest seminars, May 16th, Jeff presented Going Offshore. In this course, Jeff taught the attendees what they should consider in their preparations for taking their trawler offshore when it comes to safety, planning, weather, navigation, pilothouse operations and more. Congratulations to Gordon Baillie for winning a first edition of Voyaging Under Power!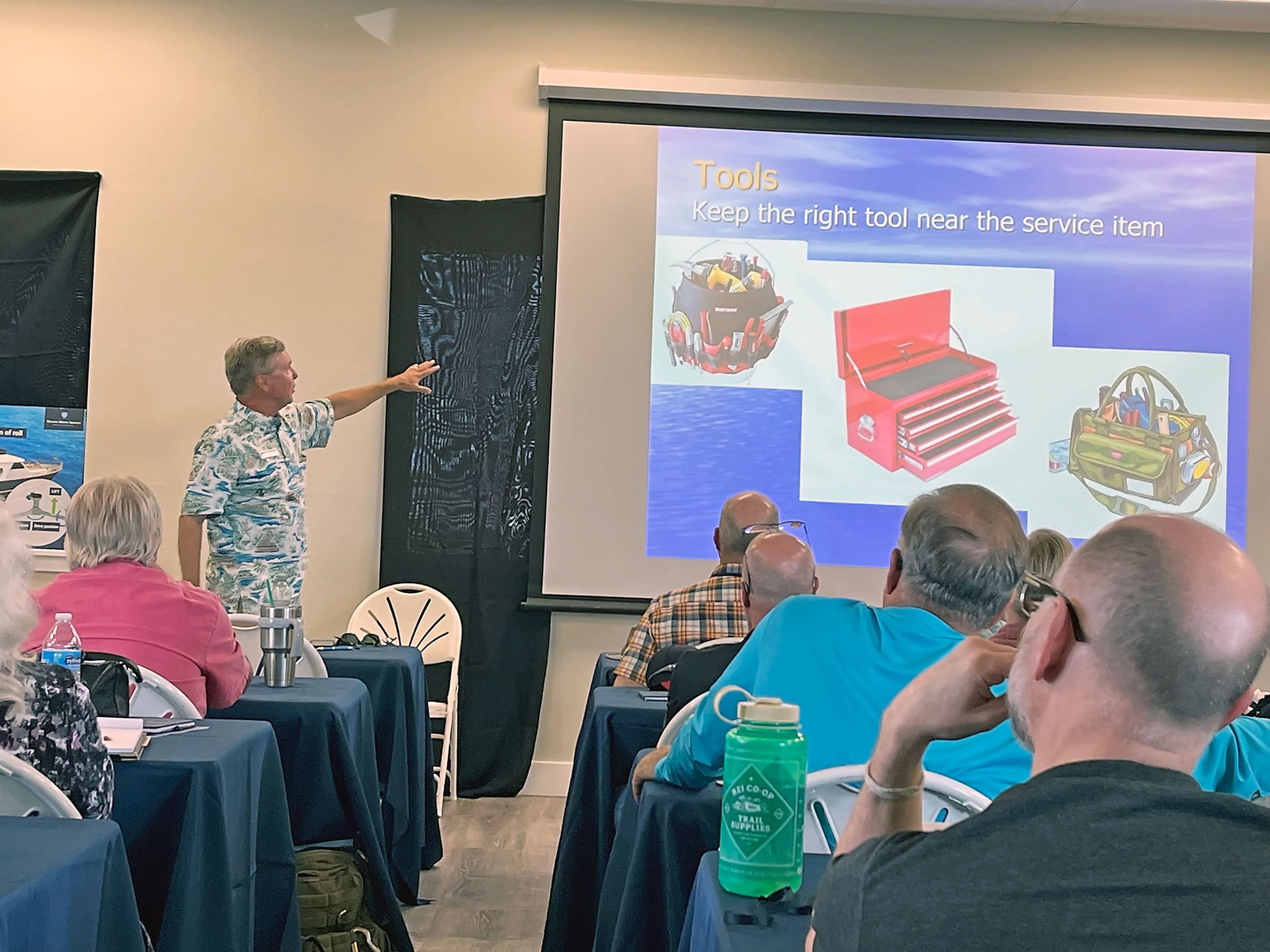 When you own your own trawler, there are a lot of factors to keep track of to manage all the systems aboard, and Jeff offered many tips for record keeping in his seminar, Dialing In Your Boat. Attendees from this seminar walked away knowing what to monitor, how to determine what is normal and identifying issues early on to increase their cruising enjoyment!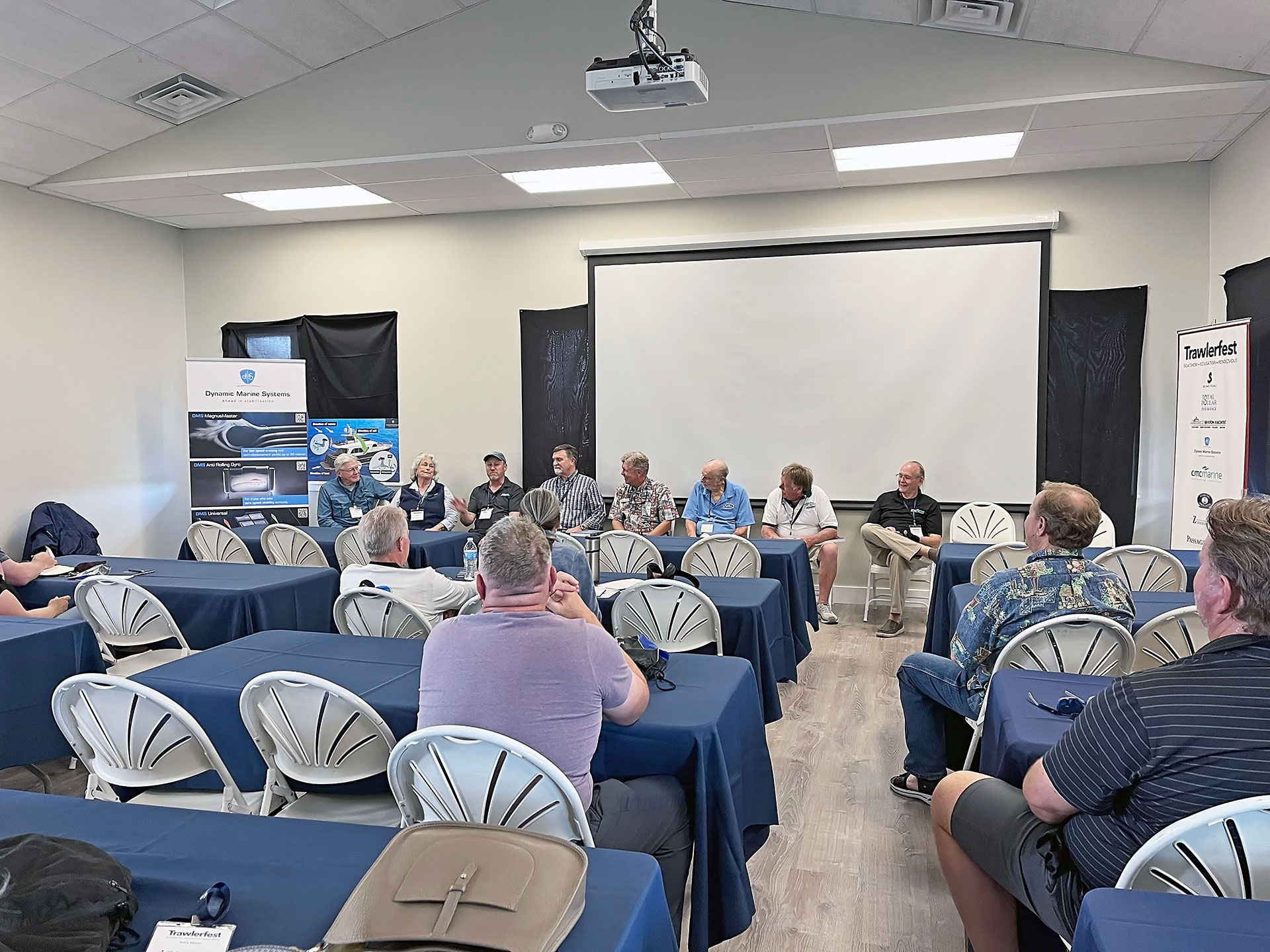 Jeff was the moderator for two separate seminars – Ask the Experts and Trawler Buying Tips.
Ask the Experts took place on Thursday and was a two-hour event moderated "town hall" style! The panel of veteran cruisers consisted of John Rains, Pat Rains, Sam Devlin, Bud Lemieux, Buddy Morgan, Bruce Kessler and Jim Merrick:  this distinguished panel fielded audience questions on a variety of topics – usually resulting in sea stories from their own experiences.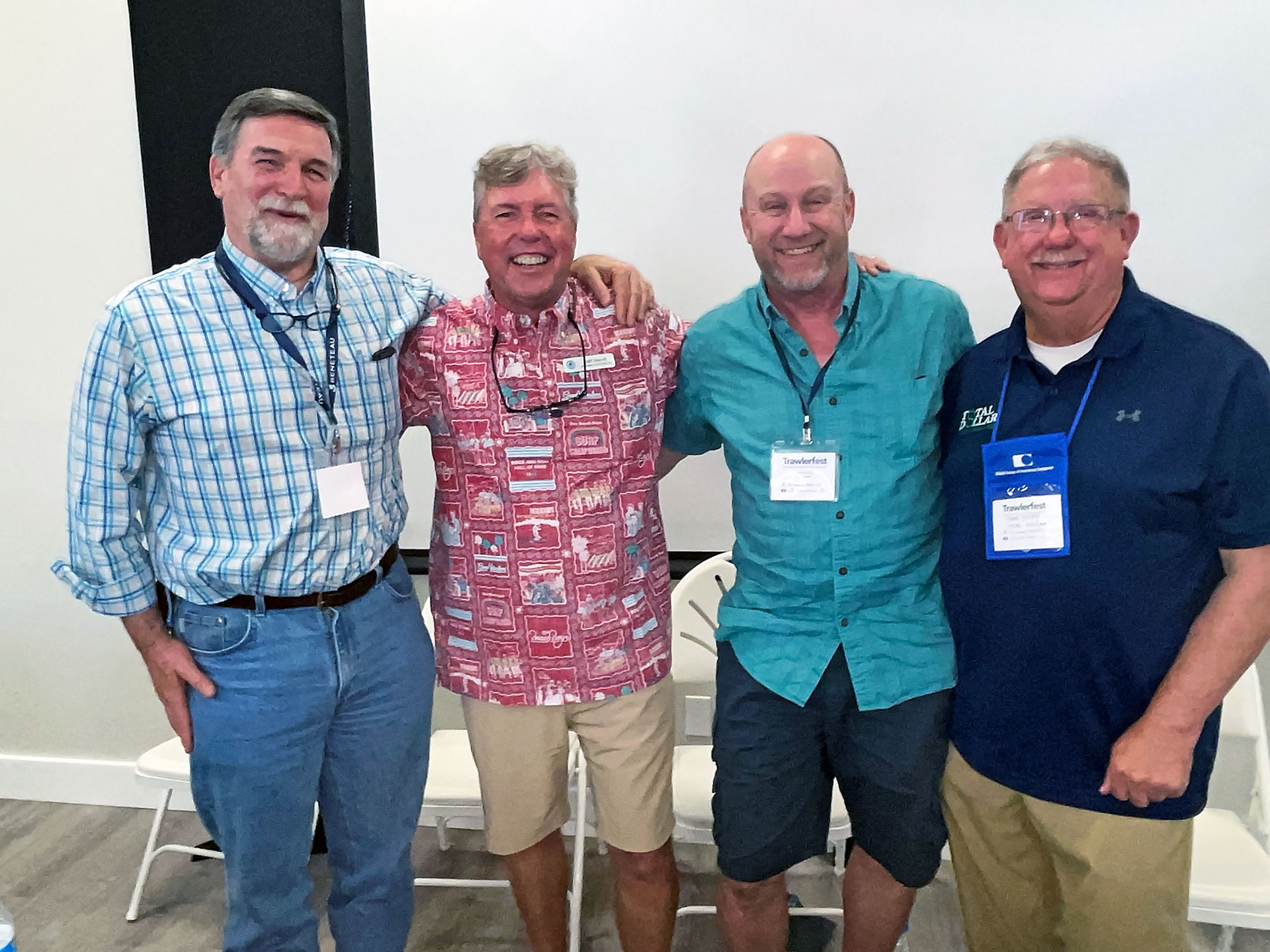 Trawler Buying Tips covered the process of purchasing a trawler. To kick it off, Jeff provided an outline of the purchase process from offer to closing. Following Jeff was Sam Devlin who explained boat construction, and how to discern between different materials. Jim Merrick gave attendees some great advice on choosing the right surveyor and navigating them through the pre-purchase survey.  John Posey from Total Dollar provided professional advice on finances, marine insurance and the elements of a good cruising policy.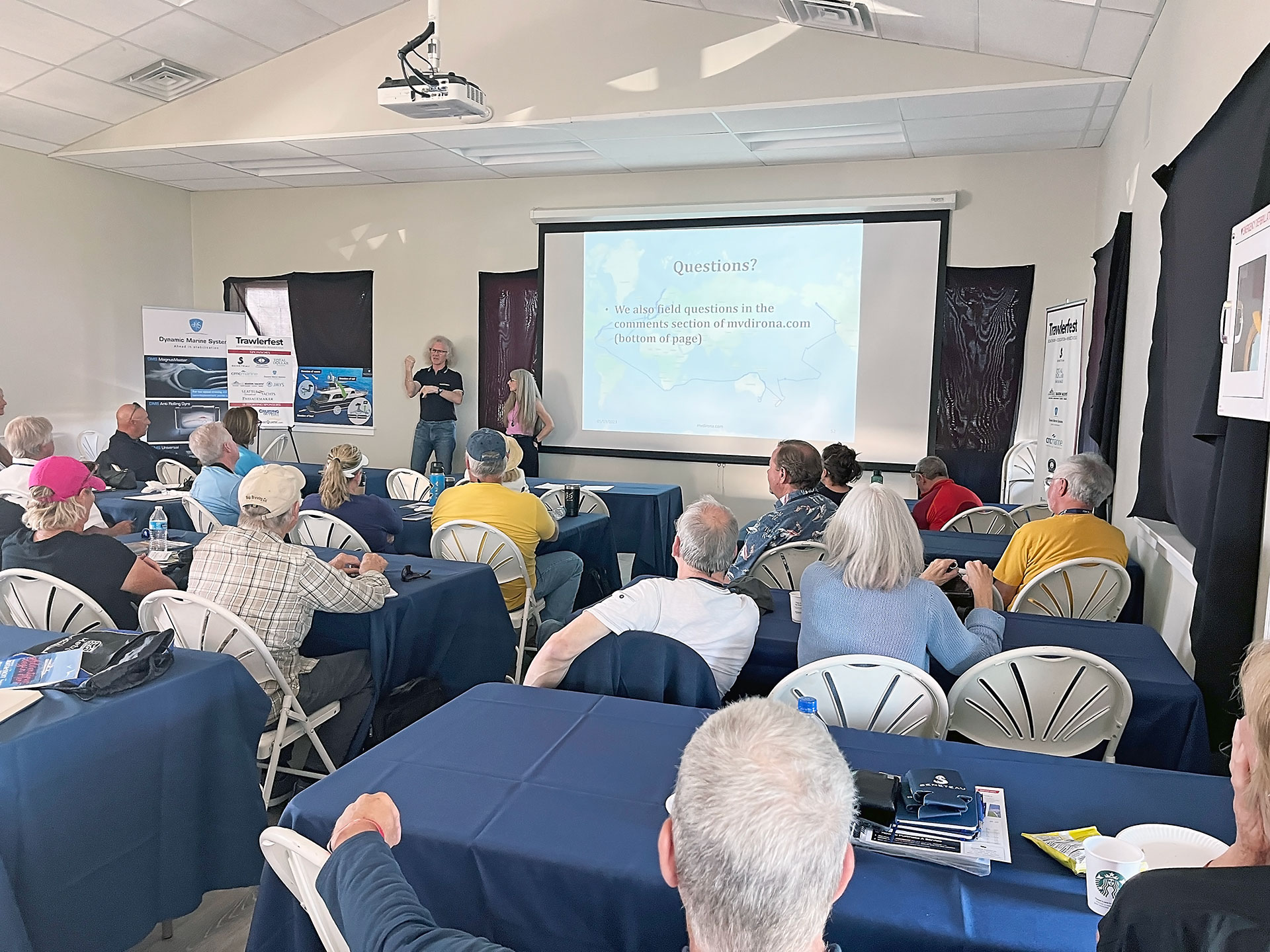 A special mention and thank you to long time friends and universal Nordhavn ambassadors, James and Jennifer Hamilton. Jeff sat in on their talk (fun to be in the back row, not up front) and was enthralled with their presentation Dirona Around The World – excellent information and wonderful presenters!
As always, the Passagemaker team went above and beyond to pull off another successful event! Their dedication to these events never goes unnoticed and we appreciate all the efforts they put in to keep TrawlerFest a smooth and organized experience for all.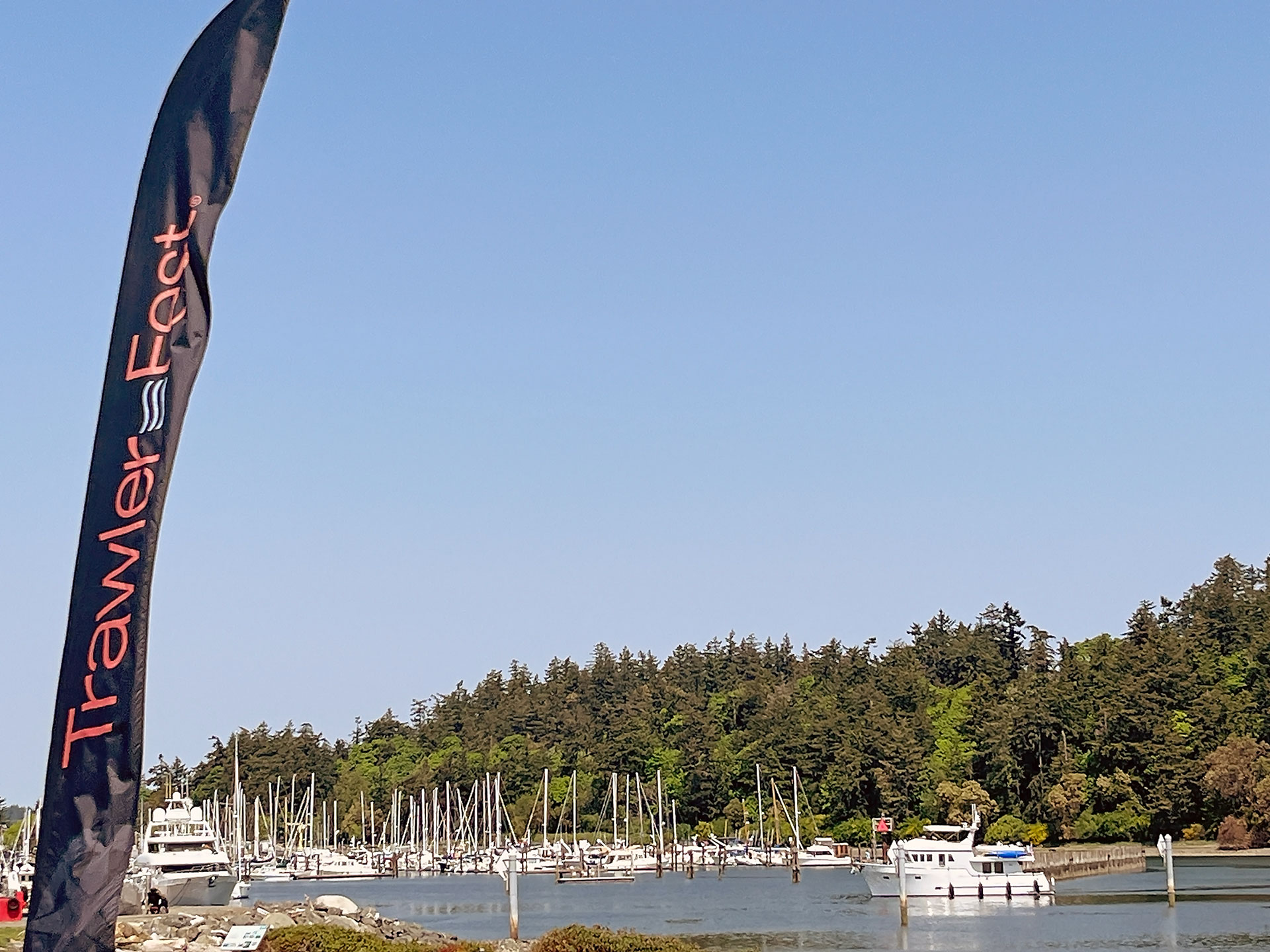 Save the date!
We are looking forward to the next TrawlerFest event on September 26-30 at Baltimore's Harbor East Marina! For more information, visit https://www.passagemaker.com/trawlerfest/trawlerfest-baltimore-coming-soon
If you attended one of Jeff's seminars, the PowerPoints in PDF and handouts in Word and Excel are available for download below for a limited time.
Dialing In Your Trawler:
Offshore Cruising:
Trawler Buying Tips: