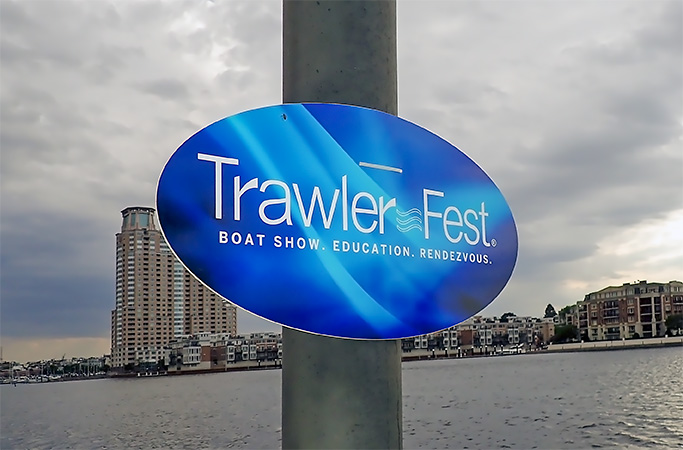 The last TrawlerFest of the year has now wrapped and we are ready for a new round in 2020.  Flying in for the event we try to allow a day or two before or after to look at boats and meet with people and we always run out of time.  It turned out that in addition to spending time at TrawlerFest we also drove around to visit several other locations and marina sightseeing and walking docks. The beautiful state of Maryland is surrounded by water on all sides, meaning the potential to cruise is never-ending and mostly year-round. The working portion of our trip began with an afternoon in Annapolis. We took a quick cruise around the bay and spotted numerous trawlers from Kadey-Krogens in Ego alley to Grand Banks and Nordhavns in Old Woman's Cove. These boats have a great location where they can cruise the Chesapeake, venture down the inner coastal, or travel across the Atlantic. We ended Tuesday with dinner at Chick and Ruth's, a longtime favorite diner of ours on Main street- you need to try their biscuits and their apple pie!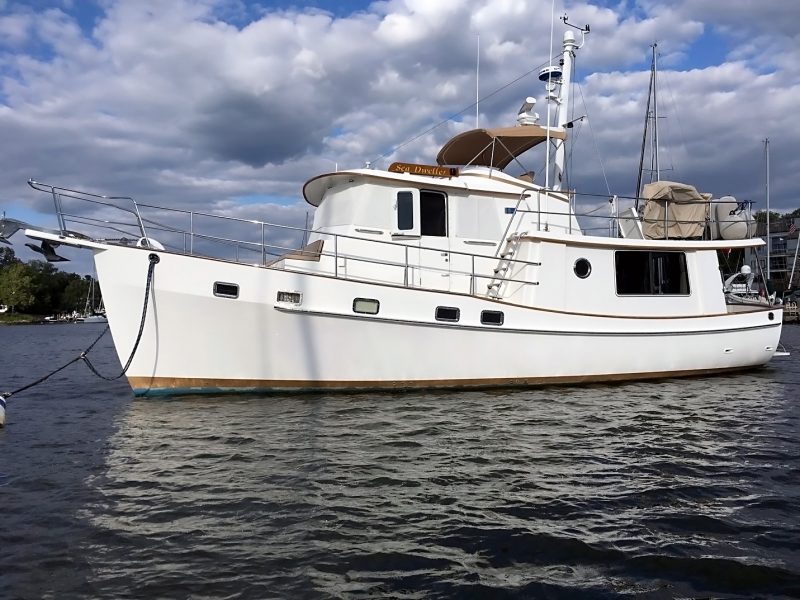 Kadey-Krogen, Sea Dweller, in Annapolis, MD.
Wednesday morning, we drove into Baltimore and had the privilege of interviewing the co-creator of PassageMaker magazine, Bill Parlatore. Charlie and Missy Hodge graciously let us film on their Nordhavn 50, Ophelia, and we sat down to ask Bill about his path he and Laurene (who couldn't make it) took to founding the magazine and why people are drawn to power cruising. After shooting we enjoyed some outdoor dining with Jeff and Bill discussing the evolution of today's trawler market and contemplating what is yet to come in this growing segment of the boating market. The final video is still to come, but we anticipate it will be another popular episode in our collection of #CruisingConversations.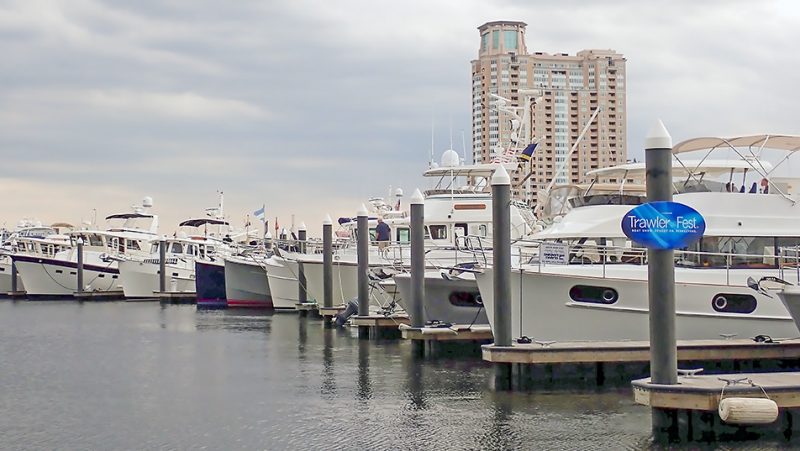 Trawlers ready for the show to begin.
There were some seminars in Baltimore on Tuesday and Wednesday, but Thursday was the official start of TrawlerFest on the docks. We are great fans of the Baltimore Inner Harbor marina. It housed over 30 trawlers and gave spacious room for heavy traffic to step on and off of boats. We filmed again, capturing footage of the boats on display and talking with AIM TrawlerFest organizers, fellow brokers with boats being showcased, and vendors in the entry tents. The docks held a variety of boats including Ranger Tugs, Beneteau Swift Trawlers, North Pacific, Fleming, Kadey-Krogen, Nordhavn, Krogen Express and more. A  list of many of the trawlers that were shown is listed below. Event attendees enjoyed the quality and variety of boats on display and everyone we spoke with loves the convenience of the venue location as it is a quick walk between hotels, the show sites and various restaurants.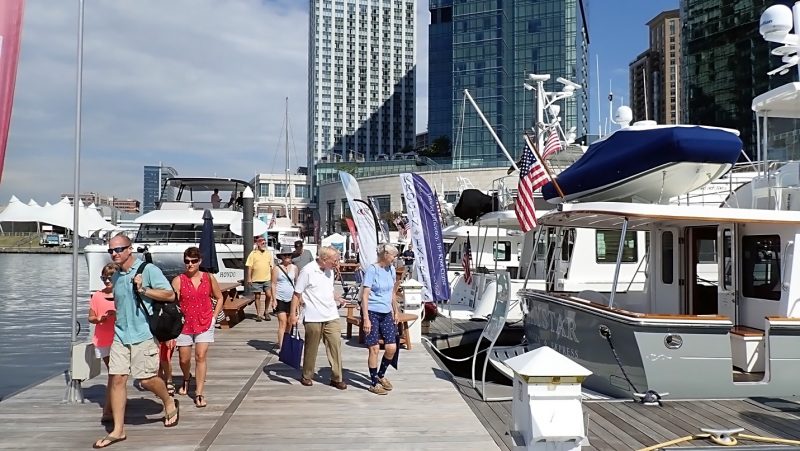 Eager trawler enthusiasts.
Friday's main event for JMYS found Jeff moderating the Cruiser's Round Table. This "town hall meeting" provides a time where the audience can ask a panel of industry experts a variety of questions. The panelists included: Karen Alt, Eric Kunz, John Clayman, Bruce Kessler, Steve Zimmerman, Chris Parker, and Rudy Sechez. Although the discussions are always interesting, this particular event raised valuable questions ranging from weather prediction precision to boat registry. The panel did an excellent job of providing insight and solutions. Our audience even helped provide answers to one favorite question: "How do I try before I buy?" Members of both the panel and participants suggested boat chartering options on the West and East coasts of the States as well as signing up online with findacrew.net or crewseekers.com and talking to current trawler owners looking for deck hand on short trips and deliveries.  The room was packed, and the two-hour time set aside flew by, there were a lot of good questions, good answers and all who spoke with us afterward felt it was a really productive and helpful session.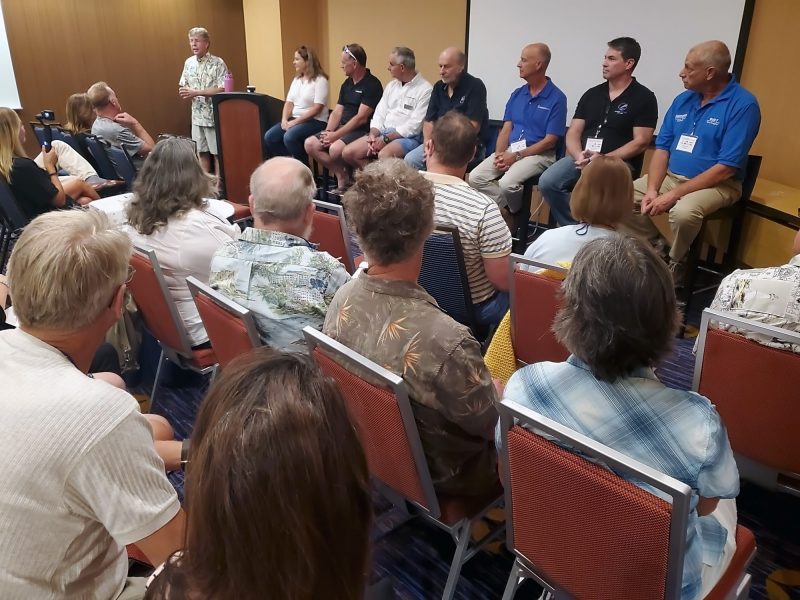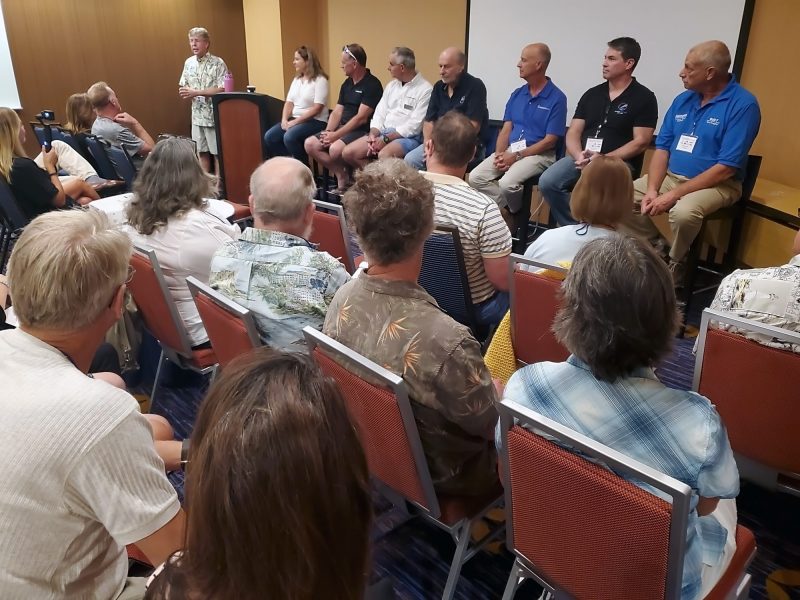 Cruiser's Perspective panelists.
Jeff spent Saturday behind the podium again with two back to back courses: Dialing In Your Trawler and then Offshore Essentials. Both classrooms were filled with eager learners and some even attended both classes. Dialing In Your Trawler is a presentation filled with many practices, tips, and techniques that help owners to improve their time on the water. Over the years Jeff has compiled some best practices that he discusses in the classroom. We had wonderful participation from students who chimed in with their own tips and as always sea stories were shared.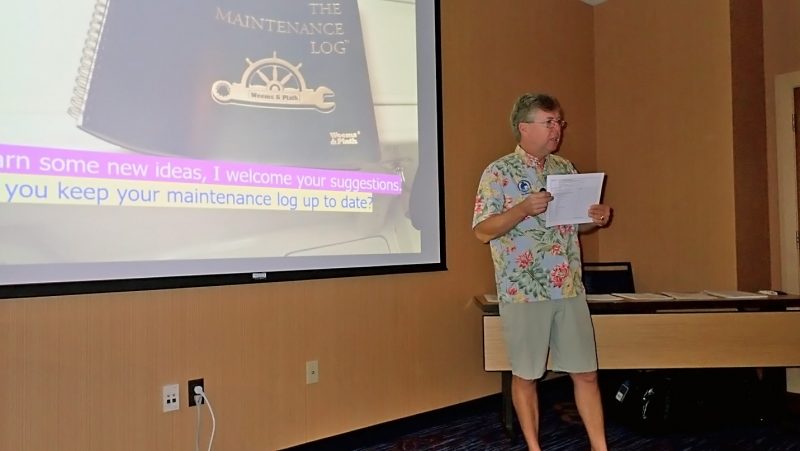 Jeff lecturing on Offshore Essentials.
We took a break in between classes to meet up with old friends from California who moved to Maryland and headed to look at boats on the docks. Saturday was busier than previous days and participants were actively touring the boats on display. It was nice to break outside and clear our heads before Offshore Essentials. This second class goes into detail about how to prepare to go offshore. Again, we had a full classroom of interested students who sought helpful insight and asked thoughtful questions. A fun aspect of this class is the survey that Jeff takes. He gives a list of important navigation equipment including Radar, Compass, VHF radio, internet connection, etc. and asks the class to rank the importance of these tools while underway. The top three instruments vary by class, the last class ranked the top three as:  Depth Sounder, Autopilot and VHF.  Our Baltimore class ranked their favorites/priorities as: Compass, VHF radio and Depth Sounder.  Obviously, there are no incorrect answers to this survey, and it leads to a valuable discussion about being prepared and starting with the correct tools and thinking about what you will use and what you need.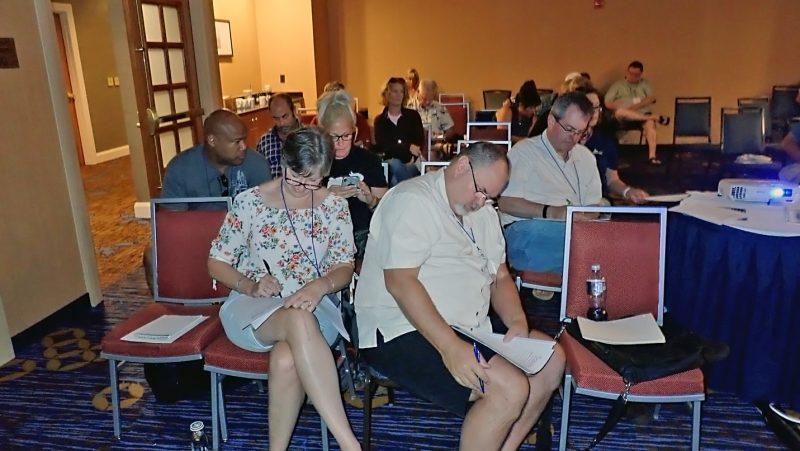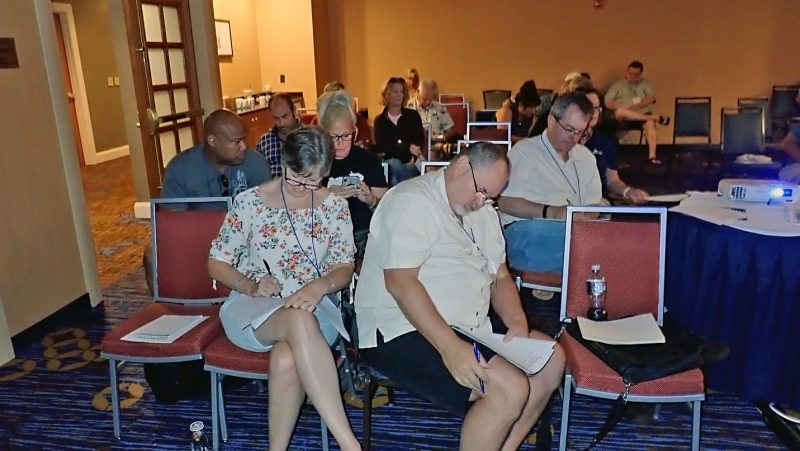 Some students had difficulty staying awake during class, that's OK, just not on watch!
Since we spent Saturday indoors, we changed up the pace on Sunday and hopped back in the car driving with clients to look at Kadey-Krogens. Our first stop was at Port Annapolis Marina where we toured a Krogen 42 and then enjoyed lunch at The Wet Dog Café. The weather was sunny and 75 degrees.  We continued our day in Arnold, MD viewing another Krogen 42. Since our trip was coming to an end, we ended our day in Annapolis, walking along main street again and dining in Eastport (Davis Pub, another favorite). We had a wonderful time enjoying the best of Maryland. Although we spent time aboard some beautiful boats, the best part of TrawlerFest is always getting together with friends and meeting new people.
We are attending Fort Lauderdale International Boat Show (FLIBS) at the end of this month (October 30th– November 3rd) and are already looking forward to Stuart TrawlerFest in early March (March 5th– March 9th). Below we have attached more photos from this event as well as links to Jeff's Power Points and classroom handouts.  These will remain posted for a few weeks. Thank you to all of our class and video participants, we look forward to seeing you all again soon.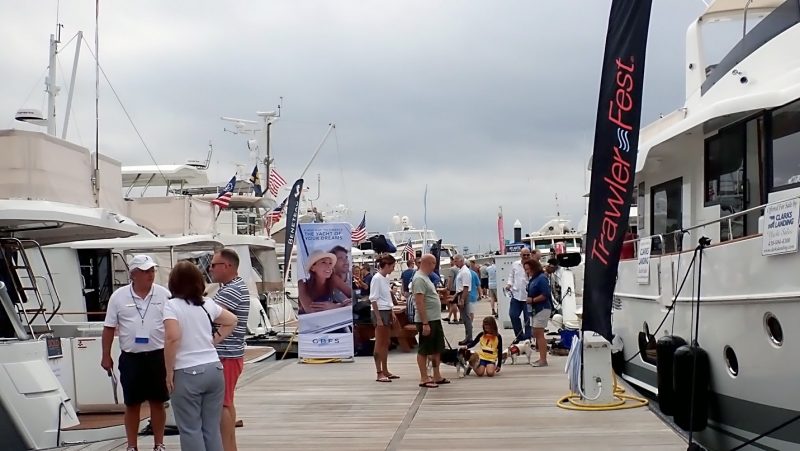 Saturday was the last day on the docks.
Below is an alphabetical by brand record of most of the trawlers displayed:
American Tug – 41'
Back Cove – 41'
Beneteau Swift – 30', 35', 44', 47', 50'
Eastern Islander – 24'
Elling – 64'
Endeavor – 44'
Fleming – 55' and 58
Grand Banks – 42'
Greenline Solar Hybrid – 39'
Helmsman – 31' and 43'
Kadey-Krogen – 44', 48', 52'
Krogen Express – 49', 52'
Linssen Grand – 35'
Nordhavn – 47'
North Pacific –  49'
Ranger Tug – 27', 29', 30', 31'
Sabre – 48'
Wiley – 40'