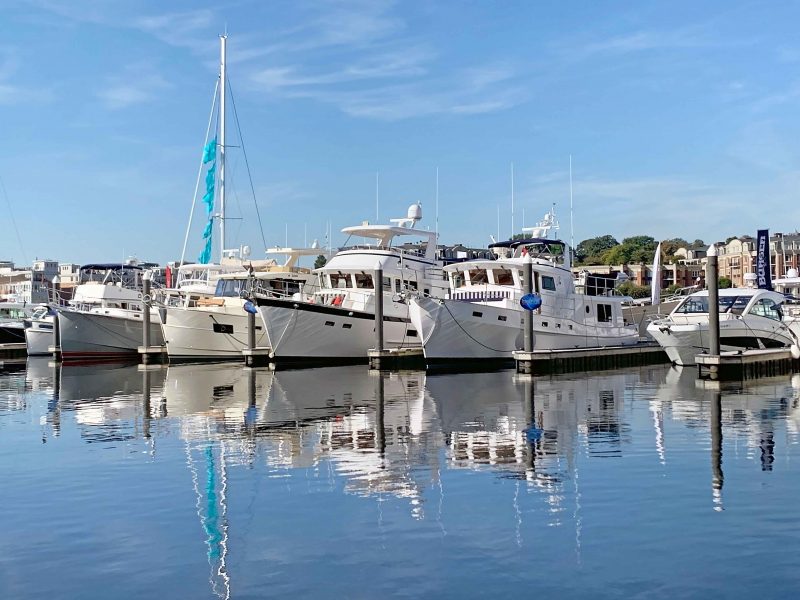 Boaters from all over the United States converged in Baltimore, Maryland to attend the 2021 TrawlerFest, also known as the Baltimore Inner Harbor Boat Show. As a result of the ongoing Covid 19 pandemic, this was the one and only in person TrawlerFest of 2021.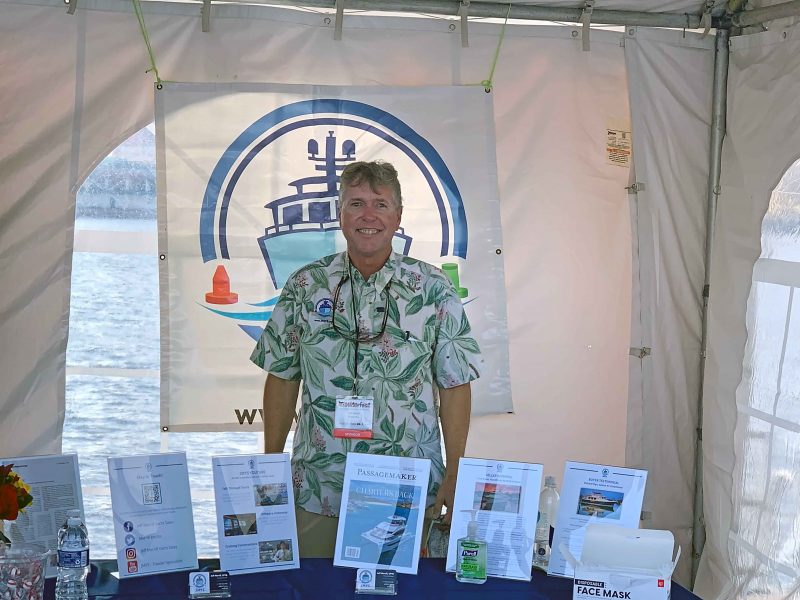 JMYS was happy to be in attendance and as a proud sponsor, was represented in a dockside booth. Jeff and Pam Merrill enjoyed meeting and talking with people as they meandered up and down the dock, checking out the selection of boats on display. A large number of familiar faces stopped by to chat and we also welcomed many new people intrigued with the trawler lifestyle. It is always great to see the community growing.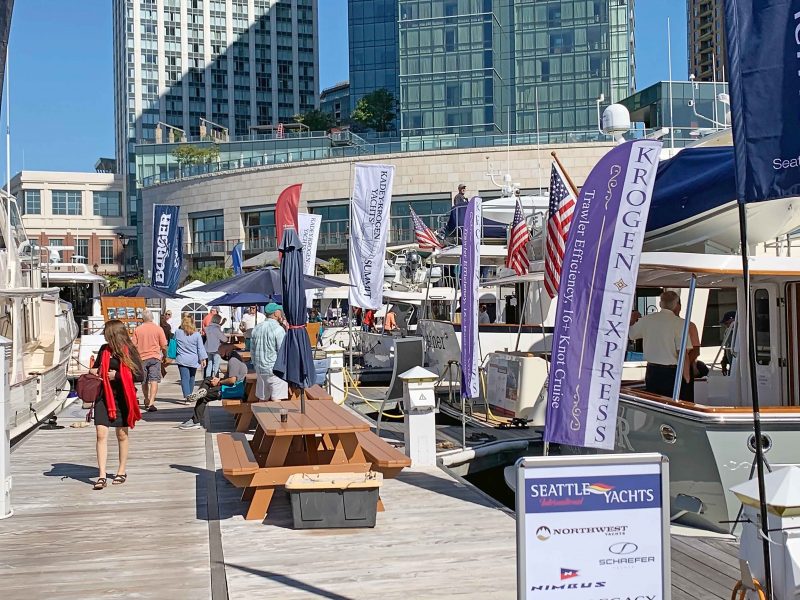 Due to limited availability and a fast market, it has been more difficult for brokers to bring boats to display but there were 25 boats for the attendees to board. They varied in size from a series of six Ranger Tugs up to the largest trawler, which was a Fleming 55. There were two large Lagoon sailing catamarans on display, but everything else was power. One of the best new boats on display was the Burger 50. Kadey-Krogen was in attendance with a 48 Whaleback and a 50 Open. Krogen Express had a 52 and also on hand were two Back Cove's.  Another crowd favorite was the North Pacific 49. The full list of trawlers in attendance is here: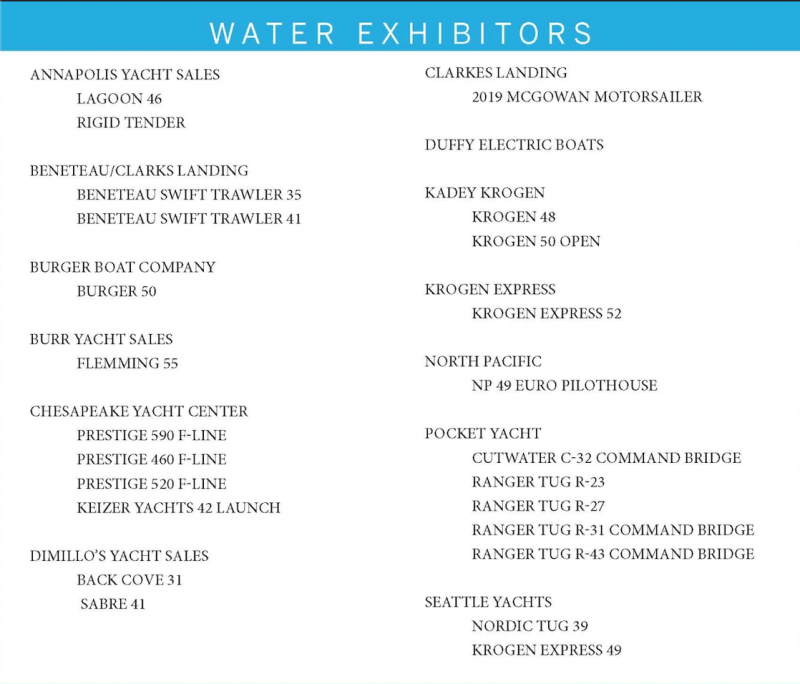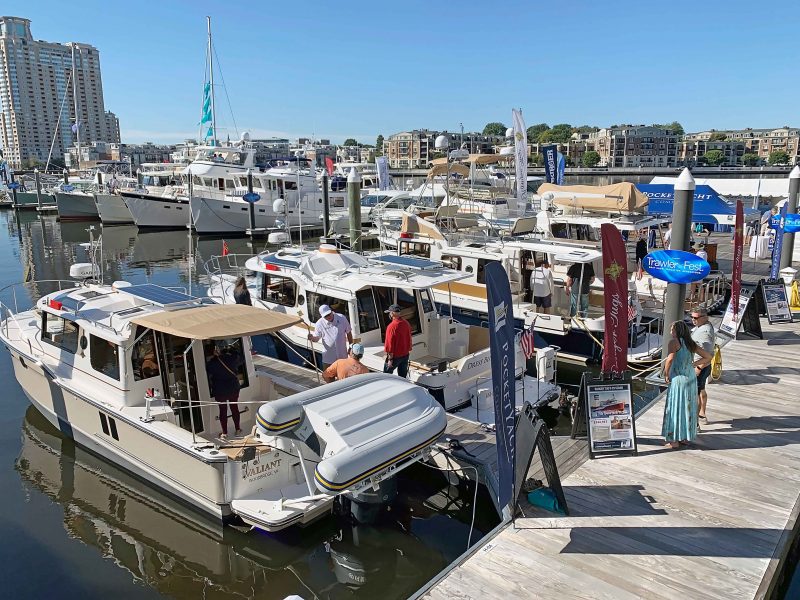 The Merrill's flew over to Baltimore on Monday and spent most of Tuesday with a potential buyer for the Nordhavn 40 KEMO SABE. Her and her current owners left two days later to return to Del Ray, Florida where she will be available for purchase and viewing.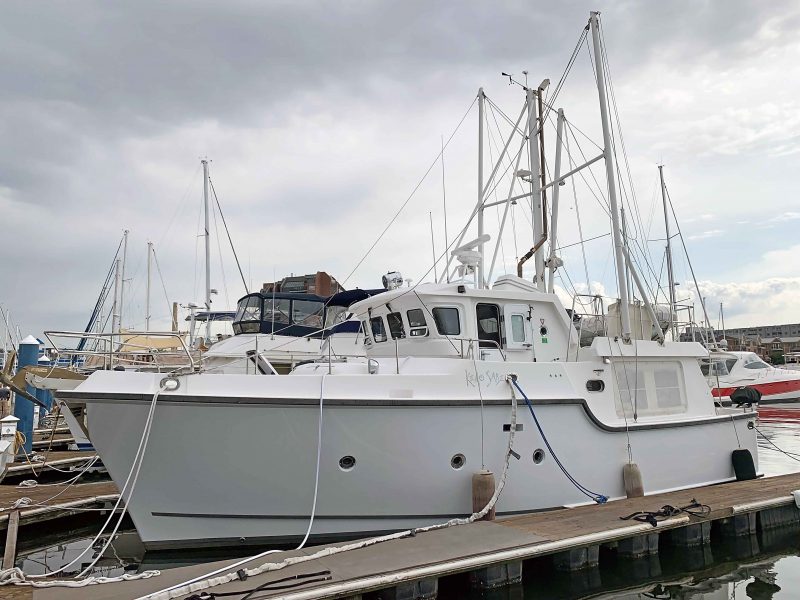 The Florida Bay coaster 65 RED HEAD was also in town a few blocks away, but neither of our two popular listings were on the show docks.  Their local presence generated a lot of interest.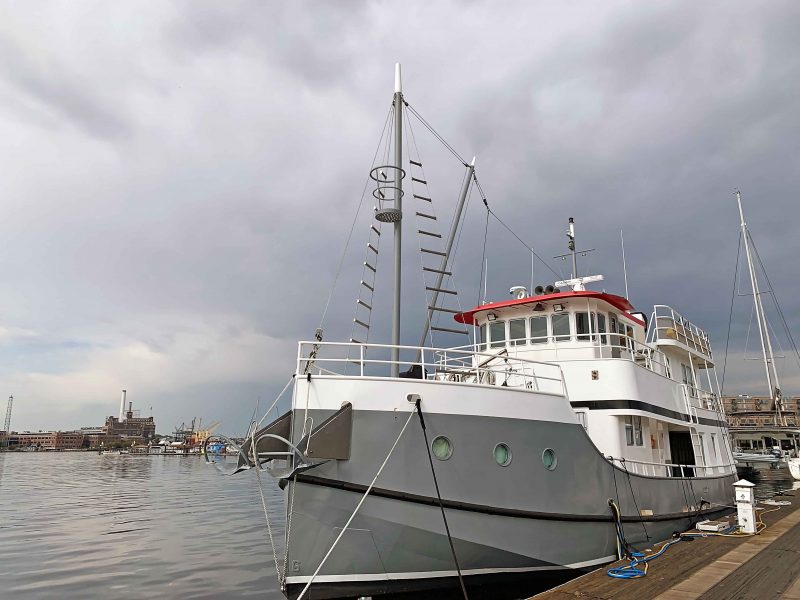 Florida Bay Coaster 65 RED HEAD
A great benefit to being in this business is staying in touch with past clients and hearing about their travels and time aboard. The Baltimore Inner City Marina is the current home port for two Nordhavns (a 46 and 50) and it was nice to catch up with some dear friends/ clients.
On Saturday, the beautiful green Selene 53 came to attend by water. They purchased her with Jeff earlier this year and have wonderful memories aboard since.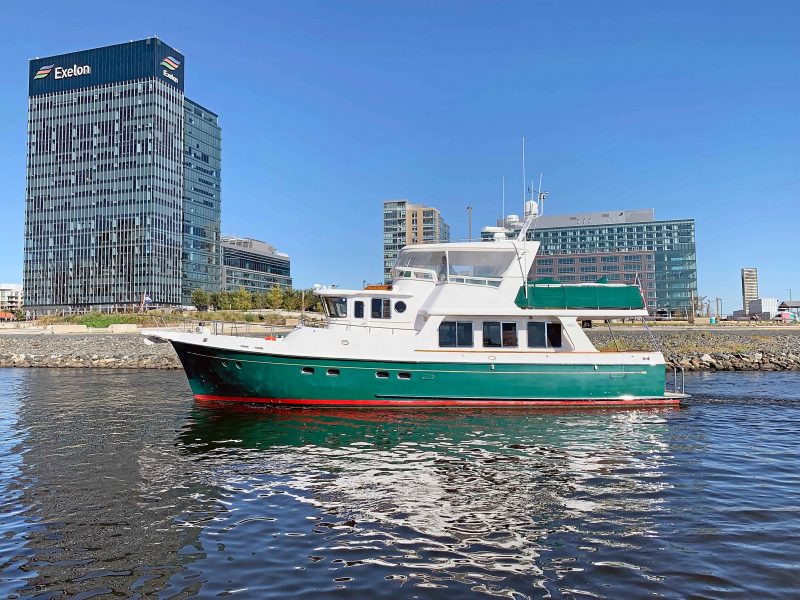 Jeff presented his two signature classes "Dialing In Your Boat" and "Offshore Cruising Preparations" in a classroom setting held at the nearby Marriott hotel, where everyone had enough room to be comfortable and social distance. Both classes were well-attended and there were many great questions asked, fueling the discussion and providing wonderful information for all attendees. The presentation and handouts will be posted at the end of this article for a limited time.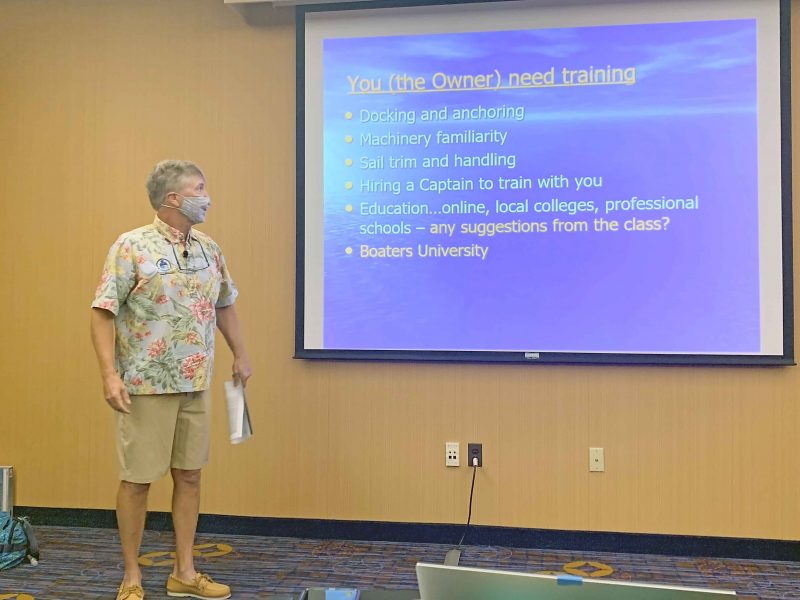 Offshore Cruising Preparations
A few of the larger seminars were held on the dock in tents. Jeff was included in the Boat Buyer's Survival Guide, where industry experts discussed what to think about as Buyers. Steve Zimmerman gave a prestation on how to select the right type of boat.  JP Skov from YBAA talked about the importance of connecting with the right broker. Cindy Lewis of Sterling outlined financing and insurance requirements. Jeff ended the session with a 24-point check list of the key steps from offer to closing.
*If you would like a copy of this list, send an email to Jeff and put: "TrawlerFest 24-Point list" in the subject line.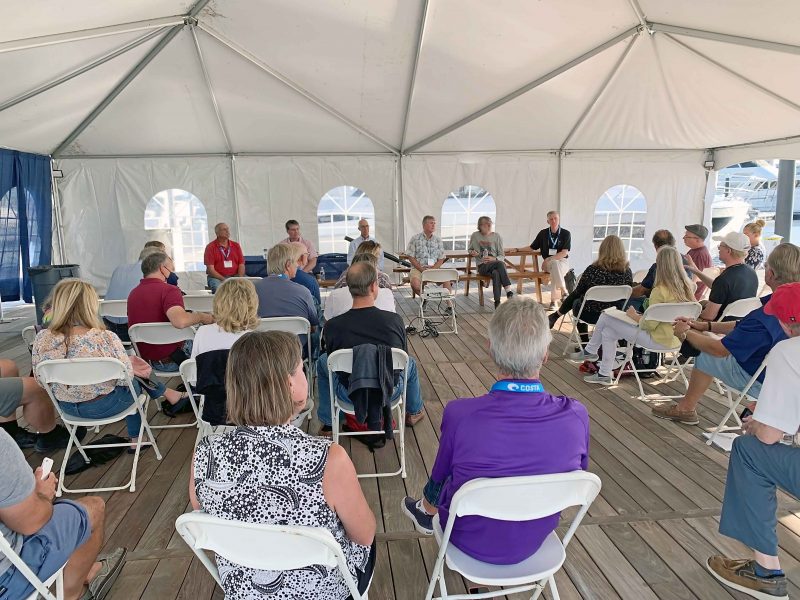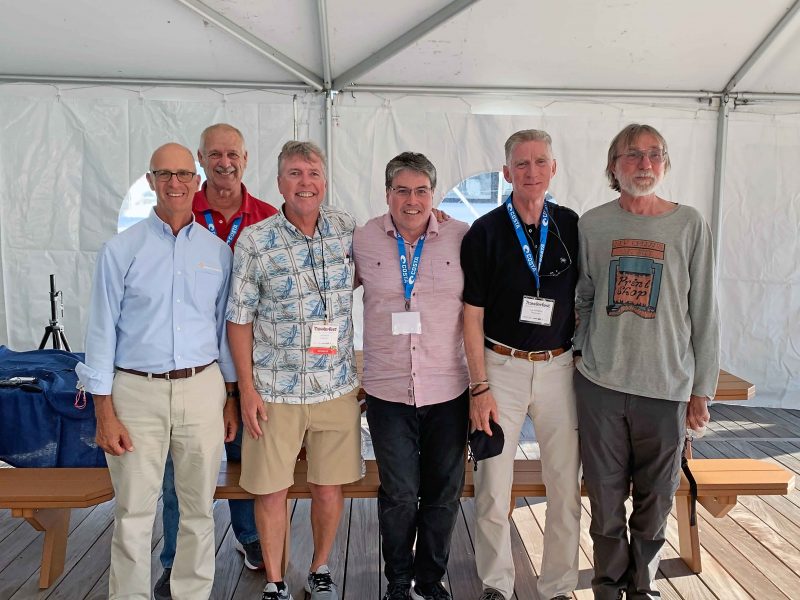 Panelists: L to R: Steve Zimmerman, Rudy Sechez, Jeff Merrill, Chris Parker, Bob Arrington, Nigel Calder
It was very nice to get everybody together for a TrawlerFest, it has been almost 500 days since we were last cruising the docks at TrawlerFest 2020 in Stuart.  When the "work day" is over we enjoyed some quiet conversations with clients to catch up on their travels.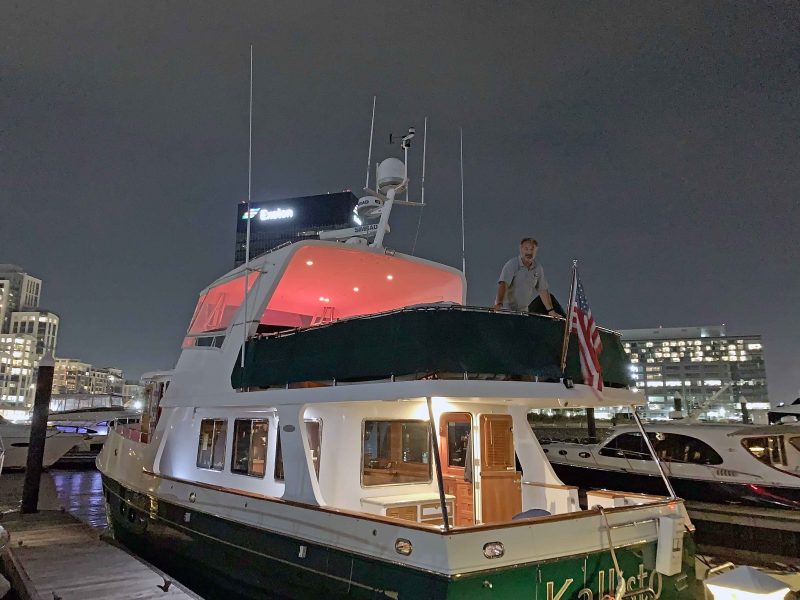 PassageMaker Magazine intends to resume the full slate of events in 2022 beginning with a TrawlerFest scheduled for early March in Stuart, FL.  This really is an informal, fun and informative event.
One other event that has been considered is an online zoom type presentation in December, so stay tuned and will keep you posted when we hear more about that.
Overall, it was a fantastic event held by the hardworking Passagemaker team. Thank you to Ryan Davidson for serving as Dockmaster, Julie Jarvie and Donna Aschheim for working registration and seminars, and the rest of the talented crew working behind the scenes to pull off another successful event. It was great to see other Passagemaker staff in the scene, including Editor in Chief Andrew Parkinson and Publisher, Wade Luce.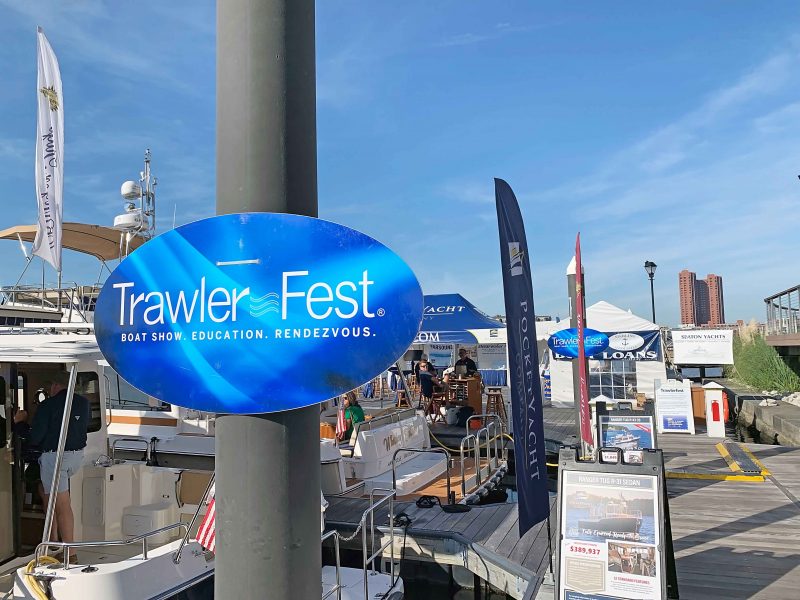 We are seeing a few more boats becoming available, but our prediction is that it will be mostly the same through the end of 2021 and hopefully an increased availability will occur in 2022. We hope to see you at the next TrawlerFest and we welcome your calls, texts and emails if you want to discuss trawlers!
If you would like to see the handouts, please email Jeff Merrill at Jeff@JMYS.com