Please read our latest owner interview about Nordhavn 40, Sea Trek. This brief Q and A with the current owners explains some of their choices, shares some of their experiences and is a wonderful insight.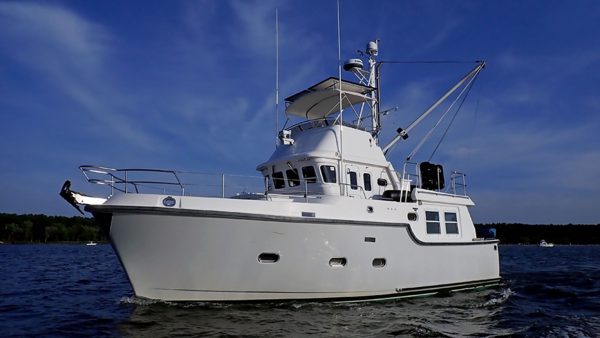 Questions and answers:
Q. When and why did you decide to buy a trawler?
A. We love to travel and explore. Trying new adventures has always been part of our life. We had owned a sailboat in Annapolis MD and spent many vacations chartering yachts down in the British Virgin Islands. We were not getting any younger and decided to do something adventurous while we are still in relatively good health. We started to think about buying a boat around 2016 while living in Phoenix AZ. After close to 45 days straight of over 100-degree heat, we started to look at splitting our time between Phoenix and the Pacific Northwest. Ultimately, we fell in love with a boat on the East Coast and just decided to jump headfirst into full time cruising. We sold our house and most of our belongings and moved aboard.
LAYOUT: Main and Lower Deck – Saloon, Galley Head and Staterooms

Q. How did you determine what type of cruising you wanted to do?
A. Since we were not retired, we needed our cruising grounds to be close enough to civilization for internet access. Plus, access to airports for the occasional business trip. That plan allowed us to follow the sun and season from Canada to the Bahamas. At the same time, we wanted to choose a boat that could go beyond that as we did want to push our limits and seek out what we called our stretch goals. This included longer duration passages to Bermuda, Greenland and the Southern Caribbean.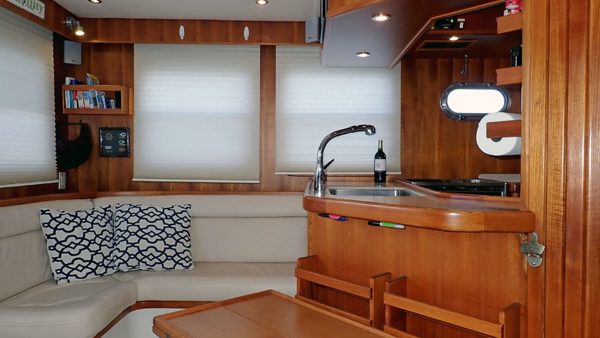 Q. How did you conduct your trawler search?
A. Like a lot of people, we went online and did a lot of searching on the internet. YouTube was a great help in learning about the different types of boats and what was available on the market. We also went to a few boat shows. Through those efforts we were able to connect with Jeff Merrill and leaning on his expertise, we were able to narrow down what we truly needed, and we were able to focus on finding the right boat.
LAYOUT: Raised Pilothouse

Q. You ended up with a US built Nordhavn 40 flybridge. What other brands and models did you consider and what tilted you to the N40?
A. We looked at both semi-displacement and full displacement configurations. We saw a lot of the Taiwanese trawlers at first such as DeFever, Island Gypsy and Marine Trader. We also looked at some Tollycraft, but ended up focusing on the Nordhavn, Kadey-Krogen and Selene brands. In the end, it was the ship-like quality, reputation and functionality of the Nordhavn 40 that best filled our needs.
Q. Did you set a budget for purchase and, if so, how close did you come with your cost estimates?
A. We did have a certain number we wanted to stay under for a purchase price, and we did stick to that number. However, more importantly, we also understood that we needed to incorporate the "make it your own" costs that occur post-purchase. No matter what condition your boat is in when you buy it, there's always expenditures that happen when trying to either upgrade it or customize it to your liking. So, we tried to budget for those expenditures as well. However, like most boat owners, we went a bit over budget on those items because there's always something new you'd like to add especially after attending the Fort Lauderdale Boat Show!
Q. Looking back at the purchase process, what do you wish you knew then that you know now?
A. We wish we would have bought a vessel that was set up for the same mission and objectives we had for our boat. We wanted to live aboard and cruise full time. Don't get us wrong, our boat was in good shape when purchased, but it was not necessarily set up for full time cruising and living aboard. The previous owners really only used her for weekends and shorter trips, not for long term cruising. So, it was missing features that we felt we needed like a watermaker, solar power, updated electronics and more.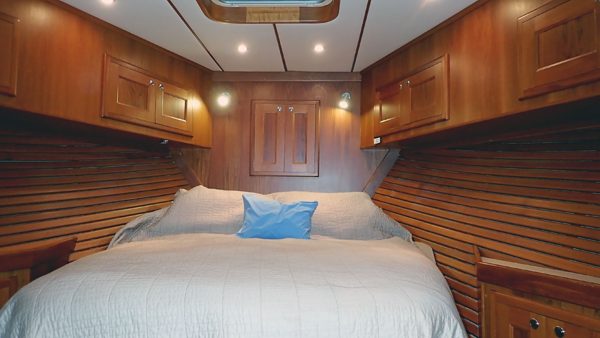 Q. Any interesting lessons learned the hard way that you can relate here that might benefit those who are reading this?
A. We wouldn't say "the hard way", but it does take a bit of time and dedication to learn the myriad of systems on a trawler. The learning curve was a bit steeper than we originally thought it would be as we were coming from a much less complex sailboat. However, with time, experience, the Nordhavn Owner Group forum and other experts, it was certainly manageable.
Q. What has been your biggest positive surprise?
A. The people that we've met either in person or virtually in the cruising community. We're amazed how quickly you can find new friends by trading war stories about your latest adventures, repairs needed or places to visit. One of the advantages of owning a Nordhavn is having access to the Nordhavn Owners Group forum. It's an online resource to ask any question about running and maintaining your Nordhavn. You can get answers from other experienced owners as well as well-known experts. It's a bit like having a security blanket, just in case you can't figure out something on your own. So, meeting both a wide array of helpful, friendly fellow boaters in-person and online has been the nicest surprise for us.
Q. What did you learn about each other spending all that time on your Nordhavn 40?
A. We know a lot of people have the opinion that living in close quarters on a boat would lead to divorce court, but we found the opposite to be true. We've always worked well together on various projects. Operating a vessel of this complexity played to our strengths. This helped us keep to a low stress, fun environment.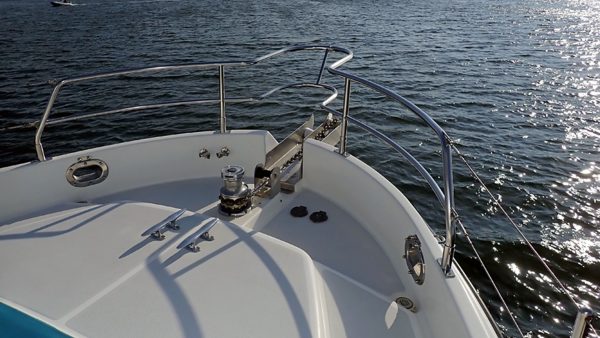 Q. What was your favorite cruising location?
A. We've had the opportunity to travel up and down the East Coast of the US as well as the Bahamas. We would have to say our favorite is the Bahamas. The beautiful, crystal clear water with the opportunity to snorkel, kayak and paddleboard amongst the various sea life is amazing.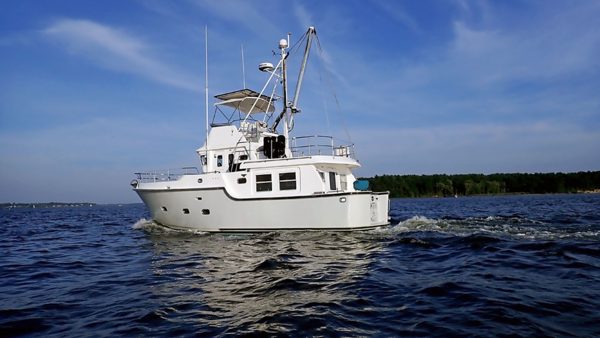 Q. Any tips on trawler ownership to share?
A. Two things come to mind. First, don't get tempted by the "just a few more feet" when purchasing your trawler. Buy a boat that will fulfill your mission without over doing it. Every additional foot is additional cost as docking, painting, hauling, etc. is all paid for by the foot. Second, try to spend more time enjoying the boat than doing maintenance. There's always boat projects or preventative maintenance to do. However, don't forget why you bought a boat in the first place – to go cruising and have some fun. So, find a balance between fun and boat maintenance.
Broker's comments:  The owners of Sea Trek have happily immersed themselves in the Trawler Lifestyle.  They are very conscientious and have been tremendous caretakers of this vessel. His aviation background and her organizational skills are a perfect match to manage a boat with the potential that a Nordhavn 40 offers. They have spent the majority of their ownership on board and this has allowed them to make sure everything is easier, accessible and in good working order – ready to go whenever and wherever they want.  Sea Trek is an incredible Nordhavn 40 and one that is already making a very strong impression in the market.  If you are looking for a Nordhavn 40, please note the upgrades and improvements on Sea Trek that have occurred in the last couple of years – every item on a boat like this has a limited life cycle and they have been diligent in making sure things are in order.  I welcome your call, text or email if you would like to learn more and/or to schedule an appointment to get aboard.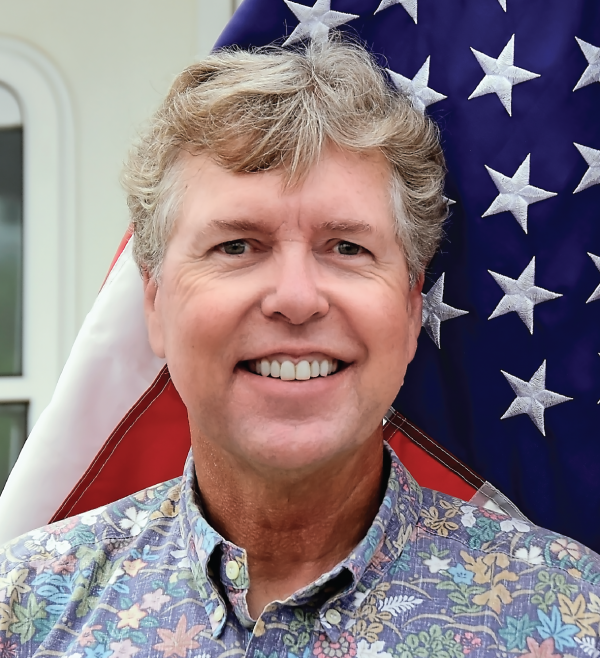 Jeff Merrill, CPYB (Certified Professional Yacht Broker) has extensive product knowledge of the trawler and motor yacht market and has been aboard the Nordhavn 40 Sea Trek on multiple occasions. Jeff has a twenty-five-year+ history of building and selling cruising boats providing his clients with experience and product knowledge that he is happy to share. Jeff is a familiar face to YouTube viewers. Jeff is always available via Mobile =1.949.355.4950 (call or text). Additionally, you can send an email to: Jeff@JMYS.com .