Jeff interviewed the owners of KEMO SABE to find out more about them, their boat, and what kind of cruising they have done. This insightful interview will give you a good idea of why they chose a Nordhavn 40 and give you a glimpse into their wonderful experiences aboard.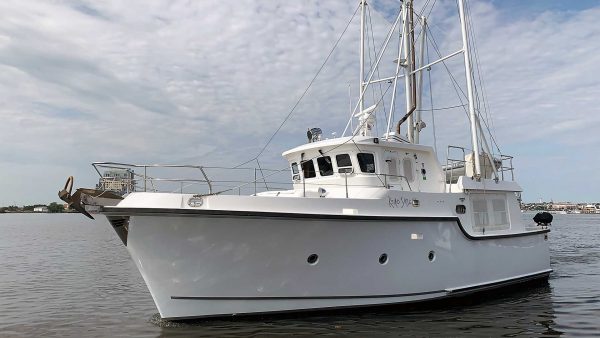 Questions and Answers:
As a way of introduction, tell us about yourselves…
Wayne and I are adventurers and have been traveling and cruising together for over 30 years.   We spent 17 years on sailboats, 13 years on KEMO SABE, a few years on a sun fish and Hobie cat, and many work years traveling globally.
Our sailboat cruising was primarily in fresh water on Lake Erie / the Great Lakes, with our home port in Buffalo, New York. We chartered sailboats in the Caribbean, for our blue water fix.   We revere floating, finding our way around ports by foot and bicycle, kayaking, and, meeting other cruisers who always have an entertaining story to tell.
Wayne is a retired architect — having been a principal in the two firms he owned.    I was a technical manager in the operating system software development industry, at Microsoft and SUSE.  Wayne's role on KEMO SABE is as the lead for mechanical maintenance, and I focus on navigation and hull maintenance. In retirement, I strove to take on more mechanical chores — something I didn't have time for when I was working and cruising. I was thrilled to learn to splice electrical wires — it is a very valuable skill required to configure the pilothouse for wireless data!
Both Wayne and I were awarded our 100-ton USCG captains license in 2000. Kristin is a moderator on the NOG / Nordhavn Owners Group, and we both continue to learn through their incredible resources.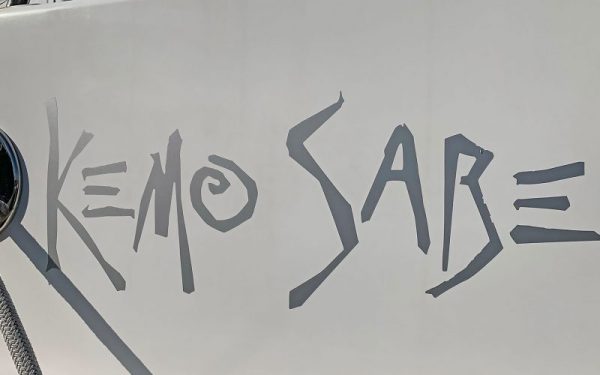 Where did the name KEMO SABE come from?
When Wayne was a boy, he and his father raced their Sun Fish sailboat, Kimosabe, in the Niagara River, New York. Our last two boats adopted the status of "faithful friend" – KEMO SABE.
We get a lot of chatter over the name….   Our favorite is a bridge tender in the southeast ICW – Regis.    He always greats us with a hearty "Keeeeemmmoooooo Sabeeeeeee!!!"

What other boats did you consider before settling on the Nordhavn 40?   What convinced you to buy the Nordhavn 40?
Other boats?    What other boats???   😉
We thought wind propulsion was our "thing" — until a friend of ours in Seattle invited us to cruise with them on his Willard trawler (thanks, John!!).     We were in awe of the directional mobility, diesel efficiency, and comforts of a trawler.   During that trip, we came upon a Nordhavn 35 in Friday Harbor — who offered us a tour.
The next week, Wayne announced that he "found the boat I want."     What? We had a beautiful sailboat!   The Nordhavn was love at first sight…..
We continued a short search — looking at some Selene's, Nordic Tugs and several Nordhavn models.   (We also looked at a Tartan 44, to make Kristin happy that we did good comparative analysis 😊)
We settled on the Nordhavn for its quality.   For its stability – offshore and inshore.  For its 2-person handling, with the safety of a full keel, Portuguese bridge, rock solid windows and doors.      For its livability – above- board cooking, lounging, and entertaining (versus the "below deck" living space on the sailboat).
What we didn't know at the time was that with it, came a community.   One that embraced us, and, helped us learn all things Nordhavn. What a joy that community continues to be!    We've developed and maintained many, many friendships in the Nordhavn family.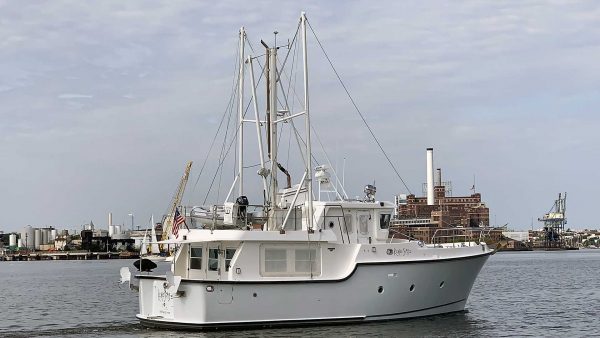 You guys love the paravane outriggers and use them all the time when you are underway.   How much time do they take to launch and retrieve?   Do you have a minimum trip length where you don't bother?
We travel offshore, on the US eastern seaboard, as often as possible.  We come and go at available, safe inlets.   Offshore travel has comprised at least 50 percent of our 30,000 nm experience.
We deploy the paravanes any time we have over 1-2 feet of wave or swell on our broadside or stern quarter (which is approximately 75 percent of the time).
We love the stability of the paravanes — we don't roll when they are deployed!   They are easy to maintain, and it takes us 15-20 minutes to launch or retrieve them.    Whether it is a 3-hour ride, or a 48-hour ride —- it's worth every minute of comfort.
The fins require 15 feet of depth — so, we don't use them on the Intracoastal Waterway / ICW.  And, we have a flopper stopper that you can deploy on a paravane, if you need stability at an anchorage.
The Nordhavn owners' group has GREAT documentation that we used as the template to develop our process of deployment.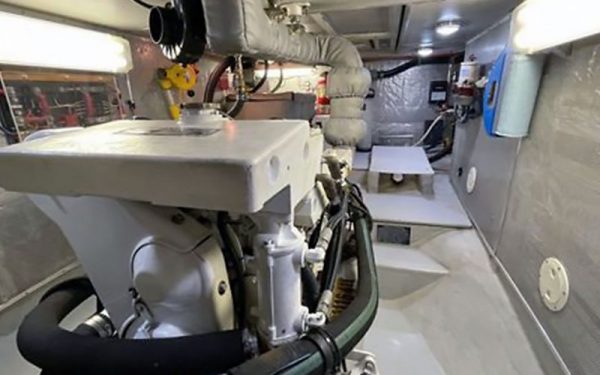 What was the reason you removed the wing engine?
We had a Yanmar 27 HP engine on one of the sail boats we owned for 10 years.   It just ran and ran (we didn't know much about maintenance at that time of our learning curve).     The same engine was on KEMO SABE.
We ran it, as recommended for a few years. But, we started having problems with it about five years ago. After having several mechanics diagnose and repair the problems, it was suggested that we need a ring job (which required pulling the engine out). We pulled it, and, found that there was corrosion inside the engine. Three years had gone by without using or needing the wing.
We researched purchasing a used engine, and we spoke with other Nordhavn and Krogen owners who didn't have a wing engine. Given the type of cruising we do, we realized we didn't need to re-install another engine. Our dinghy can provide a way to push the boat, in an emergency —- which was a great idea that one of our N40 friends shared.    And, as a bonus, our average cruising speed increased without the underwater drag!
We have the hub, shaft, prop, skeg, electrical and mechanical controls required to reinstall the engine, if the next owner would like to do so.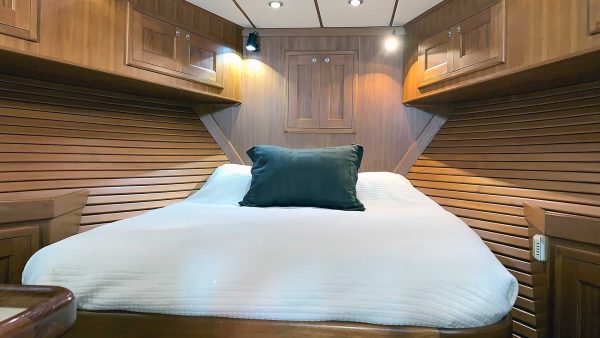 What was the most remote place you have cruised?
Kristin's work schedule kept us close to cellular signals and airports —- so, the majority of our cruising has been on the US east coast — from Newport, Rhode Island to Key West, Florida.    We've traversed the Gulf Stream to spend time in the Bahamas as well (flights and cellular data service are fabulous!).
We spent 10 years slowly exploring the rivers in the Chesapeake, North Carolina, South Carolina and Georgia.  These are not geographically remote — but, provided us with quiet, scenic anchorages that most people don't take the time to explore.       The Nordhavn 40 is nimble and can tuck into many anchorages that bigger and deeper boats cannot.   Places like Edenton, NC, and Onancock, MD, come to mind — where we poked into, enjoyed a relaxing visit, and, met wonderful friends that we've had for years!
One of our favorite places is Cumberland Island, Georgia — the anchorage is large, with good holding.   And we can dinghy over to the state park to walk the beach on the Atlantic Ocean, looking for wild horses and surf to swim in.
We're city people and we have enjoyed harbors and anchorages that have access to good food and entertainment — like Charleston, Baltimore, and Sag Harbor.   We owned a slip in Charleston, but our dinghy took us back and forth to our private floating condo and the city life in other more populated harbors.
We've been lucky enough to crew with Nordhavn friends to Alaska and Halifax — a completely different experience, for certain.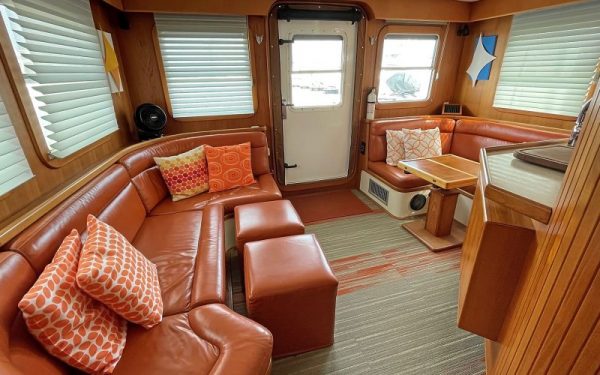 Wayne, you have used some of your architectural skills to make some nice improvements.   What is your approach?
I have a keen sense for open spaces, structure and clean lines. For example, replacing the two fixed tables in the saloon with two hassocks and an adjustable, freestanding table, created a more comfortable open area in which to live and entertain (and a space for our yoga practice).
I designed the enclosed TV cabinet, to hide that appliance from view.    And I applied the carpet tiles as a way to fit the floor space from edge to edge, but also leave access to the engine room panels.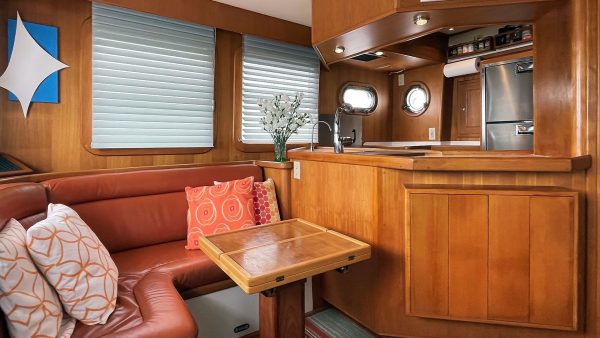 Freestanding Saloon Table and TV Cabinet
When you are anchored out – what do you guys like to do?
We have spent most of our cruising years at anchor – so, we learned to exercise, cook, work, and do maintenance with whatever resources we had.   We kayak, explore rivers with the dinghy, practice yoga on the deck, explore trails on land, swim (when in blue water), and do chores. There are always chores!!!
Because of our style to move slowly, we have found special snorkeling spots (in the Bahamas), hiking trails (on the east coast of Maryland), and state parks to visit along all the water ways.
One passion of Kristin's is to find the local farmers market —- we'd often time our arrival for the Saturday morning opportunity to get local fare and seasonal vegetables.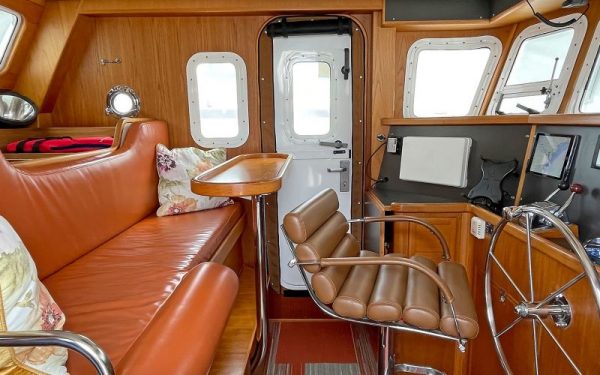 Kristin – you used KEMO SABE as a remote office before that became THE thing to do. What is it like working from a boat?
I am grateful for the opportunity we had to cruise while I juggled the rigors of an international team schedule.     I recall many 4am calls in a quiet anchorage, delivering a presentation.   I missed a few 5 pm happy hours — but, Wayne always put my cocktail in the freezer, awaiting the end of my last meeting…..
We always cruised within the boundaries of a cellular signal —- which grew as years progressed (currently, you have a cellular signal as much as 5 miles offshore in the US — sometimes more!).    And, my roles always required a lot of travel, globally.  The US east coast ports offered many access points to large airports —- so, our navigational plan took careful consideration of how we could get to somewhere, and, when we could get there.      We learned to never push the boundaries — weather rules.
Please tell us about the cruising community and being out there with other trawler folks.
We can't gush enough about the cruising community……     It is what we will miss most without a vessel like KEMO SABE.
We've met many, many people over the years —- some we met once or twice, some we found along the way, over and over again.     We remain friends, with or without distance.
At each harbor, we help each other, we spend time enjoying simple things — like a cool breeze, or a sunset), we organize to walk to the farmers market, we cook together, we mentor each other and, we watch each other's boats.    Oh – and, happy hours.   We have lots of happy hours.     It's a mobile community!
One of our favorite stories is a Nordhavn 50 (and Nordhavn 57) owner who knocked on our hull and asked if we would be friends with his wife while he was away….   (thanks, Stan!)  Of course, we fell in love with her…
We could write a book about all the wonderful friends we have, near and far.
The learnings you accrue through the experience of others – and, through their teachings is so incredibly valuable.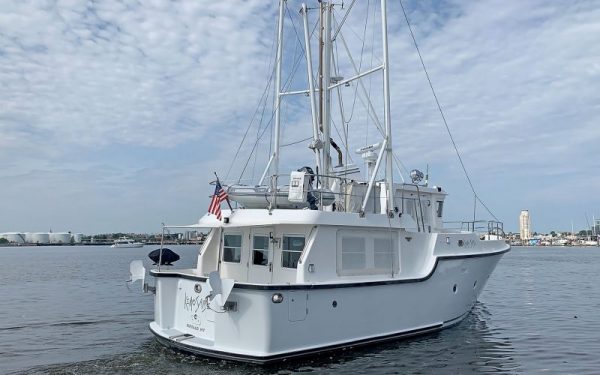 Now that you are veteran Nordhavn 40 owners, can you look back and think of something that you wished you had known or learned earlier in your time aboard that might benefit someone looking to buy a Nordhavn 40?
We wish that we both had retired earlier. 😊  The cruising life is full of exciting challenges, offers opportunities to learn, provides natural independence and green living; and it is introspective AND entertaining.
Something we would have done differently is to hire a captain early in our ownership years. The captain will expedite your learning of how to handle a full displacement, single screw vessel; how to dock; and how to maintain your systems.
We knew a lot, as owners of sail boats —– but the rest we learned on our own, and, through the incredible resources of the Nordhavn Owners Group.
As we mentioned earlier, we never wished for a bigger boat — the Nordhavn 40 was perfect for us, with regard to maneuverability, nimbleness, maintainability, and livability.    We chose to fund upgrades on KEMO SABE, versus a new vessel.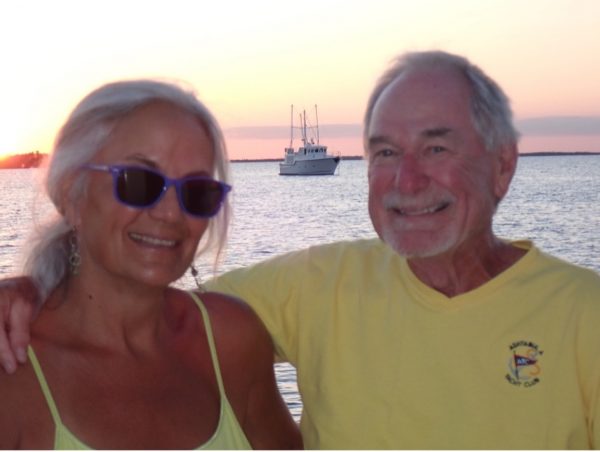 Thank you, Wayne and Kristin!
For more information on KEMO SABE, please visit her dedicated website www.Nordhavn40ForSale.com and contact listing broker Jeff Merrill with any questions. KEMO SABE is located in Del Ray Beach, FL.