JMYS interviewed Scott and Teri Miller, the owners of Miller Time, to find out more about them, their boat, and what kind of cruising they have done. This insightful interview will give you a good idea of why they chose a Kadey Krogen 58 and give you a look into their life aboard.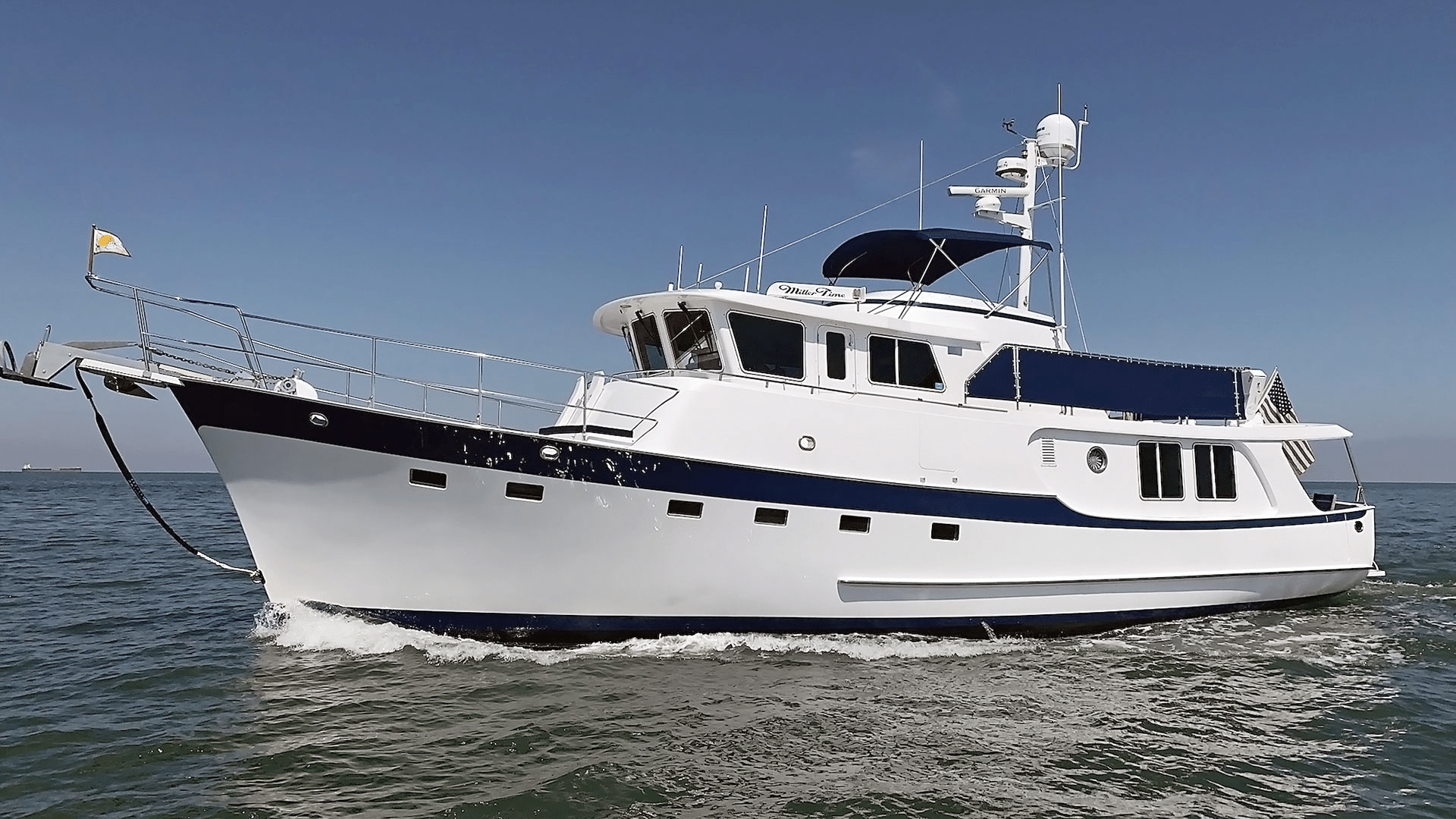 What other trawler brands did you consider and why did you select a Kadey Krogen?
When we began our search for a trawler, we had already encountered the Krogen brand while visiting marinas on our previous boat. Kadey Krogen offers boats that easily feel like home, but we wanted to cast our net further.  After considering Flemings and Nordhavns, we kept circling back to the Krogen.  We loved her spacious living area and the layout.   The Krogen 58's various levels are accessed by a few steps instead of ladders and the generous gunnel and Portuguese bridge make moving around the boat safe and easy.
What was your boating experience prior to owning Miller Time?
Our boating life began with the purchase of a used 19ft Sea Ray in 1992.  I called this our gateway boat, as it led to the incremental succession of boats over the years.  Just prior to our Krogen 58, we owned a 48ft. Silverton Convertible.  The Silverton was perfect when we wanted to get somewhere quickly, but the Krogen 58 allows us to enjoy the journey and the destination.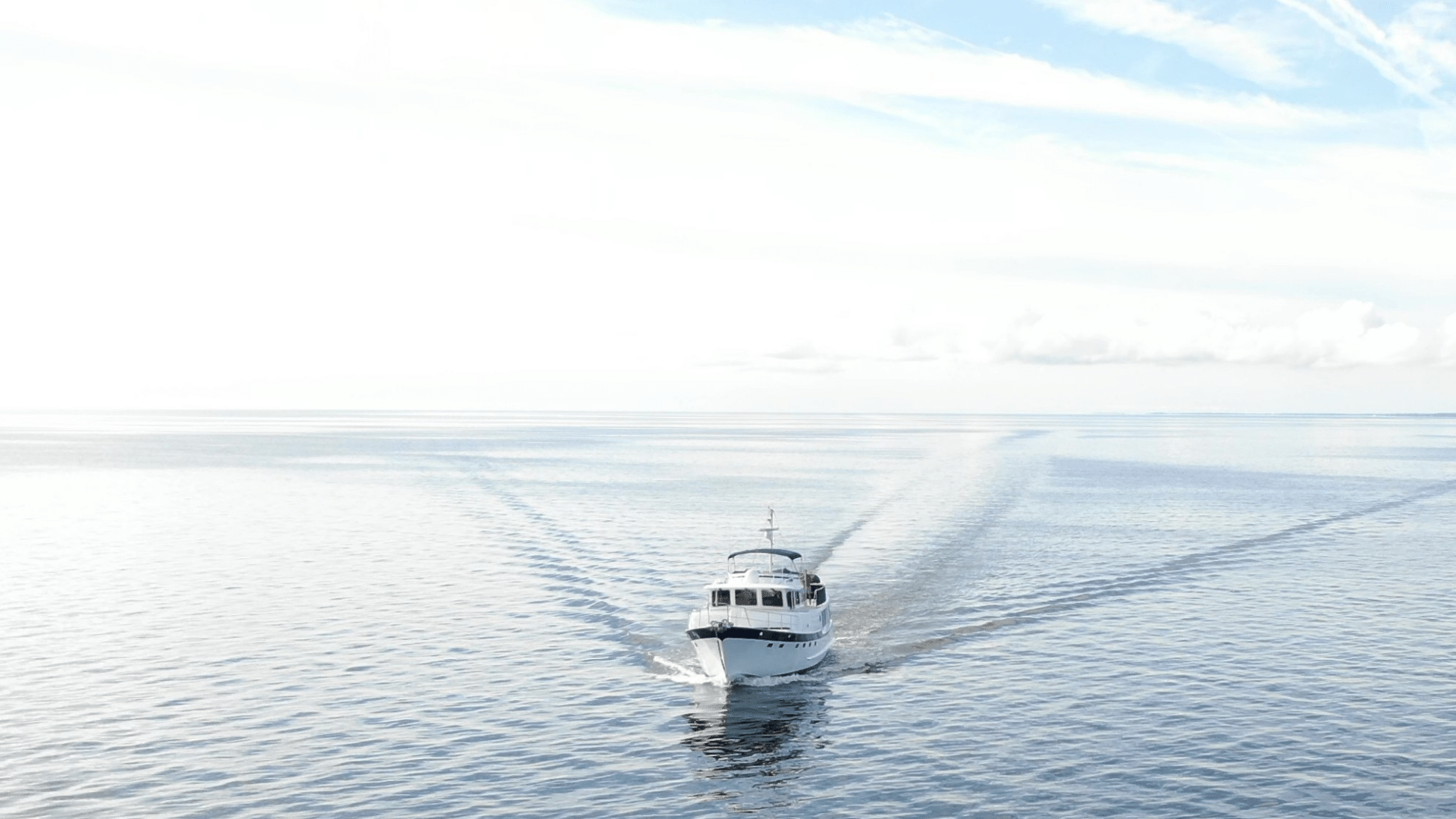 How did you prepare yourselves for ownership of a 58-foot yacht? 
One of the most wonderful things about the boating community is its willingness to share and support one another.  The Krogen community is a grand example of this strength.  While not new to boating, owning a larger trawler can be intimidating.  Our previous experiences served us well, but there was a learning curve.  We accepted help, advice and instruction from seasoned captains, owners and crew.  Whatever your level of need, resources abound to help you feel confident in your cruising style.  Ultimately, once we learned all we could about her, we found Miller Time to be an easy 2-person vessel.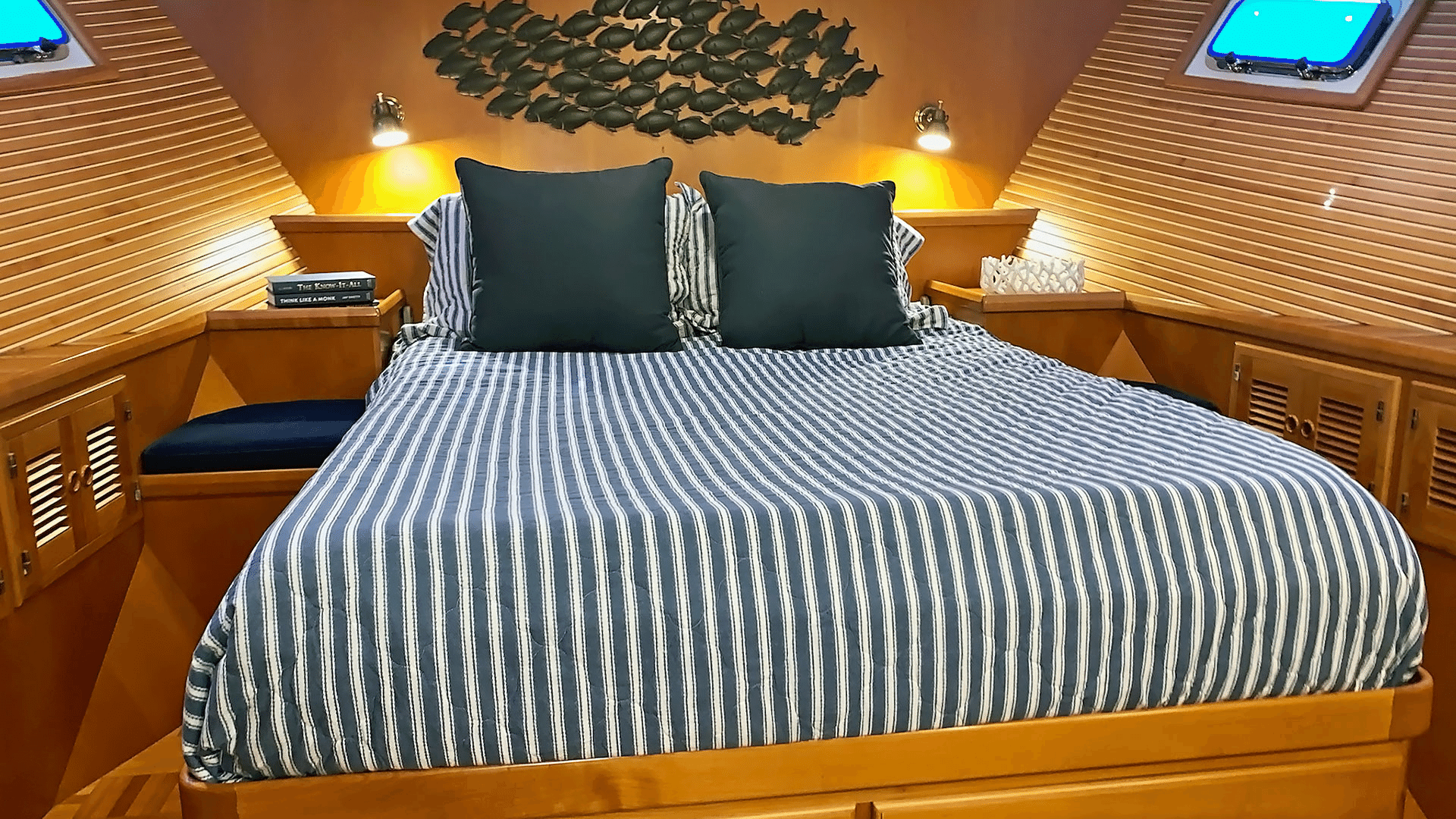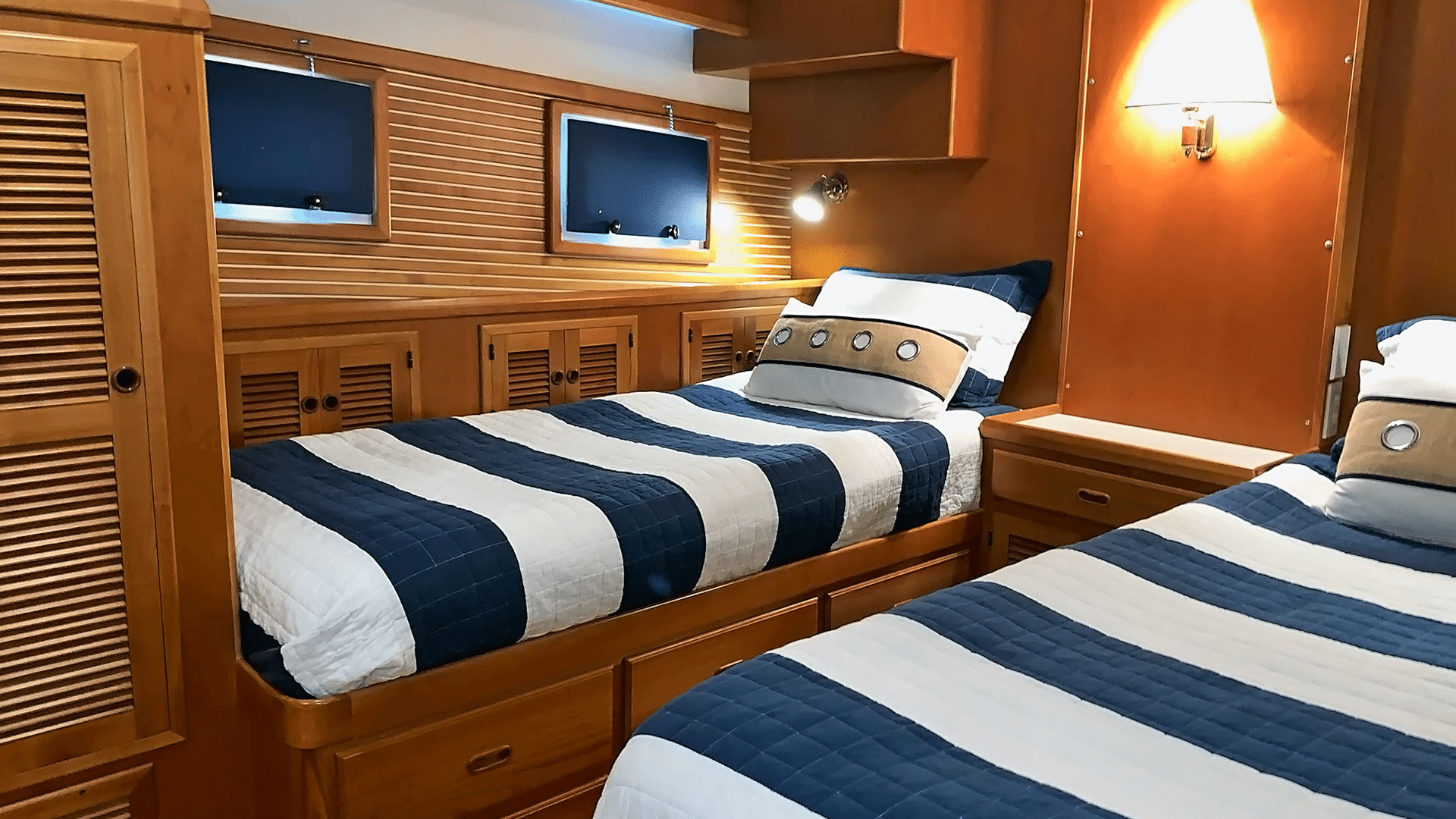 You lived aboard for 2 years, what did you learn about each other living in close quarters? 
We often joked about taking turns sitting out in the dinghy with it tied 20 feet off…but honestly, Miller Time never felt like close quarters.  With a comfortable pilot house, well-appointed flybridge, roomy salon and a covered "back porch" on the stern, there was always a place to settle if you needed the space.  I think we both learned to respect each other's needs for space. Just because we are together on the boat does not mean we must do everything together.  Miller Time gave us enough space to enjoy our own hobbies, work or down time.  Of course, it helped that after years of a work schedule that took Scott away from home a lot, we truly enjoy time together.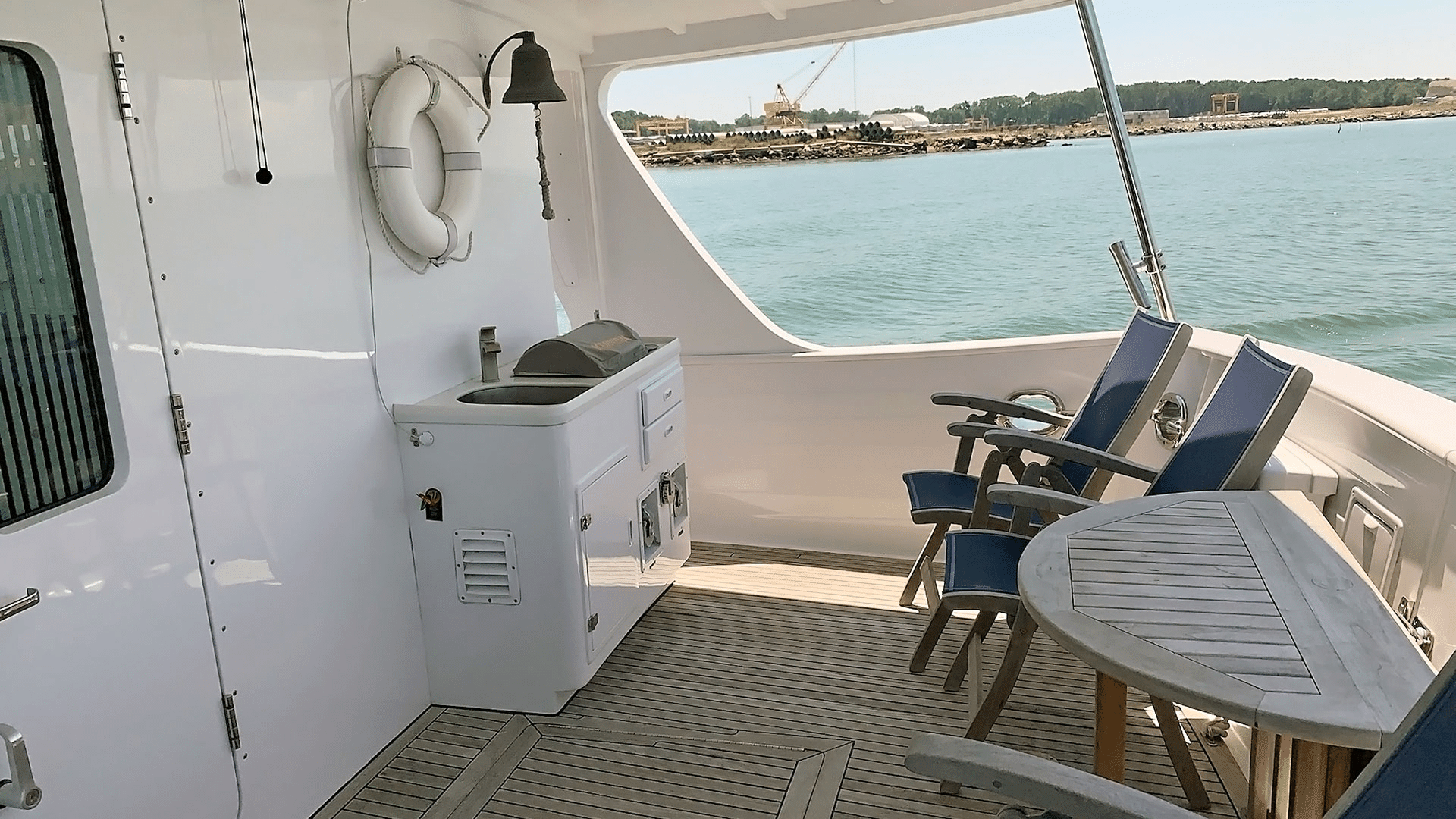 You've taken many trips aboard Miller Time, which is the most memorable?
Interesting you ask what was "most memorable" and not what our favorite trip was.  We have had so many amazing trips.  With stunning scenery, interesting people and making lifelong friends along the way, it would be hard to pick a favorite, but my most memorable is an easy pick.  My most memorable trip was our first ever journey bringing Miller Time from her place of purchase, Florida, to our home in Virginia.  It was a long trip filled with all manner of "firsts", most of which were breathtaking, exciting, fun, encouraging and relaxing and few of which were nerve wracking, frustrating or scary.  I would not trade a single episode of that trip for anything, even the hard parts.  This was the trip that gave me confidence as a first mate, solidified my confidence in my hubby/captain, and confirmed that Miller Time was capable of carrying us to and through all the adventures we had in store.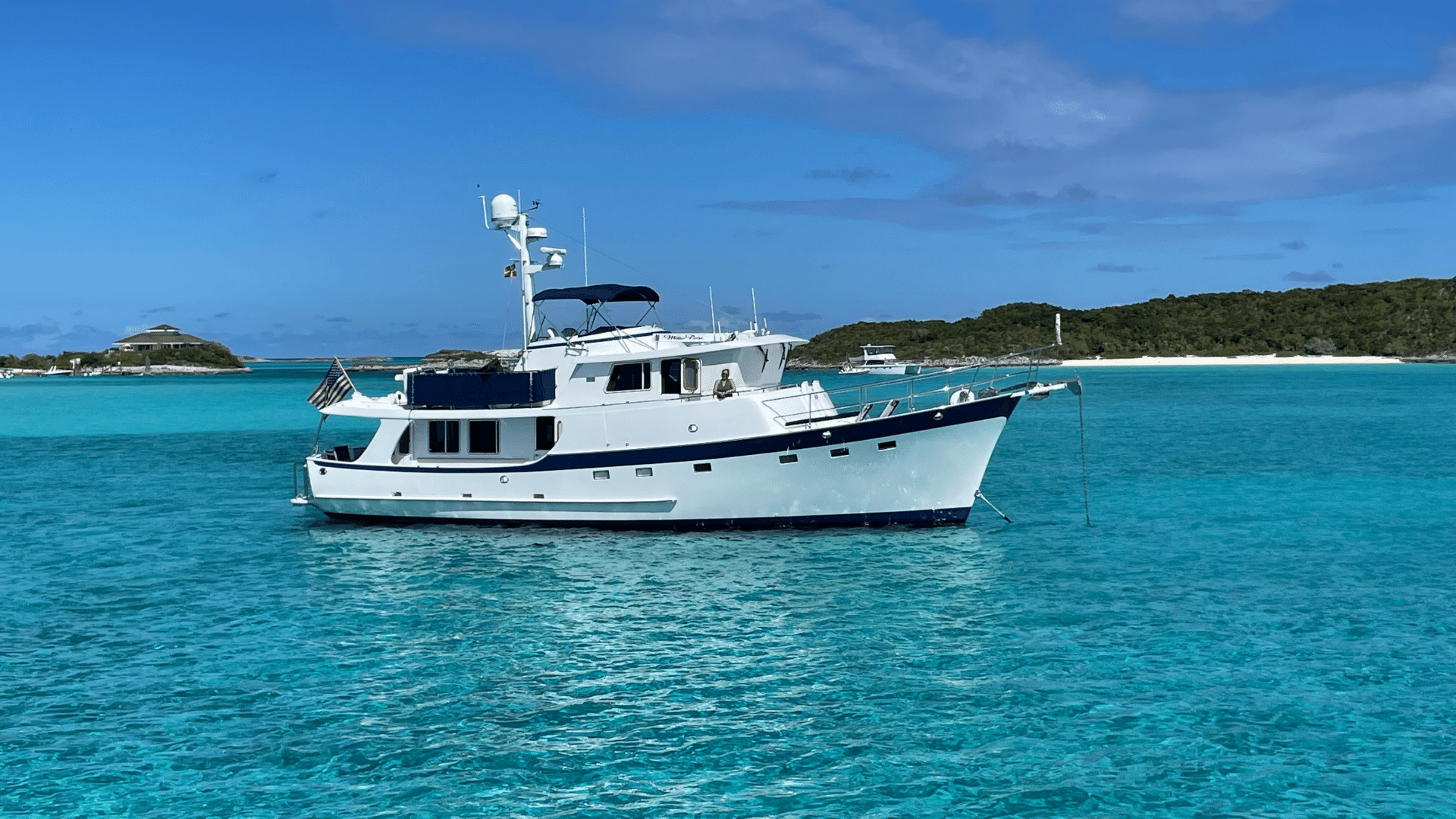 Why are you selling?
We originally planned to continue to cruise part time after purchasing a home on the Eastern Shore last year.  We had some difficult honest conversations about how we would be using Miller Time going forward.  The reality that our desire to maximize time with our family, invest in our new hometown, and enjoy the Chesapeake Bay, meant we would not be doing any long-range cruising over the next few years.  Miller Time was meant to go places.  While it is heart breaking to step away from her, we know we won't be using her as she needs to be used.  This change is best for us as well as for the boat.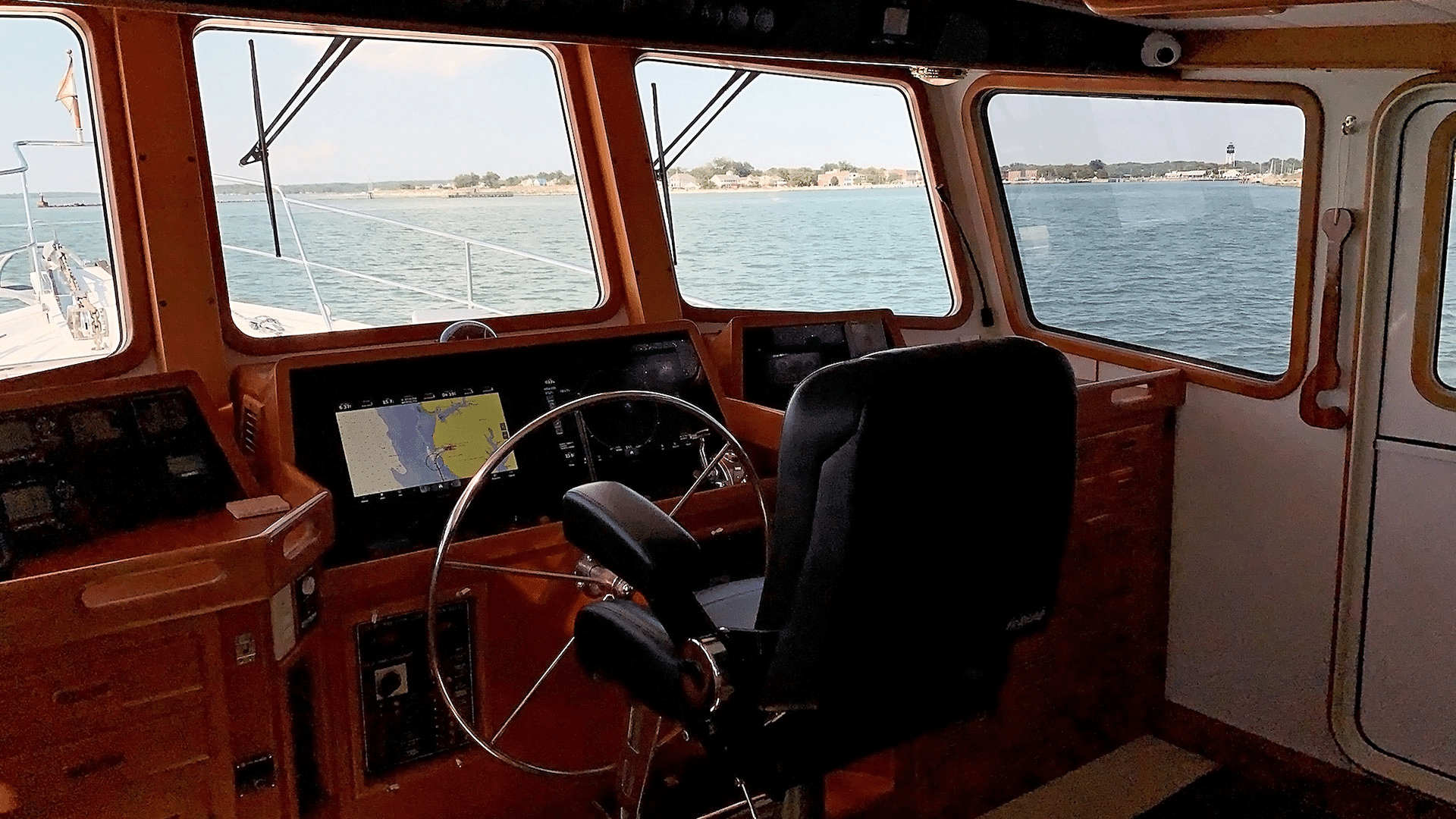 How difficult is Miller Time to handle for a cruising couple?
Miller Time's 63 'LOA is shockingly not as hard as one would think.  Because of her heft, she is not easily impacted by her surroundings.  Her twin engines, bow thruster, wing station, open lines of sight and her responsiveness to navigation make bringing her to a port, mooring or anchorage easy enough.  She does require large lines, but these are usually simply handed over to dock hands and do not require tossing.  Her fenders are large, but we use AERE inflatable fenders, which are very light weight and easy for the first mate to deploy.  With the use of headsets, we work together so captain and crew understand the situation when docking, mooring or anchoring.  On any size boat, whether with a crew of 2 or 20, taking your time and communicating before, during and after will make all the difference in your cruising experience.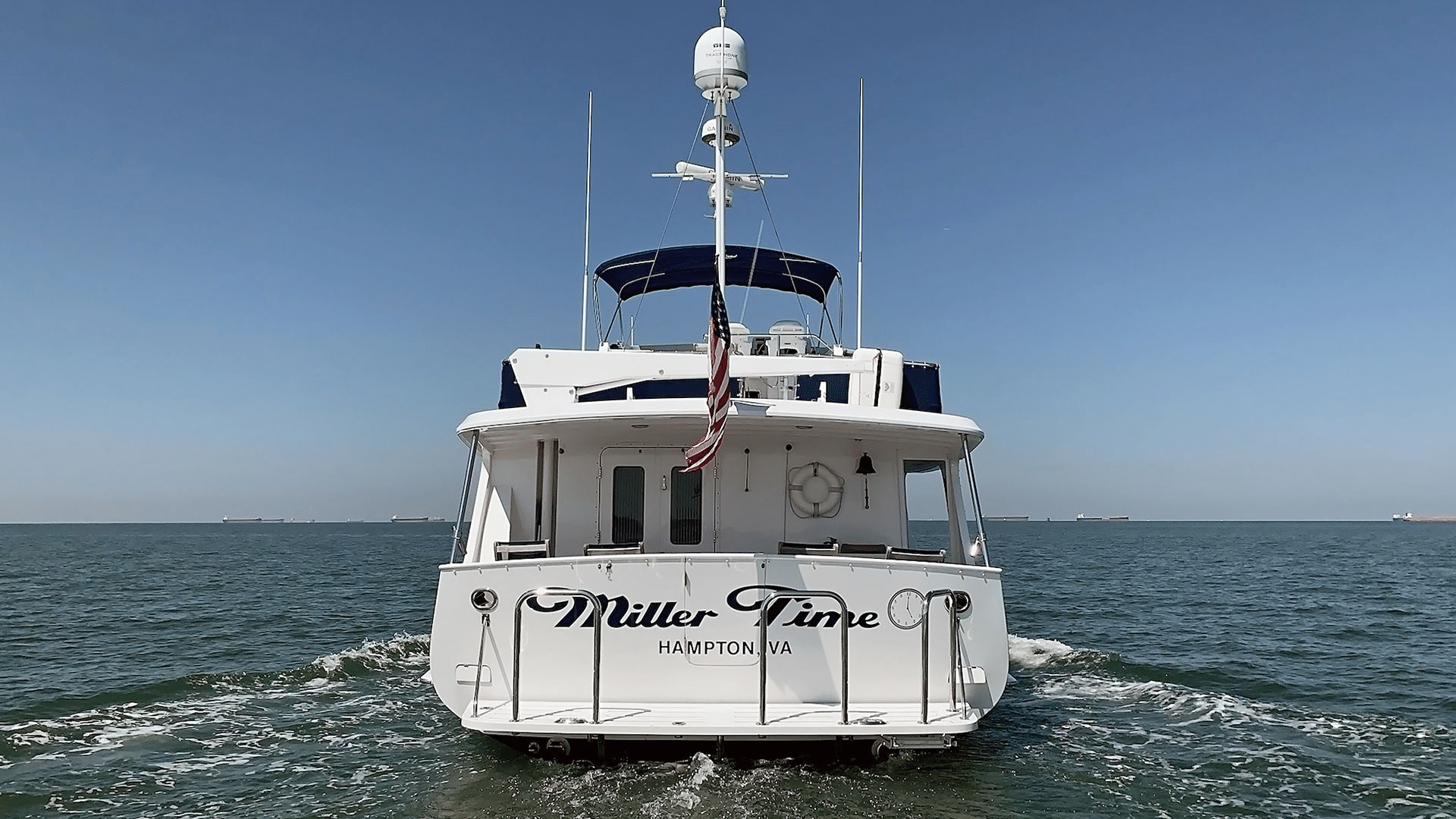 Where is your favorite space to unwind and relax on Miller Time?
Scott would say the flybridge all day any day.  Whether piloting, or enjoying a beverage and a sunset, it is his favorite place.  I agree, the flybridge is great for breezes, fresh air and views, but I also like to curl up with a good book nestled on the salon settee.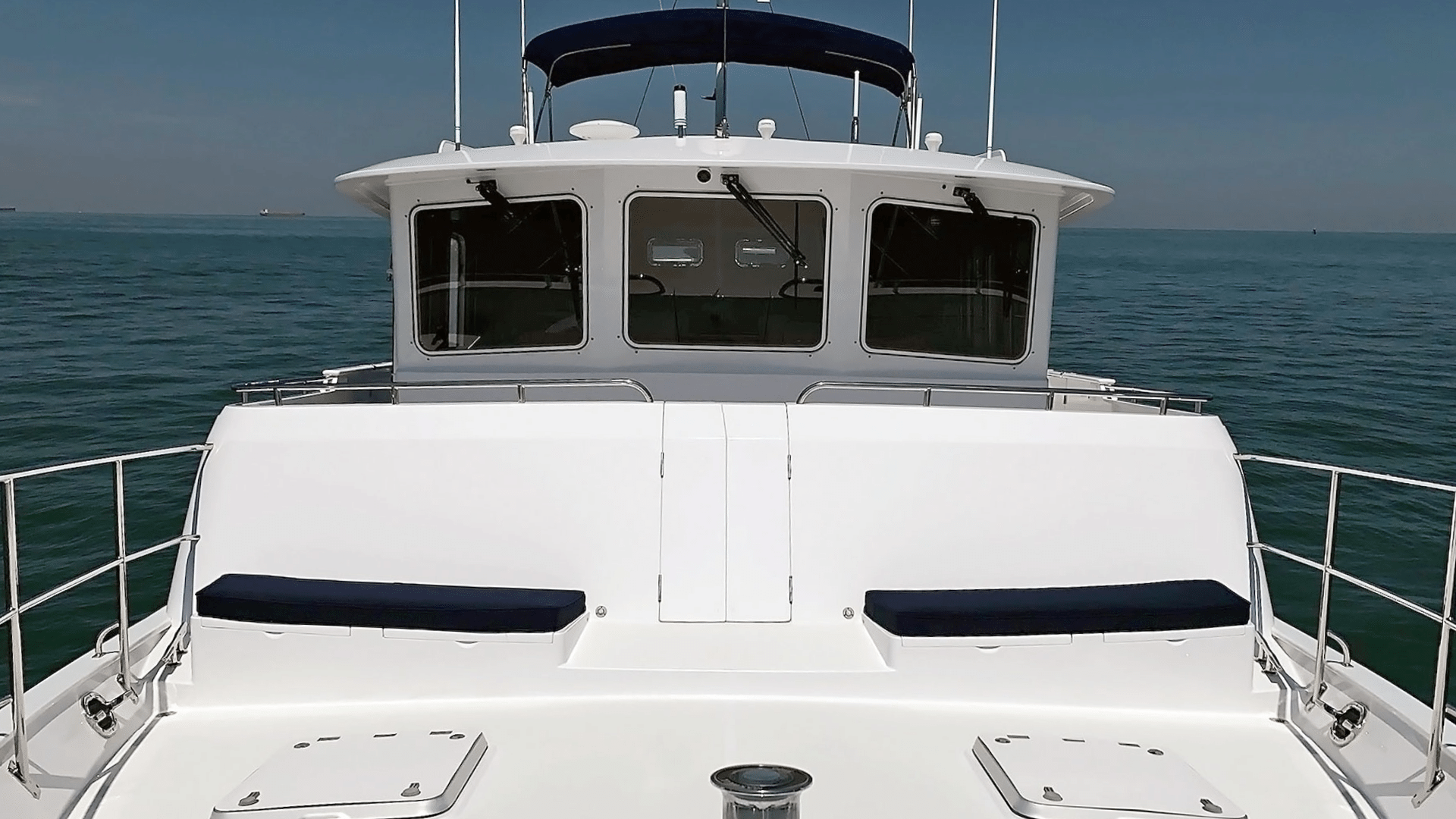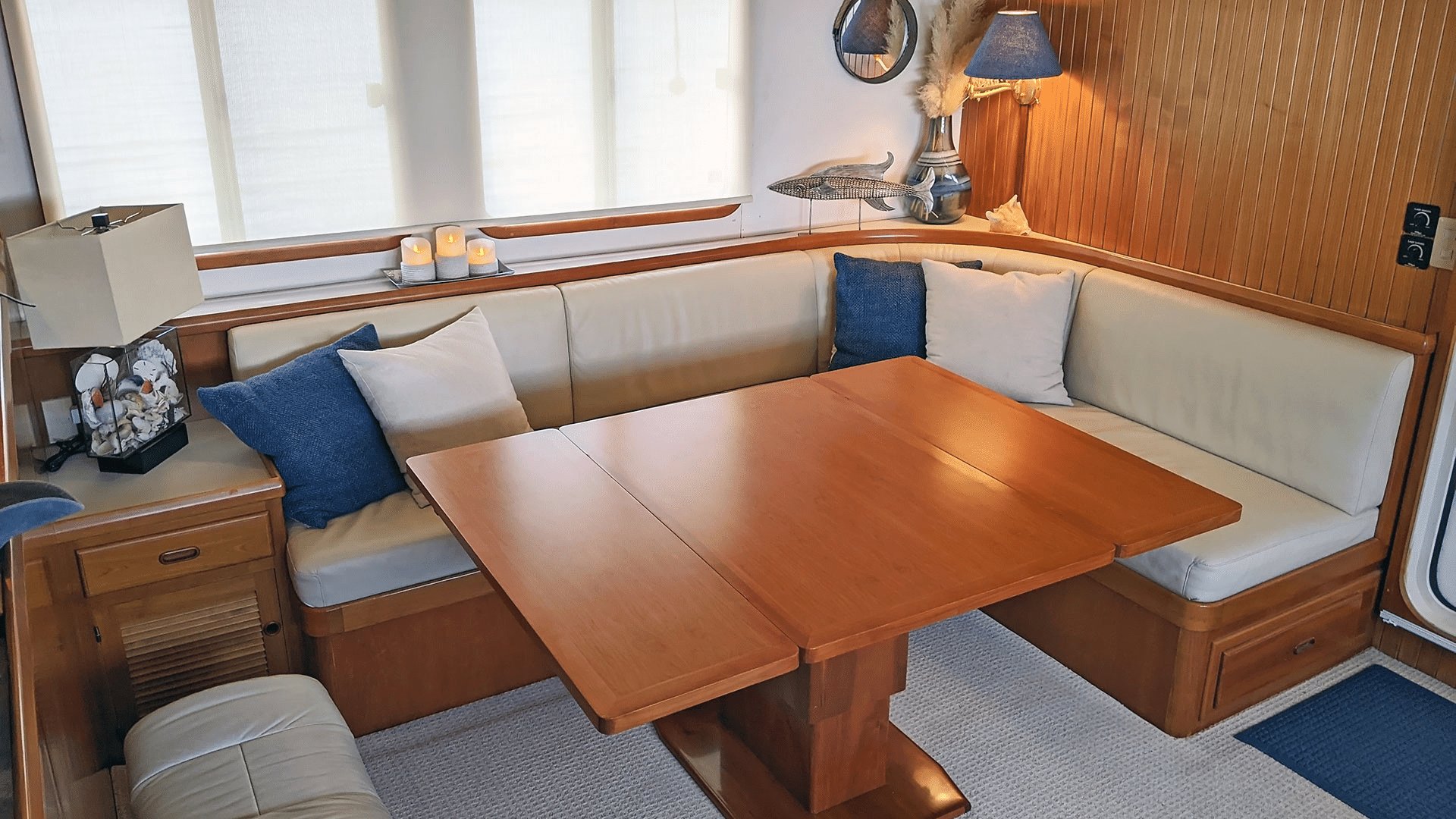 What advice do you have for the next owners of Miller Time?
After taking the time to get to know her, just go!  Sometimes the hardest part is dropping that last line, but that is where all the adventure begins.  Oh, and brace for meeting the coolest folks along the way.
Thank you, Scott and Teri!
Want to read more about the Miller's time aboard? Head over to their blog, where Teri wrote periodical updates for family and friends!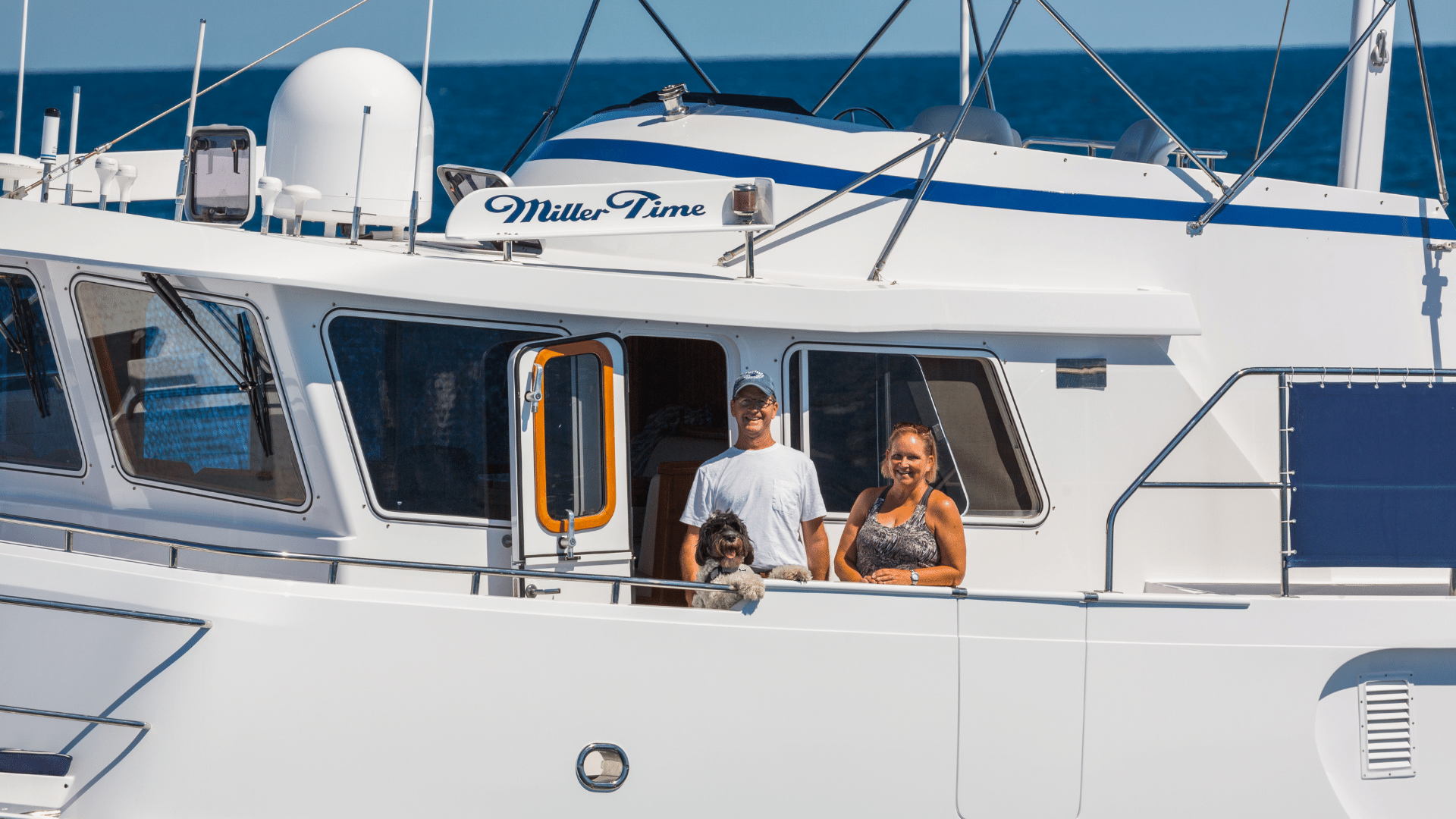 ED note:  This backstory was in development when Miller Time first came on the market. As we go to press, we are pleased to announce that she has been surveyed and closed – all in a matter of weeks.   Proving that a well maintained, popular trawler is easier to move off of when you are ready to move on.
Congratulations to Scott and Teri and best wishes for your future adventures.