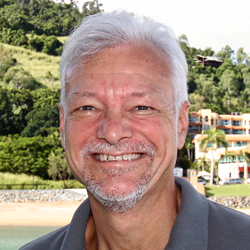 In 2016, Andy Nemier joined the JMYS Sales Team adding incredible value to our international sales efforts by offering his experience to sailors and trawler owners who wish to become Long Range Cruisers.
Andy is a California licensed yacht sales person with 37 years of marine experience, and a self-confessed boating fanatic. He considers himself fortunate to have spent his entire professional life at Sea. His commercial offshore experience comes from the international offshore energy sector where he worked as a Saturation Diving Superintendent, Submersible Pilot, and offshore oil-field Representative worldwide. Andy has also enjoyed working as an advisor to several government organizations, and received government funding to act as a consultant for research into health and safety improvements in the marine industry.
Andy & his wife Julie, have been boating together since they moved to Canada (from England) in 1995, and have owned several sail and powerboats. They purchased a Nordhavn 62 in 2012, and spent a year outfitting INFINITY to their tastes. (n62infinity.com) Departing Vancouver in 2013, they cruised through the USA, & Mexico, and across the Pacific to Hawaii. South to Kiribati and onwards to French Polynesia (Bora Bora, Tahiti, Moorea, and the Tuamotus Islands). Scuba Diving "the wall of sharks" in the Tuamotus has been one of many highlights of their Journey. Heading West, they visited Rarotonga, Aitutaki, Fiji, and New Zealand. After a refit period they were off exploring again, north to New Caledonia and Vanuatu.
With a passion for Yachts & developing relationships with Long Range Cruisers, Andy is a 'perfect fit' in Yacht Sales. Currently in Australia, (with 20,000 nautical miles under the keel), Andy is based in Pacific-Asia region enabling JMYS clients to live their dream.
To contact Andy:
Mobile – +61 466 914 123
Email – Andy@JMYS.com