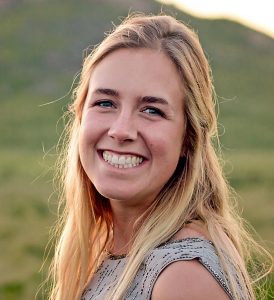 Elle Conwell has been around boats and on the water for as long as she can remember. The daughter of competitive sail boat racing parents, she grew up in Southern California and began racing her own sailboat in grade school.
Love of the ocean drew her to Point Loma Nazarene University in San Diego, CA, where she studied and graduated with a degree in business. The campus proximity to the Pacific ocean was a daily reminder of the sea in her blood and kept her lungs constantly filled with salt air. She spent summers working with young children teaching them to sail.
An active scuba diver and swimmer, she interned with the U.S. Navy following graduation and worked training marine mammals. Daily contact with sea lions and dolphins reinforced her desire to continue working on the water.
Elle joined the JMYS team in January 2018 to manage our social media and marketing. In the fall of 2020, she transitioned to special projects, keeping her yacht sales licenses current and assisting in all phases of the business.  Elle is thrilled to be lucky enough to do something she loves and working with JMYS allows her to enthusiastically share her boating experience with others.
Elle and her husband, Doug, a Marine Osprey pilot, have moved around from Florida to Texas to North Carolina and are now stationed in San Diego, CA. Working in an industry she understands with a strong appreciation of the multiple relationships involved in the trawler world, Elle is a very welcome addition to our team and looks forward to meeting current and future trawler clients of JMYS. Please feel free to call or email Elle if you would like to discuss your boating ideas.
To contact Elle:
Mobile – +1 562.230.8203
Email – Elle@JMYS.com