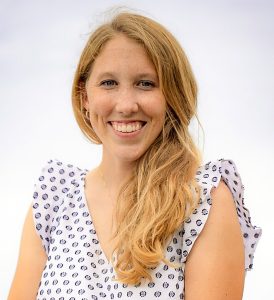 Katy grew up on the east coast in New Hampshire, spending almost every weekend on her family's boat. She loved every minute of being out on the water, and continually looked forward to those weekend trips. Despite the hour long drive it took to get there, Katy found herself happily getting in the car each week so that she could spend her time on the water.
Katy graduated from Saint Anselm College in Manchester, New Hampshire in 2016 with a degree in Communications. Due to her adventurous spirit, she studied abroad for one semester in Florence, Italy and found a love for traveling and meeting new people. She held a college internship at the Greater Manchester Chamber of Commerce, which turned into a job in large-scale event planning during her senior year.
After graduation, Katy knew she wanted to keep traveling so she moved to northern Thailand for 9 months and taught English to nursery level students at Cranberry International School. She spent her days singing colors, numbers and shapes to 17 Thai students between the ages of 1 and 3 years old. She took advantage of school holiday breaks, and traveled solo and with friends to Vietnam, Cambodia, India and Nepal.
Once back in the States, Katy's love of travel continued. She got married to a Marine Corps pilot and moved to Florida. In Pensacola, she worked as a Leasing and Marketing Specialist for Southtowne Apartments. She was responsible for leasing apartments, maintaining the Instagram and Facebook accounts, and planning engaging high-end monthly events for the residents.
Katy is no stranger to moving as her husband's career has brought them to Florida, Texas, North Carolina, and now Japan. Thankfully, they have lived on the coast in each location. This life of moving has brought Katy an appreciation for a good sandy beach and even better friends to spend time with. Katy is currently living in Okinawa, Japan with her husband Jeff and dog, Penny. She loves living on a small island, exploring and snorkeling any chance she can get. Katy runs daily by the marinas downtown and hopes to one day catch a glimpse of a trawler there!
Katy has been working remotely for JMYS since September of 2020. She is looking forward to learning with the company and helping our social media channels grow. Katy is a great asset to our team at JMYS and always brings a smile along with her creative marketing ideas.
To contact Katy:
Email – Katy@JMYS.com