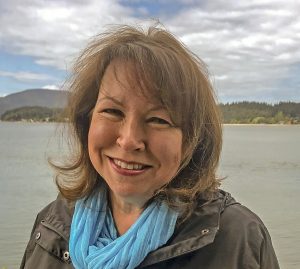 Kelly Libby has been around boats from a young age. She grew up boating in Eastern Oregon reservoirs and Washington waters with both of her grandfathers. One of them owned a Chris Craft and the other a fishing boat named the "Kelly Lynn" after Kelly and her sister, Tracie Lynn. Kelly's father was a sailor which explains her love for boating- she is quick to admit that she is happiest on the water.
Kelly is a member of the NYBA (Northwest Yacht Brokers Association). Her career in the industry began in 2010 when she worked at the Nordic Tugs factory and then quickly moved on to the Nordic Tugs dealership office at Cap Sante Marina in Anacortes, showing and selling boats…that became her niche! Working with people who want to get out on the water and helping them find a boat that works for their family and budget is fun, as it should be!
Kelly is not only a knowledgeable yacht sale professional, she also has excellent rapport, a welcoming approach and does a wonderful job creating relationships.  Kelly is very organized and this particular skill set is a big reason why she has been so successful in yacht sales, she says what she is going to do and then follows up and follows through.
As a mom of three, Kelly wanted her children to learn to enjoy and explore the water as much as she did as a child and taking a boating safety course was a must as well as finding the right  boat. It also was the start to becoming a charter member and Commander with the Skagit Bay Sail and Power Squadron. While boat shopping, her family met Greg Mustari in 2001 and that ended with the purchase of a 26' Tollycraft and it was the start to a great friendship. Kelly's three children, now all happy, healthy and successful adults make her very proud and they still love being on or near the water!
Kelly and Greg Mustari own Tuggabella, a Nordic Tug 37, they enjoy cruising on. Their hope is to see their customers enjoy the water as much as they do. The two of them love volunteering and participating in activities at the Port of Anacortes; Opening Day Boat Parade, Christmas on the Docks, Waterfront Festival and serving as a rescue boat in the annual Quick and Dirty Boat Race.
Kelly looks forward to sharing her love of boating and experience in the yacht sales industry with buyers and sellers of trawlers and tugs for JMYS.  Kelly is very well informed of the local market and has a network of contacts she has developed to assist her clients with anything they need.
You can reach Kelly by phone +1.425.359.7078 (call or text) or email, Kelly@JMYS.com.