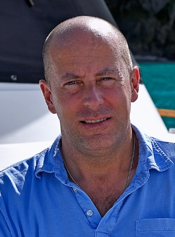 We are very pleased to announce the addition of Donald Allen to the JMYS team.  Donald is located in Newport, Rhode Island, the sailing capital of the world and will be working in sales as one of our trawler specialists. He has his yacht sales licenses in CA and FL.
The sea has been part of Donald's whole life.  Having grown up in the tiny fishing village of Rockport MA, he starting boating at a very young age.  His passion for the ocean led him to a Master's degree in Ocean Engineering from the University of New Hampshire.  Donald has spent his career in the offshore industry on vessels ranging from 12 feet up to 329 feet aboard the USNS Pathfinder operating various sonar equipment and as a subsea navigator.  Donald has traveled the world extensively while working at sea.  He was also part of the 1992 Americas Cup campaign with the America3 Foundation.
Donald and his wife Claudia currently own a 27-foot Formula, but are looking to make the move to a larger trawler and live their life at sea.