Recently I had a conversation with another boat owner, discussing the benefits of fresh water flushing your main engines and generators after getting back to the dock. The other boaters' thoughts were that it is a waste of time, that marine engines are designed to operate with sea water running through them. I disagree with him, and here's why.
I own a Selene 55 with a single Cummins QSL9 engine and a 12kW Northern Lights generator. Both of them are modified with a fresh water flush setup. The previous owner was very proud of this setup and he was "religious" about flushing both of them every time he returned back from the sea. Being a new boat owner and not knowing much about the subject I have continued this practice.
Over the last couple of years, I have done some research into the matter and talked with several marine diesel mechanics. The primary concern experts have is sea water being trapped inside the engine for long periods of time when the boat is not in use. If you are a commercial fisherman, your boat is constantly running so this is not a problem. However, if you are a recreational boat owner, chances are that your boat will be at the dock for days, weeks or even months between trips.
When sea water is trapped inside of an engine for a long period of time, it becomes oxygen deprived and then it becomes acidic. Acidic water is very corrosive and that is when problems can occur. Zincs get chewed up fast and what remains of them can clog up the cooling tubes. Next, your unprotected heat exchangers and coolers are potential victims.
Recently I pulled my heat exchanger and after cooler to get them checked, before our long trip to Mexico. It had been five years since the last time they were inspected and according to my mechanic, thanks to a regular freshwater flush, they still look great.
This method may not work for every boat, so I highly recommend reading this article by Tony Athens on the Seaboard Marine website that covers this subject in detail and also explains how to set up your system:
https://www.sbmar.com/articles/the-benefits-of-fresh-water-flushing-your-marine-diesel-engine/
Every boat is different, so your setup will differ based on your sea water intake installation. In our setup, the top of the sea strainer cap has been modified with the freshwater intake valve that will accept the connection from my freshwater hose. Word of caution; based on my own experience, make sure that you don't have any kinks in your freshwater hose.  When you start the flush you need to insure you have good water flow.
My procedure follows these key steps:
Connect water hose to the freshwater inlet valve on top of sea strainer (hose valve closed)
Turn on freshwater supply and check hose for leaks and kinks (hose pressurized)
Start engine – check outside for normal cooling water flow out of exhaust port
Open small freshwater inlet valve connecting hose to top of the sea strainer (sea and fresh water supplied)
Close the seawater intake through hull valve (only fresh hose water being introduced now)
Re-confirm normal water flow out of exhaust port
Run engine in neutral, at idle
Shut down engine after five minutes (enough time to purge seawater with freshwater)
Shut small freshwater inlet valve on hose connecting to top of the sea strainer
It helps if another crew mate is in the pilot house to turn off the engine while you are turning off the fresh water in the engine room. This way the engine is not running without water supply.
Turn off fresh water supply and disconnect water hose
Screw on hose adapter cap on top of the sea strainer
Leave intake through hull valve closed and place a reminder note on engine start panel so you remember to open the valve before next start up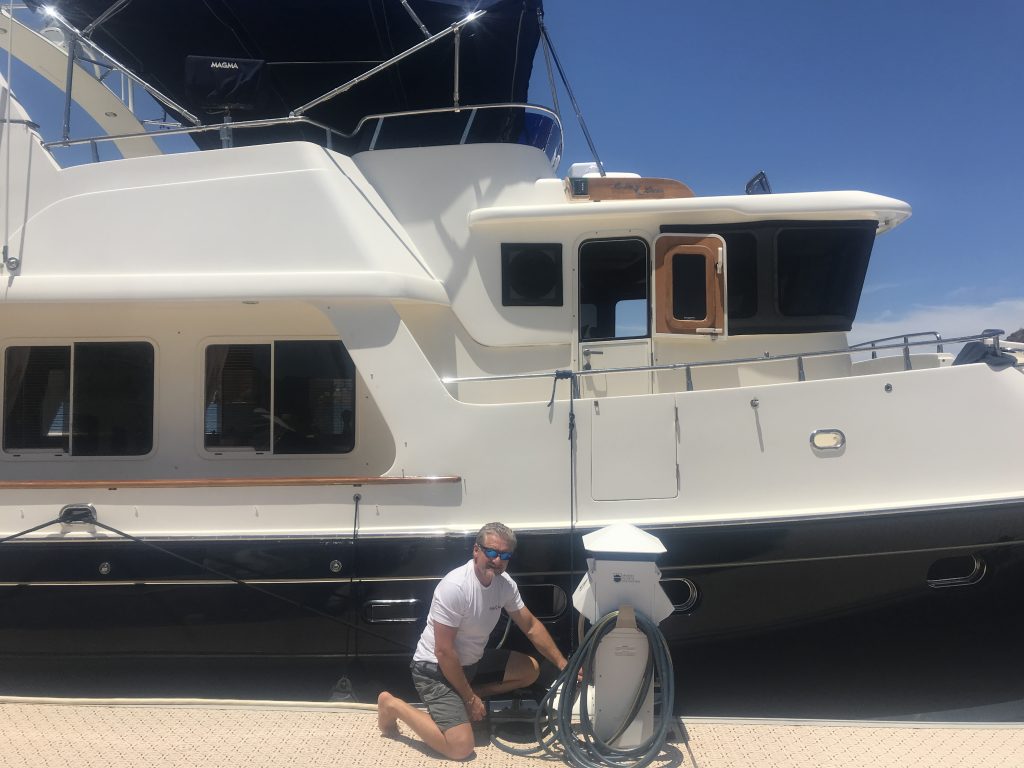 Step 1: Connect freshwater hose at the dock.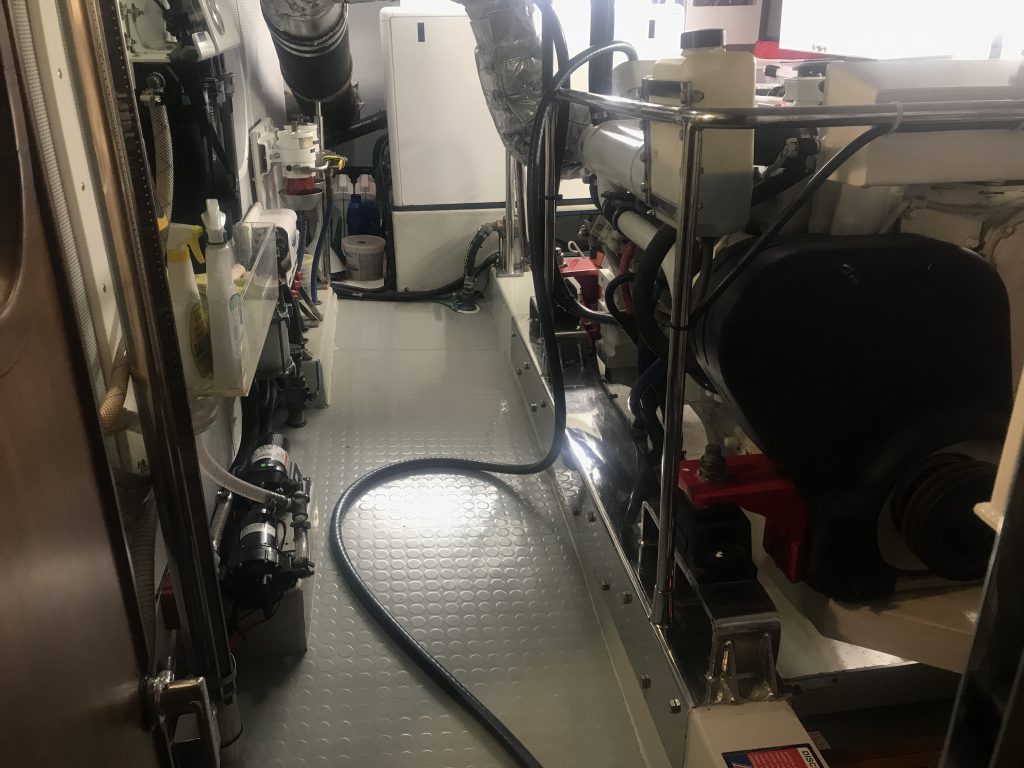 Step 2: Run freshwater hose to strainer. Make sure you have no kinks or leaks.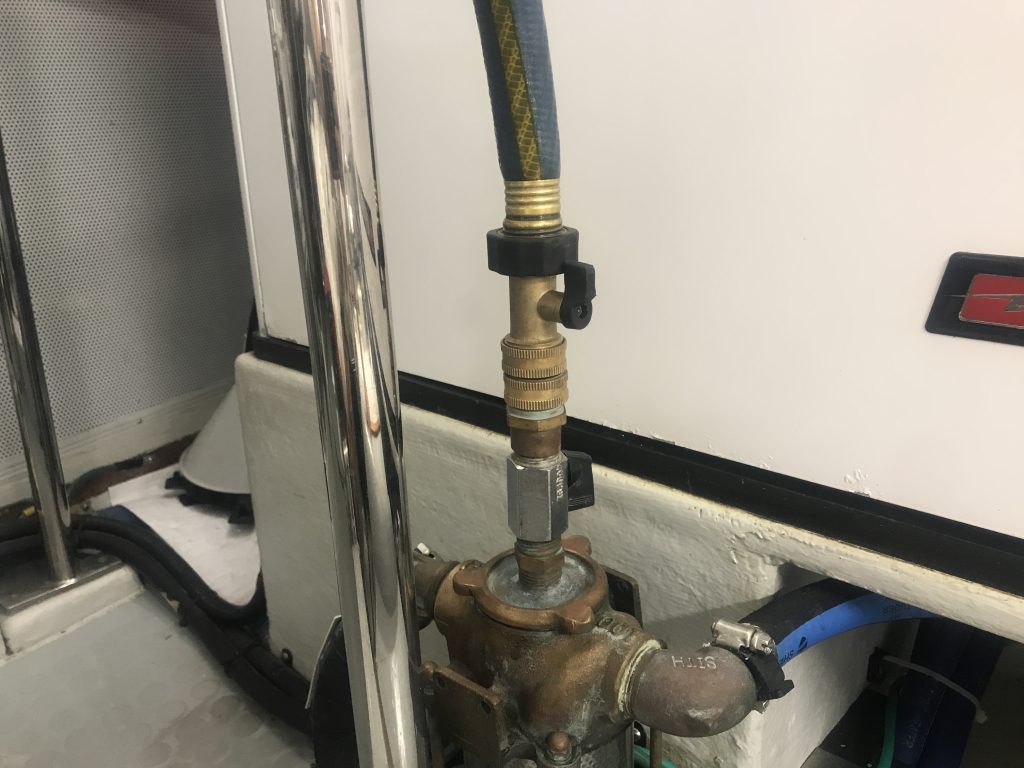 Step 3: Attach the hose fitting in the strainer lid.
Step 4: Start the engine and open the hose valve for freshwater flow.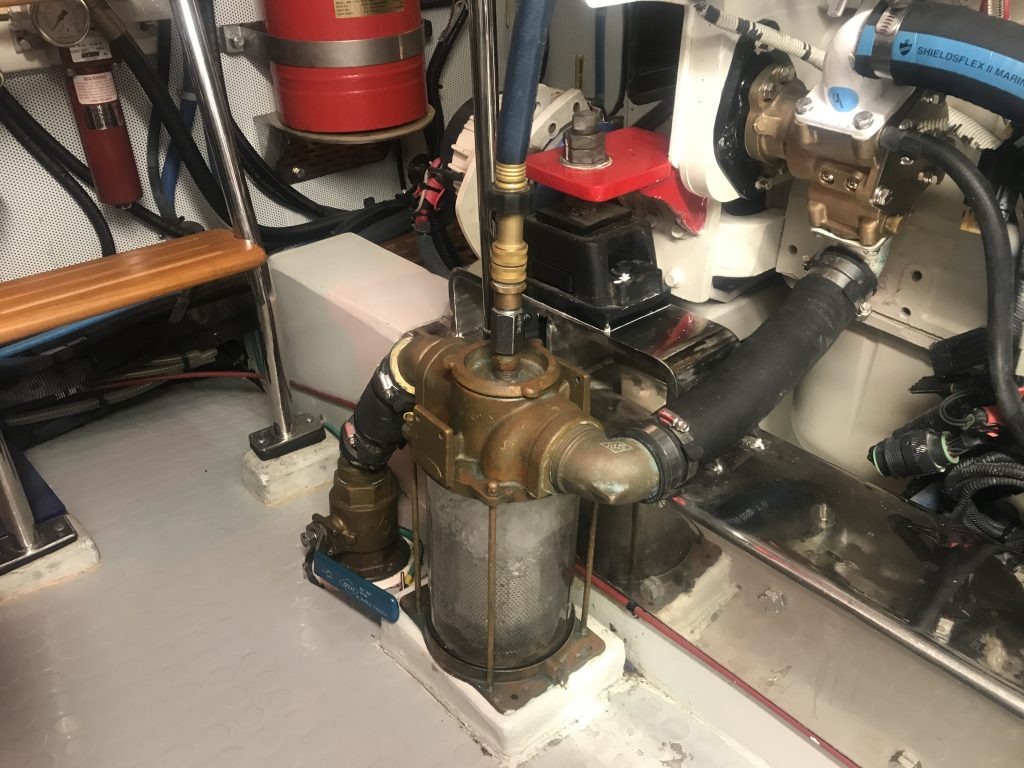 Step 5: With a hose providing fresh water, close the intake through hull.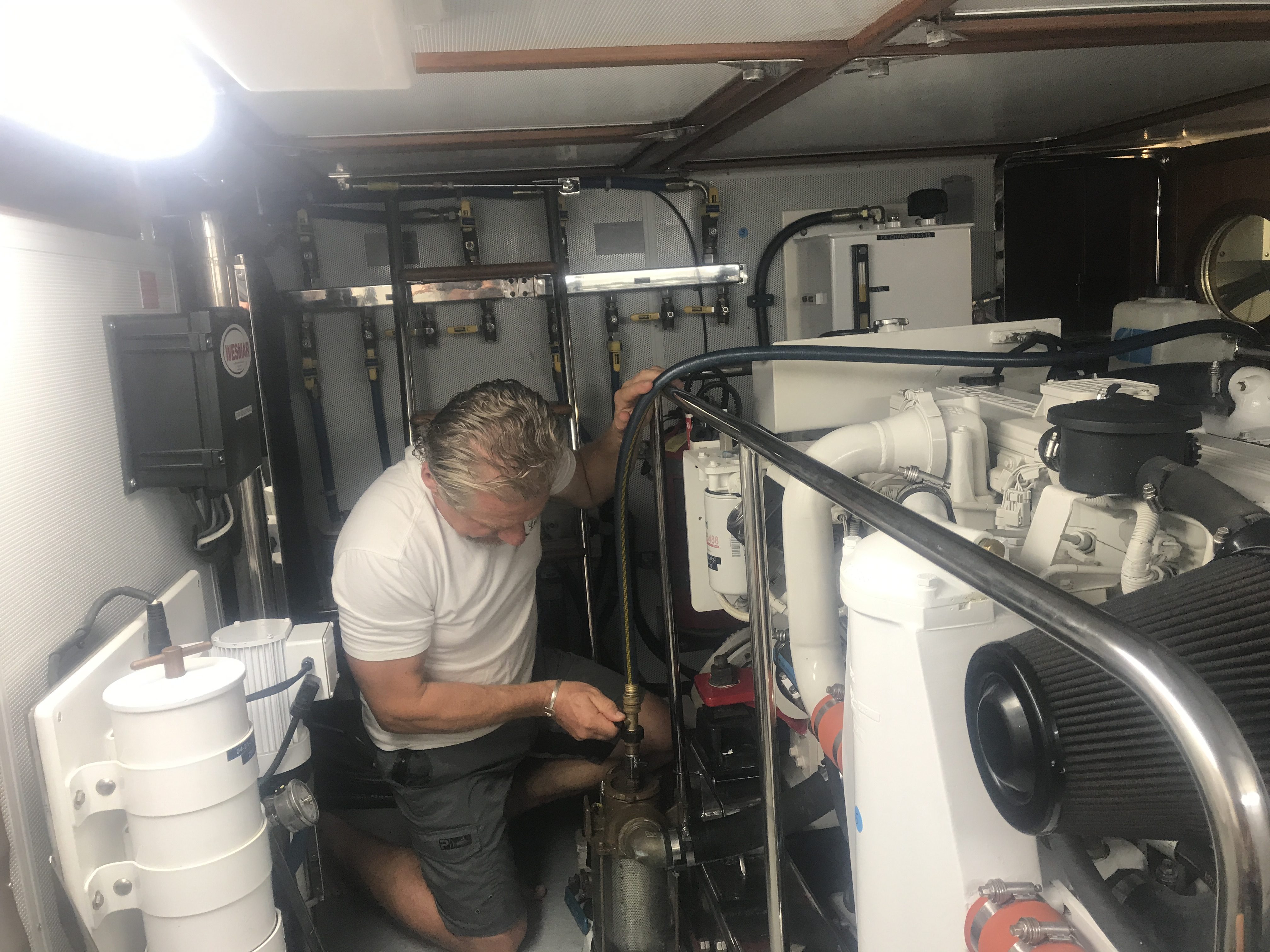 Step 6: Disconnect the freshwater hose when you're done.
Since you are running the engine just at idle, water supply is not an issue as long as you have a typical garden water hose and your dock or ship water supply has decent water pressure. Very important after engine start to immediately go outside to confirm appropriate water flow out of the exhaust port.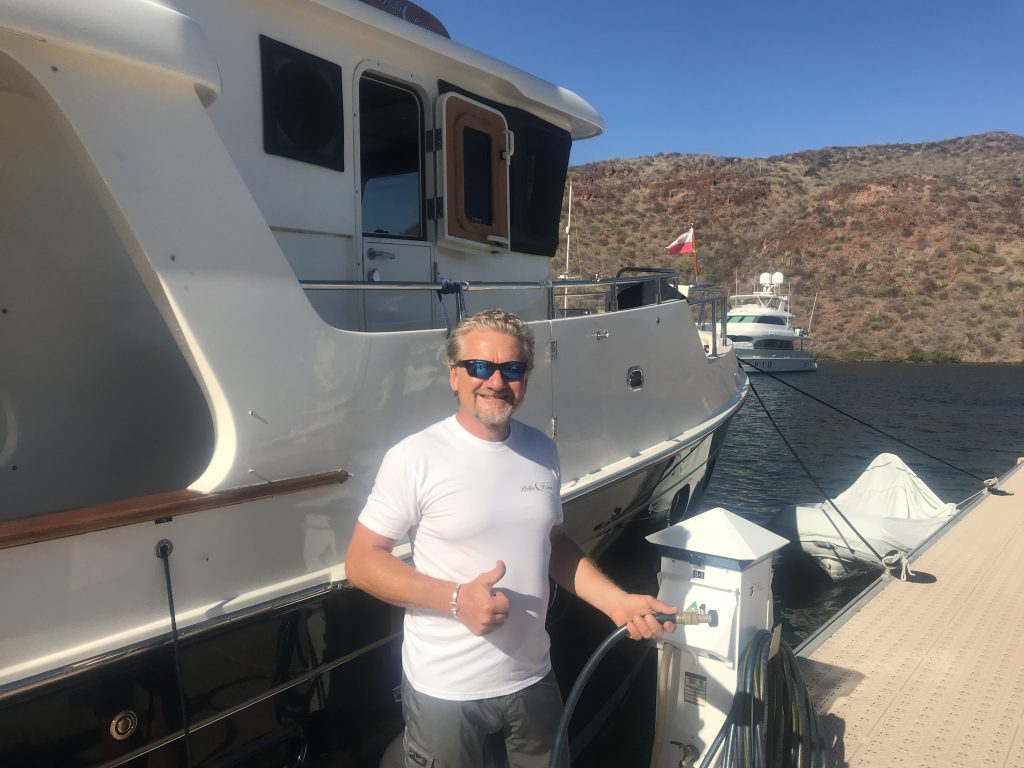 For my money and peace of mind, a fresh water flush setup like this is cheap insurance for your expensive engines, and it's a quick chore – taking an average of five minutes per engine to do this.  If I am going to be leaving the dock the next day, I don't bother, but if it is more than a couple of days, I always flush my engines.
I've taken a few photos of the set up in my Selene 55 engine room to illustrate this procedure and would be happy to discuss this with you directly by phone or email if you have any questions.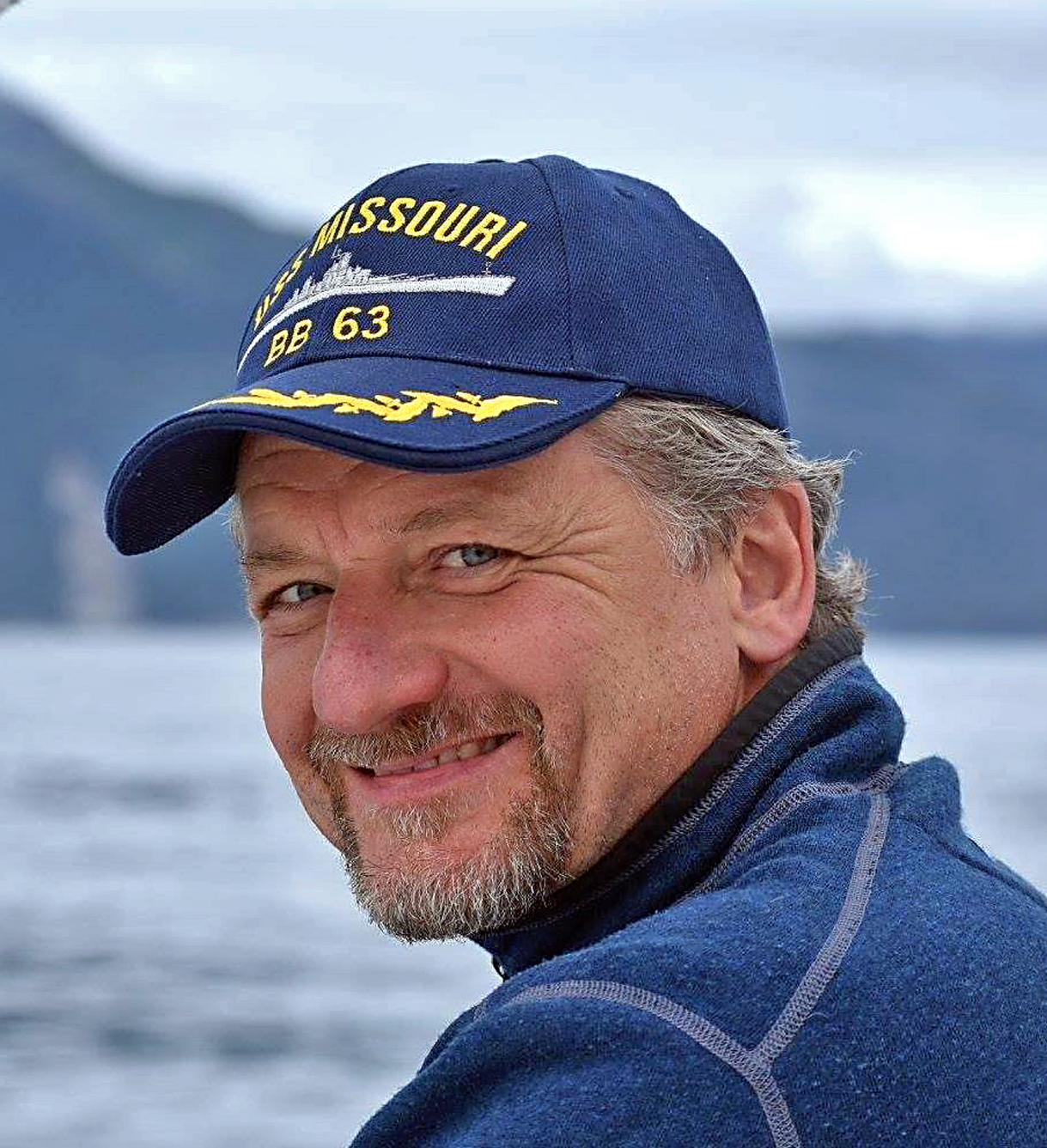 Rob Piwowarczyk is a licensed California yacht salesperson with JMYS.  Rob and Deanna purchased their Selene 55 through JMYS.  Rob liked the experience so much and embraced the trawler lifestyle with such enthusiasm that he asked Jeff for a job and he's now enjoying being a trawler owner and helping other clients sell and purchase trawlers.  If you would like to get in touch with Rob please call or text his cell: +1 720.490.5662 or send an email to Rob@JMYS.com.