If you have ever seen Jeff Merrill present at TrawlerFest, watched one of his 100+ YouTube videos, or seen him around the marina with clients, then you have probably noticed his signature style. Whether he is working or enjoying time with family, Jeff is known for wearing only one style of Hawaiian shirt – the iconic brand, Reyn Spooner.
The Reyn Spooner brand was founded in California on Catalina Island as Reyn's Mens Wear by Reynolds Mccullough (Reyn) in 1949. He opened and ran six stores in California and eventually made his way to Hawaii where he met seamstress Ruth Spooner. Together, they began a partnership in 1961 as Reyn Spooner.
A decade and a half later, a young Jeff Merrill would discover the brand in high school and begin wearing Reyn exclusively, and over the next fifty years he would amass quite a collection of shirts and other accessories to include masks, bags, pouches and more.
Jeff is known as the "Aloha shirt broker" and can be easily spotted in a crowd by his JMYS uniform topped with a Reyn Spooner. On his YouTube channel, there seems to be a steady flow of comments on the featured boat and compliments of Jeff's choice of shirts.
"What a wonderful sailing motor yacht. The best of both worlds. Thanks for the tour Jeff. By the way, thanks to your channel I am now the proud owner of two Reyn Spooner shirts. Someone ragged on your shirt and you kindly set him straight giving me the idea to try a couple out. Very happy with the quality/fit and looks. I'm guessing others did the same thing." – Tony B
This brand is amazing – deep in tradition, rich in quality and fun to wear. There are varying styles and designs, but all Reyn Spooner shirts are comfortable, welcoming and friendly.
As Jeff sometimes says – Reyn Spooner shirts and JMYS go hand in hand – they "Just Make You Smile."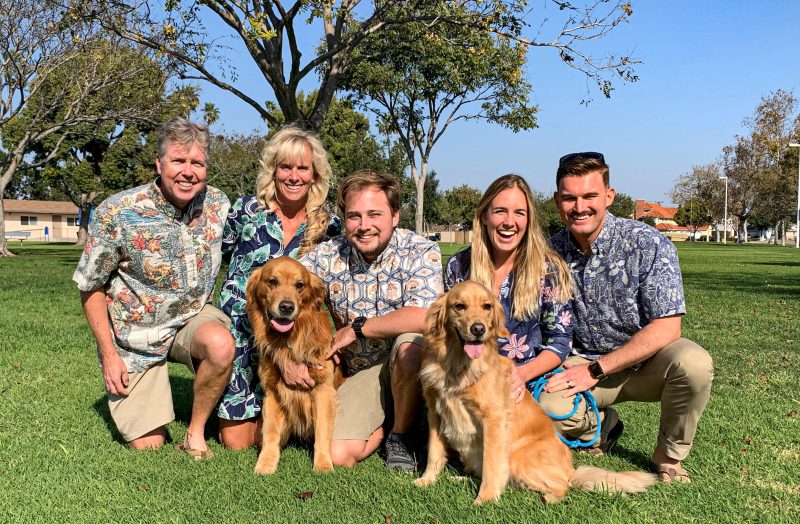 Jeff's daughter Elle and her husband Doug visited the Kauai retail store in 2021 and by coincidence, met Rob, the president of Reyn Spooner. Elle mentioned her yacht broker dad who had a long history wearing and supporting the brand, and Rob wanted to run a feature on him!  Working with Gehron in Reyn's marketing department, Jeff shared some photos and insights that developed into a really cool edition of "Collector's Closet".
Follow the link below to read the article on ReynSpooner.com.