JMYS is very proud to announce that John Hoffman has come on board full time as a yacht broker to assist our trawler buyers and sellers. John has completed his credentials to become a licensed and bonded sales person in Florida, and has also joined YBAA (Yacht Brokers Association of America).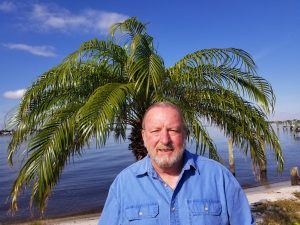 John's entire career has been forged in the marine industry.  His boating background goes back to his youth and his focus for the past several decades has been on yacht systems installations and mechanical trouble shooting which has allowed him a great deal of time on the water and stem to stern access on legions of trawlers.
In 2003, John was hired by PAE/Nordhavn to become their commissioning manager in Stuart, FL and during his twelve years with the company John oversaw the outfitting of dozens of new builds as well as a never-ending fleet of Nordhavns passing through Florida that required Johns attention and expertise.
John met Jeff back in the early days of the PAE Florida office collaborating with new and used Nordhavn clients and the two have remained close friends ever since.  Johns product knowledge of trawlers (especially Nordhavns) is all encompassing and he has probably crawled all over every boat that has come through his dock.
When Nordhavn moved their Florida office from Stuart to West Palm Beach, John re-opened Palm City Marine (a yacht service and repair company he has owned for decades) and began welcoming a loyal stream of clients who only wanted one person touching their boat, John Hoffman.  The relationships forged by being a good listener and a hard worker, not to mention that time can catch up with a body that is not designed to squeeze into bilges and chain lockers forever, John approached Jeff to join the JMYS sales team at the end of 2017.
That was easy, the answer a very loud "Of course!" John is a natural to work as a yacht broker.  Very few people are as knowledgeable about trawler operations and systems.  He has been a boater all of his life and enjoys helping people.  John is very diligent with follow up and has already been working with potential buyers for his first listing, the Nordhavn 60 Chopin located in Stuart, FL.
As we launch into the new year of 2018 we are very excited to have John Hoffman on the team.  Please let John know that you have heard this great news.  You can easily reach John by cell phone 772.215.3720 or by email: John.Hoffman@JMYS.com.