Nordhavn 43 Island Magic surges past 100,000 views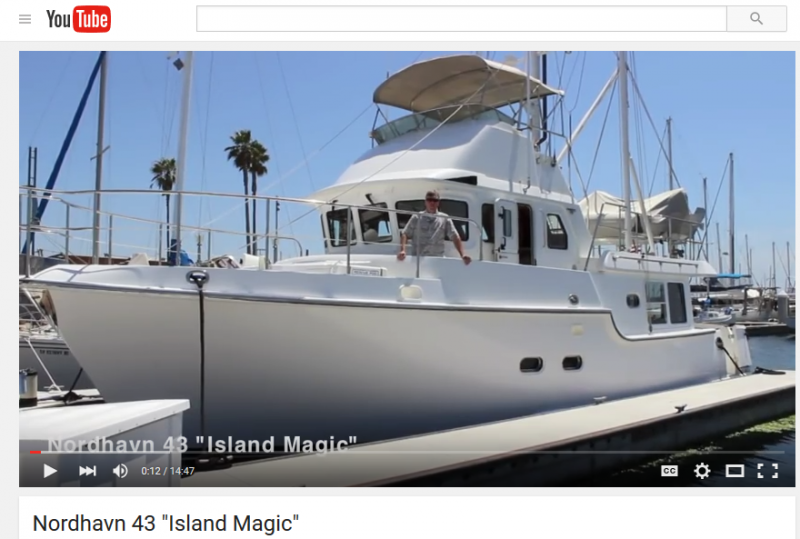 A few years ago the idea of promoting brokerage boats for sale by video was kind of a novel idea.  YouTube was still gaining momentum and it was kind of rare to see a brokerage boat video.   I wanted to try something innovative to promote my Nordhavn 43 listing, Island Magic, and so I convinced PAE's web guru – Doug Harlow, to meet me in San Pedro to do a shoot. We didn't have a script, Doug brought all of his video gear – camera, tripod, lenses and microphone and we collaborated on angles and frame fills.  When Doug was ready, he gave me the thumbs up and I started talking.  We would usually get a keeper take on the first go around and then move to the next location, get set up and then start rolling tape again.  It was a fun couple of hours as I tried to saturate the film with as much information as possible.  When I was done talking I drove home and that was it for me, Doug went to his studio and spliced together the best parts and we posted it up on the web.
Looking back it is pretty amazing to think that we broke just about all of the now "conventional" rules for what works in a boat marketing video. We quickly realized that a better microphone would cut through the outside breeze and used that on future videos.  Probably the biggest no-no was the length.  Wind me up and I start talking…and talking… and, well this video is just shy of 15 minutes long.  Way beyond the absolute maximum attention span of 4-5 minutes used today. When it went live I figured only a few hard core Nordhavn aficionados would watch it.  There is too much talking and not enough "pretty video", but somehow it has appealed to viewers.
It's been nearly two years since I left Nordhavn to start my own brokerage and Island Magic sold long ago, but the video, which turned three years old in September, is still online and it is still attracting viewers.  Why?  I think that people want to learn, and they like information (well, one guy made a comment that cracks me up, "your (sic) ugly and noisy (probably doesn't like my shirt) show the f$%&ing boat" (well, buddy that's what I was trying to do!) and there is a lot to absorb whether you are specifically interested in a Nordhavn 43, or just want to know a little bit more about trawlers.
I'm not sure how many yacht marketing videos have reached the 100,000 viewing mark (even counting the number of clicks my mom probably added to the total), but it's a nice distinction to have.  If you film a cat opening a peanut butter jar you will probably go viral and hit the three million views mark before the weekend, so in the grand scheme of things this video is still a sleeper, but like a long distance trawler it has found its speed and is just slowly cranking along with a couple thousand people watching it a month, nothing that I could have ever expected. (Note: This article originally included a link to the video on the Nordhavn YouTube Channel. The video was taken down and made "unavailable" shortly after this article was published. Who knows what the numbers would be now if it was still active? Sorry, I can't speak for PAE, but I am sure Nordhavn no longer saw the value of a successful video showcasing a sold boat represented by a former employee. Too bad, but it appears to be gone for good).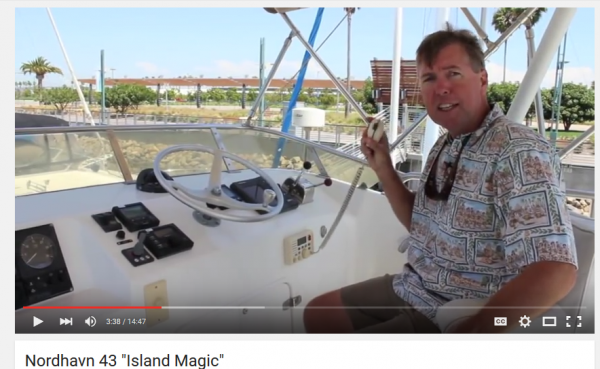 A special thanks to Doug Harlow for making this production. It was the first of several videos we did together and has been the most widely viewed.  The three Nordhavn Motorsailer videos Doug (and Randy Robertson also with PAE at the time) completed together have also found an audience and combined have over 170,000 views.
I've continued to embrace the potential for YouTube videos as an effective marketing tool to help give a boat tour and have put together a collection on www.JMYS.com in my YouTube video library section – https://jmys.com/trawler-lifestyle/youtube-channel/, when you have some time, please take a gander – most of them are much shorter!