By Jeff Merrill, CPYB
I'll be the first to admit that I have one of the best jobs around. It really is a lot of fun working and spending time with clients who become friends on their marvelous yachts. I get to spend all day, every day helping people enjoy the trawler lifestyle. The people I meet are wonderful and the places I "have" to go are always by the water. I know what you are probably thinking…but somebody has to do it.
In what has become a recurring theme and a not so uncommon evolution in the life of sailors, the idea of finally crossing over to a proper power boat seems to make more sense when you really think about it. David and Susan Odell – life long sailboat racers – have finally embraced this decision and are now out having the time of their lives (along with their canine boatswain "Coco") aboard their Nordhavn 47 Dragonfly.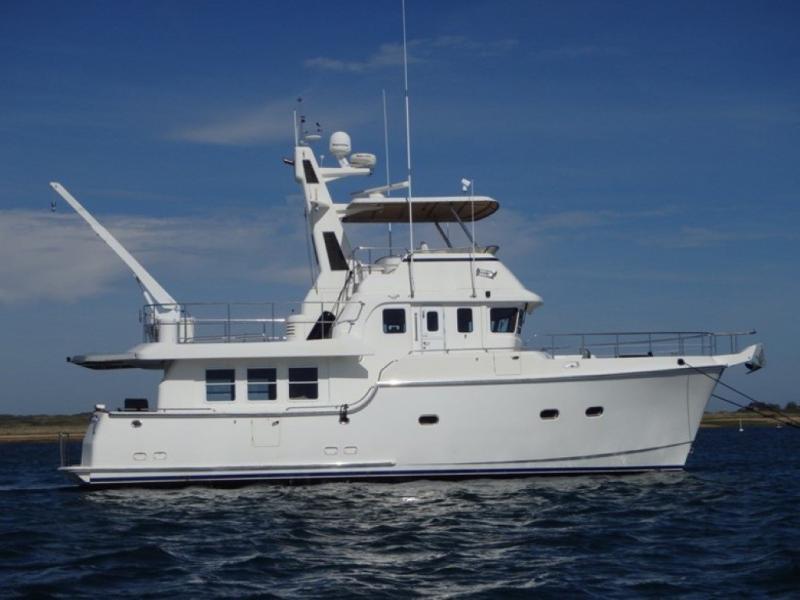 Last October I met up in Alameda, CA with David and Susan to walk through my Nordhavn 47 listing, Eden. They flew over from Park City, Utah and I took a plane ride up from Los Angeles. It was a fun day and they left convinced that a Nordhavn 47 would be the perfect boat…and that Eden would be a great boat to purchase. We outlined the steps necessary to prepare an offer and stayed in regular contact working through the details.
In a strange twist of fate, when David called me to submit an offer on Eden I had to break the news that she had gone under contract the day before…proving once again that timing may not be everything, but it sure matters.
Disappointed, but not willing to surrender so quickly, Susan scoured the internet and found the Nordhavn 47 Winkin located in Massachusetts. Winkin had just been removed from the market to ride out the winter brokerage doldrums, but I contacted my former PAE colleague, Dave Balfour from the Nordhavn NE office and Dave secured a one-time listing from the seller. I was in favor of waiting until spring when it would be a lot easier to do our inspections and due diligence. However, David was determined not to let another 47 get away. The Odell's were thrilled when their offer was accepted and we made arrangements to conduct the trial run and survey in December – a little winter vacation in the middle of the cold season – these "routine inspections" are always a lot more interesting when influenced by weather!
With airline tickets booked, a surveyor hired and everything lined up, I got a call from David a week before we were to travel and he informed me he had a nasty fall and broke his ankle.
Wow, that was a detour none of us ever expected. David wanted to press on so the car reservation was upgraded to a larger vehicle and arrangements were made to secure a wheel chair so he could be more mobile in the ice and snow. We moved our accommodations reservations from a quaint bed and breakfast to a chain hotel with handicap access and an elevator and undaunted, flew in to Providence, RI.
After meeting up at baggage claim we drove straight to the Fairhaven Ship Yard in Fairhaven, MA and found Winkin right by the security gate, on the hard and standing proud in the cool night air of winter.
We launched the next day, a bit tricky getting the wheel chair up and down the icy ramp and conducted our trial run in a soft snow flurry. At one point during the survey ride no one could find me. Then they turned on Winkin's closed circuit TV camera and spotted me lurking in the engine room. I was busy inspecting and looking around, but they were all convinced I was seeking shelter in the warmth of the main engine and David gave me a new nickname, "Lugger Hugger".
It was a fun couple of days in Massachusetts and after returning to our respective homes, we received the hull survey and diesel mechanic reports (including an oil analysis) and happily concluded the transaction in mid-January after enjoying the holidays.
During the ensuing months we had a regular exchange of emails and phone calls as Winkin, renamed Dragonfly weathered the winter awaiting our return.
The Odell's drove out to the boat towing a large U-Haul (they are very used to hooking up and towing a trailer, reminiscent of their snipe class sailboat racing days). Their trusty crew, Coco, a Havanese dog accompanied them and upon arrival (the boat was moved from Massachusetts to Rhode Island prior to closing) they quickly offloaded gear onto the boat, amazed at the amount of storage on a Nordhavn 47. It took awhile for all of their personal gear to be stowed, but during this process they came to better understand Dragonfly and made themselves a new home aboard.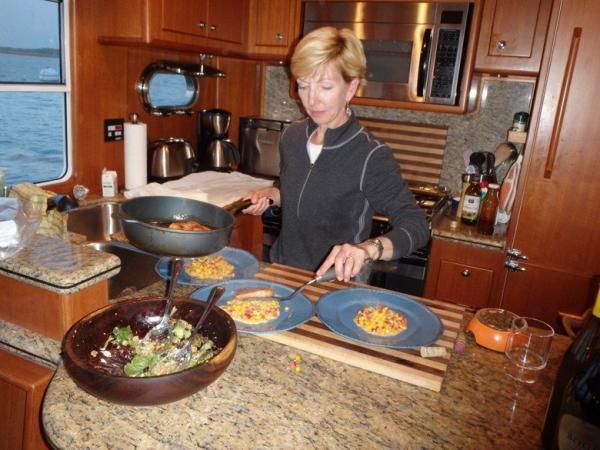 Susan is a professional chef and delighted in the galley layout of Dragonfly. David focused on the engine and mechanical systems while Susan became the ships IT steward and quickly figured out how to operate all of the nav/com electronics.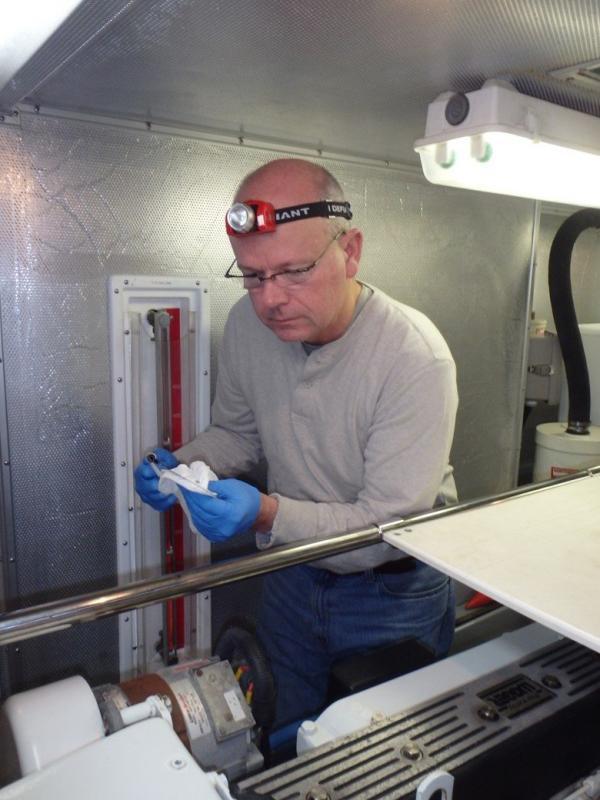 Our game plan was to have me travel out for a few days of training, indoctrination and orientation and we all agreed it would be more effective after they had some time to acclimate and figure a few things out on their own as they turned Dragonfly into their new home afloat. I made arrangements to fly over to Boston so we could spend a few days of trawler training aboard.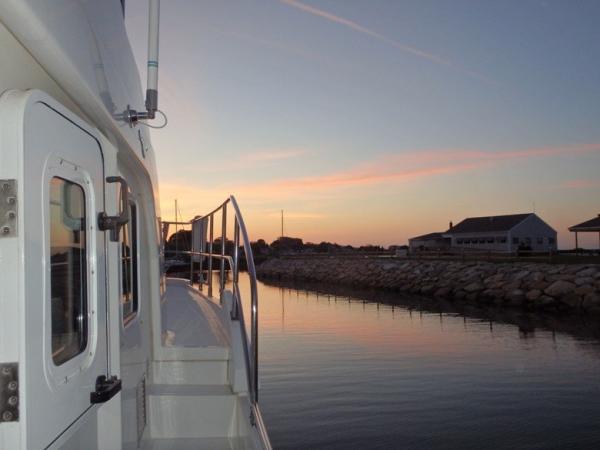 Dragonfly was tied up to the Nordhavn NE long dock at Brewer's Sakonnet Yard in Portsmouth, RI and I was assigned the port guest stateroom for my stay. Dragonfly, Nordhavn 47 hull 15, has the popular three cabin layout with two guest cabins forward.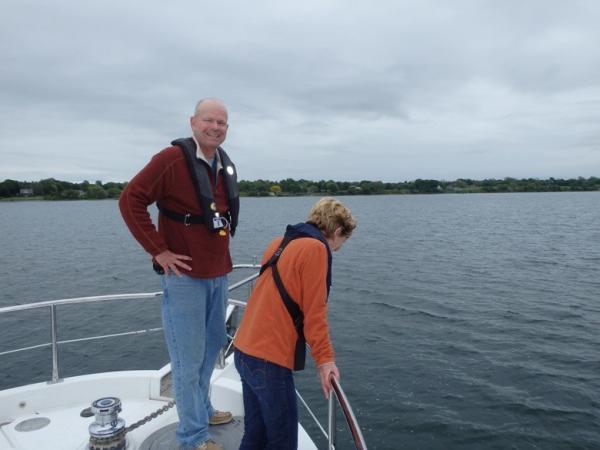 Over the next couple of days we started with coffee at 7am and usually ended up working late into the evening until it was time for a glass of wine and dinner.
We sailed Dragonfly 30 miles over to Cuttyhunk, one of the Elizabeth Islands off the coast of Rhode Island/Massachusetts where we stayed for two days and practically had the whole harbor to ourselves as it was pre-season. We enjoyed some hikes on the island and met some great, friendly people.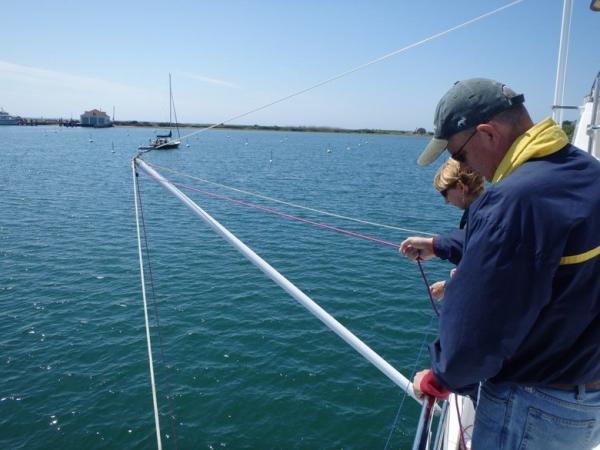 Projects included rigging up the port side flopper stopper for the first time and marking the Steelhead crane for easy launch and retrieval of the new 11′ AB RIB that the Odell's purchased as their tender. We also did some anchoring practice.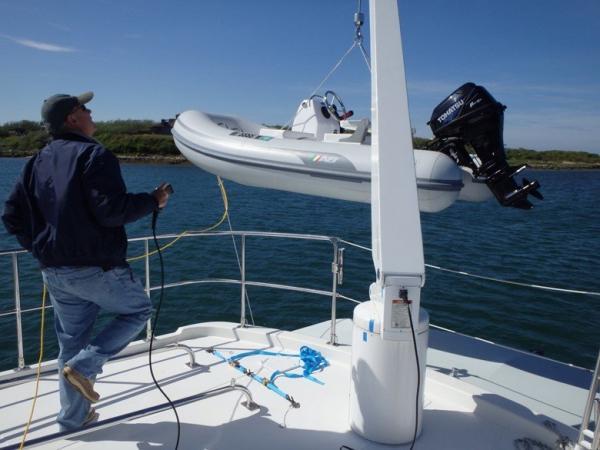 We went all through the boat talking about systems and equipment, operations and maintenance and, one of the best things was that we ate like royalty – thanks Susan! It really helps to set aside a couple of days for these types of training sessions, there is a lot of ground to cover and a seemingly never ending list of items to review and discuss. David had already availed himself with a label maker and had the machinery spaces very dialed-in.
Soon it was time to leave Cuttyhunk and return to Portsmouth so that I could catch my flight back home to California from Boston. One of our last projects upon our return was to change the fuel filters, a necessary task that is much easier to do if you are shown how to do it the first time. Like so many chores on board, the more often you do them, the easier they become.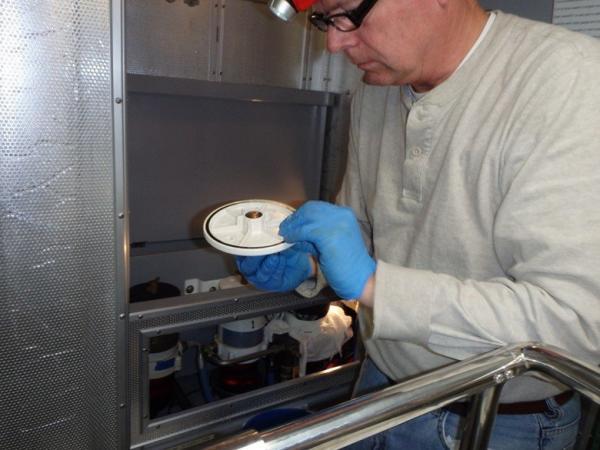 The Odell's have spent a great deal of their time together on the water and have quickly adapted to life aboard. Coco now has some favorite perches to lie down and watch the world float by.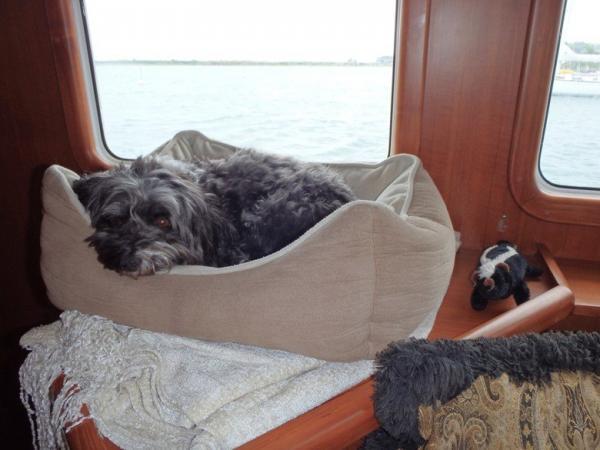 Part of their "making it ours" improvements has included all new upholstery and carpets which are now installed and looking great.
Their summer plans are to go out cruising, heading a bit north towards Maine first and then slowly wandering south bound along the eastern seaboard. I typed up a list of observations and projects and they are easily working through the details.
Where does the name Dragonfly come from? This is from a frame in the master stateroom.
Advice from a
DRAGONFLY
Spend time near the water
Enjoy a good read
Zoom in on your dreams
Appreciate long summer days
Keep your eyes open
Just wing it!
David, Susan and Coco have easily transitioned from sail to power (they once had a large sailboat in charter so the cruising thing is already something they are adept at) and Dragonfly is a marvelous platform for them to go out and see the world.
If you would like to follow the travels of the Odell's, Susan has created a Facebook blog called "Dragonfly Waypoints" and here is the link:


Dragonfly was the last "deal" Jeff Merrill, CPYB completed to wind up his 14 year career at PAE/Nordhavn. Jeff continues to be very actively involved with clients seeking to own Nordhavns and other premium brands of trawlers. If you are interested in learning more about Jeff's services as a Trawler Advocate please call or text him on his cell phone +1 949.355.4950 or send an email to Jeff.Merrill@JMYS.com. You can also follow Jeff on Twitter @merrillyachts. In the meantime, please enjoy reading about the adventures of Dragonfly.