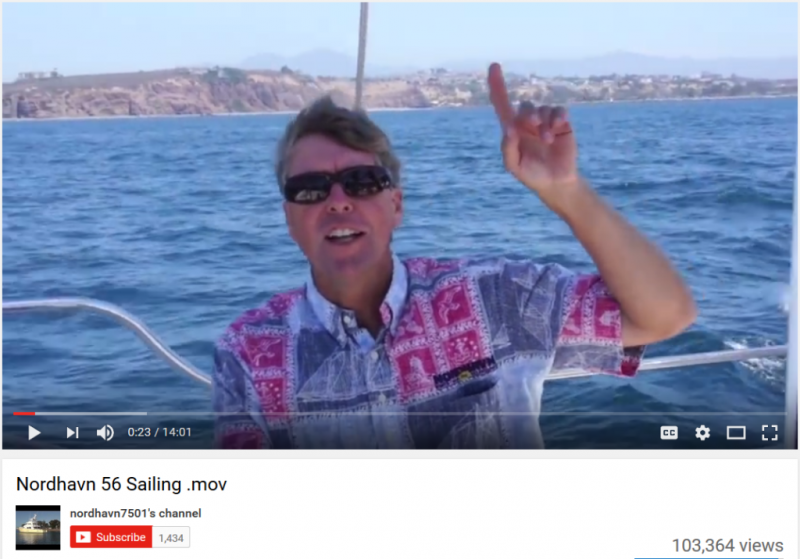 Back in the summer of 2011 I was working at PAE and we had this wonderful product at our docks, the Nordhavn Motorsailer. PAE has a rich sailing heritage with the Mason sailboat line, but a Nordhavn that could sail? Well, people couldn't figure it out. Is it a sailboat or a trawler? Interest was great, but unfortunately, sales were soft. I decided to take the boat out for a sail to show she was easy to single hand and we recorded a 14-minute-long video and posted it on YouTube.
Almost exactly five years later, the video continues to captivate an enthusiastic audience and is my second Nordhavn video to reach the 100,000 view milestone. There are three videos in the series.
Thinking back on that perfect So. Cal. summer afternoon brings back a gust of memories; the boat is well balanced, glides along with minimal helm and is very easy to handle. The construction by Ta Shing is world class inside and out as to be expected. But the missing piece, the main point in fact, is that she really sails well, a testament to Jeff Leishman's design.
Sadly, new build production has been in the doldrums, barely luffing for the last couple of years. Still, I think this is a fantastic cruising yacht that is perfect for the right type of sailor – those who love the peace, quiet and unlimited range of sailing with the advantage of a spacious engine room and the solid performance of a Lugger main engine with variable pitch propeller when becalmed. Under sail with a little push from the diesel, either outside in the forward cockpit or inside with an incredible view this is a very special boat. The reality is, she is one of the few "honest" sailboats, especially when you consider how many sailors spend most of their time away from the dock under power.
A few weeks ago a gentleman singlehanded his MS56 across the Atlantic, now that is an impressive single handed feat! I'm hoping others follow in his wake and embark on similar long distance passages.
It may be too late to order a new one, but if a Nordhavn 56 Motorsailer is on your horizon – I prefer the term "trawler-sailer" – please get in touch with us and we can talk about the boats that are out there and find the right one for you. I'll love to show you the ropes and then you can record your own movies as you sail off into the sunset.