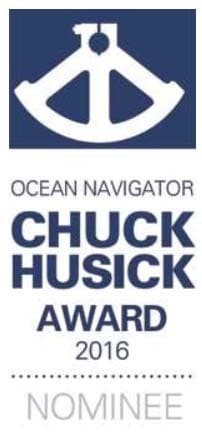 Ocean Navigator magazine presents the Chuck Husick award each year to highlight the advancements of marine technology.  The Chuck Husick Marine Technology Award is named after Ocean Navigator's contributing editor, Chuck Husick, who was an expert on all things nautical and technological and who wrote numerous articles for the magazine and website.
This year Jeff Merrill was flattered to be asked to participate as one of the judges.
Here is a list of the judges for 2016:
Ben Ellison – writer and owner of Panbo.com marine electronics site.
Ellen Massey Leonard – circumnavigator and marine writer.
Wayne Canning – ON contributing editor, marine writer, photographer and surveyor.
Jeff Merrill – marine writer, yacht broker and power voyaging expert.
Paul Exner – sail training/sea trial instructor and marine writer.
Lawrence Husick – marine writer, son of Chuck Husick.
Alex Agnew – Ocean Navigator publisher.  Tim Queeney – Ocean Navigator editor.
You can click the link below to review the finalist interesting new marine technology products — everything from electronics to rescue ladders. Each of these products in their own way advanced the state of the art in marine technology. The goal, of course, is to make marine voyaging safer, easier, and more rewarding.
2016/Chuck-Husick-Award-Finalists/
The 2016 Chuck Husick Award top winner will be announced soon.