I've known Bill and Laurene Parlatore since my sailboat building days…we met shortly after PassageMaker magazine was first published.  At that time, I was the sales VP at cruising sailboat builder Pacific Seacraft and we were introducing a new "fast trawler" designed by Bruce King of Ericson sailboat fame.  Back in the late 90's it was a growing trend for sailboat builders to offer a trawler to keep their clientele in the same company family.  Aging sailors who wanted to stay out on the water also coveted the conveniences and advantages of switching from sail to power.  Sailboat builder Freedom Yachts introduced the Legacy power boats and Sabre Yachts, known for their sailboats, developed Sabreline motor yachts.  Kadey-Krogen and Grand Banks had figured this out a few years earlier and most notably the Mason sailboats from PAE in Dana Point, CA gave way to the Nordhavn line of offshore trawlers.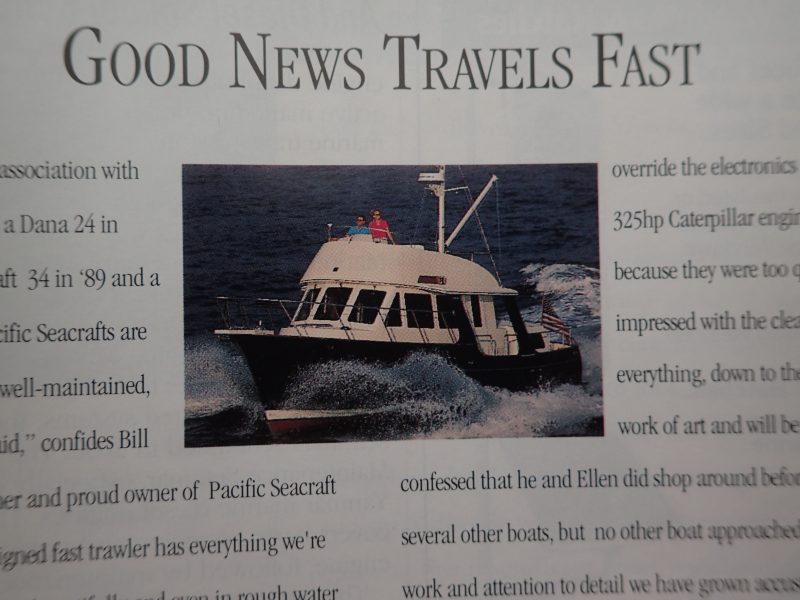 Pacific Seacraft ran ads in PassageMaker (my wife Pam and I were the models driving the 38T) and when I left Pacific Seacraft to work with PAE I became immersed in the trawler world (which, as a sailor, did take some getting used to).  Nordhavn was an original and regular advertiser so I had many opportunities to speak with Bill and Laurene at boat shows and events across the country.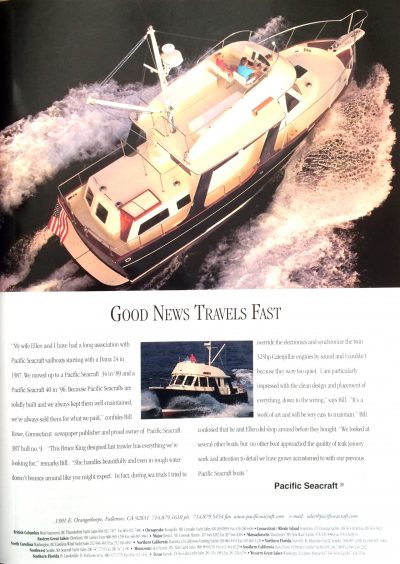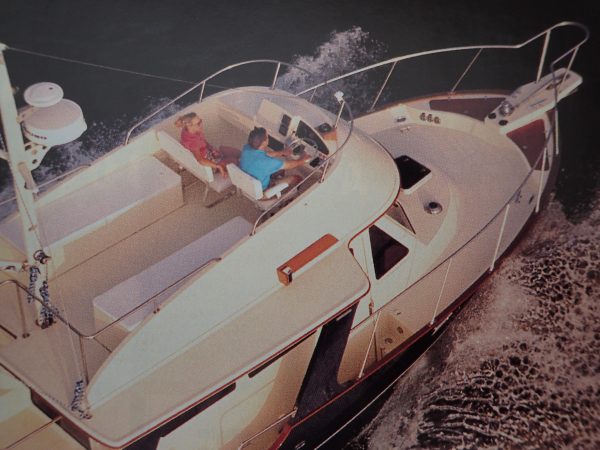 When the Nordhavn 35 Coastal Pilot was introduced (I was the project manager), PassageMaker did a cover story article in August, 2001.  I met Bill in Texas to go for a couple day cruise together and put the 35 through her paces. We got to know each other well being ship mates, and have stayed in touch ever since.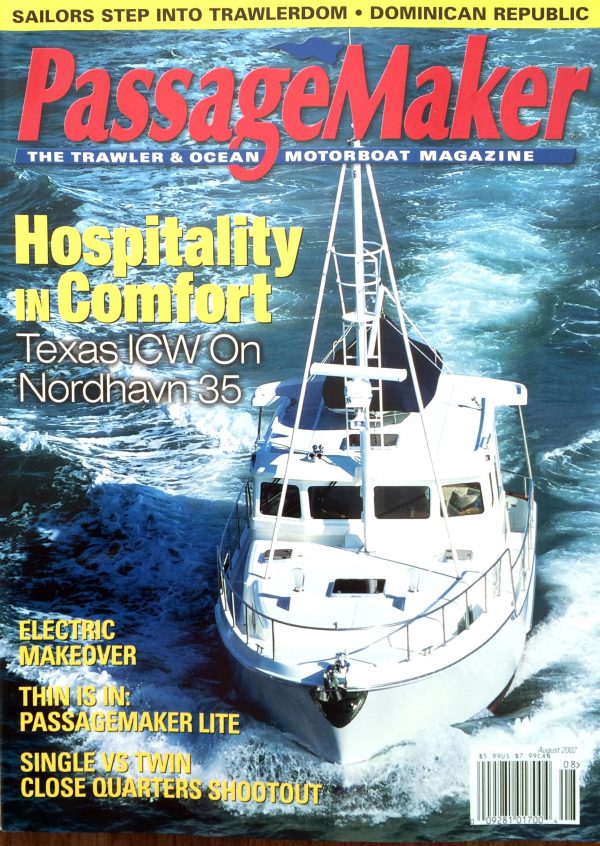 When I travel to Annapolis, I try to visit Bill and Laurene.  Prior to the 2016 Bay Bridge TrawlerFest, Bill invited me for lunch at the Annapolis Yacht Club (the temporary location across the water, the original club house is being rebuilt after the fire).  We had a great time talking (something we are both good at!) and a delightful lunch, reminiscing about boating friends, our shared joy for golden retrievers and, of course, trawlers.  Bill didn't know it, but I had in my possession a copy of PassageMaker magazine issue number 1 that I was hoping to get signed. Bill told me about his motorcycle trip to Florida and the lightbulb moment when he met with Kurt Krogen to talk about trawlers and realized then that not only were this niche of boats becoming increasingly popular, but that there wasn't really a dedicated publication available to inform readers.  There was a huge void – builders wanted to tell their stories and place advertisements, but didn't have a resource to do so (remember, this was in the dark ages before the internet).
The history and success of PassageMaker, a classic dining room table initial layout venture, is well known.  There is no doubt that Bill and Laurene not only timed it perfectly, but deserve a great deal of credit for bringing the trawler phenomenon to the mainstream.   In our small, tight knit trawler community, the first "aha" was Robert Beebe's book "Voyaging Under Power" a challenge to our sail-only mentality that made a convincing case that is was possible, practical, acceptable and, OK, FUN to take a properly designed power boat and cross oceans, going to places that has previously only been visited by sailboats.  Currently available in the fourth edition.
The second "aha" for power voyaging enthusiasts was PassageMaker magazine which brought the trawler lifestyle into our living rooms and gave us the inspiration and encouragement that we too, as active adventure seekers, could buy a trawler, learn the ropes and then go out to discover and explore, mostly as an owner operator couple without professional crew.
Timing is everything and I've been very fortunate to have been in the right place at the right time to have a front row, pilothouse seat. to watch the growth and recognition of the trawler power cruising culture from the start –  I forget that not everyone knows the history.  I meet people who are newly attracted to cruising on a trawler and don't know the back ground.  Those of us who watched it happen know this, but for folks who have recently discovered trawlers and long distance power cruising, let me tie it all together, Robert Beebe's boat was called PassageMaker, hence the perfect title for a magazine dedicated to saluting the principles he laid out about cruising across oceans in a properly designed power yacht.
With technology and the internet, a lot of things have changed.  I'm writing about books and magazines, things that take time to read and require some concentration and a fair amount of attention span.   The way we live with short sentence blurbs, photos and videos dominating our cell phones, tablets and computers – it is a wonder there are many left who enjoy the quiet time and escape that reading provides.  I'm hoping that, like vinyl records which were dormant for twenty years, books and magazines will make a comeback, but we may have to wait for the next generation.
I have always been a collector (my wife Pam corrects me to say "accumulator" – I have a tough time throwing things away and that sounds better than being a pack rat) and one of my prize discoveries that I covet and have read more than once is a First edition of Voyaging Under Power.  It is a classic and it is nice to hold it in my hands and turn the pages.  I love to read a good old fashioned book, but at the same time admit I find it more convenient to travel with E-Books and enjoy reading on my IPad Kindle app.
The same thing has happened to me regarding magazines.   I used to love reading PassageMaker because it was my only passport to arm chair trawler travel and an escape (like being offshore and out of cell phone /email range) to learn what had been going on in the power cruising world. PMM is still an important publication, but I don't have to wait between issues to get my trawler "fix".  I can search all over the internet, log on to manufacturer websites and read about active cruisers on their blogs.   There will always be a place for hard copy books and coffee table magazines, but they seem to be jettisoned when they overwhelm their allocated shelving in our homes.
Fortunately for me, one of my good friends, Guy Bugbee, sent me his entire collection of PassageMaker magazines – starting with issue one – when I heard he was purging I asked if I could splurge and gobble them up. Thanks again, Guy, In the grand scheme of things this is not like owning a vintage issue number one rare super hero comic book, but to me it is more significant.  Bill and Laurene significantly influenced my yacht broker career which was shaped by the wonderful lifestyle they showed us we all can aspire to.  Many of us in the boating industry can point a finger (thumbs up) to Bill and Laurene for launching the avalanche that continues to snowball. So, without getting mushy or sentimental let me just say I was very excited to show Bill I had a copy of PMM#1 while we had lunch in Annapolis.
My reason for bringing the premiere issue with was in the hopes that that Bill and Laurene would sign the cover of my copy.  Since Laurene couldn't make the Annapolis YC lunch, we agreed that they would come to see me on the trawler I had on display at the Bay Bridge TrawlerFest, Retired Sailor III, a 73' aluminum fast trawler that may not have ever been conceived without the inspiration of the magazine.  It was a rainy day, (perfect for being inside a pilothouse instead of soaking in a sailboat cockpit) we had a full house on board, but it was a very happy moment for me to have my photo taken with Bill and Laurene showing off PMM#1. We reminisced about the publication, how it truly struck a chord with passionate sailors who wanted to stay out cruising and the rest, as they say, is history.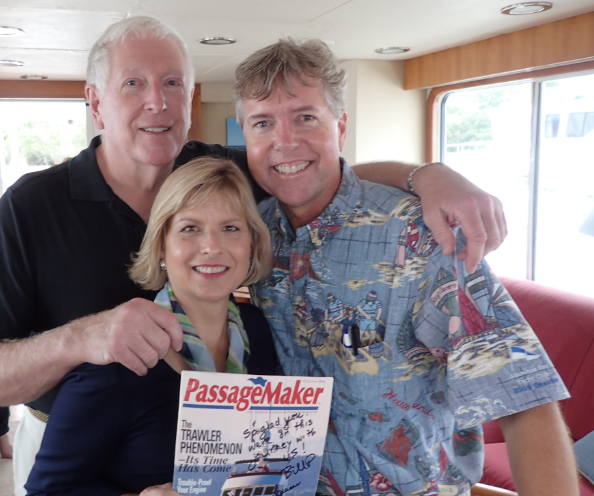 I now have that first issue framed and it is a cherished memento to remind me of how my career path has been defined. It has been a wonderful journey so far, with no ETA or destination in sight. We just need to take on fuel and provisions every so often and then continue.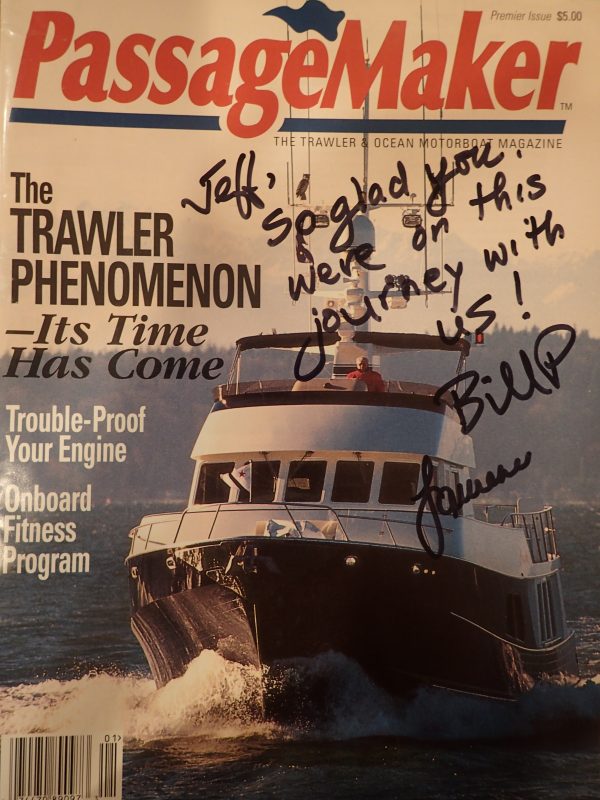 Thank you, Bill and Laurene, for creating PassageMaker magazine and for your enduring friendship!