In April 2020, with most of the world still sheltered in place and eager to see our way of life open back up, AIM (the parent company of PassageMaker magazine) created a Virtual Boat show for their audience.
One of the early episodes in this series features PassageMaker's editor in Chief, Andrew Parkinson, talking with Jeff Merrill via Skype video to discuss the current trawler market and how it has been affected by the Covid-19 Coronavirus.
Jeff and Andrew discussed topics ranging from how buyers can currently continue their search amid the pandemic to what we might expect to see in the future of boating.
At JMYS, we have always enjoyed PassageMaker's content; their magazine, website, emails and TrawlerFest events. Their new Virtual Boat Show provides an innovative way for boaters to simulate the boat show experience from the safety of home and has given all of us who love boating the opportunity to stay in touch in spite of social distancing.
We have posted the interview on the JMYS YouTube channel. You can also log in to see the other virtual events they have created by going to www.passagemaker.com and then click on the Compass Rose Icon that looks like this: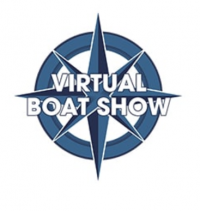 Thank you, Andrew Parkinson, AIM and PassageMaker for opening up this new way of interacting.  It's not the same as being there in person, but for now it's the next best thing.
We are all looking forward to being back on the docks with all of you soon.
Click the button below to read "Inside the Trawler Market with Jeff Merrill" from the Passagemaker.com website:
Click below to watch the interview video on YouTube.