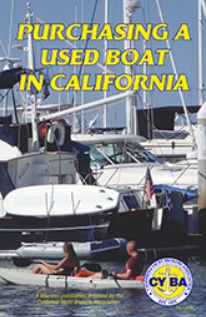 One of the many important projects Jeff has been working on as president of the California Yacht Brokers Association (CYBA) has been to manage the creation of "Purchasing a Used Boat in California".
Two CYBA Board members, Nick Friedman and Jeff Merrill, spent hours putting the new draft together and then incorporated great additional input from the entire CYBA Board of Directors in order to refine and improve the content. The booklet has been in the works for over a year and half and is an all new, current market perspective that is a nice improvement over the original pamphlet that was written over twenty years ago by Sherry Cameron and distributed by the DBW in California.
So much has changed in two decades that a major rewrite was overdue. Can you imagine a time when there was no internet to search for used boat listings? Many of the boat buying fundamentals remain unchanged, but the marine industry continues to evolve and it is even more important today to make sure you have the latest information on how boat transactions are structured. One of the key recommendations in this version to be extremely cautious if purchasing a boat without using a broker and both buyers and sellers are strongly encouraged to use a CYBA broker when doing a boat deal in California.
California and Florida are the only two U.S. states that require a license to conduct yacht sales. California yacht brokers are regulated by the state Division of Boating and Waterways and all used boat transactions must conform to the rules outlined in the Harbors and Navigation Code.
Whether you are buying a used boat in California, or anywhere else, the variety of information contained in this publication is invaluable and is intended to protect, buyers, sellers and brokers. This publication was mailed out to CYBA brokers all across the state of California in March.
You can download the booklet in PDF format here or read the online version here: CYBA.