The stunning aluminum twin engine trawler, Retired Sailor III, will be available for inspection during the Yachts Miami Beach show.   Retired Sailor III is home based in Virginia (under the watchful eye of Keith Ruse from the Deltaville Boat Yard) and was moved south to attend the show due to the demand of potential clients who wanted to have a more convenient way to inspect her.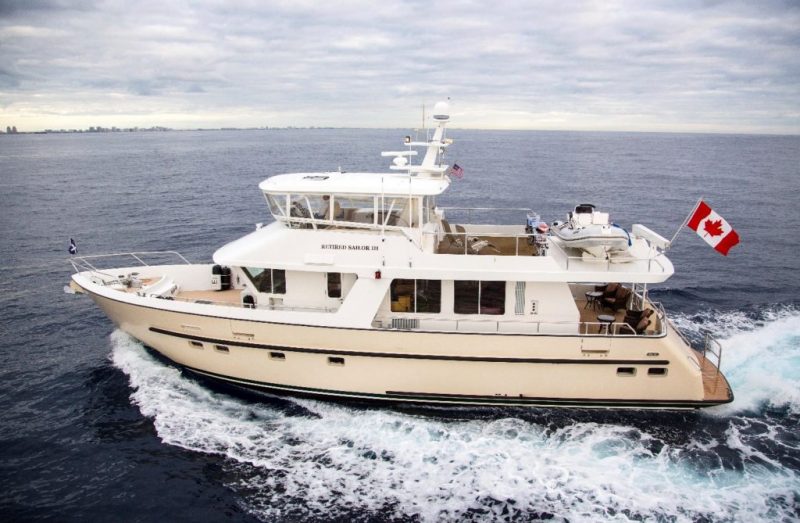 Retired Sailor III On Display
She is a Gregory Marshall design, built by Park Isle Marine in BC Canada and has been exceptionally maintained. Her twin Yanmar engines get her up on plane and she is equally quiet and comfortable running fast or slow.
This is truly an extraordinary opportunity and everyone is invited to come take a tour and see in person just what an impressive yacht Retired Sailor III is. After the show she is heading back to Virginia so please take advantage of this rare opportunity to see a remarkable power yacht that will compare more than favorably with any other trawler presented at the show.
Here is a link to a video walk through of Retired Sailor III:
TESTIMONIAL – By Steve D'Antonio, Marine Consultant
"I've had the pleasure of being involved with Retired Sailor III for the past seven years, having first gone aboard during her commissioning process in Victoria, BC.  Since then I've worked with the owners, Bev and Ann Collombin, consulting on and overseeing a variety of projects, repairs and upgrades, including the repower.  Truly no expense has been spared in maintaining Retired Sailor III during my tenure with her.  Only the finest, highest quality equipment has been used, all of which has been installed and maintained in keeping with the American Boat and Yacht Council's, as well as the equipment manufacturers', rigorous standards.  I'm not one to exaggerate, which is why, when I say attention to detail in the initial build, as well as work carried out thereafter, is second to none, it represents the very highest praise.  This is a fine vessel and one of my personal favorites."
Please come on by!
No appointment is required, but if you would like to schedule a personal tour from listing Florida yacht broker, Jeff Merrill please contact him in advance to set up a time.
Jeff Merrill, CPYB
Mobile: 949.355.4950 (call or text)
Email: Jeff@JMYS.com