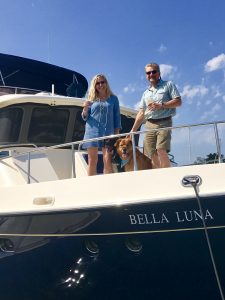 We are very pleased to announce that Rob Piwowarczyk has passed the California Yacht Salesperson exam and is joining the CYBA (California Yacht Brokers Association). Rob is dedicated to being a professional yacht broker and committed to the high ethical standards of CYBA and JMYS.
Rob and his wife Deanna are JMYS clients who worked with Jeff to search for a trawler which led to the purchase of the Selene 55 Bella Luna in 2017. The Piwowarczyks' then moved from Colorado to California along with their two dogs to move aboard their new waterfront trawler. When you transition from being a dry land person to living at sea and become a full time liveaboard you are much more attuned to the subtle demands and necessary daily chores to keep everything operating smoothly.
Bella Luna has been a very active charter boat business for the past several years in the Oxnard/Ventura area north of Los Angeles and Rob, who has a successful entrepreneurial background is also managing the charter business while simultaneously improving his yacht broker skills. Having Bella Luna ready each day for charter (as well as being his abode) had given Rob many insights to the demands and joy of trawler ownership that many experienced cruisers only understand after years of being at sea.
Rob has enjoyed crewing on charters and also handles all of the routine maintenance aboard Bella Luna. This hands-on approach is what he loves and is also going to be a huge benefit to owner/operator buyers like he was – people who know they want to buy a trawler, but also realize they need to learn all about their trawlers systems and operations in order to become more proficient.
Jeff Merrill commented, "Rob is a remarkable person. To see how quickly he and Deanna have adapted to living aboard has been very fun to watch. Rob is a good listener and pays attention. If you show him something once, he gets it. He enjoys talking with his passengers about what is going on with the equipment and systems while underway and is a natural teacher who is going to add tremendous value to our clients. He has passed his captain's exam and is eager to complete the on-water time required to become a fully qualified captain. We are thrilled to have Rob working with us in sales."
Please join us in welcoming Rob to the JMYS team. If you would like to talk trawlers with Rob and/or find out more about the advantages of trying before buying by booking a charter on Bella Luna please get in touch with Rob directly.