Sea Magazine sent out a list of questions to industry professionals to include in their August 2021 Broker issue.
Specifically, they were looking for tips and input from brokers on buying and selling from a professional point of view and asked Jeff to lend his expertise.
JMYS has run a full-page ad in this issue for several years, but this is the first time Jeff was asked questions.
The first question asked features Jeff's answer as the one Sea Magazine selected.  We have included that article here so you can see the questions and answers.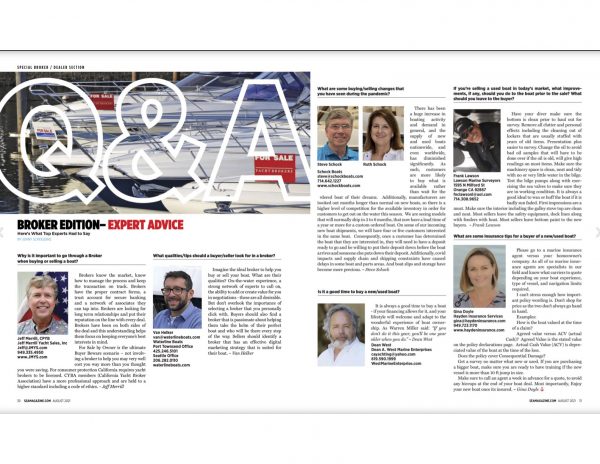 Jeff wasn't sure what or how much Sea needed, so he answered all of their prepared questions (and to their credit, they only published one answer from Jeff).  We felt it would be helpful for all boat buyers to see the original questions asked and to learn the JMYS response.  Here is Jeff's submission.
Why is it important to go through a Broker when buying or selling a boat?
Brokers know the market, know how to manage the process and keep the transaction on track. Brokers have the proper contract forms, a trust account for secure banking and a network of associates they can tap into. Brokers are looking for long term relationships and put their reputation on the line with every deal.  Brokers have been on both sides of the deal and this understanding helps them focus on keeping everyone's best interests in mind.  For Sale By Owner is the ultimate Buyer Beware scenario – not involving a broker to help you may very well cost you way more than you thought you were saving. For consumer protection California requires yacht brokers to be licensed. CYBA members (California Yacht Broker Association) have a more professional approach and are held to a higher standard including a code of ethics. 
What qualities/tips should a buyer/seller look for in a broker?
Search for a reputable advisor who will listen to you and explain the important considerations.  You want an experienced advocate on your side who is responsive, experienced and a good communicator.  A good broker should have appropriate product knowledge for the category of boat you are involved with and transactional proficiency to properly prepare and complete paperwork. They will have a network of associates to facilitate the deal and a wise broker will guide you to the right boat, not the most profitable sale.
What are some buying/selling changes that you have seen during the pandemic?
Buyers are making faster decisions, but it is taking longer to get things done.  Many buyers are jumping at higher priced boats or boats that don't fit their specific needs because they are concerned if they don't, they will miss out. Some popular brand listings have seen multiple offers akin to residential real estate. Some sellers have unrealistic expectations on how quickly their boat will sell and what the closing price should be which is caused by mixed perceptions of market hype and boat values inflated by the pandemic. An overpriced boat will take longer to sell even in the current market feeding frenzy.  Boating related services are backed up and delays cause frustration. It takes time to properly conduct a sale and when people get discouraged, they can lose their enthusiasm and run out of patience. 
How has the used boat market changed during Covid?
It's a rare seller's market with more buyers than boats involving shrinking inventory and rising prices. Many people new to boating are seeing this as a safe, family friendly activity that gets them out of the house to do something fun together.  As an industry we need to realize the importance of the new boaters having a great experience.  We may never have a better opportunity to convert people into the boating lifestyle, and each success helps carry the market forward for years to come.
Is it a good time to buy a new/used boat?
It's always a good time to buy if you can find a quality boat that meets your needs and is in your price range.  Buyers need to be educated on their options and informed about the process. If you know what you want and have your financing and insurance game plans in place, you are ready for your broker to write up an offer for a used boat.  If you are ready, but hesitate, you may miss out. If you aren't excited about the boat or it doesn't feel right don't do it. There will always be another boat.
Is it a good time to sell a used boat?
Yes!  As long as your boat is fully functioning and ready to go. Not many buyers are looking for a project boat.  Restoration of a derelict will not generate much interest. Buyers are always willing to pay a fair price, these days they will even pay a slight premium, but when you are spending top dollar, buyers expect to see all systems and equipment shown to be in good working order. Buyers and brokers typically don't know what doesn't work until the survey – the seller is responsible to present their boat in the best possible light. Sellers will be asked to demonstrate that everything aboard is operational and they should disclose up front any deficiencies they are aware of.
If you're selling a used boat in today's market, what improvements, if any, should you do to the boat prior to the sale? What should you leave to the buyer?
Fix all operational items and refresh all systems.  I wouldn't worry about the cosmetics as much, most savvy buyers can see through that. The less the buyer has to do after closing, the better.  It's essential to have everything functioning properly, otherwise you are wasting everyone's time. When you walk on a boat and get excited you really don't know what works and what doesn't.  A buyer who makes an offer and spends money for the survey only to learn that the boat isn't working properly will be disappointed and either ask for corrections or walk away. In the meantime, the seller may lose out on another potential buyer while the boat was under contract.   
What are the steps that you should take when buying a new boat?
Learn as much as you can about the brand, model and builder before reaching out. It's equally important to do your research on the brokers who sell them.  The broker you choose to represent you on a new build can make a huge difference. Select the broker whom you feel is the best fit and ask for that broker by name when you are ready.  Don't leave broker selection to chance. 
What are the steps that you should take when buying a used boat?
Engage a reputable broker who has your best interests in mind and understands the market for the type of boat you want. All licensed brokers can help with any purchase, but you will benefit from a much better overall experience if you work with someone who understands the type of boat you are looking for.  Your broker should give you recent sales comparables and help you evaluate your choices and what costs will be involved in the survey process and what is involved with ownership. It is important to understand resale value and to have an exit strategy before you buy.
What are some lender quotes and tips for a buyer of a new/used boat?
Get your loan preapproved so you know what you can afford before you start shopping. The contract or purchase price is just the start. You won't really know how much the boat cost until the first year ends and you have made it your own.  Before making any offer, work with your broker to estimate what projects and costs there will be after closing, both monthly and annual costs of ownership.
What are some insurance tips for a buyer of a new/used boat?
Insurance has become more difficult and many of our clients are asked to have some level of captain training before they are cleared to take off on their own. Have your broker introduce you to insurance brokers (like those who advertise in Sea) so you know what is going to be required of you.  Find out where you stand on the risk scale and start gaining the hands-on skills you need now, while you are shopping.
In today's boating market is it better to buy new, used?
Used is usually a better financial value. The depreciation process has started and you know exactly what you are buying.  The survey and due diligence process takes place over a few weeks. Building new is great if you are not in a rush and can accept some delays and overruns as a price you pay to get more of what you want. New boats have a warranty and usually more attention to the buyer in the early days.  All new boats eventually become brokerage boats, so the market always needs people who prefer to be new boat buyers. Finding a newer used boat, lightly used and priced competitively may be a great alternative if you can find one.
What are the pros and cons of joining a boat club/membership vs. buying a boat?
Trying before you buy is very important, but hard to organize. By joining a club, you will gain some valuable experience and that will help you understand what you want and help you narrow down what you should really be looking for.