Another sunny day at Bell Harbor Marina
With its beautiful elements of snowy mountains and blue waterways, Washington is a perfect place for cruising. This year's Northwest TrawlerFest has just completed. This trawler-centric event has changed locations for the past few years, but we are big fans of this year's new spot in downtown Seattle at Bell Harbor marina. Over forty trawlers lined the docks that sat below the city's skyline. Sun shined on the entire trip revealing beautiful Mount Rainier in one direction, the Olympics in another and allowing us to enjoy clear sunny days to walk the docks.
After arriving Wednesday afternoon, we drove up to Anacortes to visit our newest JMYS team members, Greg Mustari and Kelly Libby. Greg and Kelly are knowledgeable yacht brokers, know the area and are genuine, friendly people. They took us aboard a couple Nordic Tugs and we enjoyed looking at other boats in Cap Sante marina.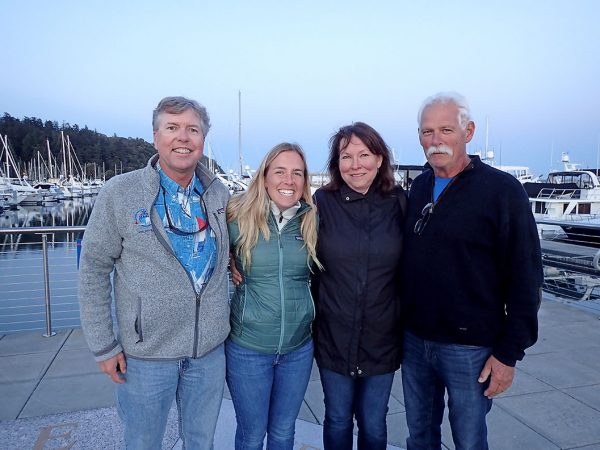 Jeff Merrill, Elle Conwell, Kelly Libby, Greg Mustari
Thursday kicked off our first JMYS seminar. Jeff conducted his renowned class "Dialing In Your Trawler". This lecture goes over tips and tricks to help make the most of your trawler and help you be prepared. Attendees filled the room and asked great questions. Though Jeff has taught this course several times, there is always something new to learn from our attendees and we love adding that to future talks. After class we were eager to visit the trawlers across the street. There was a wide variety of trawlers to take in and we enjoyed stepping aboard before heading to dinner at Anthony's (overlooking the marina) with friends.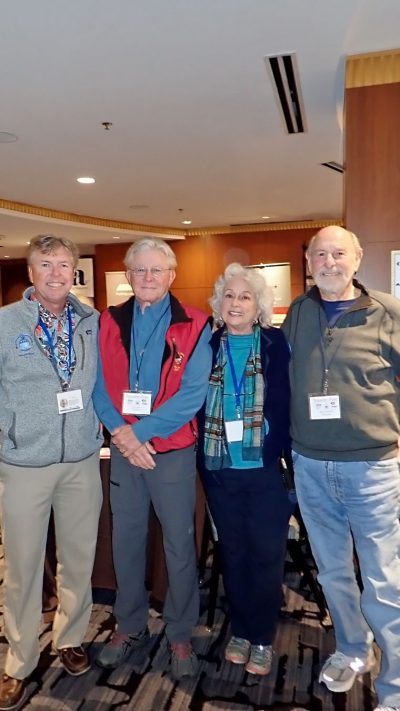 Jeff Merrill, John Rains, Pat Rains, Bruce Kessler
(Jeff's "Dial In" and "Offshore" PowerPoint presentations mentioned in this article are linked near the end of this article and available for you to download for a limited time only).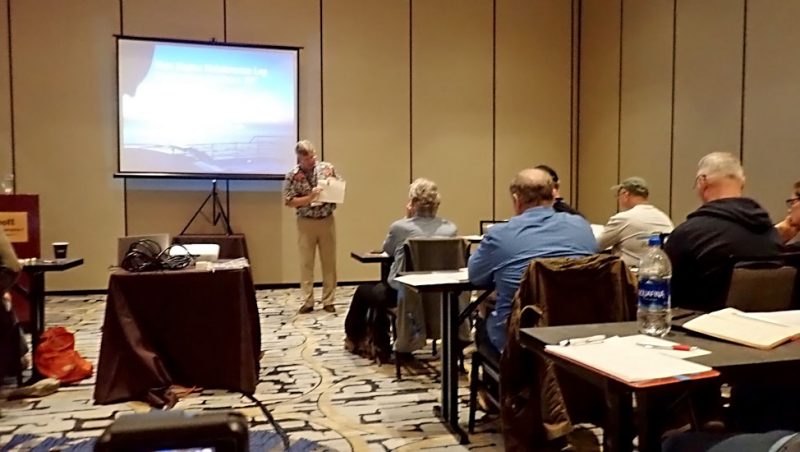 We began Friday morning with an 8:30 class on "Offshore Essentials". Jeff's talk is a three-hour course preparing you to take your boat from the dock, out into open water and then safely arriving at your destination. Although there is a lot of valuable information to take from the class, one of the most popular aspects is hearing Jeff's real life, onboard stories. Lessons learned from his time offshore add a personal element and make the course a little more real. Afterwards we stepped off campus to grab a quick lunch with JMYS trawler specialist Rob Piwowarczyk and then attended the Cruiser's Round Table that Jeff moderated. The panel provided a variety of backgrounds and expertise and included; Dylan Bailey, Sam Devlin, Eric Kunz, Bruce Kessler, Kevin Morris, Sam Landsman and Robert Reeder.  The audience asked noteworthy questions varying from logistics to personal preferences. Cruisers Round Table ended on a happy note having each panel member tell of the coolest wildlife experience they have had while cruising.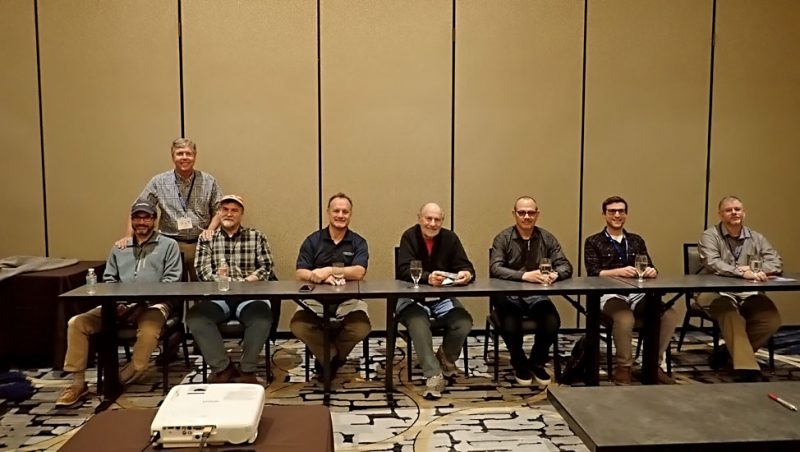 Dylan, Jeff, Sam, Eric, Bruce, Kevin, Sam, Robert
Saturday started with the much-anticipated talk, "Making the Leap: A Cruising Couple Tells Their Story". Our very own Rob Piwowarczyk and his wife Deanna spoke for the first time at TrawlerFest about their boating journey. They had an animated and informative talk that discussed their decision to purchase a boat, what they thought that would look like, and how they ended up where they are today. Their presentation was filled with fun photos and amusing stories. There was a lot of engagement from the audience who appreciated Rob and Deanna's honesty and took their suggestions to heart. One of the most loved lessons from their class was transitioning their mountain dogs to "do business" aboard Bella Luna. With lots of laughs, this talk truly encouraged future and present boaters to make the leap. Rob and Deanna prove that boating is for everyone who wants to make the most of it!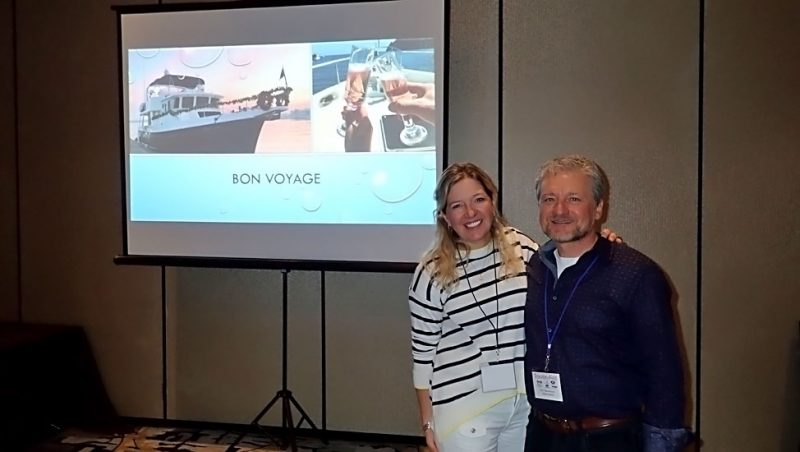 Deanna and Rob Piwowarczyk
Having met all of our obligations for the day, we walked to the docks and filmed a video of the boats on display. We will upload this video to YouTube so you can see which boats were in attendance. We hopped on more trawlers and some favorites of ours were a converted fishing boat Poplar III, an Alaskan 64 Thalassa, and Nordic Tug 42 Airship. But the crowd favorite was the Helmsman 38 Norseman. We ended the show visiting Scott and Lisa Heckler (Helmsman builders) and the owners, Jon and Linda Winther and congratulated them on winning the People's Choice award. It was a great way to end the show.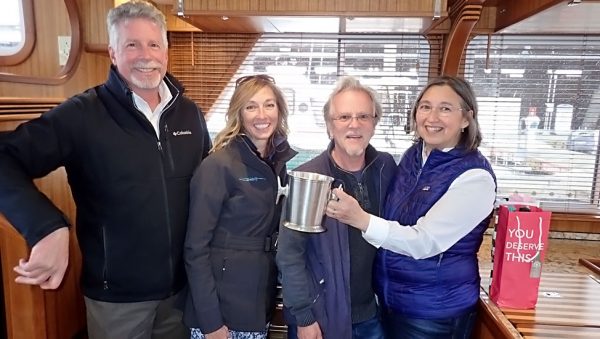 Scott and Lisa Heckler | Jon and Linda Winther – People's Choice Award winners
We look forward to the next TrawlerFest in Baltimore (September 25th-29th) and hope to see you there.
Below is an alphabetical by brand record of most of the trawlers displayed
Alaskan – 64'
Albin – 40'
American Tug – 36'
Azimut – 43'
Azimut- 66'
Bracewell – 41'
Cutwater – 24'
Cutwater – 28'
Cutwater – 302
Defever – 52'
Diana Lobster Boat – 29'
Diesel Duck – 44'
Endurance – 72'
Fleming – 65'
Grand Banks – 49'
Greenline – 39'
Halmatic – 50'
Helmsman – 38'
Jenneau – 37'
Jeanneau – 895
Lifeproof Inflatable Boats
Menchions Shipyard – 50'
Nordhavn – 57'
North Pacific – 49'
Outer Reef – 70'
Passagemaker – 60'
Ranger Tug – 23'
Ranger Tug – 27'
Ranger Tug – 29'
Ranger Tug – 31
Ranger Tug – 41'
Sockeye – 45'
Solar Sal – 29'
Steeler – 40'
Swift – 35'
Swift – 44'
Swift – 47'
If you attended one of our classes we have a list of handouts and copies of the PowerPoints below for you. We have also included a list of the boats that were in attendance.
If you would like to see the handouts please email Jeff Merrill at Jeff@JMYS.com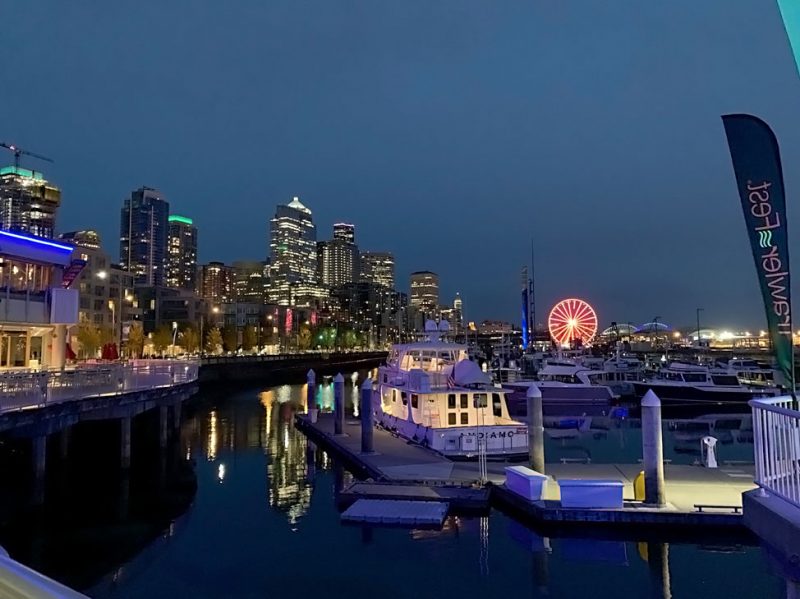 Trawler Fest after dark – thank you Tamara Johnson for this photo