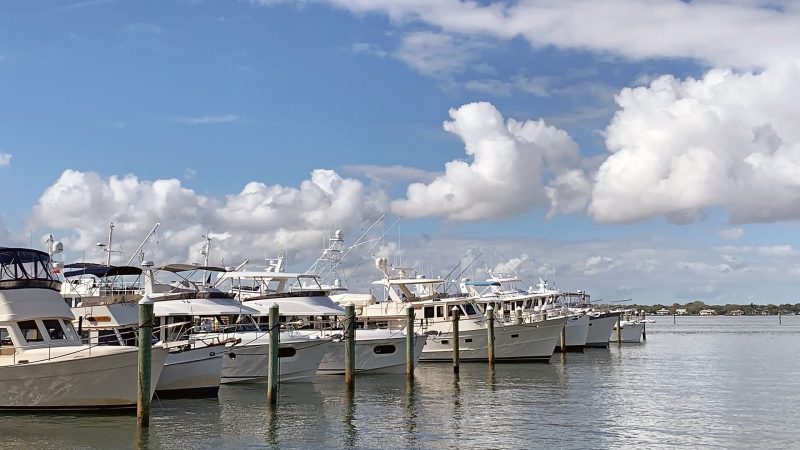 Hurray, it was fun to be a part of an in-person TrawlerFest again.
Stuart, Florida is a great location for trawler cruisers to congregate and the beautiful scenery mixed with the ideal temperatures and clear skies made the Hutchinson Island Marriott a fabulous venue to kick off the first TrawlerFest of the 2022 schedule.
The marina at the Marriott has in-water docks, which making stepping aboard convenient and easy, but we did not have the selection of boats present that we normally do. As brokers, we would have loved to have trawlers for sale on display, but didn't have any close by to showcase. There were a total of 15 boats on display, from Ranger Tugs to the Kadey-Krogen 58.  The Kadey Krogen company had a great display with a 48, 52 and 58. Burr Yacht Sales brought in a Fleming 55, a beautiful boat which provided a bit of variety amongst the Krogens. From North Pacific, Trevor and Bill were on hand to represent and answer questions and an assortment of other vessels kept people engaged.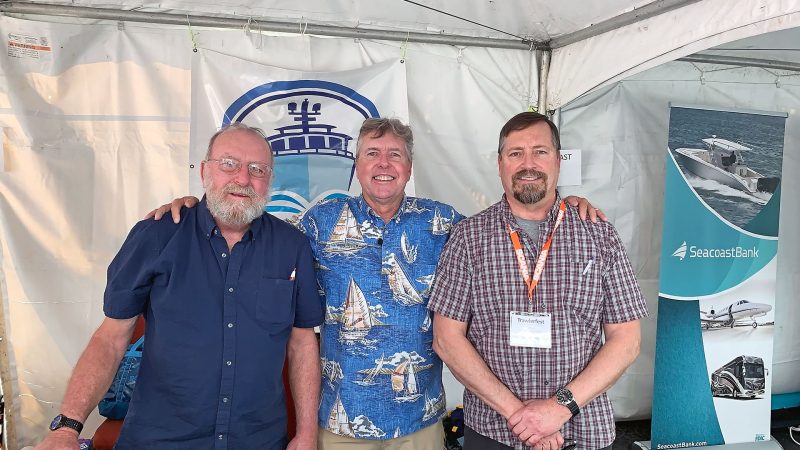 JMYS was a regional sponsor of the event, and we had a booth in the tent area set up and manned all four days by brokers John Hoffman, Tim True, and Jeff Merrill. Jeff's wife Pam was also present greeting booth visitors and helping behind the scenes at seminars. Just around the entrance area, there were 21 booths featuring insurance, finance, tenders, services, various products, and brokers. A steady stream of people stopped by to chat, and we enjoyed catching up with familiar faces and meeting new people interested in the trawler lifestyle.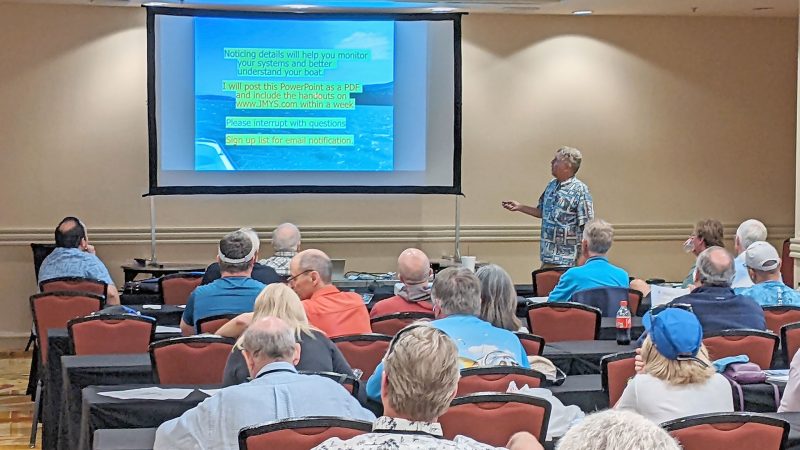 Inside the hotel were several large rooms for seminars. The seminar selection was diverse and attracted the largest crowds.  Jeff was involved in one talk each day, which kept him busy and on his toes.  On Wednesday, he presented Offshore Essentials, Thursday he was the moderator for the Boat Buyers Guide, Friday he ran herd on the experts panel and Saturday wrapped things up with the evergreen, Dialing-in-your-trawler.  It was not uncommon to have over 100 people present in the classrooms, bringing an energy and enthusiasm that was both exciting and encouraging.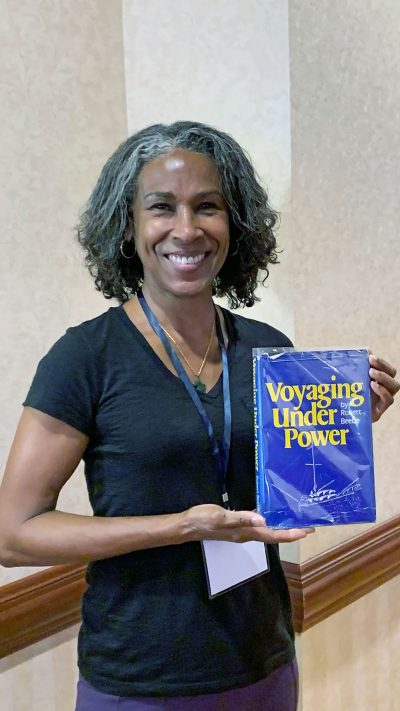 During the Offshore Essentials course, JMYS donated a rare second edition of Robert Beebe's Voyaging Under Power and it was awarded to an excited Janice M. Another great boating book, The Boys in the Boat, was donated by Kevin and Alison Jeffries of the Nordhavn 55 Red Rover. They had originally lent it to Jeff, and he went to great lengths to return it, traveling to meet them in central America two weeks ago. The Jeffries stamped it with their ships logo and suggested it be donated during TrawlerFest, so it was given away during the Boat Buyers Guide seminar. The trawler community is a wealth of knowledge, and kind gestures like this one from Kevin and Alison make it warm and welcoming.
After a refreshing few days of normalcy, we can confidently say TrawlerFest is back. Masks were rare, people were careful, and we all left feeling healthy and recharged. It started to feel like the good old days again – let's hope this trend continues.
The next TrawlerFest is booked for Anacortes, WA from May 17 – 21. Anacortes is another wonderful trawler friendly community and we hope to see an improvement in the selection and availability of trawlers. Jeff has already committed to his seminars, so we look forward to seeing you then!
For information about Anacortes, please click this link:
https://www.passagemaker.com/trawlerfest/trawlerfest-joins-forces-with-anacortes-boat-yacht-show-may-17-21-2022
If you would like to see the handouts, please email Jeff Merrill at Jeff@JMYS.com
We have a selection of photos taken from the event so you might see yourself, or, see what you missed!