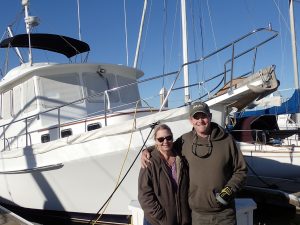 If you are reading this testimonial, you have need to look no further. Give Jeff a call.
All of my previous boats have had sails. The thought of an uncluttered deck, and constantly having to adjust the sails sounded promising. As fate would have it, I developed a neuropathy in my left hand that would have made sailing impossible due to the limited use. You might say the decision was made for me.
After about six months of researching various vessels. Decision made. My wife Sandy and I set out to find a trawler. Again, I was a sailor, 7-8 knots was fine with me. After all, the destination is only a small part of the journey. The best part is getting there. We desired a boat that was safe, comfortable, and economical to operate.
Jeff had a 39′ Kadey Krogen listed on his web site, gave him a call, and the rest is now history. As I was to find out later, Jeff truly is the "trawler expert". Jeff is very keen on details, communicates well, and more importantly always has a plan B. Buying a boat can be bit like herding cats if contingency plans are not considered. He was present during the haul out, survey, and the sea trial.
As an additional bonus, Jeff flew in Christopher Bruce, a Kadey Krogen owner/ business associate from the East Coast (my boat was purchased in CA.) to answer any and all questions that I had. I felt that I had a good support team. Christopher is a great guy, always happy to assist. Both he and Jeff are still only a phone call away. The customer service continues after the transaction has been completed.
I was pleasantly surprised when I was contacted by Jeff a couple of weeks after we had purchased the boat. He flew up to the Bay area to come give us some training, and explore the multiple systems on the boat. For any first-time buyer, these efforts are priceless. We spent a day on boat handling procedures, the next day on the boats systems. With blue tape and a "Sharpie" pen, Jeff proceeded to label just about everything. Plumbing, electrical, and everything else that could be of question.
Don't let his slacks and Hawaiian shirt fool you. This guy is willing to get down and dirty. It did not stop there. He also took photos of what he had just labeled, then downloaded to a memory stick for future reference. Jeff also supplied me with check lists, and a binder that he had printed for important, but easy to forget documentation regarding the vessel and required documentation. Without his help, I am pretty sure that I would be helping to fund the Coast Guard fleet.
Whether you are a buyer or seller, I highly recommend JMYS and his professional team of experts.
Brent and Sandy Vaughan – Kadey-Krogen 39 – Lady Di