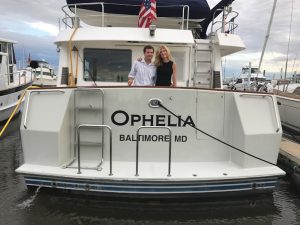 Dear Jeff:
Now that we have "Ophelia" safely home at the Lighthouse Point marina in Baltimore, Maryland I am inspired to write a short note to thank you for all of your guidance in helping us fulfill our long-time goal of becoming Nordhavn owners.  First, thanks for flying back to Florida from California after the closing and yard projects were completed to crew on the northbound trip from West Palm Beach to Morehead City, NC. There are a lot of new systems and equipment to understand (this Nordhavn 50 is much more complicated than our Grand Banks 42) and to have you on board for the maiden voyage (51 hours nonstop including my first two overnighters) has given me much more confidence!
You have a very calm and easy way of explaining things and as a result of our time together underway I feel much better qualified to be the owner/operator/captain and the details we covered are still sinking in.  Which is much more comforting than us sinking!!
When you spend time at sea with someone you get to know them better – especially 70 – 90 miles offshore with no connectivity (no email or calls, it was a great escape).  It was a blast talking about the boat, doing engine room checks, eating, studying systems, reviewing the electrical and navigation in the pilothouse, discussing weather and music. Before I forget, please send me your list of favorite bands and I'll email you a copy of The Hollow Hill band CD that I recorded with my group.
I know that "timing is everything" is an overused expression, but it sums things up succinctly to describe this purchase.  It was my good fortune to check in with you shortly after you listed Nordhavn 50 hull 25 "Flat Earth" and before you were ready to put her on the internet. I'll never forget me describing how I had just missed out on another 50 and telling you my wish list, and then the surprise when you told me you had a new listing that just might be a great fit – it couldn't have turned out any better.
Once Missy and I flew down to Stuart, Florida and stepped aboard, buying and owning the 50 was all we talked about and we continue to be buzzed with enthusiasm.  I'd like to complement you and Ray Danet for your professionalism throughout the purchase process. I've met many brokers, but feel like this was a much-improved experience having your extensive product knowledge and detailed organizational skills.  With the offer accepted, we had to accomplish a lot of things in a short time, yet we always felt that we were your number one priority through your excellent communication and step by step approach (even though we knew you were being pulled in many directions).
Buying a Nordhavn 50 from the original owner and getting to spend time with Phil Eslinger was an absolute bonus.  Hearing why he made the new build decisions he did and learning his thinking really helped us better understand the boat.  I know many brokers don't like the buyer and seller to meet, yet you not only introduced us, you encouraged us to talk and the unique relationship this created made for a virtually seamless ownership transition and as a result we each have a new friend.  It feels good for us to know that Phil realizes his "baby" has gone to a good home.
Regarding your training…yes, I will buy a label maker and update all of the blue tape and Sharpie reminder notes you have plastered all over "Ophelia". Thanks, you know I am a by-the-book checklist type of person and love this stuff.   When you told me that training would start during the survey process I didn't know what you meant, but now I can appreciate your attention to detail and certainly have a much greater understanding of so many aspects that would have taken me a long time to figure out on my own.
Missy and I look forward to touring "Ophelia" around the Chesapeake this summer and then hope to venture further as time allows.  If any of your future clients want to speak with a more than satisfied JMYS customer please know I am a big fan and would be more than happy to connect with them. I know that even though this is a done-deal, that you view this as the start, not the end of our friendship. Expect me to continue pestering you with texts calls and emails and please also know that if you ever have the time you are welcome to join us for an excursion on "Ophelia".
Gratefully,
Charlie and Missy Hodge – Nordhavn 50 – Ophelia