I grew up around boats and have cruised the San Juan's, Canadian San Juan's, and Desolation Sound. My wife, Sonni and I have thoroughly enjoyed boating together for the past 6 years and most recently owned a Hunter 460 sailboat. After another wind-less 12-hour slog back to Seattle from the San Juan Islands we collectively decided it was time to look at making the transition to power. We have limited time off and wanted to get further north in less time so that we can really enjoy what this area has to offer and most of all – relax! I reached out to Jeff through his social media regarding one of his posts and he quickly put me in touch with Rob.
Having never purchased anything of this magnitude I am extremely thankful we had Rob on our side. He recently went through the process with Bella Luna, his Selene 55, and provided a world of knowledge to us. Rob was a fantastic listener (being in sales myself, I believe this is a lost art!). Rob was adamant that he understands how we are going to use the boat and what our cruising plans are, not only now, but in the future as well. He helped us identify our must have's and other nice to have's. Safety, quality, reliability, and comfort were at the top of our requirements list. We narrowed our search down to a handful of models and set off to find our next boat. With us living in Seattle and many of the boats for sale in the Southern California area Rob would view the boats ahead of time and even record video walk throughs to help us gauge interest. He would also give us honest feedback on the condition and how the boats were priced according to historical sales data. This was immensely helpful and saved us so much time! When Rob was unable to attend a showing he made sure we had representation. It was nice to have an extra set of eyes to identify things of interest or potential issues!
We boarded KaChing, a Hampton 490 Pilothouse, and were not sure it was the right boat for us. It needed some updates to get it up to what we were looking for. After looking at a dozen other boats we kept coming back to the Hampton. It met all our needs and had a great foundation for us to build on.
Rob was incredibly helpful throughout the negotiation process. It all went smoothly; we could not have been happier! Rob even helped us get a captain to get the boat up the coast to Seattle. We've since gone through a sizeable re-fit and renaming ceremony – she's now named "Brigadoon"! We just completed our first major cruise, a 2-week trip to the San Juan's and had an absolute blast! The boat was fantastic! Not to mention after departing Seattle we were in the San Juan's in just 5 hours!
If you are in the market for a trawler, or coastal cruiser, I whole heartedly recommend Rob and the JMYS team. They have a fantastic reputation in the market and really take the time to make sure your needs are met, and you get the boat at a fair price.
Chris and Sonni Jones – Hampton 490 Pilothouse – Brigadoon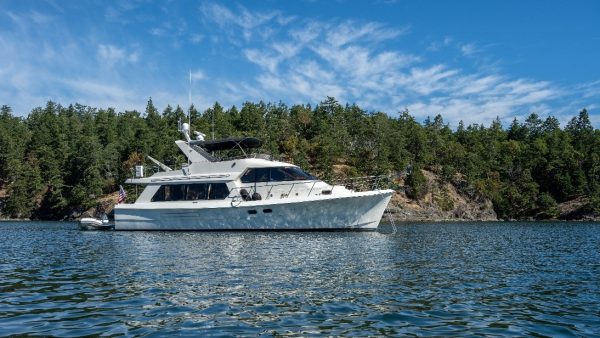 Photo credit: LightShowers, LLC.