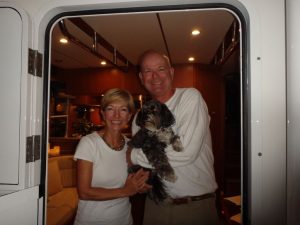 Buying a power boat after being a life-long sailor required not only a lot of soul searching, but also a huge dose of learning. Just wading through the myriad of power boat choices took months of study.
My wife and I read about trawlers and felt this type of boat seemed a good fit for us. We planned to live aboard full time so the creature comforts a trawler afforded were attractive.
For our first boat show we attended the Baltimore Trawler Fest. We signed up for as many classes as possible to learn more about the boating lifestyle, and we toured dozens of boats from various builders and of varying length. We were peripherally aware of many of the brands, but had not seen or boarded any trawler before the show.
There were three Nordhavns on display – a 40, a 43 and a 47. Jeff Merrill was aboard the Nordhavn 47. We had met Jeff after one of the classes that he gave and knew already that he was a wealth of information. We plied him with more questions specifically related to the Nordhavn 47, and he spent almost 2 hours going through the details of the boat. We left Baltimore with the thought that a Nordhavn 47 might just be the boat for us.
After the TrawlerFest Jeff sent us some details and followed up with some phone conversations to gauge our interest and help us continue this process.
As we went into detail on the Nordhavn 47 Jeff provided a list of the model history that showed us when certain changes were made (like going from 12V to 24V) and other details so that we could evaluate the market of previously owned Nordhavn 47's with some good background information. This was very helpful in allowing Susan and me to determine what features were on our 'must have' list versus our 'nice to have' list.
One boat for sale in California seemed to fit the bill – it had all of the 'must haves' and many of the 'nice to have' features. We scheduled a trip and spent a day on the boat with Jeff, asking many questions and learning more not only about that particular boat, but also about N47s in general. Unfortunately, by the time we were prepared to make an offer, another buyer put the boat under contract. Back to the drawing board!
It was getting near the end of year and the number of N47s on the market was dwindling. Susan I and once again perused the list of boats for sale and honed in on one, "Winkin", that appeared to meet most of our requirements.
This boat was much farther afield (Rhode Island!), but even with the holidays rapidly approaching we were able to schedule a due diligence visit with Jeff after putting the boat under contract. We spent three days on the boat with Jeff and the surveyors. Throughout the evaluation Jeff took notes, snapped hundreds of photos and provided very helpful Nordhavn specific training, making the due diligence trip educational as well as enlightening.
After we closed the deal, Jeff reiterated his commitment to continue his training by spending time aboard with us, after we had time to acquaint ourselves with the boat. We splashed the boat in April and in early June he flew out to Boston for four days of indoctrination on the newly christened "Dragonfly". We talked about systems, maintenance, tools and spares, boat handling and many not-so-critical but helpful topics. We also cast off the dock lines in Portsmouth, RI and spent two days at Cuttyhunk Island. This enabled us to get real time training while underway, as well as to set the flopper stopper, work with the hydraulic davit, change the oil, and learn to manage power while away from the dock.
Now it is September and since then we've put 300 miles on the engine, going to Maine and back and heading towards Florida. Jeff has stayed in regular contact and we've shared ideas and solutions along the way. It's great to know we have a friend and an expert in the trawler world.
For anyone in the trawler market, I strongly recommend Jeff Merrill as an expert, thorough and friendly yacht broker. He will help simplify the boat buying process and will provide continued support and training even after you've closed the deal. This was very important for us and something that most boat brokers don't offer.
Please feel free to contact me if you'd like to discuss our experience in person.
Good luck and happy cruising!
David Odell – Nordhavn 47 – Dragonfly
david.wanderer@gmail.com